Not Sure What Doctor Treats Sciatica? Book an Appointment with Pain Treatment Specialists
What's that lower back pain with the funny name that makes you howl whenever it strikes? Sounds like sciatica! Sciatic nerve pain is no laughing matter, and is one of the most painful lower back conditions. Because your sciatic nerve runs down the length of your lower back, into your buttocks and hips, and through your legs, it's actually the longest nerve in your body. As such, when it is inflamed or compressed, it wreaks havoc with multiple body parts. Do you know what doctor treats sciatica? They're called interventional pain doctors, and their goal is finding relief from your sciatic nerve pain with minimally invasive back pain treatments.
At Pain Treatment Specialists, our team of nationally recognized back pain specialists received specialized training in pain medicine that allows them to utilize conservative methods for back pain relief. Instead of jumping first to a laminectomy for sciatica or back surgery, our team instead uses guided imaging to precisely locate the cause of your pain and provide targeted relief. Schedule an appointment and see how our sciatica treatment greatly improves your quality of life.
Learn What Doctor Treats Sciatica
At Pain Treatment Specialists, all of our Harvard-trained back pain doctors are nationally recognized back pain specialists. Their goal is treating your back pain without resorting to back or hip replacement surgery. If you've started researching back surgery for your sciatic pain relief, the results are often frightening. You've probably seen "lumbar radiculopathy surgery recovery time", "buttock pain after laminectomy", "loss of leg strength after back surgery", and "will hip replacement help sciatica." These phrases alone are enough to make you want to avoid surgery! However, this is a more practical reason for avoiding back surgery, and that is because it is invasive and takes you off of your feet for a long period of time.
Instead, meet with one of our back pain specialists at Pain Treatment Specialists such as Dr. George Hanna. He is a former Clinical Instructor at Harvard Medical School, where he later served as Director of Pain Innovations and Technology. One recent patient review describes him as an "extremely helpful and reliable doctor", which is a phrase repeated throughout the dozens of five-star patient reviews.
Dr. Shane Volney is another member of our highly-regarded staff at Pain Treatment Specialists. Dr. Volney was also a former Clinical Instructor at Harvard Medical School,  where he taught palliative care, anesthesiology, and pain medicine. A recent patient review written by a physician commends Dr. Volney's bedside manner and his ability to explain things "very slowly and clearly." The patient also states that their treatment plan was done "with rigorous care and was very effective."
Our back pain doctors' patient reviews speak for themselves, but why not meet with them in person? Schedule an appointment at Pain Treatment Specialists and learn what doctor treats sciatica from our 5-star back pain doctors.
Does Sciatica Pain Come and Go?
Is it normal for sciatica pain to come and go? Yes, it is. Because your sciatic nerve runs the length of your lower back and down into your legs, sciatica pain takes on several different forms and frequencies. Depending on the cause of your sciatic nerve pain, your experience may feel a little different than another person with the same diagnosis.
Sciatic nerve pain is often described as shooting, stabbing pain that can feel like an electric jolt. The pain may come and go, while others feel constant pain. Certain movements like standing, twisting, sitting down, or coughing may aggravate your sciatica pain.
How can you reduce your risk for developing sciatica? Keep your core muscles strong and maintain good posture when sitting or using electronics. Stay active with regular exercise to keep your joints moving, and also maintain a healthy weight.
What are the Best Sciatica Treatments?
Do I need to see a doctor for sciatica? Yes, if your back pain is interfering with normal, daily activities, you should meet with a sciatica treatment specialist. At Pain Treatment Specialists, we offer the following treatments for sciatic nerve pain:
Lumbar Epidural Steroid Injection: This injection uses a special x-ray called a fluoroscope to inject local anesthetic and steroid medication into your spine's epidural space. This reduces pain in your nerve roots that might be compressed due to spinal stenosis. You'll feel tremendous relief in your lower back pain after a lumbar epidural steroid injection.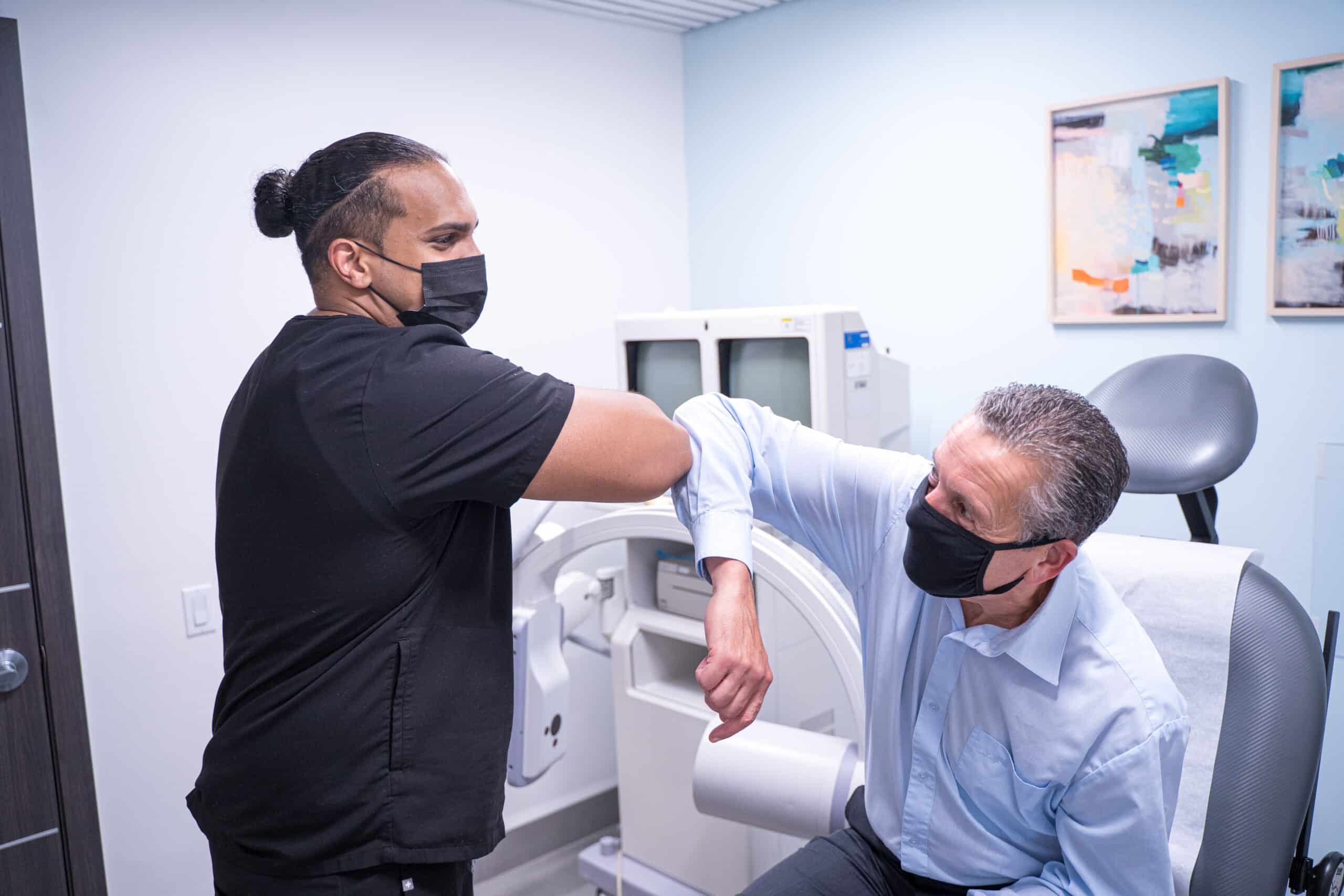 We offer free insurance verification! Fill out the form and expect a call from one of our agents:
Physical Therapy: Some patients require pain treatments first before pursuing physical therapy, which is why it is often used in conjunction with pain medicine. During your PT sessions, you'll work to build core and lower back strength to provide additional stability and support. Your physical therapist also uses various therapies such as ice packs and heat treatments to relieve your lower back pain and swelling.
At Pain Treatment Specialists, we wish that no one had to deal with that strange and painful word called "sciatica!" However, since its pain is very real, we are ready to find a customized back pain treatment plan that works for you. Book an appointment at one of our pain clinics in NYC, northern NJ, or Long Island and begin feeling relief from your sciatica pain.
LEARN MORE ABOUT OUR TEAM OF SPINE & JOINT SPECIALISTS IN NEW YORK & NEW JERSEY:

Call us
Speak instantly with an agent to verify your insurance and book an appointment.
(866) 446-0946

Book Online
Visit our
Book appointment 
page
and instantly request an appointment at a Spine & Joint center near you. We offer Free Insurance Verification before your appointment.

Get Directions
Learn how to easily get to the Spine & Joint center locations.
FEATURED POSTS BY PAIN DOCTORS
How Do You Know When to See a Doctor for Back Pain?Getting ready for a warm weather vacation? Time to unpack your summer clothing bins and begin packing your bags. You head to the basement to begin sorting through swimsuits and tank tops, but are left stunned by the...
read more