What Can Cause Lower Back Pain in a Woman? A Nationally-Recognized Back Pain Doctor Responds
What can cause lower back pain in a woman? Let's look at what kinds of movements the average woman makes in the course of a busy day. Her morning begins with a ride on the exercise bike, which puts a lot of pressure on her lower back. Next, she'll carry around a child on one hip while helping the family get ready for their day, which creates a misaligned spine. After the family leaves for work she begins her own job on the laptop, which involves several seated Zoom calls and strategy sessions. This extended time sitting and with her head down reinforces poor posture and compression of the lower back. A phone call from the school nurse interrupts her work day as she's asked to come pick up a sick child. This requires carrying and strapping the child into a car seat, followed by bending over and soothing their fever. All of this occurs before noon on a typical day, which has already placed a great deal of stress on a woman's lower back!
What can be done to relieve this pain and pressure? At Pain Treatment Specialists our team of Harvard-trained back pain doctors treat each patient's back pain with an individualized treatment plan. With all of the strenuous movements we make on a daily basis, it's no wonder that back pain is one of the leading causes of people missing work. When your back aches, don't try to continue your day and ignore the pain. Instead, schedule an appointment at Pain Treatment Specialists and see how our team of nationally recognized back pain specialists dramatically reduces lower back pain.
What Can Cause Lower Back Pain in a Woman?
Common causes of back pain include overuse, repetitive motions, or an injury. If you're repeatedly bending down or twisting your back, pain and soreness may occur. These types of repetitive motions occur during sports like golfing and softball, or activities like gardening and construction. Overuse is often the answer to the question "Why does my back hurt when standing?" An acute injury related to a fall or car accident may cause a lower back injury, leading to back pain. There are also underlying conditions attributed to normal wear and tear such as osteoarthritis that wears down the cartilage needed to cushion your spinal discs. Poor posture, compression fractures, sacroiliac joint dysfunction, and spinal stenosis are also causes of lower back pain. If you want to find out the answers to questions like "Why does my lower back hurt after walking?" or "Why does my back and side hurt?", schedule an appointment at Pain Treatment Specialists.
Here, you'll meet with our team of Harvard-trained back pain doctors who received extensive training in interventional pain medicine. This type of minimally invasive approach maximizes pain relief with the most conservative treatments available. One member of our nationally recognized team is Dr. George Hanna, who is the former Director of Pain Innovations and Technology at Harvard Medical School. Dr. Hanna's stellar reputation as one of the nation's leading back pain specialists is coupled with his kind and thorough bedside manner. His consistent 5-star patient reviews frequently mention how easy he is to talk to and how effective his lower back treatments are for relieving pain.
Book an appointment at Pain Treatment Specialists and meet with a back pain specialist who customizes a treatment plan based on your specific back pain needs.
What are the Best Treatments for Low Back Pain?
If your Google search has queries such as "Why does my back hurt in one spot" or "Why does my back hurt when I arch it?", then you're ready to meet with a back pain doctor at Pain Treatment Specialists. In most cases, back surgery is completely unnecessary, and more conservative treatments are highly effective at reducing lower back pain.
Steroid injections are highly effective at treating lower back pain as powerful, targeted treatments. During this procedure, your back pain doctor numbs the area for injection, and then administers the corticosteroid shot. A corticosteroid is a powerful anti-inflammatory drug that greatly reduces swelling and pain. Once you feel relief from the steroid injection, you can begin physical therapy sessions for additional support.
Physical therapy is another tool for combating lower back pain. During your PT appointments, your physical therapist uses heat and cold therapies to reduce your lower back pain and swelling. This is then combined with strength training in your core to better support your lower back, as well as stretches to relieve pain. When used in conjunction with corticosteroid injections, physical therapy is a highly effective back pain relief treatment.
The state-of-the-art pain clinics at Pain Treatment Specialists offer a wide variety of lower back pain treatments. Schedule a consultation and see how our team of back pain doctors customize treatment plans based on your lower back injury or condition.
Why Does Only One Side of My Back Hurt?
If only one side of your back hurts, you may be suffering from sciatica. The sciatic nerve is the longest in your body, and runs from your lower back, through your hips and buttocks, and into your legs. Sciatica typically affects only one side of your lower back, and is caused by a herniated disc or spinal stenosis. This bulging or protruding disc puts pressure on your sciatic nerve, which creates a sharp, painful sensation in your lower back.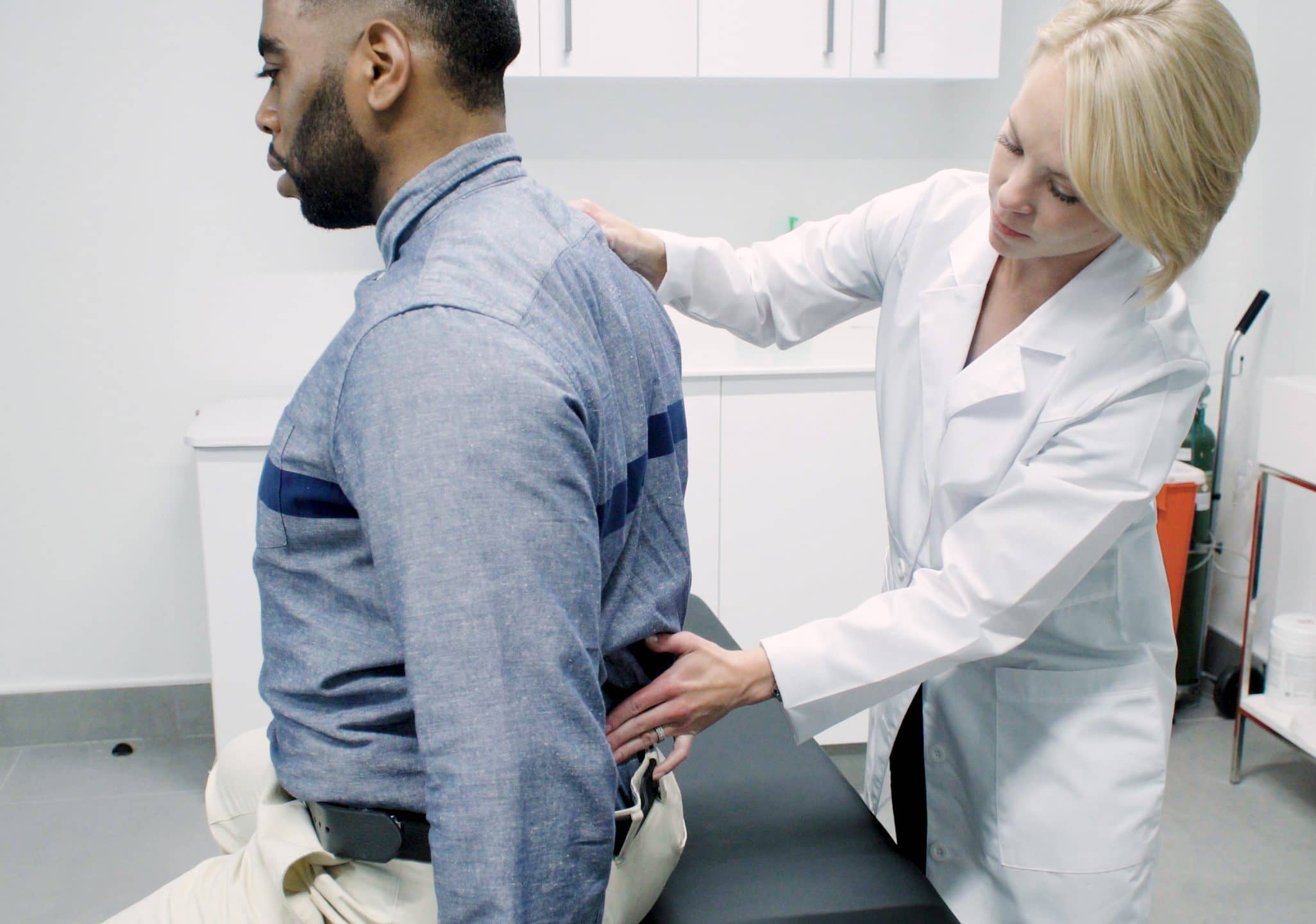 We offer free insurance verification! Fill out the form and expect a call from one of our agents:
What can cause lower back pain in a woman? Between acute injuries, underlying back conditions like sciatica, or overuse, there are many reasons why your lower back aches. Schedule an appointment at Pain Treatment Specialists and find the best diagnosis and treatment plan for your aching lower back.
LEARN MORE ABOUT OUR TEAM OF SPINE & JOINT SPECIALISTS IN NEW YORK & NEW JERSEY:

Call us
Speak instantly with an agent to verify your insurance and book an appointment.
(866) 446-0946

Book Online
Visit our
Book appointment 
page
and instantly request an appointment at a Spine & Joint center near you. We offer Free Insurance Verification before your appointment.

Get Directions
Learn how to easily get to the Spine & Joint center locations.
FEATURED POSTS BY PAIN DOCTORS
How Does Physical Therapy for Back Pain Help You Feel Better?Once the spring weather begins to thaw winter's chill, a host of outdoor activities become accessible again. On a particularly balmy afternoon, you hit the links for a quick round of golf. Your body feels...
read more