What is the Treatment for Sacroiliac Joint Pain? A Harvard-Trained Back Pain Specialist Responds
Had a long day of desk work at the office? If you notice lower back pain after sitting for long periods of time, you might have some problems with your sacroiliac joint, also known as your SI joint. These joints are located at the junction of your lower spine and pelvis. Its job is to absorb shocks between your upper body and legs. There are strong ligaments that surround the SI joint, and soft tissues that limit the joint's movement and also provide support. Your SI joint can become irritated with too much movement, leading to instability and pain. It can also be affected by not moving enough, which causes muscle tension. If you suffer from this type of lower back pain, you might ask, "What is the treatment for sacroiliac pain?"
If you're not sure who to see for lower back and hip pain, you should contact an interventional pain doctor. At Pain Treatment Specialists, our team of back pain specialists customize treatment plans for each patient suffering from lower back pain. Our interventional pain doctors focus on avoiding surgery or addictive narcotics for treating lower back pain and instead focus on cutting-edge back pain treatments. Our treatment plans are tailored to meet your needs as a patient, and also return you to a pain-free life. Book an appointment at one of our back pain clinics in NYC, Long Island, or New Jersey and begin feeling relief after a long day of lower back pain.
What is the Treatment for Sacroiliac Joint Pain?
During your consultation at Pain Treatment Specialists, you'll have a consultation with one of our back pain specialists. During your appointment, your back pain doctor listens carefully to your back pain concerns, and sympathizes with your current pain levels. This conversation also informs your back pain specialists about what types of movements aggravate your back pain the most, and if there's any times when you feel relief. After this discussion, your pain doctor completes a gentle physical examination that evaluates your range of motion.
Finally, your back specialist determines the cause of your back pain condition and customizes joint pain treatment options for your SI joint pain. Some of the treatment options offered at Pain Treatment Specialists include:
Physical Therapy: Your back pain doctor works in conjunction with your physical therapist to design a program of stretches and weight-bearing exercises that rehabilitate your SI joint. Improving your core strength is one key way your physical therapist treats SI joint issues. Stabilizing your core is a preventative method for avoiding future back pain issues.
Steroid Injections: A steroid injection provides powerful anti-inflammatory relief to your SI joint. Your sacroiliac joint pain doctor identifies the exact area for injection, and then administers a corticosteroid injection. Your lower back will feel better quickly and there is minimal downtime for this procedure.
Nerve Block: A nerve block prevents the pain signals in your lower back from radiating to sensitive nerve receptors. This pain relief lasts for several weeks, if not months.
If you're suffering from an SI joint injury from a fall, contact the team at Pain Treatment Specialists and see how your SI joint dysfunction is treated with minimally invasive treatments.
Why Should I Avoid an SI Joint Fusion or Back Surgery?
Sacrum injuries or SI joint injuries cause tremendous lower back pain. If you've been suffering from painful sacroiliitis, sciatica, or other lower back pain conditions like osteoarthritis, you may be considering surgery as an option.  Back surgery should only be utilized when all other conservative treatments have been exhausted. This is because not only is back surgery dangerous, it is also permanent. The surgical changes that are done to your back cannot be reversed, and there is a chance that your back will not improve after your surgery.
Back surgery also requires a hospital stay, and there is the possibility of medical complications. After your surgery is completed, you will need to spend time in a rehabilitation facility in order to recover, and will also need several weeks off from work. This is a major life disruption, and can easily be avoided by meeting with a back pain specialist who focuses on more conservative joint pain treatment options.
Schedule a consultation at Pain Treatment Specialists and see how our team of interventional back pain doctors avoids surgery with a host of highly-effective lower back pain treatments.
How Can I Describe My SI Joint Pain to My Back Pain Doctor?
When you've spent a lot of time dealing with SI joint pain, you learn how to make it fade into the background. This is because you lead a busy life, and you don't have time to be sidetracked by lower back pain. Even if it means gritting your teeth and bearing it, you still have many tasks to complete and a host of people who depend on you. 
One of the most accurate ways to articulate your back pain is to keep a back pain journal before your visit to Pain Treatment Specialists. This allows you to document your back pain in real-time and share this information with your back pain specialist. What types of items should you record in this journal: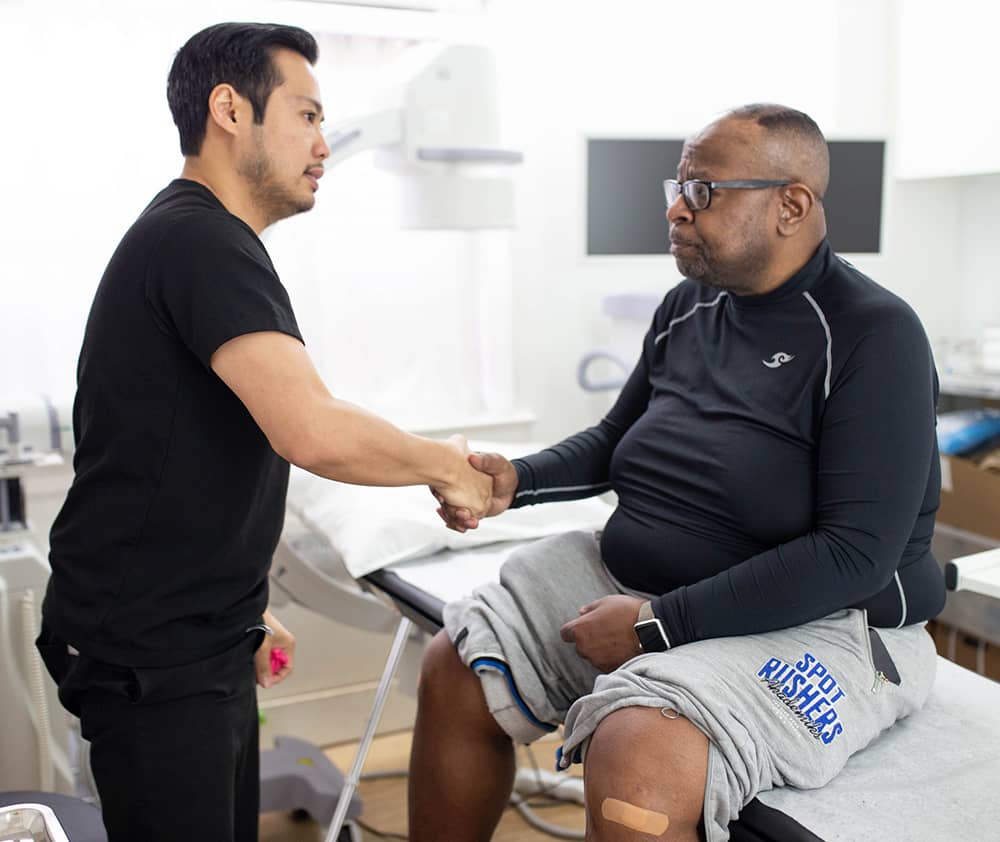 We offer free insurance verification! Fill out the form and expect a call from one of our agents:
First, note what types of activities cause the most pain in your lower back. Does it tend to ache more when you walk up the stairs, sit for long periods of time, or do repetitive motions like digging or swinging a golf club? Next, what type of pain are you feeling? Use words like "sharp", "dull ache", "stabbing", or "radiating through hips and legs" to help you pinpoint what you're feeling. Then assign a pain number from 1-10, with 1 being minimal and 10 being excruciating. All of these things combined help you clearly communicate with your back pain doctor about what you're experiencing.
If you're looking to find out "What is the treatment for sacroiliac joint pain?", book an appointment at Pain Treatment Specialists. Our team of Harvard-trained back pain specialists understand how disruptive lower back pain is in your life and strive to find minimally invasive treatments to return your quality of life.
LEARN MORE ABOUT OUR TEAM OF SPINE & JOINT SPECIALISTS IN NEW YORK & NEW JERSEY:

Call us
Speak instantly with an agent to verify your insurance and book an appointment.
(866) 446-0946

Book Online
Visit our
Book appointment 
page
and instantly request an appointment at a Spine & Joint center near you. We offer Free Insurance Verification before your appointment.

Get Directions
Learn how to easily get to the Spine & Joint center locations.
FEATURED POSTS BY PAIN DOCTORS
How Does Physical Therapy for Back Pain Help You Feel Better?Once the spring weather begins to thaw winter's chill, a host of outdoor activities become accessible again. On a particularly balmy afternoon, you hit the links for a quick round of golf. Your body feels...
read more