How Do You Know When to See a Doctor for Back Pain?
Getting ready for a warm weather vacation? Time to unpack your summer clothing bins and begin packing your bags. You head to the basement to begin sorting through swimsuits and tank tops, but are left stunned by the shooting lower back pain. Your quest to get packed early is halted by this sudden, sharp pain. You don't want your vacation to be ruined by a painful lower back, and decide that it's time to see a back pain doctor.
If you're not sure when to see a doctor for back pain, know that the experts at Pain Treatment Specialists recommend visiting their back pain clinic at the first sign of back pain. Living with chronic pain isn't something that you should endure, and their minimally invasive treatments get your back feeling good again in no time. Don't spend your beach holiday on the couch because your lower back is in pain. Book an appointment at one of our back pain clinics in NYC, northern NJ, or Long Island and begin feeling relief from your sciatica, back spasms, or lower back pain.
When to See a Doctor for Back Pain
If you begin searching about back pain online, you'll see previous queries posed by other people in the autofill section. Questions like "What is a doctor for your back called?", "Why does my back and side hurt?", Why does my back hurt in one spot?", and "Why does my back hurt when standing?" provide some insight into the types of back pain that other people face. However, your back pain came on suddenly, and was sharp and intense. Instead of trying to self-diagnose your problem, you decide that the professional diagnosis at Pain Treatment Specialists will be your guide.
When you arrive at Pain Treatment Specialists' back pain clinic, you're immediately greeted by their warm and friendly front-end staff. Once you're checked in, it's just a short wait until you're escorted to the private consultation area. Here, you'll meet with one of our Harvard-trained and nationally recognized pain doctors who takes the time to listen to your back pain concerns. You'll be asked to describe the type of back pain you're feeling, and when the pain began. Your range of motion is also checked, and a gentle physical examination helps your back pain specialist determine the cause of your back pain. Common back pain causes include sciatica, herniated discs, spinal stenosis, osteoarthritis, and pulled muscles.
Once the cause of your back pain is properly diagnosed, your back pain doctor customizes a treatment plan that addresses your pain needs. All of the treatments provided at Pain Treatment Specialists are minimally invasive, and do not require surgery or a hospital stay.
If you're looking for answers to questions such as "Why does my left side and back hurt?" or "Why does my lower back hurt when I look down?", find the correct answers at Pain Treatment Specialists. Our team of Harvard-trained back pain specialists consistently receive 5-star patient ratings for their knowledge and compassionate care.
What are Common Symptoms of Lower Back Pain?
Back pain is one of the most common pain conditions, and affects many people at some point in their life. This pain often disrupts a person's quality of life, and forces them to adjust their daily plans to accommodate their pain. Back pain falls into one of 3 categories: acute, chronic, or medical.
Acute back pain occurs after a traumatic event like an accident or a fall. Perhaps you experienced a medical emergency and fell, twisting your back. You may also have lower back pain after a car accident. Acute back pain is caused by a singular event, and you can trace your pain back to that moment. If you experience loss of bowel or bladder control, numbness or tingling in your extremities, or extreme pain, you should visit an emergency care center immediately.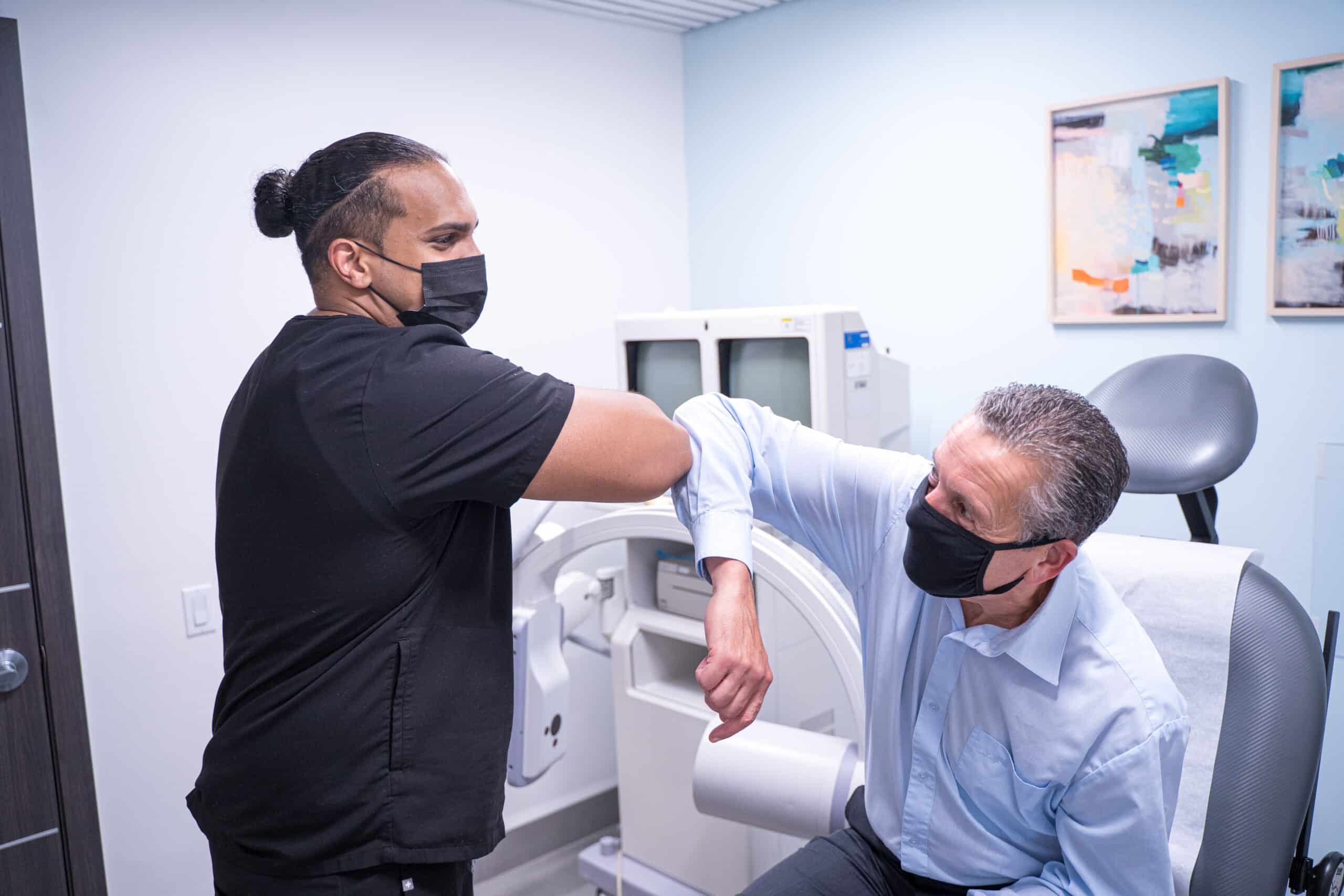 We offer free insurance verification! Fill out the form and expect a call from one of our agents:
Chronic back pain is caused by underlying conditions such as osteoarthritis, sciatica, or herniated discs. In these cases, chronic back pain does not go away until the cause is addressed. For example, your back has round discs that protect your bones and nerves from stress and daily wear and tear. When there is a small rupture in the disc itself, the soft annulus interior pushes out, causing pressure and pain in your spinal nerves. This condition is called a herniated disc, and causes intense lower back pain. At Pain Treatment Specialists, we offer a variety of pain management treatments to help patients suffering from herniated discs.
Medical back pain is caused by conditions such as rheumatoid arthritis. In this category, back pain is defined as a symptom of the medical condition. Rheumatoid arthritis is an autoimmune disorder that attacks the body's joints, causing chronic pain in affected areas.
Not sure what's causing your back pain? Schedule an appointment at Pain Treatment Specialists and receive an accurate diagnosis of your lower back pain.
Why Does Only One Side of My Back Hurt?
Sciatica is a back pain condition that affects the sciatic nerve, which is the longest in your body. It runs from your lower back down through your buttocks and hips, and into your legs. When your sciatic nerve is aggravated, it will cause one side of your back to hurt. Sciatica is often caused by a bulging or herniated disc pressing on the sciatic nerve. Symptoms range from a dull ache in your lower back to a sharp, shooting sensation that strikes suddenly. You can use OTC pain relievers to dull the ache, but visiting a back pain clinic is your best option for long-term relief.
Before you pack your suitcase for a beach holiday, schedule an appointment at Pain Treatment Specialists. Their team of nationally recognized back pain specialists are ready to find solutions for your chronic back pain, and allow you to fully enjoy your time off.
LEARN MORE ABOUT OUR TEAM OF SPINE & JOINT SPECIALISTS IN NEW YORK & NEW JERSEY:

Call us
Speak instantly with an agent to verify your insurance and book an appointment.
(866) 446-0946

Book Online
Visit our
Book appointment 
page
and instantly request an appointment at a Spine & Joint center near you. We offer Free Insurance Verification before your appointment.

Get Directions
Learn how to easily get to the Spine & Joint center locations.
FEATURED POSTS BY PAIN DOCTORS
How Does Physical Therapy for Back Pain Help You Feel Better?Once the spring weather begins to thaw winter's chill, a host of outdoor activities become accessible again. On a particularly balmy afternoon, you hit the links for a quick round of golf. Your body feels...
read more