What is a Spine Specialist Called? Visit Pain Treatment Specialists for the Best Back Pain Care
Shoveling heavy, water-laden snow is a difficult task even when your back pain isn't acting up. The repetitive motion of bending, digging, and throwing snow causes a lot of stress on your lower back. After a few passes of the sidewalk, you're considering investing in a snowblower or plow service to keep your aching back intact. Once you've headed outside and warmed up, you begin looking at results for a back doctor in your area who can treat your chronic back pain. After all, winter's just begun and you need your back in tip-top shape if you're going to survive the next snowfall.
What is a spine specialist called? At Pain Treatment Specialists our back pain doctors are called interventional pain doctors, and their goal is relieving back pain with minimally invasive treatments. They treat patients with a wide variety of back pain concerns from arthritis, to sciatica, to herniated discs. Our doctors do not specialize in spine surgery, and instead focus on pain management techniques for treating chronic pain. Schedule an appointment at one of our cutting-edge pain clinics in NYC, Long Island, or northern NJ and see who our back pain specialists customize a treatment plan that works for your back pain issues.
What is a Spine Specialist Called?
There are many reasons why you might look for a spine doctor for neurological and spinal surgery instead of a back and pain doctor. Perhaps you've suffered a spinal cord injury and require spine surgery from a spine doctor. If you've been in a traumatic accident or fall, searching for "back injury doctors near me", "spine doctor orthopedic", or "what type of doctor does a laminectomy" may be your best options for treatment. Orthopedic surgeons specialize in complicated spine and back surgeries when there is no other feasible option for repair. However, for most people who suffer from back pain, surgery is not necessary and is easily avoided with pain medicine treatments.
At Pain Treatment Specialists, all of our back pain specialists receive extensive training in pain medicine. This branch of medicine focuses on finding minimally invasive solutions for back pain that do not involve surgery. One of our top back pain doctors is Dr. Shane Volney. He is a former Clinical Instructor at Harvard Medical School where he taught pain medicine, anesthesiology, and palliative care. His expertise in pain medicine is often requested at national medical conferences, and he often contributes to medical textbooks about the latest back pain management treatments. One recent patient review describes Dr. Volney as "compassionate, intelligent, and very up on the latest research." Another patient review says that they "love this team" and that they "alleviate pain well."
Dr. Volney is just one of the back pain doctors who look forward to helping you at Pain Treatment Specialists. Book an appointment at one of their pain clinics and get back to your snow shoveling without lower back pain.
What are the Best Pain Management Treatments for Chronic Pain?
During your consultation at Pain Treatment Specialists, your back pain doctor listens carefully to your back pain issues, and also completes a physical exam that evaluates your range of motion. Based on these conversations and examinations, your back pain doctor identifies the cause of your back pain, and crafts a customized treatment plan.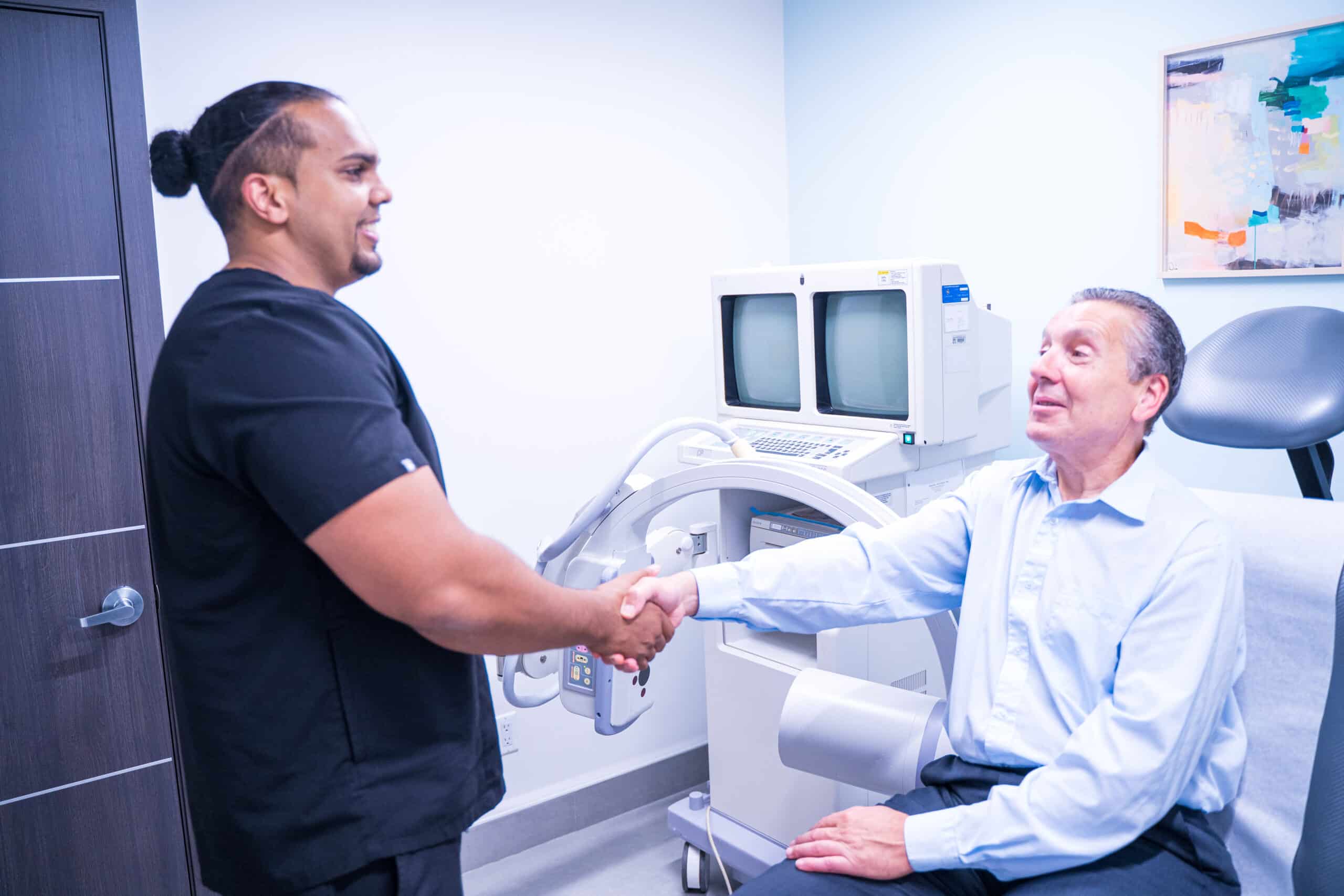 We offer free insurance verification! Fill out the form and expect a call from one of our agents:
All of our back pain treatments are completed at our state-of-the-art pain clinics, and may include one of the following:
Facet Nerve Block: This procedure identifies arthritis as the culprit of your back pain, and also provides relief from it. A local anesthetic is used to numb the small nerves that send pain signals to the spine's facet joints. If you feel relief from this procedure, it verifies that your pain is originating from the facet joints. The best part is that it also relieves your back pain!
Radiofrequency Ablation: Heat energy is used to deactivate troublesome nerves in this procedure. If you don't feel sufficient pain relief from a facet nerve block, RF ablation is the next level of back pain relief. Your back pain specialist uses thermal energy to ablate the nerves that are transmitting pain signals to your spine.
Schedule an appointment at Pain Treatment Specialists and see what types of lower back pain treatments are most effective for pain relief.
Why Should I Avoid Spine Surgery?
Spine surgery is a major, invasive surgery that requires a hospital stay. Any time you're under anesthesia or required to undergo surgery, complications may occur. Once your surgery is completed, you'll need to remain in the hospital or transfer to a rehabilitation facility for a few weeks for recovery. After you return home, you'll need help getting around the house, and won't be able to drive or work for several weeks. When you recover from these inconveniences, there's still no guarantee that the surgery was successful and you'll be pain-free.
Additionally, you'll be exposed to addictive narcotics while you recover from painful surgery. Opioids should be avoided at all costs, since the side effects can be life-altering.
Instead of rolling the dice on back surgery, why not explore more minimally invasive options first? Book an appointment at Pain Treatment Specialists and see how our team of nationally recognized back pain doctors relieve back pain with conservative treatments.
LEARN MORE ABOUT OUR TEAM OF SPINE & JOINT SPECIALISTS IN NEW YORK & NEW JERSEY:

Call us
Speak instantly with an agent to verify your insurance and book an appointment.
(866) 446-0946

Book Online
Visit our
Book appointment 
page
and instantly request an appointment at a Spine & Joint center near you. We offer Free Insurance Verification before your appointment.

Get Directions
Learn how to easily get to the Spine & Joint center locations.
FEATURED POSTS BY PAIN DOCTORS
How Does Physical Therapy for Back Pain Help You Feel Better?Once the spring weather begins to thaw winter's chill, a host of outdoor activities become accessible again. On a particularly balmy afternoon, you hit the links for a quick round of golf. Your body feels...
read more