How Shoulder Specialists Use Minimally Invasive Treatment Options to Avoid Shoulder Surgery
A beautiful sunny afternoon is just begging for a few friendly games of tennis at your local park. You pack up your bag and head over to meet your friends, but ask to have a few extra minutes to warm up your shoulder. You're a little nervous that your shoulder pain might affect your swing, but forge ahead with your first match. After several serves and returns, you're unable to lift your arm, and holding the racket becomes too much. You ask your friends to sit out the next few games while you ice your shoulder on the sidelines. Recently your shoulder pain is increasing with frequency and intensity, so you're ready to contact shoulder specialists and find out what can be done to alleviate your shoulder pain.
Pain Treatment Specialists' pain clinic is highly recommended by everyone you know for their ease in scheduling an appointment in addition to their compassionate pain doctors. You're not looking for a top shoulder orthopedic doctor in your area, since you feel like this issue can easily be resolved without surgery. Instead of meeting with the best ortho in your area or an orthopedic doctor shoulder specialist, you'd rather meet with an interventional pain doctor for your shoulder care. This is the type of doctor found at Pain Treatment Specialists, and their treatment options include minimally invasive methods like steroid injections, platelet-rich plasma injections, and nerve blocks. Before you make another trip to the tennis court, you make it a point to meet with the shoulder specialists at Pain Treatment Specialists and find effective solutions for your shoulder pain.
Who are the Top Shoulder Specialists in Your Area?
Not all doctors treat shoulder pain with the same types of methods. For example, orthopedic surgeons at an orthopedic and shoulder center tend to rely on surgery as their primary treatment method. This is because this type of shoulder specialist received extensive training using surgical methods for repairing shoulder injuries. A total shoulder replacement doesn't have to be your only option for pain relief, and is often avoided through more conservative treatments. Pain Treatment Specialists' team of Harvard-trained pain doctors receive fellowship training in interventional pain medicine, which focuses on avoiding surgery and using more conservative treatment methods.
One of Pain Treatment Specialists ' top shoulder doctors is Dr. Shane Volney. He is a pain doctor who is a former Clinical Instructor of anesthesiology and palliative care at Harvard Medical School, where he also fellowship trained in palliative medicine. Dr. Volney worked in Kenya teaching guided imaging pain treatments to doctors in underserved communities to assist local residents with pain management. He also regularly speaks at national medical conferences and authors textbook chapters on pain medicine. In addition to his qualifications as a pain doctor, his patient reviews consistently mention his thorough explanations of treatments and his kind demeanor.
Not sure about what doctor to see for a shoulder injury? Dr. Volney is just one of our outstanding shoulder pain doctors at Pain Treatment Specialists' several locations throughout NYC and northern NJ. Schedule an appointment today and take the first steps to relieve your shoulder pain.
How Does a Shoulder Doctor Use Minimally Invasive Treatments to Relieve Pain?
When your shoulder aches, you'll do anything to relieve the pain, swelling, and instability you're feeling. Thankfully, the shoulder specialists at Pain Treatment Specialists have exactly the treatments designed to target your specific source of shoulder pain. Some of the treatments used at our pain clinics include:
Physical Therapy: physical therapists are experts in exercise science, and know how to use stretches and strength-building exercises to increase your shoulder's range of motion and stability.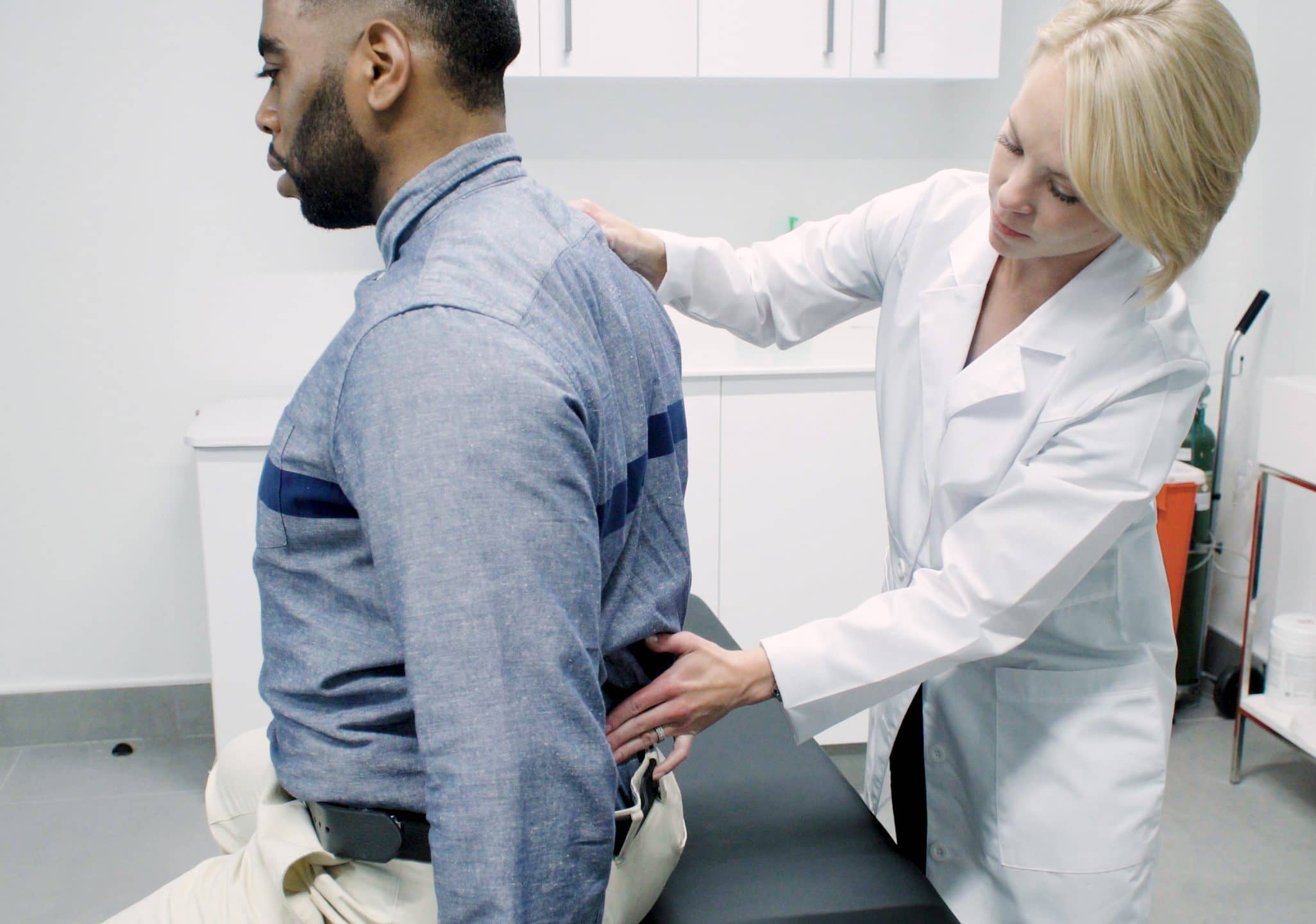 We offer free insurance verification! Fill out the form and expect a call from one of our agents:
Steroid Injections: corticosteroid injections are much more powerful than over-the-counter pain relievers. When they're injected into your shoulder, they provide rapid relief from pain and inflammation.
Platelet-rich Plasma Therapy: PRP treatments use a patient's own blood to promote healing from a shoulder injury. This is a cutting-edge pain treatment that is only administered in a reputable pain clinic.
Book an appointment at Pain Treatment Specialists and learn what type of shoulder pain treatment works for your specific shoulder injury or issue.
Can I Treat Shoulder Joint Pain at Home?
Icing your shoulder in 20-minute intervals helps reduce pain and swelling. This can be alternated with a heating pad for additional relief. Over-the-counter pain medicines like aspirin or ibuprofen provide temporary pain relief, but can help you get through the day if needed. Wrapping your shoulder in an athletic bandage or using an arm brace also helps reduce pressure on your shoulder joint and provides additional stability.
The next time you pick up your tennis racket, do so with confidence. The shoulder specialists at  Pain Treatment Specialists have a wide variety of minimally invasive treatments for shoulder pain that provide long-lasting and effective results.
LEARN MORE ABOUT OUR TEAM OF SPINE & JOINT SPECIALISTS IN NEW YORK & NEW JERSEY:

Call us
Speak instantly with an agent to verify your insurance and book an appointment.
(866) 446-0946

Book Online
Visit our
Book appointment 
page
and instantly request an appointment at a Spine & Joint center near you. We offer Free Insurance Verification before your appointment.

Get Directions
Learn how to easily get to the Spine & Joint center locations.
FEATURED POSTS BY PAIN DOCTORS
Who is the Top Nerve Specialist Near Me? Visit Pain Treatment Specialist for the Best ResultsDo you experience pain, numbness, or tingling in your extremities, or sharpness in your lower back that feels like a lightning bolt? These sensations may be the result of...
read more