Who is the Top Nerve Specialist Near Me? Visit Pain Treatment Specialist for the Best Results
Do you experience pain, numbness, or tingling in your extremities, or sharpness in your lower back that feels like a lightning bolt? These sensations may be the result of nerve pain, and can greatly affect your daily life. Nerve pain may be the result of an underlying condition such as diabetic neuropathy, rheumatoid arthritis, or MS, but also arises from painful, irritated nerves in conditions like sciatica. No matter the cause of your condition, you can find a nerve specialist in your area who is able to treat your nerve pain with minimally invasive treatments that do not involve painful surgery.
What kind of doctor do you see for joint pain? At Pain Treatment Specialists, our joint and nerve pain specialists are also known as interventional pain doctors. This type of doctor utilizes extensive training in pain medicine to create customized treatment plans for each patient that enters their pain clinics in NYC, Long Island, and northern NJ.  As the top joint pain specialist in your area, Pain Treatment Specialists consistently receive 5-star patient reviews for their thorough and compassionate care. Schedule an appointment at one of our state-of-the-art pain clinics and find relief from your nerve and joint pain.
Who is the top Nerve Specialist Near Me?
Trying to find a nerve pain doctor online can result in a myriad of search results that do not provide fruitful returns based on your specific condition. You may suffer from lower back pain due to sciatica, and are finding search terms like "waist pain doctor near me", "what kind of doctor treats MS", "who should I see for headaches", and "where do neurosurgeons work" appearing in your suggested searches. What you're really trying to find is "who is the best nerve specialist near me?"
At Pain Treatment Specialists our team of Harvard-trained joint and pain specialists treat a wide variety of pain concerns with minimally invasive treatments. All of our carefully selected interventional pain doctors are chosen because of their impressive qualifications, as well as their exceptional bedside manner.
One of our top pain doctors is Dr. Laura Lombardi. She is double board certified in anesthesiology and pain medicine, and completed her fellowship training in interventional pain medicine at Harvard University. Dr. Lombardi's specialty is fluoroscopic-guided pain treatments, which use a special x-ray called a fluoroscope to precisely identify and deliver pain medicine to the affected nerves. This treatment is highly effective at numbing troublesome nerves and providing long-lasting and effective pain relief. Patients who work with Dr. Lombardi mention that she is "truly fantastic" and helped a patient who was struggling with back pain "feel better than they have in a long time."
Dr. Jeffrey Deygoo is another one of our top nerve pain doctors who practices out of our FIDI location in Midtown Manhattan. He is a nationally recognized pain doctor who completed his anesthesiology residency at the Hofstra-Northwell School of Medicine, and his pain management residency at the Cleveland Clinic. Dr. Deygoo's patients comment that he is a "knowledgeable and resourceful doctor" who is "highly recommended" for pain relief.
Dr. Lombardi and Dr. Deygoo are just 2 of the highly-rated nerve pain doctors at Pain Treatment Specialists. Book an appointment at one of our pain clinics and begin feeling relief from your chronic pain condition.
What are the Best Methods for Treating Nerve and Muscle Pain with Pain Management?
When you schedule your consultation with the pain experts at Pain Treatment Specialists, you'll begin your visit by describing the type of nerve pain you're experiencing. Your nerve pain doctor listens carefully as you describe how your pain affects your daily life and limits your mobility. This is followed by a gentle physical examination where your nerve pain doctor evaluates your gait and range of movement. Then, your customized treatment plan is created that addresses your specific pain concerns. Some of the common treatments used for nerve pain at our clinics include:
Steroid Injections: Your pain doctor uses a powerful corticosteroid injection that is delivered directly to your painful nerves, and relieves pain and swelling. One of the best parts about this treatment is that it is fast-acting and also allows you to resume normal activities quickly. This treatment allows you to begin physical therapy with decreased pain and swelling.
Physical Therapy: When used in conjunction with steroid injections, physical therapy is highly effective at treating nerve pain conditions. Your physical therapist is an expert in exercise science, and understands what strength-building exercises are best to help prevent future pain and swelling. They will also help you complete stretches and heat and cold therapies that reduce your current pain levels.
Not sure what the proper diagnosis and treatments are for your nerve pain? Contact Pain Treatment Specialists for a consultation where we can plan a customized treatment plan that works for your pain condition.
How Can I Treat Chronic Pain at Home?
You can treat chronic pain conditions such as pinched nerves or herniated discs at home with some simple activities and movements. First, keep your body active and moving with gentle exercises like stretches or swimming. This prevents your joints from getting stiff. You can also follow the RICE method (rest, ice, compress, elevate) to reduce pain and swelling. Finally, a hot shower or massage is excellent for increasing your blood flow and promoting wellness.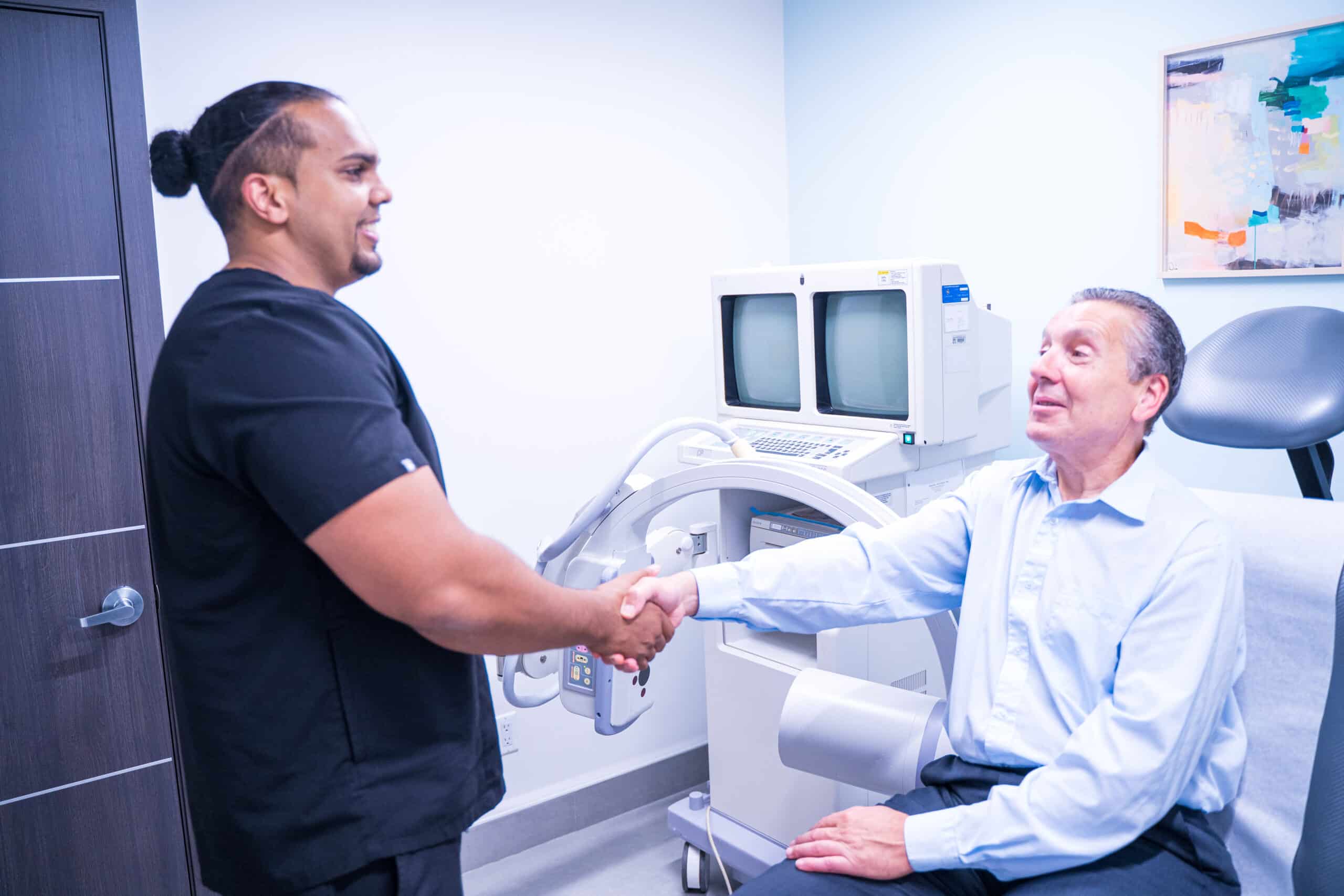 We offer free insurance verification! Fill out the form and expect a call from one of our agents:
Book an appointment at Pain Treatment Specialists and improve your quality of life when dealing with nerve pain. Our team of highly-skilled back and hip pain doctors in your area understand how disruptive nerve pain is, and look forward to providing solutions for your chronic pain.
LEARN MORE ABOUT OUR TEAM OF SPINE & JOINT SPECIALISTS IN NEW YORK & NEW JERSEY:

Call us
Speak instantly with an agent to verify your insurance and book an appointment.
(866) 446-0946

Book Online
Visit our
Book appointment 
page
and instantly request an appointment at a Spine & Joint center near you. We offer Free Insurance Verification before your appointment.

Get Directions
Learn how to easily get to the Spine & Joint center locations.
FEATURED POSTS BY PAIN DOCTORS
How Does Physical Therapy for Back Pain Help You Feel Better?Once the spring weather begins to thaw winter's chill, a host of outdoor activities become accessible again. On a particularly balmy afternoon, you hit the links for a quick round of golf. Your body feels...
read more