What Kind of Doctor Do I See for Back Pain?
Back pain treatment requires a specialized doctor skilled in this joint and spine condition. While a primary care physician or a primary care doctor is able to identify the cause of your back pain, they do not have the tools necessary to treat your back pain condition. What kind of doctor do you see for joint pain? An interventional pain doctor is the best choice for treating lower back pain conditions like sciatica, spinal stenosis, and osteoarthritis. If you're looking for the best back pain doctor in NYC or the best back pain specialist in NYC, look no further than Pain Treatment Specialists. Our neck, back, and spine doctors utilize a comprehensive approach to chronic pain conditions, and look to improve each patient's overall health.
Schedule an appointment at one of our pain clinics in NYC, Long Island, or northern NJ and see how our joint pain specialists treat chronic back pain with minimally invasive methods. Our back doctors implement customized back pain treatment plans that work with each patient's specific back pain concerns. Surgery or addictive narcotics are not recommended, and our back specialists' extensive backgrounds in pain medicine guide their treatment philosophies. If you're not sure about what kind of doctor to see for joint pain, an interventional pain specialist is the top recommendation for lower back pain.
What Kind of Doctor Do I See for Back Pain?
If you're unsure about what doctor to see for joint and muscle pain, a visit to Pain Treatment Specialists is a great start. First, our Harvard-trained back pain doctors are specially trained in joint disorders, back pain conditions, and minimally-invasive back pain treatments. Our team of Harvard-trained back pain doctors receive extensive training in pain management to ensure that they're skilled in providing the best care for your back pain without using invasive treatments such as surgery.
Dr. George Hanna is one of our top back pain doctors in NYC. He is a nationally recognized pain management specialist and a regular contributor to medical textbooks on interventional pain medicine. He is the former Director of Pain Management and Anesthesia at Chilton Medical Center, and consistently receives 5-star patient ratings. Many of his patients describe his care as being knowledgeable, compassionate, and thorough. When you meet with Dr. Hanna, you'll have plenty of time to describe your back pain concerns, and he'll listen closely to your symptoms before developing a customized treatment plan. You'll also have time to ask questions about your diagnosis and treatment plan, where Dr. Hanna explains your course of treatment in terms that are easy to understand.
Another board-certified doctor at Pain Treatment Specialists is Dr. Laura Lombardi. She is a former Division 1 athlete, and understands how back pain interrupts training schedules and practices. She is double board certified in anesthesiology and pain medicine, and fellowship trained in interventional pain medicine at Harvard Medical School. Dr. Lombardi's patient reviews mention that she is easy to talk to, and possesses a superior knowledge of lower back pain treatments.
What kind of doctor should I see for joint pain and back pain? Book an appointment at Pain Treatment Specialists and see how our team of Harvard-trained back pain doctors alleviate back pain with minimally-invasive procedures.
How Does a Back Doctor Treat Herniated Discs?
Your musculoskeletal system is a complex series of joints, muscles, discs, and nerves that allows your back to bend and twist without pain. When one of these pieces is not in place, chronic back pain becomes an ever-present portion of your life. One of the most common causes of chronic back pain is a herniated disc. A herniated disc causes chronic back pain because it pushes into the epidural space of your spine. This space contains many sensitive nerves, and this pressure causes a great deal of pain. Conditions like sciatica or spinal stenosis are often accompanied by the diagnosis of a herniated disc.
An epidural steroid injection is one of the most effective ways to treat chronic lower back pain. This injection is administered into the epidural space of your spine, and uses a combination of corticosteroid medicine and a local anesthetic to bring down pain and swelling in this area.
Physical therapy is also an effective tool for treating pain from herniated discs. Many patients first require a pain medicine treatment such as an epidural steroid in order to begin PT sessions. Your physical therapist uses stretches and strength-building exercises to relieve pain and pressure in your lower back. Heat and cold therapies are also used for back pain relief.
The back pain specialists at Pain Treatment Specialists are able to properly diagnose and treat your lower back pain. Book a consultation at the top spine specialist in your area for long-lasting back pain relief.
What Can I Do at Home for Back Pain Relief?
You can find back pain relief at home through the use of over-the-counter medicines. Follow the recommended dosage, and use it for enough pain relief to get through your day. Hot showers and ice packs also help your pain and swelling. Rest your back from activities or movements that cause pain, and use a back brace to provide additional support if you're standing or sitting for long periods of time.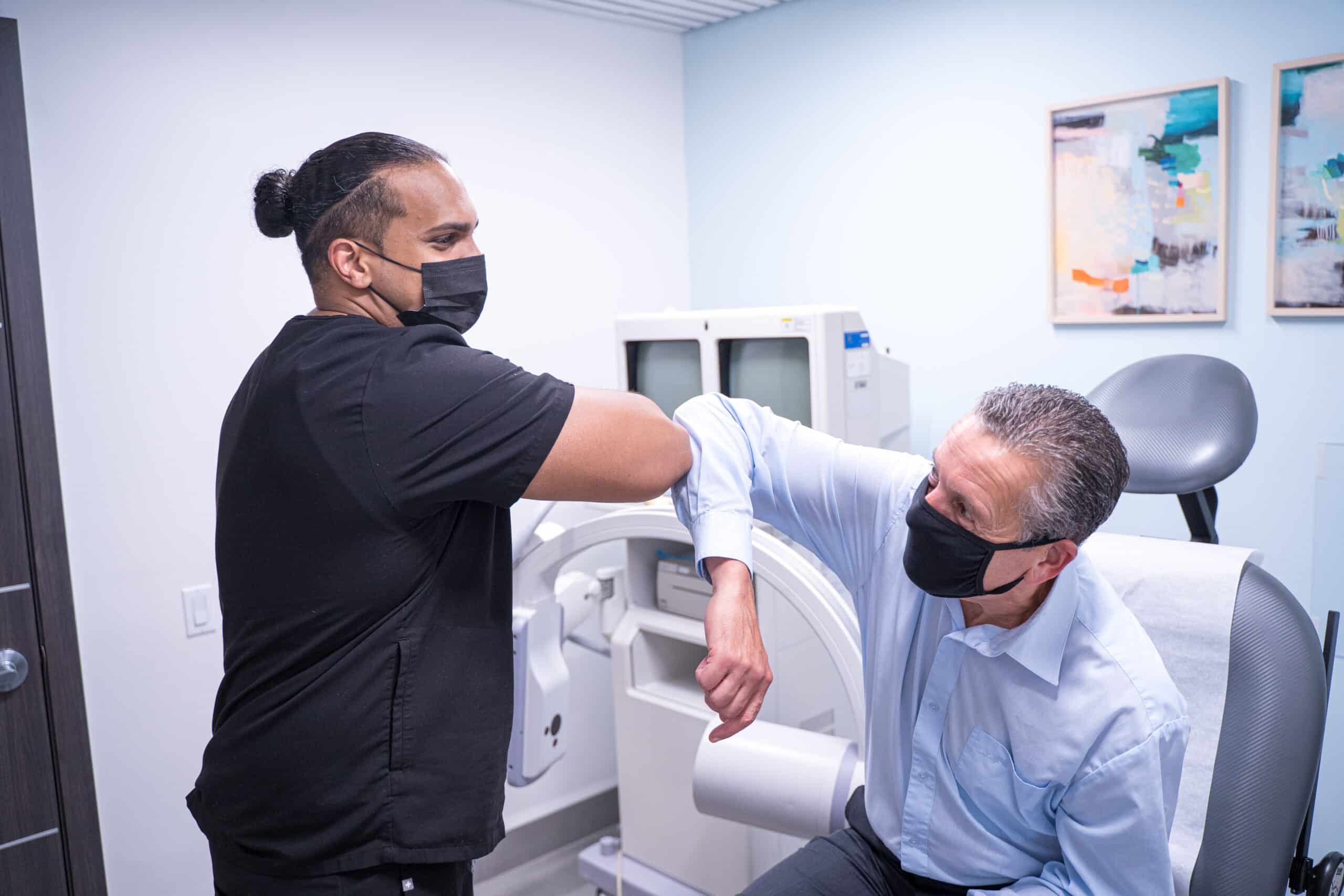 We offer free insurance verification! Fill out the form and expect a call from one of our agents:
If you're not sure about what kind of doctor to see for back pain, book a consultation with Pain Treatment Specialists. Our team of Harvard-trained back pain doctors are the top pain specialists in your area, and are well-trained in finding minimally-invasive solutions for your chronic back pain.
LEARN MORE ABOUT OUR TEAM OF SPINE & JOINT SPECIALISTS IN NEW YORK & NEW JERSEY:

Call us
Speak instantly with an agent to verify your insurance and book an appointment.
(866) 446-0946

Book Online
Visit our
Book appointment 
page
and instantly request an appointment at a Spine & Joint center near you. We offer Free Insurance Verification before your appointment.

Get Directions
Learn how to easily get to the Spine & Joint center locations.
FEATURED POSTS BY PAIN DOCTORS
How Does Physical Therapy for Back Pain Help You Feel Better?Once the spring weather begins to thaw winter's chill, a host of outdoor activities become accessible again. On a particularly balmy afternoon, you hit the links for a quick round of golf. Your body feels...
read more