Neck Pain Treatment Doctors Discuss Different Types of Pain in Your Neck and Spine
It's no shock that we treat different types of pain differently. You wouldn't handle the care of a paper cut in the same manner that you would with a traumatic knee injury. If you happened to have an underlying condition, such as arthritis, this also adds to the diagnosis and treatment of your pain issues. Telling someone with osteoarthritis to just put a band aid and ointment on their sore joint would be as ridiculous as treating a hangnail with invasive surgery.
Neck pain treatment doctors are skilled in the medical treatment of neck and spine pain, and the diagnosis and treatment of underlying pain conditions. Since the neck and spine are such delicate areas, you want the best medical treatment for your pain. You can trust the Harvard trained team at Pain Treatment Specialists for your pain management needs. All of our board certified neck pain doctors have extensive training in neck and spine pain, as well as the safest and most effective ways to treat chronic neck pain.
Which Neck Pain Treatment Doctors Should I Trust?
Not all neck pain treatment doctors are created equal. When you're ready to seek help for your chronic neck and spine pain, you should only trust the best pain practitioners. At Pain Treatment Specialists, all of our neck pain doctors are Harvard trained and board certified pain doctors. Additionally, each doctor creates a customized treatment plan that works for your specific pain issues. There are different types of pain and different underlying causes for neck and spine pain. The pain management doctors at Pain Treatment Specialists take care during the diagnosis and treatment of your pain to ensure that your specific concerns are met and heard. Some of the top neck pain treatment doctors at our pain clinics include:
Dr. Michael Nguyen: Dr. Nguyen completed his residency and advanced pain fellowship at Harvard Medical School, where he was also awarded "Mentor of the Year" and "Teacher of the Year." Following this, Dr. Nguyen stayed at Harvard for 2 years as a clinical instructor, where he taught cutting-edge interventional pain management treatments to medical students. Dr. Nguyen is the medical director of Pain Treatment Specialists, and ensures that every doctor is carefully chosen for their exceptional background and kind bedside manner.
Dr. Shane Volney: Dr. Volney completed his fellowship in palliative medicine at Harvard, and was also a clinical instructor at the University in pain medicine, palliative care, and anesthesiology. His approach to pain medicine is treating the entire patient, and not just their chronic pain. This comprehensive treatment plan is customized to meet each patient's needs.
Dr. Nguyen and Dr. Volney are just two of the outstanding neck pain treatment doctors at Pain Treatment Specialists. Book an appointment at one of our pain clinics today to find highly-effective neck pain relief.
What Causes Neck and Spine Pain?
Neck and spine pain can be caused by a variety of factors. It's possible that you wake up with a sore neck after sleeping on a bad pillow, or because of poor posture. These neck pain issues typically resolve themselves in a few days with needing medical treatment. However, if your neck pain is due to a medical condition, it may be due to issues with your cervical spine. This is why it's important to contact neck pain treatment doctors, such as the team at Pain Treatment Specialists. Oue neck pain doctors are able to locate the exact location of your neck and spine pain, and use minimally invasive pain management treatments for your type of pain.
Neck pain falls into two categories:acute and chronic neck pain. Acute neck pain is caused by an injury that may occur from a fall or car accident. Whiplash is a common injury that occurs when your cervical spine and head move backwards, and then forwards in a forceful manner.  This stress causes injury in your neck muscles and ligaments. Poor sleeping posture or sports injuries also fall under the category of acute neck pain.
Chronic neck pain is often caused by degenerative disc disease, which causes the deterioration of your spinal discs. A pinched nerve is an excellent example of chronic neck pain, which occurs when the soft tissues compress a nerve causing extreme pain. Herniated discs also cause chronic neck pain, facial numbness, and pain in other body organs.
Contact the neck pain treatment doctors at Pain Treatment Specialists for professional medical treatment of your chronic neck and spine pain. You'll find a host of minimally-invasive pain management treatments that work for chronic neck pain, such as steroid injections, nerve blocks, and treatment by a physical therapist.
Can I Try Neck Pain Management Techniques At Home?
When your neck pain is taking over your day and preventing you from completing normal tasks, finding effective neck pain relief at home helps you make it to your next activity. While you should still keep your appointment at Pain Treatment Specialists, knowing how to treat your chronic neck pain at home helps provide pain relief. Our neck pain treatment doctors recommend the following at-home pain management treatments:
Ice and Heat: Use an ice pack (or even a pack of frozen vegetables!) to help relieve the pain and swelling associated with neck pain. A heating pad can be used in alternation with icing your neck to increase mobility and flexibility. If you don't have a heating pad, a hot shower with water directed towards your sore neck muscles is also effective.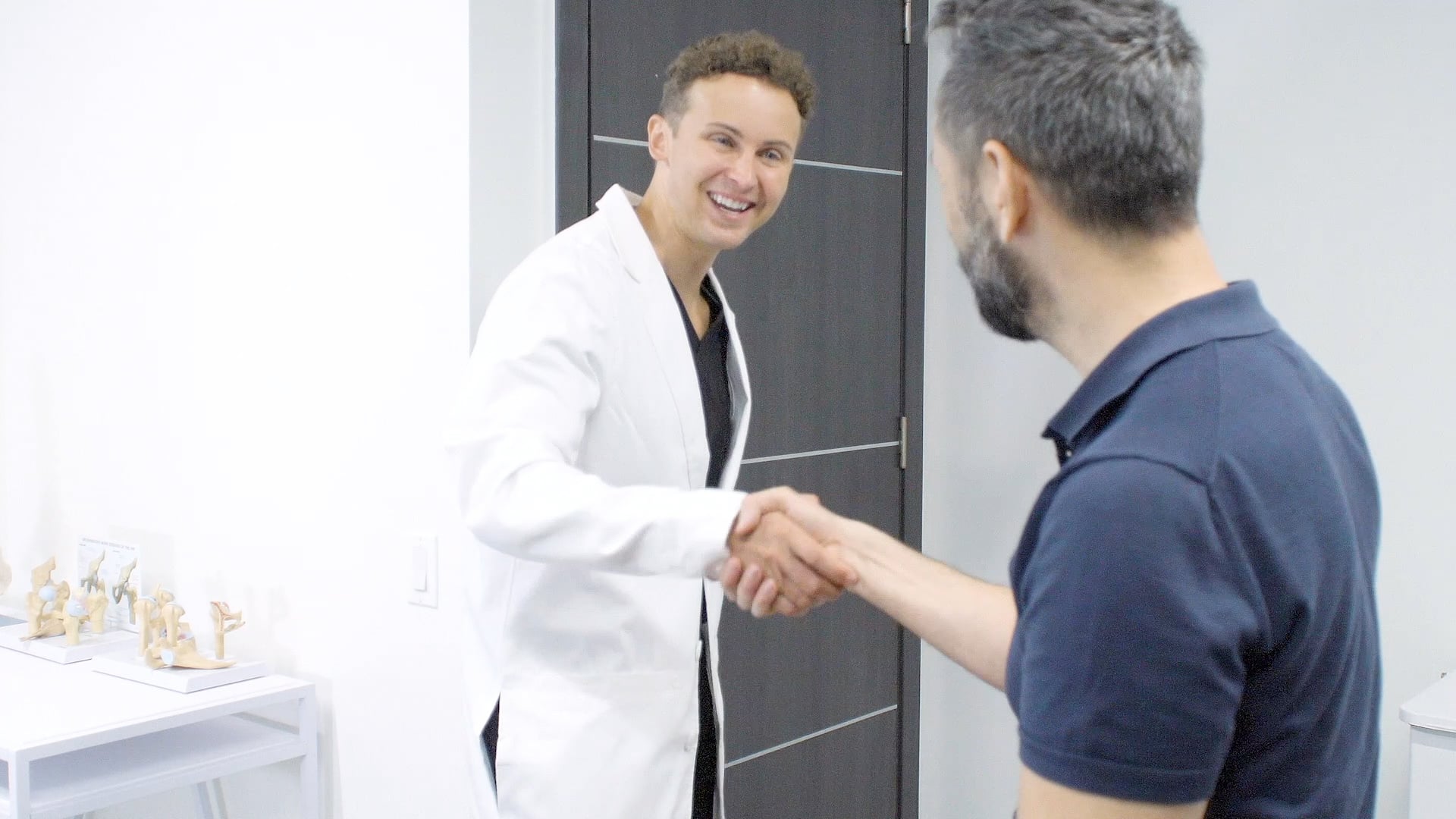 We offer free insurance verification! Fill out the form and expect a call from one of our agents:
2. Stretch!Keeping your neck mobile and fluid helps you regain mobility. Stretch your neck by turning it slowly from side to side, trying to move it a little further each time. Another suggestion is rolling your shoulders slowly forward, and then backwards to release tension.
3. OTC Medicine:Over-the-counter medicine is fine for pain relief, and can help get you through a pain-filled day.
When you're reading to find the proper diagnosis and treatment for your chronic neck pain, contact the neck pain treatment doctors at Pain Treatment Specialists for proper pain management. With pain clinics in NYC and northern NJ, our Harvard-trained neck pain doctors will restore your neck's mobility with minimally invasive neck pain treatments.
LEARN MORE ABOUT OUR TEAM OF SPINE & JOINT SPECIALISTS IN NEW YORK & NEW JERSEY:

Call us
Speak instantly with an agent to verify your insurance and book an appointment.
(866) 446-0946

Book Online
Visit our
Book appointment 
page
and instantly request an appointment at a Spine & Joint center near you. We offer Free Insurance Verification before your appointment.

Get Directions
Learn how to easily get to the Spine & Joint center locations.
FEATURED POSTS BY PAIN DOCTORS
How Do You Know When to See a Doctor for Back Pain?Getting ready for a warm weather vacation? Time to unpack your summer clothing bins and begin packing your bags. You head to the basement to begin sorting through swimsuits and tank tops, but are left stunned by the...
read more