Osteoarthritis is a painful condition that many people experience as they age. What exactly is osteoarthritis? This condition occurs when cartilage, which is a protective layer between bones, begins to break down over time. When your cartilage is worn, your bones begin to rub together which causes joint pain, stiffness, swelling, and limited range of motion. According to the Arthritis Foundation, osteoarthritis is not only common but also easily treated. A joint treatment doctor is skilled in diagnosing and treating joint pain.
At Pain Treatment Specialists, our joint treatment doctors do not utilize surgical treatments for joint pains. Treating arthritis is best suited to pain management treatments, such as steroid injections, nerve blocks, and physical therapy. At our cutting-edge pain clinics in NYC and NJ, our pain management doctors are able to diagnose your specific type of arthritis, and then create a customized treatment plan that works to alleviate your joint pains. If you're tired of feeling stiff, sore, and unable to complete activities that you once enjoyed, you owe it to yourself to call the joint pain doctors at Pain Treatment Specialists and schedule an appointment.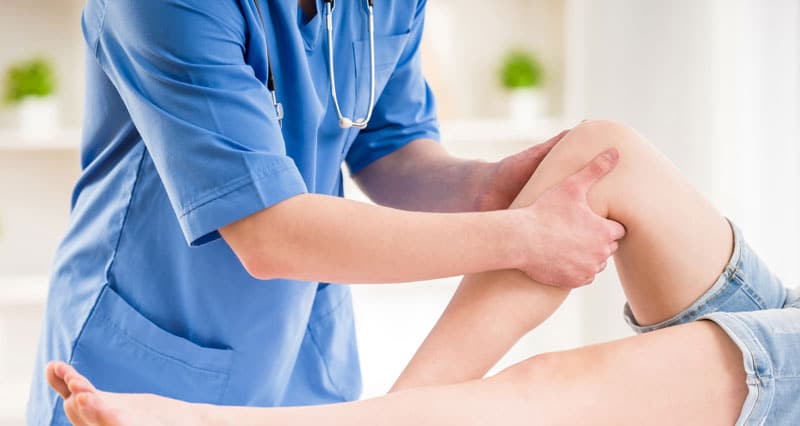 Who is the Best Joint Treatment Doctor for Joint Pains?
The best type of doctor to see for joint pains is a pain management doctor. An orthopedic surgeon or orthopedist may suggest surgical treatment for your type of arthritis, and this is not always necessary. Surgery is painful and invasive, with risks for potential complications and a lot of time out of work and off of your feet. At Pain Treatment Specialists, our joint treatment doctors are all pain management specialists, which means that they use more conservative treatments that address your joint pain, instead of suggesting surgical treatments. Some of our top pain doctors include:
Dr. Shane Volney:Dr. Volney is a former Clinical Instructor at Harvard Medical School, where he trained medical students in anesthesiology and pain medicine. In order for Dr. Volney to hold this position at one of the most prestigious institutions in the world, he needed to be an expert in pain medicine. Dr. Volney regularly authors academic and research papers on the latest advances in pain medicine, and speaks at national conferences with his colleagues in this field. He uses this expertise to treat patients suffering from joint pain, and find pain treatments that provide outstanding pain relief.
Dr. Michael Nguyen:Like Dr. Volney, Dr. Nguyen was also a former Clinical Instructor at Harvard Medical School in interventional pain management, after himself graduating from this Ivy League school. Dr. Nguyen is certified by the American Board of Anesthesiology in pain medicine, and regularly has colleagues visit his pain clinics in NYC and NJ to observe the latest treatments and techniques used to help patients in pain.
Dr. Volney and Dr. Nguyen are just 2 of the Harvard-trained pain management doctors you'll find at Pain Treatment Specialists. Schedule an appointment today and meet with a member of our award-winning pain team.
What Pain Management Treatments Work for My Type of Arthritis?
If you suffer from osteoarthritis, then visiting a joint treatment doctor who specializes in pain medicine is life-changing. At Pain Treatment Specialists, all of our joint treatment doctors have extensive training and backgrounds in pain management, and treat a wide variety of pain concerns from lower back pain, to knee pain, to joint pain. They know how to find the root of your pain, and find methods that work to curtail your pain and get you back to the activities you love. Some of the pain management treatments you'll find at our pain clinics in NYC and NJ include:
Nerve Blocks: Nerves are what move pain signals from the source of pain to your brain. Once these pain signals are blocked, you don't feel joint pain anymore! A nerve block can also be used to check the progression of your arthritis, osteoarthritis, or joint pain. It is both a diagnostic and a treatment tool.
Physical Therapy: Your physical therapist works in conjunction with your joint treatment doctor to create a training and rehabilitation program that works to ease your joint pain. A physical therapist is an expert in exercise science, and uses this background to create weight training, aerobic activities, and heat/cold therapy to treat your joint pain. Ideally, you'll leave PT stronger, and with increased range of motion and flexibility.
Steroid Injection: When you take anti-inflammatory drugs, you're trying to reduce pain and swelling. That's also the goal of a steroid injection, which is administered at the pain clinic. Your joint treatment doctor uses a special x-ray to find the exact location of your joint pain, and then injects a corticosteroid to reduce pain and swelling.
Once you schedule an appointment at Pain Treatment Specialists, you'll wonder how you ever lived with joint pain! After one visit, you'll feel confident that joint pain can really be in your rearview mirror once and for all.
What Can I Do At Home for Joint Pains?
While there is no substitute for meeting with a joint treatment doctor, you can find some joint pain relief at home. Using these pain management techniques can help you find some relief when your joint pain becomes overwhelming. The pain doctors at Pain Treatment Specialists recommend the following at-home remedies for joint pain:
Maintain a healthy diet. When you cut out fatty and processed foods from your diet, not only will you see weight loss, but you'll also feel more active. In addition to increased energy levels, a healthy diet and weight loss puts less stress on your joints.
Use over-the-counter anti-inflammatory drugs. These work well for joint pain relief and can help you get through a painful day. Pay attention to the dosage amounts, and do not take more than is recommended on the label.
The acronym RICE works well to provide joint pain relief. This stands for "rest, ice, compress, and elevate." Rest the painful joint when it's feeling sore, ice it down in 20 minute intervals, compress it with a bandage for extra support, and elevate the painful area to reduce stress and swelling.
Book an appointment at Pain Treatment Specialists and meet with a joint treatment doctor who uses minimally invasive pain treatments for your joint pain. You'll find relief from the pain caused by osteoarthritis, and finally feel like yourself again!