Osteoarthritis isn't just for older people, and can occur at any age. However, osteoarthritis commonly occurs among older people simply because it involves breakdown of your cartilage caused by wear and tear. It is also a common condition among athletes who complete repetitive motions with their joints, such as swimming, running, and playing basketball. When the joint pain caused by osteoarthritis becomes overwhelming, where should you begin your search for a joint Dr.? You might search for "orthopedic vs rheumatologist", "does a rheumatologist treat osteoarthritis", "rheumatologist osteoarthritis", "arthritis doctor", or "what is an orthopedic doctor."
Should I see a rheumatologist for osteoarthritis? Not necessarily. A joint Dr. who is also a pain management specialist is your best bet for treating the joint pain associated with osteoarthritis. At Pain Treatment Specialists, our team of board certified pain doctors treat many chronic pain issues such as back pain, neck pain, and knee pain. This means that their clinics are well-equipped to offer minimally invasive joint pain treatments that provide effective pain relief.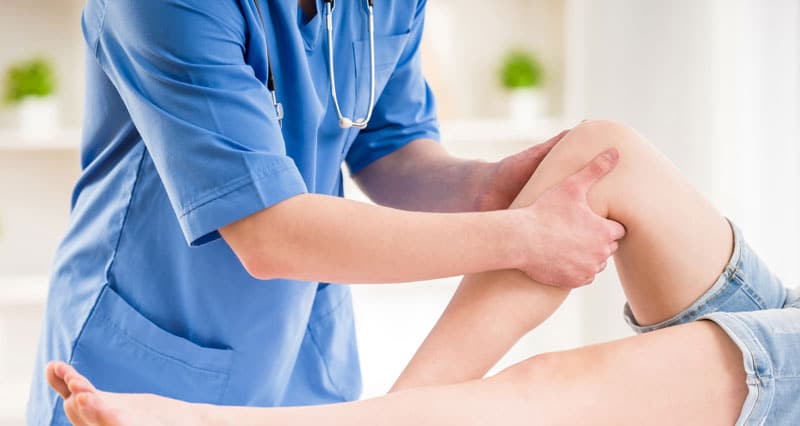 What Does a Joint Dr. Do For Osteoarthritis Pain?
Why would I see a rheumatologist, and what does a rheumatologist doctor do? A rheumatologist treats rheumatic conditions such as rheumatoid arthritis, lupus, scleroderma, and gout. Osteoarthritis falls under the heading of a rheumatic condition, but it is not caused by a malfunction of your autoimmune system. Instead, osteoarthritis is caused by wear and tear that occurs over time. Why would you go to a rheumatologist? You would go to this doctor for autoimmune-based conditions, since this is their speciality. At Pain Treatment Specialists, you'll meet with a joint Dr. whose specialty is treating the pain associated with osteoarthritis. At our pain clinics in NYC and NJ, you'll find the following minimally invasive treatments for joint pain:
Physical Therapy: Physical therapy is highly effective in treating joint pain, because it builds strength and increases flexibility. Your physical therapist uses their knowledge of exercise science and creates a workout and treat plan that helps your specific joint pain concerns. This is achieved through weight training, aerobic activities, and ice and heat treatments.
Steroid Injections: A steroid injection is administered right at the pain clinic, and provides instant pain relief. Your joint Dr. uses a corticosteroid injection and a special x-ray to administer this treatment, which is an outpatient procedure.
Do orthopedic doctors treat gout? You should consult a rheumatologist if this is your specific pain concern. However, if your joint pain is caused by osteoarthritis, schedule an appointment with a joint Dr., like the ones found at Pain Treatment Specialists, for joint pain relief.
Why Should I Avoid Orthopedic Surgeons?
Orthopaedic surgeons do not use minimally invasive treatment plans for joint pain. Instead, they focus on joint replacement, knee replacement, or back surgery as the solution for chronic joint pain. Surgery is painful, invasive, and isn't always the best solution for joint pain. Instead, meet with a joint Dr. who utilizes pain management treatments, and not surgery, for joint pain. At Pain Treatment Specialists, every member of our team is an interventional pain doctor, which means that they look to avoid surgery unless it is medically necessary. Some of the best joint doctors on our team include:
Dr. Michael Nguyen: Dr. Nguyen is the Medical Director of Pain Treatment Specialists, and a world-renowned pain doctor. Many of the interventional pain treatments used across the globe were pioneered by Dr. Nguyen. He is a graduate and former Clinical Instructor at Harvard Medical School, and is also certified by the American Board of Anesthesiology in Pain Medicine.
Dr. Laura Lombardi:As a former Division 1 athlete, Dr. Lombardi understands how frustrating it is to have joint pain interrupt your training schedule. Her speciality is fluoroscopic-guided pain treatments, which means that she expertly uses a special x-ray to identify the precise location of your joint pain for a targeted treatment.
Dr. George Hanna:Dr. Hanna is double certified in anesthesiology, pain medicine, and pain management. Like Dr. Nguyen, Dr. Hanna is a former Clinical Instructor at Harvard Medical School, and also regularly speaks at national conferences regarding pain management techniques.
Before you meet with an orthopedic surgeon, book an appointment at Pain Treatment Specialists and see how our pain doctors use a wide variety of minimally invasive joint pain treatments for pain relief.
What Does a Rheumatologist Doctor Do?
A rheumatologist deals with rheumatic conditions that affect your bones, joints, tendons, and ligaments. At their bone and joint clinics, a rheumatologist identifies the musculoskeletal disease a patient is dealing with, and why it is causing their joint pain, swelling, and stiffness. Rheumatic illnesses are typically caused by a malfunction in your autoimmune system, and this is why a rheumatologist is a specialist in internal medicine. Do you need a referral to see a rheumatologist? This depends on your insurance and your primary care physician's recommendation.
A rheumatologist tries to identify what underlying autoimmune response is responsible for your joint pain. When you meet with a rheumatologist, you will be asked a series of questions that may include:
What makes your joint pain better/worse?
How does your joint pain make you feel?
Where is your pain located?
What words describe your pain? Is it stabbing, dull, aching, or shooting?
Does your joint pain make you avoid pleasurable activities?
If you suffer from osteoarthritis, it's not necessary to meet with a rheumatologist, orthopedic doctor, or orthopedic surgeon. Instead, schedule an appointment with a joint Dr. who treats your pain with minimally invasive treatments. At Pain Treatment Specialists, you'll find a team of interventional pain doctors who know how to get rid of joint pain without invasive surgery or narcotics.