What is the Most Effective Pain Relief for Sciatica? Learn How Pain Medicine Treatments Help
Before winter makes its grand arrival, you need to prep your home, garden, and car for the upcoming frigid months. So far you've checked tuning up the furnace, mounting your snow tires, and insulating a drafty window off your to-do list. The last thing left is to rake up the remaining leaves after a recent windstorm. After a lot of hard work, you've got several substantial piles across the lawn. However, one quick motion with the rake to grab a few stray leaves aggravates your sciatica, which sends lightning bolts of pain from your lower back down to your legs. Defeated, you are forced to move to the couch and watch all of your hard work blow away with several hearty gusts.
What is the most effective pain relief for sciatica? At Pain Treatment Specialists, our team of Harvard-trained back pain doctors believe that chronic pain conditions like sciatica are best treated with interventional pain treatments. Sciatic nerve pain is intensely painful, and is easily aggravated by repetitive motions like raking. Instead of spending the afternoon on the couch,
schedule an appointment with our nationally recognized back pain specialists and see how easy it is to find sciatica pain relief.
What is the Most Effective Pain Relief for Sciatica?
Your sciatica nerve is the longest in your body, and runs from your lower back through your buttocks, hips, and legs. When a herniated disc or spinal stenosis irritates or puts pressure on your sciatic nerve, it causes pain and numbness in your lower body. Sciatica typically only occurs on one side of the body, and is often described as an electric jolt when it strikes. A sudden movement, twist, or turn can cause inflammation of the sciatic nerve.
Who can diagnose sciatica, and do I need to see a doctor for sciatica? Yes, an interventional pain doctor can both diagnose and treat your lower back pain. When you meet with your back pain doctor at Pain Treatment Specialists, you'll learn about the customized treatment plans that relieve sciatica pain. Physical therapy is one the most effective treatments for sciatica symptoms. During your PT sessions, a physical therapist helps you complete stretches that relieve the pressure on your sciatic nerve. They'll also focus on building your core strength to prevent future back pain and injuries.
Steroid injections are also highly effective for treating lower back pain. Your sciatica pain doctor identifies the area for injection, and then administers a powerful corticosteroid drug. This greatly reduces pain and swelling, and allows you to get back on your feet the same day.
Epidural steroid injections help treat sciatica pain caused by herniated discs. This injection is delivered directly into the epidural space of your spine and contains a local anesthetic and corticosteroid that reduces inflammation in this region.
Instead of going down the rabbit hole of internet searches and wasting time reading about "topiramate for sciatica", "neurontin 300 mg for nerve pain" and "how long should I take gabapentin for nerve pain", find actual pain relief at Pain Treatment Specialists. Our highly-skilled and specialty trained doctors have a wide variety of proven and effective treatments for sciatica pain.
Does Sciatica Pain Come and Go?
Every person who is diagnosed with sciatica pain feels it a little differently. Acute sciatica may feel like a lightning bolt when it strikes, and cause numbness and tingling through your legs. Chronic sciatica may feel like a dull ache in your lower back that is always present. Some people also describe sciatica as a burning sensation in their lower back.
There are some at-home treatments for sciatica pain that you can complete to rescue your pain levels. Sciatica stretches are one way to help loosen your lower back and relieve pressure on the sciatic nerve. One effective stretch starts with you on your back. Gently lift one leg, and pull your knee to your chest. Hold for 20 seconds, and carefully lower back to the ground. Then, repeat with the other leg. You can also take over-the-counter painkillers for joint pain, or Aleve for nerve pain. Cold packs on your lower back in 20-minute intervals also reduce pain and swelling.
What is the most effective pain relief for sciatica? While you can find some pain relief at home, visit Pain Treatment Specialists for long-lasting sciatica solutions.
Is Surgery an Option for Chronic Sciatica?
Surgery should not be considered for sciatica unless all of your other options for conservative treatments have been exhausted. Surgery to repair a herniated disc is incredibly painful, and alters your life for months. Not only will you have to undergo a hospital stay for your surgery, but the recovery process is also long and grueling. You'll be off of work for a long time, and simple motions like sitting up are almost impossible until you heal. Any time you can avoid a painful or invasive surgery, you should do so.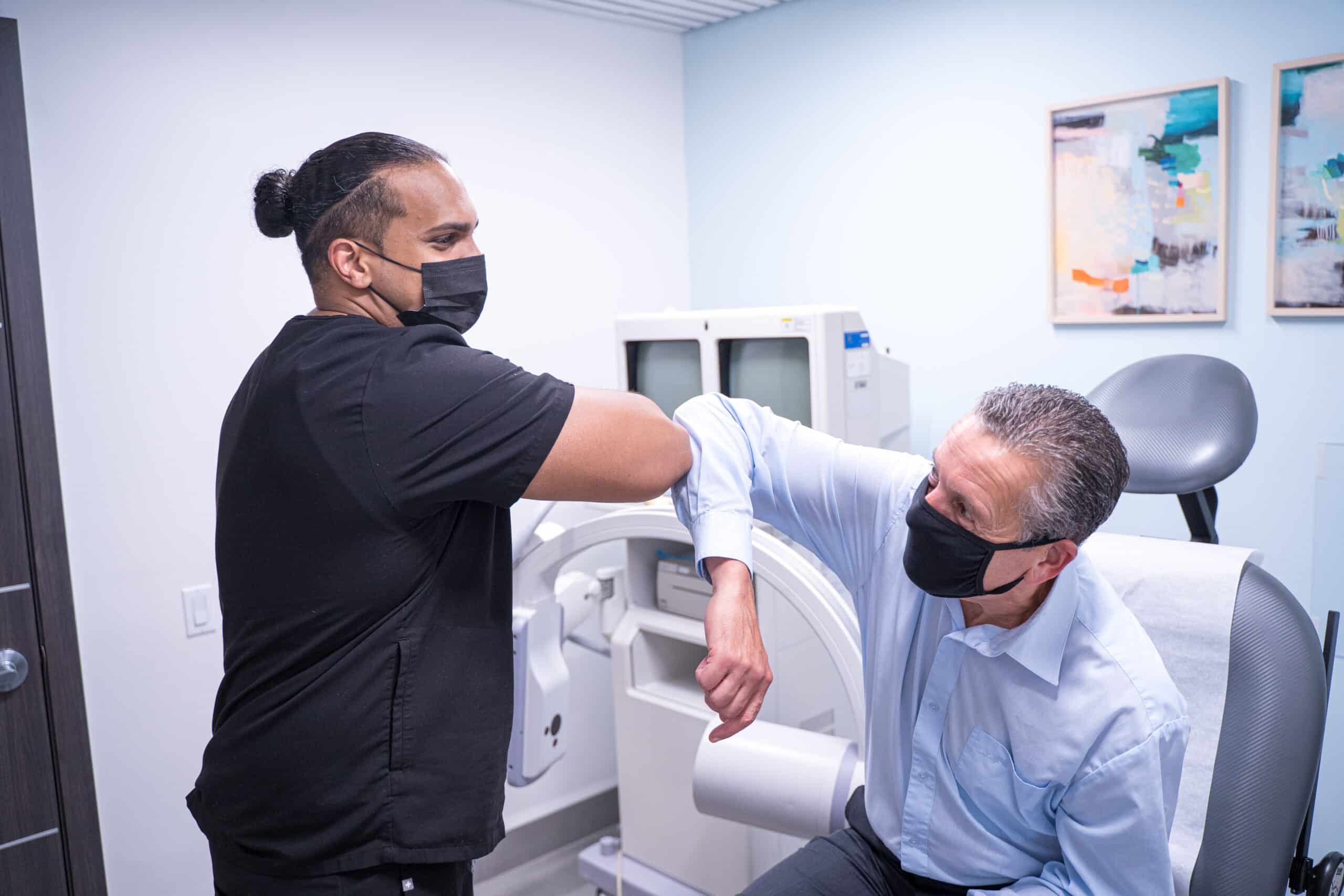 We offer free insurance verification! Fill out the form and expect a call from one of our agents:
Not sure what to do about your chronic back pain caused by sciatica? Book an appointment at Pain Treatment Specialists and see how our team of compassionate and knowledgeable back pain doctors treat sciatica with minimally invasive back pain treatments.
LEARN MORE ABOUT OUR TEAM OF SPINE & JOINT SPECIALISTS IN NEW YORK & NEW JERSEY:

Call us
Speak instantly with an agent to verify your insurance and book an appointment.
(866) 446-0946

Book Online
Visit our
Book appointment 
page
and instantly request an appointment at a Spine & Joint center near you. We offer Free Insurance Verification before your appointment.

Get Directions
Learn how to easily get to the Spine & Joint center locations.
FEATURED POSTS BY PAIN DOCTORS
How Do You Know When to See a Doctor for Back Pain?Getting ready for a warm weather vacation? Time to unpack your summer clothing bins and begin packing your bags. You head to the basement to begin sorting through swimsuits and tank tops, but are left stunned by the...
read more