What is a Spine Doctor Called? A Harvard Trained Back Doctor Responds
In your household, you're looked to more than a digital assistant for answers. On a given day, you'll likely answer questions ranging from "What's for dinner today?" to "How many moons does Saturn have?" When you're the person with a query, you turn to the internet for research. Since your back pain is increasing with intensity and frequency, you feel it's time to consult with a spine injury doctor in your area. However, you're not sure where to begin because your first question is, "What is a spine doctor called?" There are so many back specialist doctors in your area that it's hard to know which one is right for you. If you want to know what a back doctor is called, you first need to identify the type of treatment you'd prefer.
An interventional pain doctor is the best doctor for your back when seeking minimally invasive treatments. This type of lumbar spine specialist in your area uses the most conservtaive treatments for back pain that do not involve invasive surgery or addictive narcotics. You'll find this type of doctor for your back at Pain Treatment Specialists, with several convenient locations in NYC, Long Island, and northern NJ. Our pain doctors completed fellowship training in interventional pain medicine treatments such as nerve blocks, radiofrequency ablation, and trigger point injections. Schedule an appointment at one of our highly-rated pain clinics and find the answer to your back pain concerns through pain medicine treatments.
What is a Spine Doctor Called?
A back pain doctor is called an interventional pain doctor. Their diagnosis and treatment plans use minimally invasive treatments for back pain and other chronic pain conditions like neck pain, hip pain, and knee pain. These are the doctors you'll find at Pain Treatment Specialists, where our highly-trained staff focuses on relieving back pain with conservative treatments. Our patient reviews are all 5-star, and often mention how thorough and attentive their pain doctors remain during their entire diagnosis and treatment process.
Dr. George Hanna is one of our pain clinic's most accomplished back doctors. He is certified in anesthesiology, pain medicine, and interventional pain management, and completed a pain management fellowship at Brigham and Women's Hospital– Harvard Medical School. While also at Harvard, Dr. Hanna was appointed Clinical Instructor of anesthesiology, and then later Director of Pain Innovations and Technology. His patient reviews mention that is his "personable and friendly" and is highly recommended for "anyone looking for a high quality medical professional." He "takes his time with his patients" and never rushes through a consultation. Dr. Hanna's goal as a pain medicine practitioner is each patient's complete satisfaction in the outcome of their treatment plan.
Even if you didn't initially know the answer to "What is a spine doctor called?", you'll be pleased to know the outcome of your research. Meeting with an interventional pain doctor at Pain Treatment Specialists is exactly the course you're looking to pursue in back pain relief.
What is the Best Treatment for Chronic Pain in Your Back?
The spine is a complex part of your anatomy, and there is no "one size fits all" solution for treating chronic back pain. For example, if you've suffered a serious spinal cord injury, you should visit a neurosurgeon and also consider spine surgery as a treatment option. However, most back injuries are not that severe, even if they do produce a tremendous amount of pain. At Pain Treatment Specialists, we specialize in treating a variety of back pain conditions such as herniated discs, spinal stenosis, sciatica, and osteoarthritis. During your initial consultation, you'll receive a customized plan that may include one of the following treatments:
Physical therapy: PT works well in conjunction with pain medicine treatments to relieve chronic back pain. Your physical therapist uses stretches, aerobic activities, and heat/cold therapies to increase your range of motion and build stronger back muscles.
Facet Nerve Block: This procedure numbs the small nerves that send pain sensations to your spine's facet joints. This is a safe and quick method for treating back pain associated with osteoarthritis.
Trigger Point Injections: If your back pain is connected to muscle tension, then a trigger point injection provides long-lasting pain relief. Your back pain doctor identifies the muscle group that is tense, and injects a local anesthetic and steroid medication to relax the muscles.
Before you consider spine surgery or begin researching spinal disorders, first meet with the expert pain doctors at Pain Treatment Specialists. Our thorough diagnosis and treatments allow patients to resume their normal activities with minimal disruptions.
Why Should I Avoid Spine Surgery?
Any time you can avoid major, invasive surgery, you should do so. Surgery is a life-altering experience for several weeks, if not months. First, you'll need to be admitted to a hospital for the painful surgery, and then spend time in a rehabilitation facility afterward to regain limited mobility. When you return home, your friends and family will still need to help out completing household tasks and helping you with bathing and dressing. Finally, once you've fully recovered from your surgery there's no guarantee that your back will be pain-free. Instead, explore less invasive treatment methods first before considering major surgery.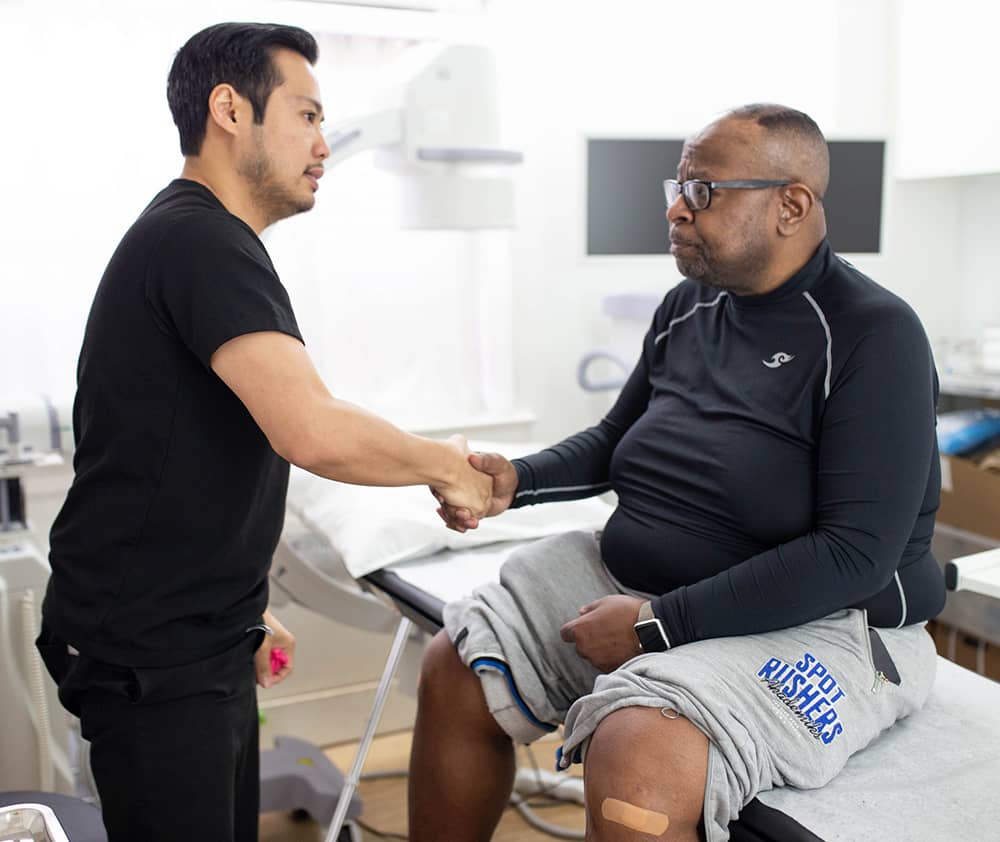 We offer free insurance verification! Fill out the form and expect a call from one of our agents:
With several locations in Long Island, northern NJ, and NYC, Pain Treatment Specialists is your best choice for treating back pain. Even if you don't know all the answers about why your back aches, our pain specialists do! Take time to meet with our caring pain physicians and learn how your back can feel better after your first pain treatment.
LEARN MORE ABOUT OUR TEAM OF SPINE & JOINT SPECIALISTS IN NEW YORK & NEW JERSEY:

Call us
Speak instantly with an agent to verify your insurance and book an appointment.
(866) 446-0946

Book Online
Visit our
Book appointment 
page
and instantly request an appointment at a Spine & Joint center near you. We offer Free Insurance Verification before your appointment.

Get Directions
Learn how to easily get to the Spine & Joint center locations.
FEATURED POSTS BY PAIN DOCTORS
How Does Physical Therapy for Back Pain Help You Feel Better?Once the spring weather begins to thaw winter's chill, a host of outdoor activities become accessible again. On a particularly balmy afternoon, you hit the links for a quick round of golf. Your body feels...
read more