What is Nerve Doctor Called? A Harvard-Trained Pain Doctor Responds
Nerve pain is one of the most debilitating chronic pain conditions, and perhaps the most stigmatizing. Because you can't see the person's injury with a cast, brace, or sling, many times nerve pain is brushed off as "not a big deal." However, if you've ever experienced nerve pain, you know that this observation is both hurtful and wildly inaccurate. Even though you can't see nerve pain on the surface, it manifests as intense pain in your back, neck, and legs that worsens throughout the day. Instead of suffering in silence with nerve pain, it's best to find a doctor specializing in joint disorders who understands how to help your nervous system heal. When you begin looking for pain relief, you might be asking, "What is a nerve doctor called?"
At Pain Treatment Specialists, our nerve doctors are called interventional pain doctors. This type of treatment plan involves utilizing minimally invasive treatments for nerve pain that address the source of your pain and provide long-lasting pain relief. Before you consult a neurosurgeon for neurological disorders, schedule an appointment at one of our pain clinics in NYC or northern NJ for advice about how to best treat your chronic nerve pain.
What is a Nerve Doctor Called?
When you begin researching how to treat your chronic nerve pain, the search phrases you find are overwhelming. You might find prompts such as "can neurologists prescribe anxiety medication", "what kind of doctor treats MS", "where do neurosurgeons work", "cerebrovascular doctor", and "what doctor do you go to for headaches?" All of these unfamiliar phrases and terms can leave you feeling more confused than when you began your search.
If you want to learn the answer to "what is a nerve doctor called?", contact Pain Treatment Specialists. Our interventional pain doctors understand how nerve pain affects every area of your life, and are sympathetic to your pain concerns. They are able to listen to your nerve pain concerns openly and honestly, and never dismiss your pain issues as non-existent because they can't be seen. Instead, they seek answers for your nerve pain condition, and want to restore your quality of life.
One of our top pain doctors is Dr. George Hanna. He is a nationally recognized pain specialist and double board certified in anesthesiology, pain management, and pain medicine. After completing several years of medical school, Dr. Hanna was appointed as a Clinical Instructor of anesthesiology at Harvard Medical School. After this position, Dr. Hanna earned the title of Director of Pain Innovations and Technology, also at Harvard. Additionally, he is regularly invited to speak at national conferences on pain medicine, where his research and expertise in pain medicine are sought after by his colleagues in this field. Perhaps Dr. Hanna's most impressive accomplishment is his myriad of 5-star patient reviews. Each one mentions his kindness, knowledge of pain medicine, and efficacy of nerve pain treatments. Not only is Dr. Hanna an expert in his field, but he is also exceptionally easy to talk to and wants the best outcome for all of his patients.
Before your begin searching for "what is a headache doctor called" or "neurologist near me", book a consultation at Pain Treatment Specialists. Our team of nationally recognized nerve pain doctors understand how disruptive nerve pain is, and look forward to working with each patient to customize an effective treatment plan.
Is it Necessary to Perform Surgery for Nerve Pain?
Surgery should not be your first option for treating nerve pain. While there are some neurological conditions like Parkinson's Disease that affect the brain and spinal cord that need specialized care, a neurologist isn't needed for many types of nerve pain. The body's nervous system is a complex pathway comprised of the brain and spinal cord, and nerves that branch off from these areas. When you suffer from nerve pain, there is a disruption in these pathways that causes intense pain, numbness, and tingling.
Is it necessary to perform surgery for nerve pain? No, and utilizing more conservative treatments first is highly successful for most patients suffering from nerve pain. At Pain Treatment Specialists, we offer the following treatments for nerve pain:
●Facet Nerve Block: A facet nerve block uses a local anesthetic to numb the nerves that provide sensation to the spine's facet joints. If you suffer from nerve pain due to osteoarthritis, this procedure helps with pain related to this condition.
●Radiofrequency Ablation: Also known as RF ablation, this minimally invasive back pain treatment uses heat energy to deactivate troublesome nerves. Your back pain doctor uses a special x-ray called a fluoroscope to guide the placement of the needle. This precision allows them to pinpoint the exact nerve where heat energy is delivered, ensuring an accurate and effective treatment.
During your consultation at Pain Treatment Specialists, our team of nationally recognized pain doctors properly diagnose and treat your chronic nerve pain. Schedule an appointment at one of our pain clinics in NYC, Long Island, or northern NJ and see how much your life improves after meeting with our compassionate back and knee pain doctors.
Can My Primary Care Doctor Treat Nerve Pain?
While your primary care doctor is an excellent resource for general health concerns, they are not able to effectively treat your nerve pain. They can refer you to an interventional pain doctor who specializes in nerve pain, the nervous system, and the electrical activity of your peripheral nerves. Consider your primary care doctor as your first outreach of healthcare advice, with a pain medicine doctor being the next step in a more specialized treatment plan.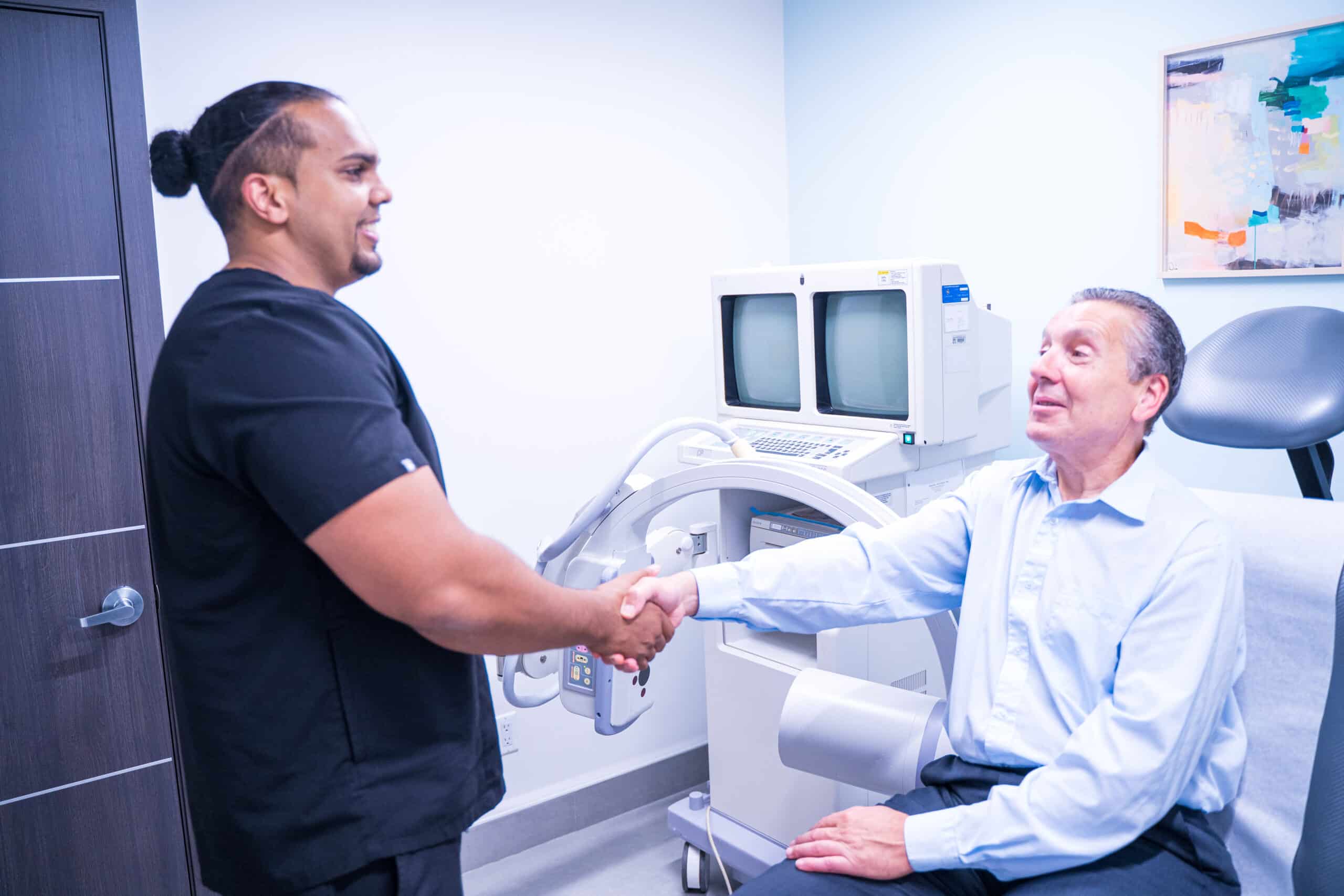 We offer free insurance verification! Fill out the form and expect a call from one of our agents:
Book an appointment with Pain Treatment Specialists and see how our interventional pain doctors are able to effectively treat your nerve pain. Our team looks forward to meeting with you and finding solutions for your nerve pain that avoid surgery and dangerous narcotics in favor of more conservative treatments.
LEARN MORE ABOUT OUR TEAM OF SPINE & JOINT SPECIALISTS IN NEW YORK & NEW JERSEY:

Call us
Speak instantly with an agent to verify your insurance and book an appointment.
(866) 446-0946

Book Online
Visit our
Book appointment 
page
and instantly request an appointment at a Spine & Joint center near you. We offer Free Insurance Verification before your appointment.

Get Directions
Learn how to easily get to the Spine & Joint center locations.
FEATURED POSTS BY PAIN DOCTORS
How Do You Know When to See a Doctor for Back Pain?Getting ready for a warm weather vacation? Time to unpack your summer clothing bins and begin packing your bags. You head to the basement to begin sorting through swimsuits and tank tops, but are left stunned by the...
read more