What Can I Expect From a Spine Clinic? A Harvard-Trained Pain Doctor Responds
Back pain is one of the most common chronic pain conditions in the US. The causes of back pain are varied, and can range from overuse and repetitive motions, normal wear and tear, conditions like osteoarthritis, or injuries from falls or accidents. Even though back pain is common, that doesn't mean that people seek treatment at the first sign of pain. Many patients wait until they've been suffering from chronic pain for weeks, if not months, before they seek treatment. Instead of wondering "What can I expect from a spine clinic?" and avoiding that first contact, instead focus on how proper pain care can relieve your pain quickly.
At Pain Treatment Specialists, we understand that back pain affects many facets of your life. This is why our back pain specialists listen carefully to your concerns and allow you time to thoroughly describe the type of pain you're experiencing. Our team of highly-trained back doctors have extensive experience in interventional pain medicine treatments. This training allows our back doctors the ability to customize a treatment plan that addresses your specific type of back pain. When you schedule an appointment at one of our pain clinics in Long Island, NYC, or northern NJ, you'll see how easy it is to follow the medical advice of our pain management doctors.
What Can I Expect from a Spine Clinic During My Consultation?
If you've never been to a pain clinic before, you're likely wondering "What can I expect from a spine clinic consultation?" At Pain Treatment Specialists, we've designed our pain treatments to be seamless from the first minute you contact our clinic to the time you complete your first pain treatment. When you first contact our offices, you're paired with a personal concierge who verifies your insurance information and schedules your first consultation. On the day of your appointment you'll enter one of our state-of-the-art pain clinics for a brief wait before being escorted back to our private consultation area. Here, you'll meet with one of our highly qualified pain doctors for your initial assessment and examination. You'll have time to describe your back pain, when it hurts, and how it affects your daily life. This is followed by a gentle examination where your pain doctor assesses your range of motion and physical limitations. If needed, CT scans and more diagnostic testing are ordered.
Once your consultation is completed, your pain doctor provides your back pain diagnosis, as well as your customized treatment plan. Our back specialists specialize in spine injuries and chronic pain conditions, and utilize a wide variety of treatments for pain relief. Again, you'll have time to ask questions about your diagnosis and treatment plan. Finally, your concierge reaches out to schedule your first back pain treatments.
Booking an appointment at Pain Treatment Specialists is one of the best choices you can make to address your chronic back pain. Even if you've never visited a back pain clinic, our warm and welcoming front-end staff, in addition to our compassionate pain doctors, make your visit relaxed and worthwhile.
Why Should I Avoid Spine Surgeons?
When you're first beginning your research about back pain treatments, you might be unsure about what type of doctor you should consult. Is it appropriate to meet with your primary care physician, someone who specializes in spine conditions, spine surgeons, or back pain doctors? Meeting with a spine surgeon will likely result in having an invasive back surgery, which can often be avoided through pain medicine.
Spine surgeons are trained to use surgical treatments for back pain conditions. Back surgery is not only invasive, but it also presents the opportunity for complications. You'll need to stay in the hospital, followed by a stint in a rehabilitation facility. This requires weeks off from work, and help around the house once you return home. There's also no guarantee that back surgery provides the best form of pain relief. Instead, look for more conservative treatments first that can remedy your chronic pain.
At Pain Treatment Specialists, our back doctors only suggest surgery if it is medically necessary. Their philosophy as pain doctors is utilizing minimally invasive back pain treatments first before suggesting an invasive and life-changing surgery. Schedule an appointment at one of the northeast pain clinics and receive an accurate diagnosis and treatment plan for your back pain.
Can I Use Pain Management Treatments at Home?
While professional pain management treatments should only be administered at a professional pain clinic, there are some things you can do to reduce your pain at home.
RICE: This acronym stands for "rest, ice, compress, and elevate." First, rest your back from strenuous activities and ice in 20-minute intervals. Compress your back with a brace or bandage when you'll be on your feet for a long period of time. Elevate your back with pillows while laying down to reduce pain and swelling.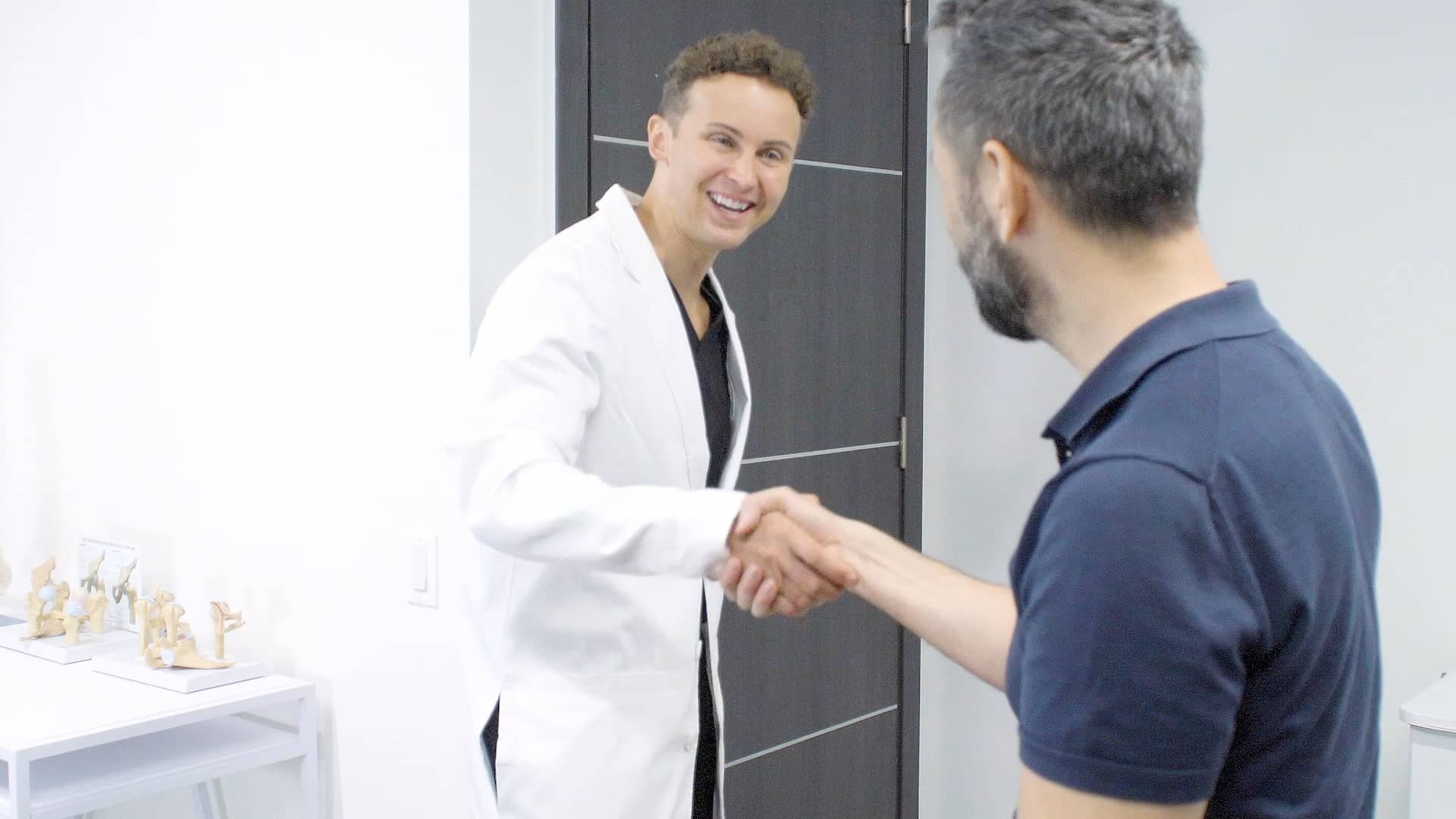 We offer free insurance verification! Fill out the form and expect a call from one of our agents:
Exercise: Keeping your back in motion with exercises like swimming or tai chi helps keep you limber. It's also great for your overall mood and heart health.
OTC Medicine: You can use OTC pain relievers to help you manage pain.
Book an appointment at Pain Treatment Specialists and begin the process of tackling your back pain in a professional and caring environment.
LEARN MORE ABOUT OUR TEAM OF SPINE & JOINT SPECIALISTS IN NEW YORK & NEW JERSEY:

Call us
Speak instantly with an agent to verify your insurance and book an appointment.
(866) 446-0946

Book Online
Visit our
Book appointment 
page
and instantly request an appointment at a Spine & Joint center near you. We offer Free Insurance Verification before your appointment.

Get Directions
Learn how to easily get to the Spine & Joint center locations.
FEATURED POSTS BY PAIN DOCTORS
How Does Physical Therapy for Back Pain Help You Feel Better?Once the spring weather begins to thaw winter's chill, a host of outdoor activities become accessible again. On a particularly balmy afternoon, you hit the links for a quick round of golf. Your body feels...
read more