Meet With a Spine Treatment Dr. for Effective Back Pain Relief
Being an armchair quarterback or couch critic when watching sports is heard in households across the country. You'll analyze someone's form, throw, flip, twist, or swing, even though your own back pain makes most of these moves impossible. When you were younger, your body was much stronger and more limber, but you feel tension, stiffness, and pain just from waking up in the morning. If you're ready to find back pain relief from a spine treatment doctor, where should you begin looking?
At  Pain Treatment Specialists, our team of Harvard trained back pain doctors should be the first pain clinic on your list. Why should you choose Pain Treatment Specialists for your spine care and neck pain? Their back pain doctors use pain management treatments, and not surgical treatments or addictive narcotics for back pain relief. When you book an appointment at their pain clinics in NYC and northern NJ, you're walked through your back pain treatment and diagnosis step by step, with time to ask questions and without feeling rushed. Their pain clinics offer the latest minimally invasive back pain treatments that work for your specific back pain concerns.
What Training Should a Spine Treatment Dr. Have?
Be sure to meet with a spine treatment doctor who also specializes in pain medicine. This type of doctor receives fellowship training in a specific field of pain management, which includes using cutting-edge and minimally invasive treatments. Their spine care avoids surgery unless it is medically necessary, and instead focuses on how to alleviate your back pain with pain management treatments like steroid injections, ablations, and physical therapy. Our reviews speak for themselves, and each of our doctors consistently receive outstanding accolades from their patients.
Dr. George Hanna is a nationally recognized pain specialist who is double board certified in anesthesiology, pain medicine, and interventional pain management. His patients describe him as an "excellent doctor" who takes care of back pain "beyond my expectations." His bedside manner includes "listening well" which gives patients "a lot of security about your treatment." Dr. Hanna is also a former Clinical Instructor at Harvard Medical School, and regularly presents at medical conferences across the country for his peers in the pain medicine community.
Dr. Laura Lombardi fellowship trained at Harvard in interventional pain medicine, and is an expert in fluoroscopic-guided back pain treatments. This special type of x-ray uses a live screen and allows Dr. Lombardi to see exactly where she's delivering your back pain medicine. More targeted delivery equals more effective results! Her patients call her "one of a kind" and someone who "gets right to the business of getting rid of your pain."
Call our pain clinics and schedule an appointment with Dr. Lombardi, Dr. Hanna, or another one of our exceptional back pain doctors for kind and knowledgeable back pain relief.
What is the Most Effective Treatment for Degenerative Disc Disease?
What is degenerative disease? This painful condition occurs as we age, and is the result of two or more of the discs between the vertebrae of the spinal column deteriorating. Over time, these cushioned discs wear down, which provides less shock absorption and protection. The result of this breakdown leads to pain that radiates down your leg, pain in your lower back, and numbness or weakness.
Physical therapy is an excellent way to address the pain caused by degenerative disc disease. When your back is engaged in regular activity, it's less prone to future episodes of pain and soreness. Your physical therapist is an expert in exercise science, and knows which types of stretches, weight work, and aerobic activity works to alleviate your back pain. At the end of your PT sessions, you'll have a set of skills that you can work into your own exercise plan for effective pain relief.
An epidural steroid injection is another highly effective treatment for degenerative disc disease. Your back pain specialist uses a fluoroscope to identify your epidural space. Next, medicine is delivered to your epidural space, which provides long-lasting back pain relief with minimal downtime.
No matter if the cause of your back pain is a spinal deformity, sciatica, or degenerative disc disease, the spine treatment doctors at Pain Treatment Specialists have a back pain treatment that offers effective back pain relief.
Why Should I Avoid Surgical Treatment for Back Pain?
Surgical treatments for back pain are invasive and painful, requiring a hospital stay. When you eventually return home, you'll need to have extensive help for daily tasks like showering, dressing, and running errands while you recover. Once you're fully recovered from the surgery, there's also no guarantee that the pain and sacrifice you went through was worth it– your back pain might still exist. Instead, investigate more conservtaive back pain treatments that do not alter your life in such a dramatic fashion.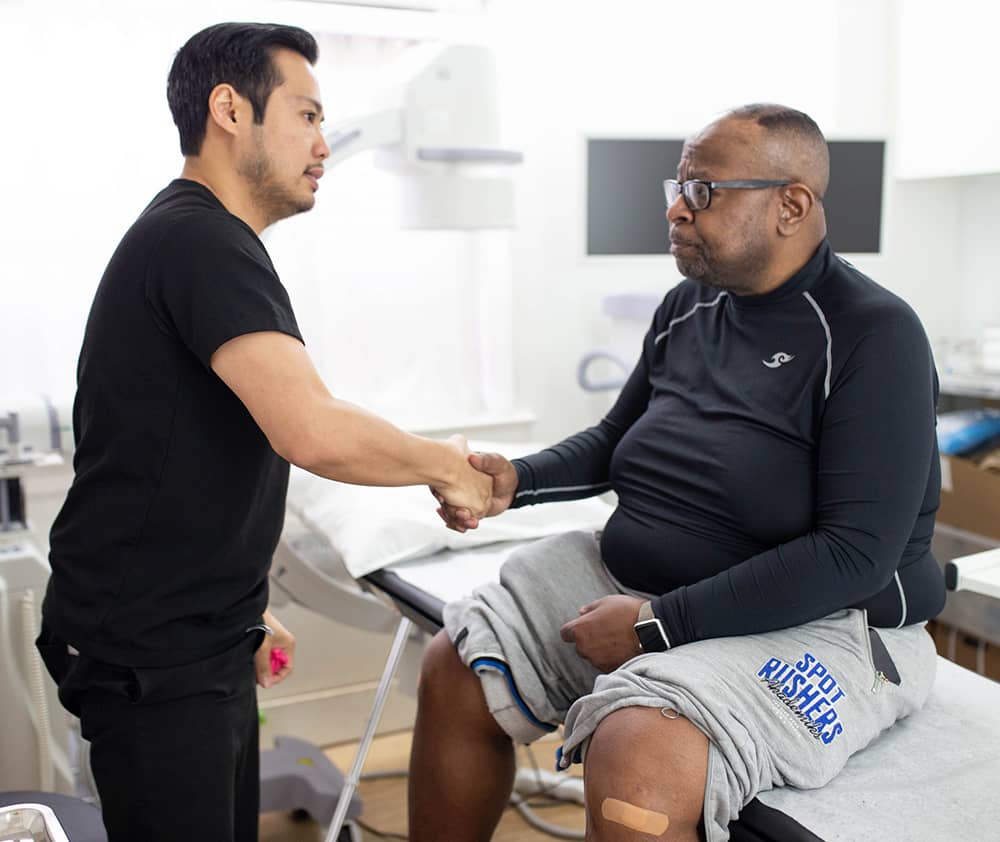 We offer free insurance verification! Fill out the form and expect a call from one of our agents:
At Pain Treatment Specialists, we might not be able to get you up to the status of an elite athlete, but we can certainly make it possible for you to swing a golf club or throw a football without pain. Contact our pain clinics in NYC and northern NJ today to see how our highly-rated back pain doctors relieve your chronic back pain with minimally invasive treatments.
LEARN MORE ABOUT OUR TEAM OF SPINE & JOINT SPECIALISTS IN NEW YORK & NEW JERSEY:

Call us
Speak instantly with an agent to verify your insurance and book an appointment.
(866) 446-0946

Book Online
Visit our
Book appointment 
page
and instantly request an appointment at a Spine & Joint center near you. We offer Free Insurance Verification before your appointment.

Get Directions
Learn how to easily get to the Spine & Joint center locations.
FEATURED POSTS BY PAIN DOCTORS
How Does Physical Therapy for Back Pain Help You Feel Better?Once the spring weather begins to thaw winter's chill, a host of outdoor activities become accessible again. On a particularly balmy afternoon, you hit the links for a quick round of golf. Your body feels...
read more