What Types of Medical Advice Does a Spine Treatment Doctor Offer?
One of the reasons your close friends are so valuable is that they offer great advice about everything. Want to know what to do when you fight with your partner? Ask your friends to hear the scenario. Looking for a new gym? You survey your friends and see what they recommend for fitness programs. When it comes to medical advice, you also ask your friends about where they go for a spine treatment doctor, since your back pain is increasingly invading your life. You're looking for someone who is able to treat your back pain with pain medicine, and not back surgery.
All of your friends say the same thing: Pain Treatment Specialists has the best back doctors to meet your needs. Their Harvard trained team of board certified pain doctors use minimally invasive pain treatments for neck pain and back pain. Additionally, your friends all mention that their patient care is outstanding, and they felt cared for from the time they scheduled an appointment to their final back pain treatment. With locations in NYC and northern NJ, they're easy to reach and able to easily work around your busy schedule. Once again, your friends provided excellent advice!
What Qualifications Should a Spine Treatment Doctor Have?
Since the spine and back are very complex body parts, you'll find many doctors who specialize in this field. However, not all medical doctors treat back pain with the same methods. For example, if you have a spinal deformity or suffer severe trauma in an accident, then meeting with a spine surgeon is your best option for spine care. If your lower back aches when you stand up or you feel pain radiating through your legs, you'll be able to find more conservative treatments that are effective for pain relief. At Pain Treatment Specialists, all of our doctors are pain management specialists, which means that they use pain medicine for the diagnosis and treatment of your back pain. Some of our top rated back pain specialists include:
Dr. George Hanna: Dr. Hanna's patients describe him as "patient" and "reassuring." This calm demeanor and pleasant bedside manner is not the only memorable part about your visit to his pain clinic. Dr. Hanna completed a pain management fellowship at Brigham and Women's Hospital: Harvard Medical School, and later served as a Clinical Instructor at Harvard in anesthesiology. His extensive background in pain management and pain medicine informs Dr. Hanna's diagnosis and treatment of your back pain, where he is able to provide cutting-edge treatments for maximum pain relief.
Dr. Laura Lombardi: Dr. Lombardi's patients describe her as a "lifesaver", so you know that she's treated patients with serious and debilitating back pain. She fellowship trained at Harvard in interventional pain medicine, and is an expert in fluoroscopic-guided pain treatments. Her mastery of this special type of x-ray allows her to pinpoint the exact area of your back pain and provide targeted relief.
Dr. Lombardi and Dr. Hanna are just two of the exceptional spine treatment doctors at Pain Treatment Specialists. Book an appointment today and take the first step towards a pain-free life.
How a Back Doctor Diagnoses and Treats Chronic Pain
The back specialists at Pain Treatment Specialists focus on using minimally invasive back pain treatments for pain relief. These methods do not involve back surgery, and instead use steroid injections, ablations, and physical therapy that allow you to resume the activities you enjoy without pain.
Physical therapy is one of the most conservative back pain treatments, since it focuses on building strength and flexibility in your back. During your physical therapy sessions, you'll meet with a physical therapist who is an expert in exercise science. They'll use this expertise to build a program using aerobic exercise, weights, stretches, and heat and cold therapies that targets your specific back pain.
Facet joint injections help relieve lower back pain, or back pain due to an injury. It is also known as a lumbar facet joint nerve block because the procedure numbs the nerves of one or more small joints located along the side of each vertebra. In addition to relieving your lower back pain, it is also used as a diagnostic tool that confirms the cause and location of your pain.
When you schedule an appointment at Pain Treatment Specialists, your back pain specialist discusses your customized back treatment plan thoroughly. Schedule a consultation and begin the conversation about treating your chronic back pain.
Can I Treat Neck Pain and Back Pain at Home?
Yes, you can find relief from neck pain and back pain at home, but these treatment methods only offer short-term pain relief. Over the counter medicines like aspirin and ibuprofen help reduce pain and swelling in your neck and back, and last for several hours. Stretching your back with gentle motions and keeping your back active with yoga and swimming are recommended to prevent stiffness. Hot showers and ice packs also help with pain and swelling, as does wearing a back brace or compression bandage to provide additional support to your lower back.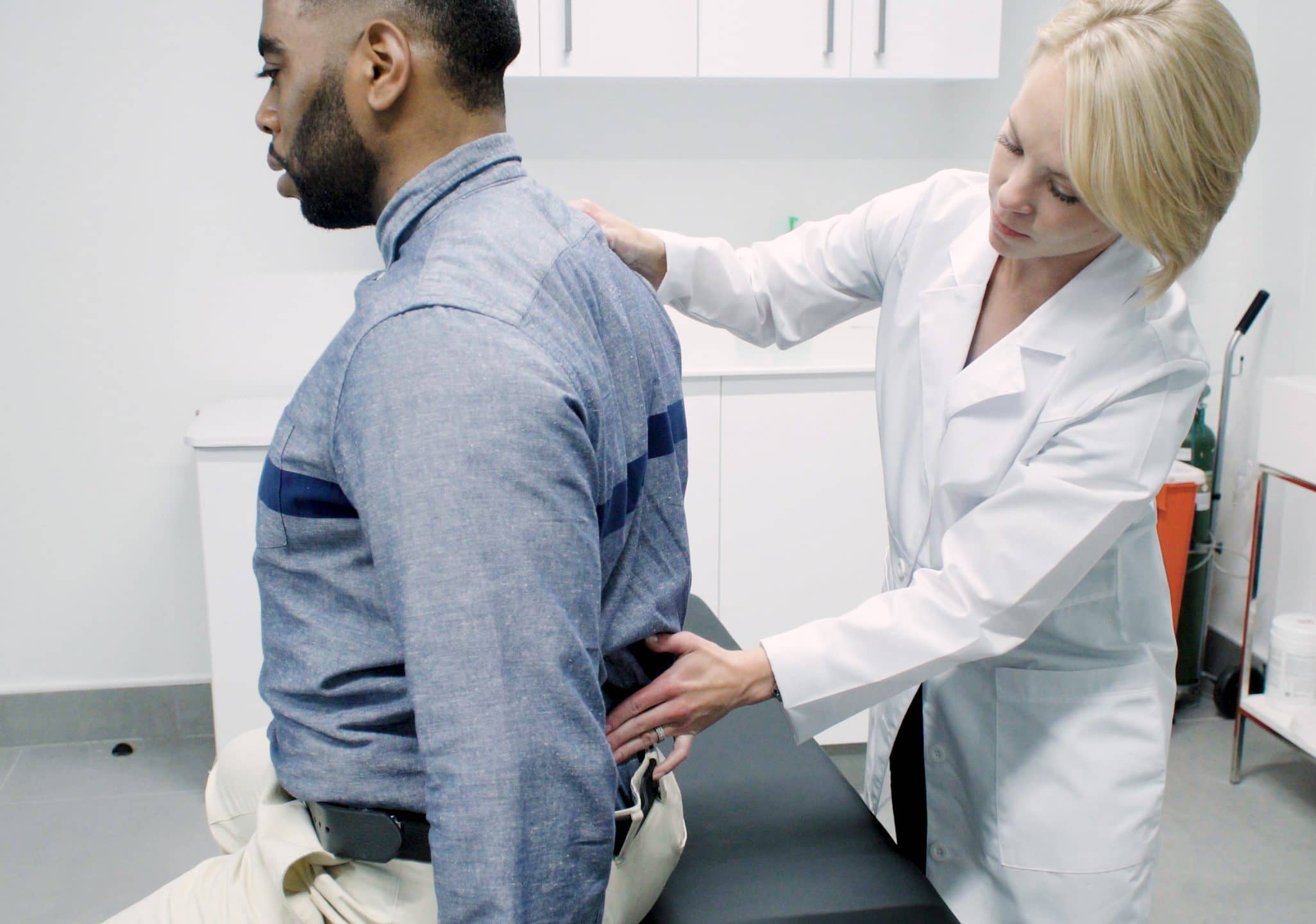 We offer free insurance verification! Fill out the form and expect a call from one of our agents:
Book an appointment at Pain Treatment Specialists and follow the great advice of your friends. There's a reason why their pain clinics in NYC and northern NJ all have 5 star ratings, and it's time for you to stop living in pain and start looking forward to resuming your normal activities.
LEARN MORE ABOUT OUR TEAM OF SPINE & JOINT SPECIALISTS IN NEW YORK & NEW JERSEY:

Call us
Speak instantly with an agent to verify your insurance and book an appointment.
(866) 446-0946

Book Online
Visit our
Book appointment 
page
and instantly request an appointment at a Spine & Joint center near you. We offer Free Insurance Verification before your appointment.

Get Directions
Learn how to easily get to the Spine & Joint center locations.
FEATURED POSTS BY PAIN DOCTORS
How Do You Know When to See a Doctor for Back Pain?Getting ready for a warm weather vacation? Time to unpack your summer clothing bins and begin packing your bags. You head to the basement to begin sorting through swimsuits and tank tops, but are left stunned by the...
read more