What Can a Spine Doctor do for Chronic Back Pain?
Living in the northeast during winter isn't for the faint of heart. When the snow begins to fly, your body takes a beating as you're trying to keep ahead of the flakes that accumulate in your driveway, your sidewalk, and on your car. Back pain is the only thing that prevents you from keeping these things pristine during a blustery squall, since your stiffness and soreness makes shoveling a painful chore. You've been able to work around your back pain for a while, but this year it's become clear that you can't keep putting up with this chronic pain. Heading to the internet for some help, you type in "spine doctor" and find results like "Bedford spine clinic", "lumbar spine specialist near me", "back specialist Staten Island", "spine one doctors", and "Blue Ridge spine center." None of these results are meaningful, as you're looking to avoid surgery for your back pain.
Finally, you click on "Pain Treatment Specialists" and see the results you're looking for. Not only are their back pain specialists Harvard trained and board certified, but they also specialize in pain medicine and minimally invasive back pain treatments. This is exactly the type of experience you're looking for, since surgery is not something you want to explore. It's also easy to book an appointment at Pain Treatment Specialists, since you're paired with a personal concierge who confirms your insurance coverage and also schedules your appointments. They're also considered a back ache doctor near me with locations in NYC and northern NJ.
Finally, you're ready to take a step towards eliminating back pain from your life.
What Qualifications Should a Spine Doctor Have?
Not all back pain doctors provide the same back pain treatments. For example, at an emergency back pain specialist near me or a spine injury doctor near me, you'll find a team of doctors who are trained to address severe trauma in your back to prevent serious, long-term damage. A spine orthopedic specialist near me may recommend surgery as a solution for your back pain. At Pain Treatment Specialists, will you find an orthopedic or chiropractor doctor? The answer is no, because our team focuses on interventional pain management, and are considered pain doctors. This type of doctor avoids surgery and instead uses minimally invasive back pain treatments designed to improve your quality of life with very little down time. Ideally, your spine doctor should have the following qualifications:
Board Certification: Having a board certification means that your doctor has passed a rigorous examination process to certify that they are a specialist in their field. All of the pain doctors at Pain Treatment Specialists are board certified, with many holding multiple certifications. For example, Dr. George Hanna is double certified in pain medicine, anesthesiology, and interventional pain management.
Background in Pain Medicine: If you're looking to avoid back surgery, find a doctor who specializes in pain medicine and interventional pain management. This requires specialized fellowship training in these fields in order to demonstrate knowledge and practice in these very specific areas. At Pain Treatment Specialists, all of our pain doctors have extensive backgrounds in pain medicine, anesthesiology, and interventional pain management. Dr. Shane Volney is a former Clinical Instructor at Harvard Medical School in anesthesiology and pain medicine.
Excellent Bedside Manner: Talking about chronic pain isn't easy, but it is made easier when your pain doctor has outstanding bedside manners. The pain doctors at Pain Treatment Specialists all have excellent patient reviews that discuss not only their expertise in pain medicine, but also their sympathetic and caring demeanors.
The combination of all these factors make Pain Treatment Specialists your best choice for a spine specialist. Contact their state of the art pain clinics and meet with our top-notch team of pain doctors.
What is the Best Treatment for My Spine Condition?
During your initial consultation at Pain Treatment Specialists, your back pain doctor listens carefully to your back pain concerns, and then gently completes a physical examination. If needed, more imaging is requested in order to properly diagnose the source of your back pain. Then, your spine doctor clearly explains your spine condition, and what the next treatment steps are. Some of the treatments offered at our pain clinics include:
Physical Therapy: A physical therapist uses their background in exercise science to create a customized PT program. This may include stretching, weight work, aerobic exercises, and heat and cold therapy. The goal of your physical therapy program is making your back stronger and more flexible, which also helps prevent future back pain and injuries.
Epidural Steroid Injections: If you're suffering from lower back pain caused by a herniated disc or spinal stenosis, epidural steroid injections provide highly effective back pain relief. Your pain doctor injects medicine into the epidural space in your spine, which is located using a fluoroscopic-guided x-ray. The results of this 15-30 minute procedure last for weeks, or even months.
Book an appointment at Pain Treatment Specialists and let our expert back pain doctors properly diagnose and treat your back pain with minimally invasive back pain treatments.
How Can I Treat Neck and Spine Pain At Home?
At home back pain treatments can provide short-term pain relief. One suggestion is keeping your back active and moving through gentle stretches and exercises. Avoid high-impact activities like running, and instead try swimming, yoga, or walking to keep your back pliable. Over the counter pain medicines like aspirin or ibuprofen are also helpful to reduce your pain levels. Hot showers and heating pads not only feel great on your back, but also keep your muscles loose. Ice reduces swelling, and a compression bandage or back brace provides additional support for days when you'll be on your feet for a long period of time.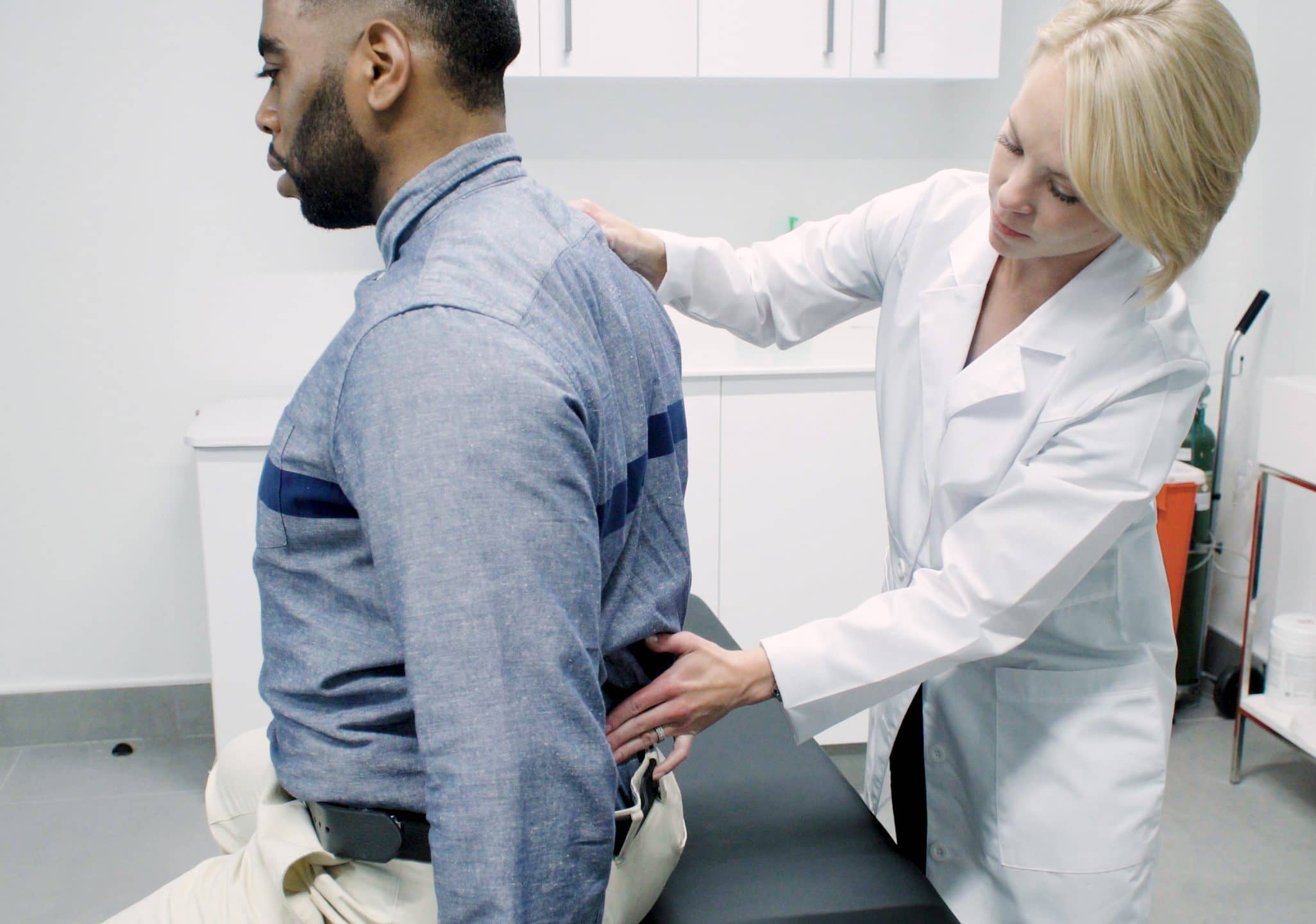 We offer free insurance verification! Fill out the form and expect a call from one of our agents:
Don't let old man winter make your back feel old as well! Schedule an appointment at Pain Treatment Specialists and see how easy it is to find effective back pain relief through minimally invasive back pain treatments.
LEARN MORE ABOUT OUR TEAM OF SPINE & JOINT SPECIALISTS IN NEW YORK & NEW JERSEY:

Call us
Speak instantly with an agent to verify your insurance and book an appointment.
(866) 446-0946

Book Online
Visit our
Book appointment 
page
and instantly request an appointment at a Spine & Joint center near you. We offer Free Insurance Verification before your appointment.

Get Directions
Learn how to easily get to the Spine & Joint center locations.
FEATURED POSTS BY PAIN DOCTORS
How Does Physical Therapy for Back Pain Help You Feel Better?Once the spring weather begins to thaw winter's chill, a host of outdoor activities become accessible again. On a particularly balmy afternoon, you hit the links for a quick round of golf. Your body feels...
read more