Meet With a Shoulder Specialist for Relief from Shoulder Arthritis
Now that travel is beginning to re-open, you're ready to book a bus trip to the nation's capital and explore the monuments and museums of Washington, DC. You're looking forward to getting a rich tour of the nation's history, but are dreading the long bus ride. Your shoulder pain intensifies when you've been sitting still for a long period of time, and you're hoping that the trip includes lots of breaks for you to stretch. Once you board the bus, you can see that the tour director is a stickler for making good time, and that your sore shoulder will bear the brunt of inactivity for the morning. While you're on the bus, you decide that it's probably time to meet with a shoulder specialist and begin doing some research for the best ortho in your area. The list of results includes "best shoulder surgeon in Austin", "top shoulder orthopedic surgeons near me", "Dr. Cuff orthopedic surgeon", and "shoulder doctor near me." Since you're located in the northeast, you refine your search to include the NYC and northern NJ area and see Pain Treatment Specialists appear at the top of every "best doctor to see for shoulder pain" list.
What sets Pain Treatment Specialists apart from other shoulder doctors? Their use of minimally invasive treatments for shoulder pain, instead of invasive surgery. Another highlight of their pain clinics is the ease of scheduling an appointment and the quality of their pain doctors. All of the pain doctors at our NYC and NJ pain clinics are sympathetic practitioners of pain medicine, and continually refresh their techniques in interventional pain treatments. Instead of relying on surgical procedures, our pain doctors find long-lasting pain relief solutions that include steroid injections, platelet-rich plasma injections, and lubricant injections. Before you book another bus tour, you're dedicated to meeting with the shoulder specialists at Pain Treatment Specialists and finding relief from your stiff, aching shoulder.
Who is the Best Type of Shoulder Specialist?
Choosing the correct type of shoulder specialist is critical for finding effective pain relief. Not all shoulder doctors treat pain with the same methods. For example, orthopedic surgeons and shoulder surgeons use shoulder surgery for pain relief. Surgery should be avoided unless medically necessary for a variety of reasons. Not only is surgery invasive and painful, but there's also no guarantee that just one surgery will successfully alleviate your pain. This is why it's critical to meet with a shoulder pain doctor who specializes in interventional pain medicine, which is exactly what you'll find at Pain Treatment Specialists.
One of our leading shoulder pain doctors is Dr. George Hanna. He is the former Director of Pain Innovations and Technology at Harvard University, and was a former Clinical Instructor of anesthesiology at the institution. Dr. Hanna regularly speaks at national medical conferences and authors medical textbook chapters on pain management. In addition to his impressive resume, Dr. Hanna also consistently receives 5-star patient reviews that mention his compassionate bedside manner and thorough explanations of shoulder pain treatments.
If you're looking for state-of-the-art care for shoulder pain without surgical procedures, contact the pain doctors at Pain Treatment Specialists and see how easy it is to regain mobility and strength in your shoulder.
What are the Best Minimally Invasive Treatments for Shoulder Instability?
If you suffer from shoulder instability, then you find it difficult to lift your arm over your head or hold objects for a long period of time. This leads to increased use of your "good" arm while you give your weakened shoulder a rest. You can find relief from shoulder instability and other shoulder joint issues through several options at Pain Treatment Specialists.
Steroid injections are highly effective at pain relief, and provide targeted treatments for shoulder instability. Your shoulder specialist administers a corticosteroid shot in your bursa, which is just above your tendon. This rids the area of swelling, and provides powerful pain relief. Steroid injections also allow you to begin physical therapy, which continues to strengthen your shoulder joint.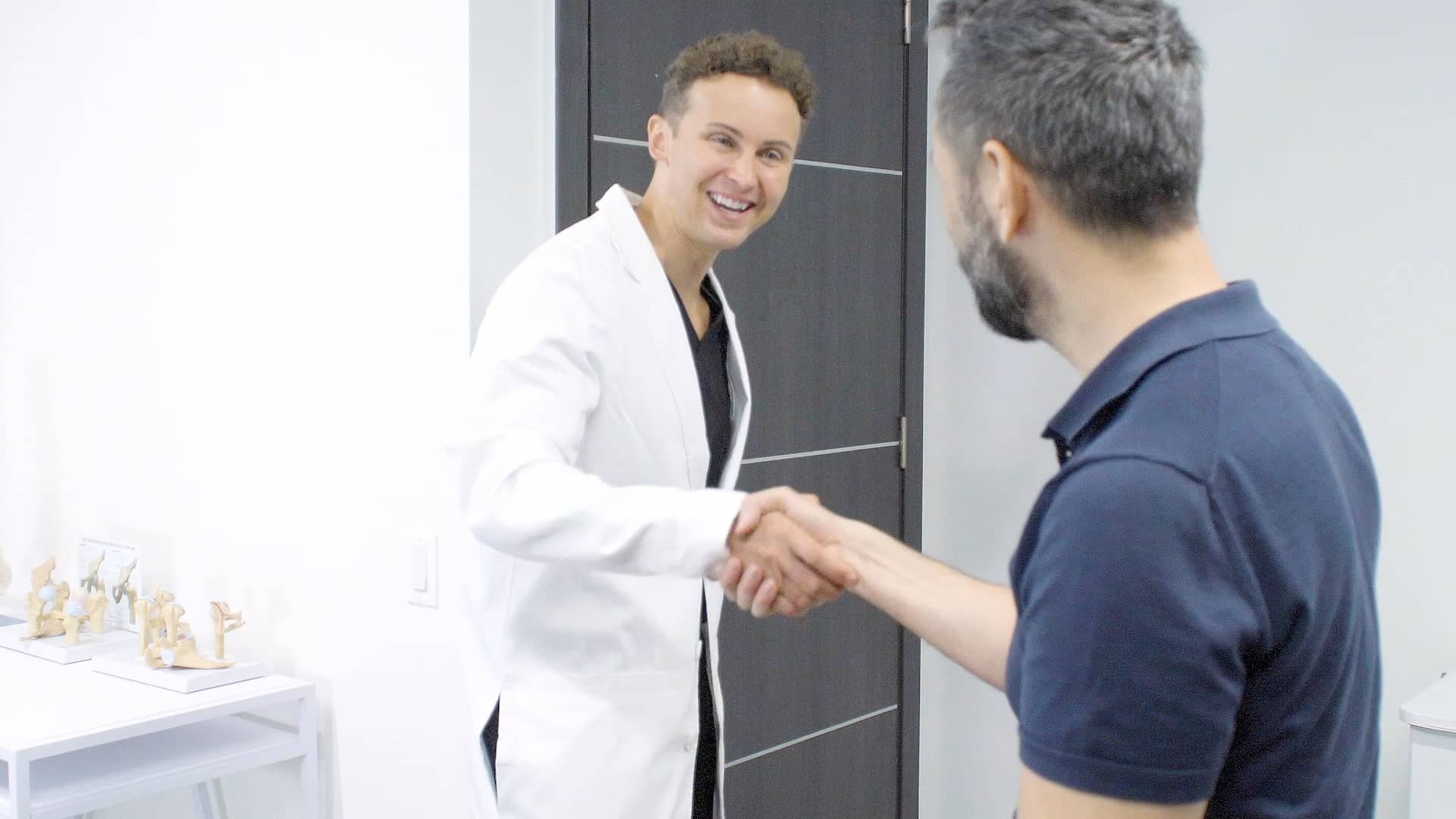 We offer free insurance verification! Fill out the form and expect a call from one of our agents:
Hyaluronic acid injections, also known as viscosupplementation, provide additional lubrication in your shoulder joint. For patients suffering from shoulder osteoarthritis, this injections helps the shoulder joints glide more smoothly over each other. You may need 3-5 injections during a week in order to properly supplement your shoulder joint's natural fluid.
At Pain Treatment Specialists, our goal is reducing your shoulder pain without utilizing surgical procedures. Book an appointment at one of our pain clinics in northern NJ or NYC and see how our shoulder specialists easily treat chronic shoulder pain conditions.
What is Shoulder Arthritis?
Shoulder arthritis is also known as osteoarthritis and commonly occurs in people over 60. This is a chronic pain condition that affects the cartilage covereing the ends of your bone. When this cartliage wears away, your bones are not able to easily gide over each other. The result of this condition is a stiff, sore shoulder that gets worse over time. Finding osteoarthritis early helps prevent the further deterioration of your cartilage, as well as prevents more shoulder pain.
Get back on the tour bus after a consultation with the pain management doctors at Pain Treatment Specialists. Through a series of minimally invasive pain treatments, our team of Harvard-trained shoulder specialists find effective and long-lasting solutions for shoulder pain.
LEARN MORE ABOUT OUR TEAM OF SPINE & JOINT SPECIALISTS IN NEW YORK & NEW JERSEY:

Call us
Speak instantly with an agent to verify your insurance and book an appointment.
(866) 446-0946

Book Online
Visit our
Book appointment 
page
and instantly request an appointment at a Spine & Joint center near you. We offer Free Insurance Verification before your appointment.

Get Directions
Learn how to easily get to the Spine & Joint center locations.
FEATURED POSTS BY PAIN DOCTORS
How Does Physical Therapy for Back Pain Help You Feel Better?Once the spring weather begins to thaw winter's chill, a host of outdoor activities become accessible again. On a particularly balmy afternoon, you hit the links for a quick round of golf. Your body feels...
read more