Suffering from Shoulder Pain? Trust the Medical Advice of Harvard Trained Pain Doctors
A day at kayaking on the river is exactly what you need during a hot streak in the summer. You load the kayak on the roof of your car and feel a twinge of shoulder pain. It doesn't make you think twice, since it's a good deal of heavy lifting. After reaching your launching point, you settle in for a relaxing afternoon on the water. You've enjoyed your afternoon paddling, but now it's time to repack the car and begin your drive home. This time, your shoulder, already sore from an afternoon paddling, makes it nearly impossible to lift the kayak. You even need to phone a friend to help get the kayak loaded. Is this more than just shoulder pain, and is there a deeper underlying issue that you should investigate?
At Pain Treatment Specialists, we feel that any time spent in pain is too much. Your shoulder muscles are critical for supporting your neck, stabilizing your upper back, and using your arms. Interventional pain treatments are highly effective at combating neck, back, and arm pain, in addition to shoulder pain in the shoulder blade. If you're not sure about which doctor to see for neck and shoulder pain, schedule an appointment at Pain Treatment Specialists and find minimally invasive shoulder pain treatments that provide long-lasting pain relief.
I Fell on My Arm and it Hurts Really Bad. What Should I Do?
Shoulder muscles and tendons can be injured through a traumatic accident or fall. If the pain in your right arm or left arm becomes overwhelming after an accident or injury, please visit an emergency clinic to rule out a fracture or separation. Many other types of shoulder conditions such as osteoarthritis, mesothelioma shoulder pain, psoriatic arthritis shoulder blade pain, shoulder impingement, or rotator cuff tendonitis are also quite painful, but occur due to different underlying concerns. This is exactly what happened after your afternoon of kayaking. Your shoulder muscles and tendons were overused that day, resulting in pain and exhaustion.
At Pain Treatment Specialists, we're able to provide you with an accurate diagnosis and treatment plan for your shoulder condition. During your consultation, you'll be asked to describe your shoulder pain. Your pain doctor also completes a gentle physical examination, and if needed more images are ordered to properly identify the cause of your shoulder pain. Once your shoulder pain doctor diagnoses the cause of your pain, a customized treatment plan is created to help you target and eliminate your pain. All of our board certified and Harvard trained pain doctors are well-equipped to provide an accurate and compassionate experience at their pain clinics in NYC and northern NJ.
Instead of wondering "Why do my neck and my shoulder hurt?", find solutions at Pain Treatment Specialists. Their team of caring and knowledgeable pain doctors are equipped to identify the source of your shoulder pain– and also how to fix it!
What are the Best Treatments for Shoulder Joint Pain?
If you're experiencing shoulder pain, you're not alone. The ball and socket joint, along with all of your shoulder's tendons and muscles, do a lot of heavy lifting during a normal day. When something is off and you have trouble lifting your arm or carrying objects, you likely have an underlying condition that is causing this pain. At Pain Treatment Specialists, we offer several minimally invasive shoulder pain treatments for a variety of shoulder problems.
Steroid injections are one of the most conservative treatments used for chronic shoulder pain. During this treatment, your pain doctor administers steroid-based cortisone injections in the shoulder bursa area, which is just above the tendon. This reduces pain and swelling, and allows you to quickly resume normal activities with little down time.
Viscosupplementation, also known as a hyaluronic acid injection, reduces joint friction due to arthritis or wear and tear. Hyaluronic acid is the main component of shoulder joint fluid, which is known as synovial fluid. If you feel a grinding sensation in your shoulder, you may be lacking proper fluid that allows the shoulder joints to move smoothly.
Both of these minimally invasive shoulder pain treatments are often used in conjunction with physical therapy. During your PT sessions, your physical therapist uses stretches, heat and cold therapies, and strength-building exercises to help stabilize and build strength in your shoulder.
The pain doctors at Pain Treatment Specialists create customized treatment plans for every patient who visits their pain clinics. See how their personalized approach and expert medical advice helps you get back into your kayak and on the river with minimal disruption to your life.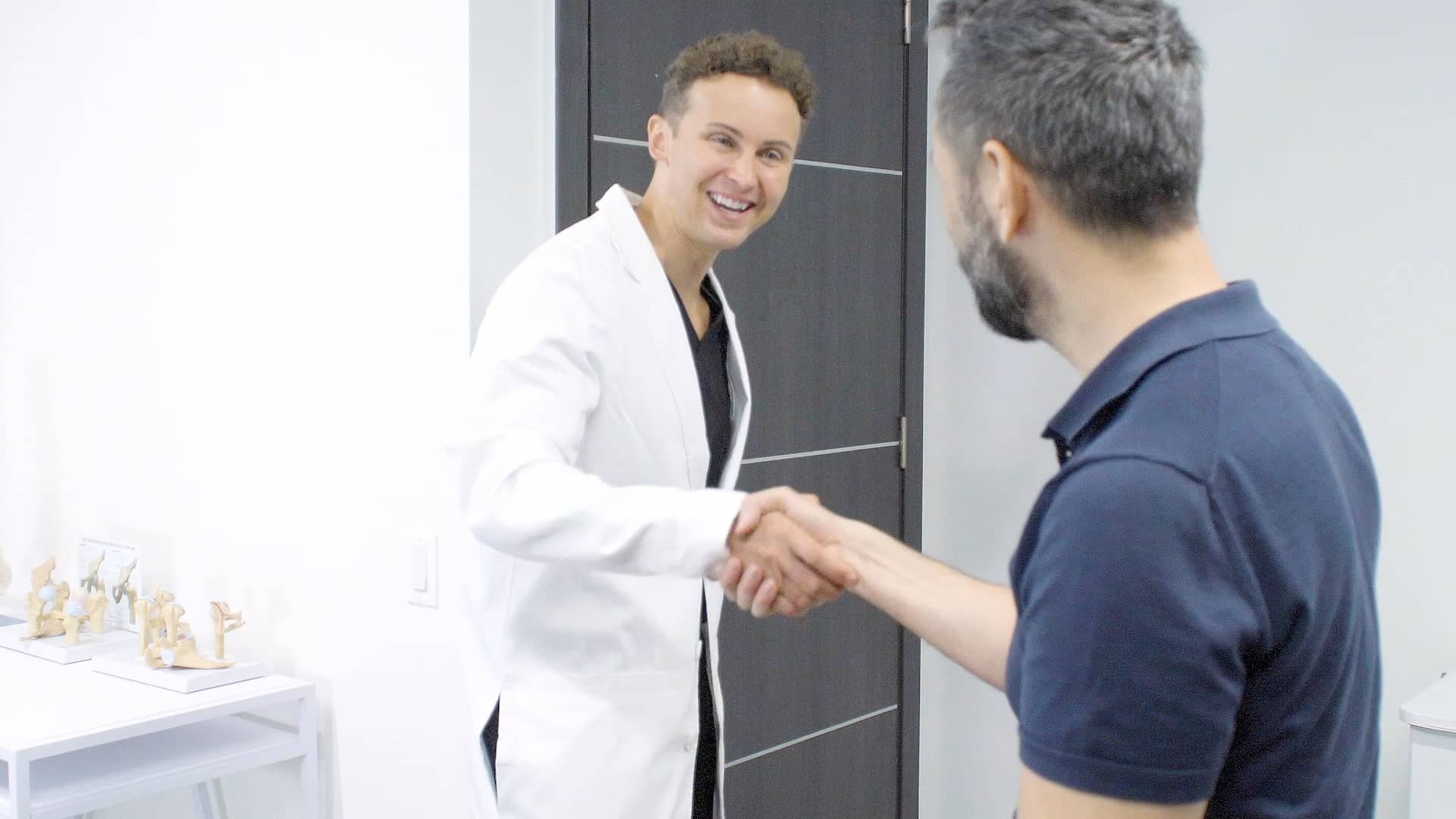 We offer free insurance verification! Fill out the form and expect a call from one of our agents:
How Can I Soothe Sore Shoulder Muscles at Home?
At-home shoulder pain treatments are effective at providing short-term pain relief. RICE is a common acronym used by athletes to provide nonsteroidal anti-inflammatory relief. The R in RICE stands for rest, which means avoiding activities that cause pain. Unfortunately, this means staying off of the river for a bit. Ice your shoulder in 20 minute intervals to bring down swelling, and compress with a bandage to keep your shoulder stable. While it is a little difficult to elevate your shoulder, using pillows to surround your shoulder while sitting or laying down helps reduce pain and swelling.
Ready to get back into your kayak and make the most of warm summer weather? Book an appointment at Pain Treatment Specialists and see how easy it is to find shoulder pain relief.
LEARN MORE ABOUT OUR TEAM OF SPINE & JOINT SPECIALISTS IN NEW YORK & NEW JERSEY:

Call us
Speak instantly with an agent to verify your insurance and book an appointment.
(866) 446-0946

Book Online
Visit our
Book appointment 
page
and instantly request an appointment at a Spine & Joint center near you. We offer Free Insurance Verification before your appointment.

Get Directions
Learn how to easily get to the Spine & Joint center locations.
FEATURED POSTS BY PAIN DOCTORS
How Does Physical Therapy for Back Pain Help You Feel Better?Once the spring weather begins to thaw winter's chill, a host of outdoor activities become accessible again. On a particularly balmy afternoon, you hit the links for a quick round of golf. Your body feels...
read more