Visit the Best Shoulder Pain Treatment Doctors at Pain Treatment Specialists
"I fell on my arm and it hurts really bad!" you holler to your partner after a slip on the pavement. You weren't expecting to fall in such spectacular fashion, but your feet skidding across the wet pavement had other ideas. Now, your groceries are scattered across the blacktop and you feel pain in your left shoulder blade when breathing. You also feel shoulder pain when reaching behind your back and are afraid you've suffered an upper arm injury. This wasn't how you expected your weekly grocery shopping trip to end, and you're now spending your afternoon looking for shoulder pain treatment doctors instead of meal prepping.
If you're not sure about which doctor to see for neck and shoulder pain, visit  Pain Treatment Specialists for front deltoid pain, crepitus shoulder treatments, and pain on the top of your shoulder blade. From front shoulder pain, to right shoulder pain, to left shoulder pain, our team of pain management experts have all directions of your shoulder pain covered. You're ready to schedule an appointment and find relief from this sudden and unexpected bout of shoulder pain. Even if you're unable to pick up your scattered groceries, you're still able to find effective solutions for your shoulder injury.
Who are the Best Shoulder Pain Treatment Doctors for My Shoulder Injury?
Many people assume that a fall and subsequent pain equals automatic surgery. That's not often the case! Minimally invasive shoulder pain treatments are highly effective at relieving shoulder pain. Find a specialist doctor for shoulder pain who is also a pain management doctor, like the team at Pain Treatment Specialists.  An orthopedic doctor shoulder specialist often relies on surgery, and not pain medicine, for shoulder pain. An interventional pain doctor uses minimally invasive treatments like nerve blocks and steroid injections for effective and long-lasting shoulder pain relief.
At Pain Treatment Specialists, one of the shoulder pain treatment doctors you'll find is Dr. George Hanna. He is the former Director of Pain Innovations and Technology at Harvard Medical School, and is also double board certified in pain medicine and anesthesiology. Dr. Hanna's patient reviews mention his patience, his kindness, and his ability to thoroughly listen to their shoulder pain concerns.
Dr. Jeffrey Deygoo is the newest pain doctor on our outstanding staff, and he focuses on finding an early diagnosis of joint wear and tear. He completed a pain management fellowship at the Cleveland Clinic, and an anesthesiology residency at Hofstra-Northwell School of Medicine. All of our pain doctors are carefully vetted to ensure not only a depth of experience in pain medicine, but also outstanding bedside manners.
At Pain Treatment Specialists, we have a team of shoulder pain treatment doctors who are skilled at relieving shoulder pain. Book an appointment at one of our pain clinics in NYC or northern NJ and find relief from your shoulder joint pain.
What are the Best Minimally Invasive Shoulder Pain Treatments?
Since Pain Treatment Specialists treat a variety of joint pain conditions, they also have a wide variety of shoulder pain treatments available at their pain clinics. First, your pain doctor identifies if you're dealing with chronic shoulder pain conditions like osteoarthritis, or a shoulder injury sustained from an accident or fall. The diagnosis of your shoulder pain navigates the course of your treatment, and every patient is given this same customized treatment.
If you're feeling shoulder instability and are looking for anti-inflammatory relief, a steroid injection is highly effective. Your shoulder pain specialists injects a corticosteroid into your bursa area, which reduces pain and swelling. This treatment is also critical to provide enough pain relief in order to engage in physical therapy sessions, which are also an essential tool for promoting healing.
Hyaluronic acid injections are useful for patients dealing with shoulder pain caused by osteoarthritis which is a chronic pain condition. Hyaluronic acid is the main ingredient of joint fluid, and is often lost through wear and tear. Providing additional joint fluid helps your shoulder joints move more fluidly.
Physical therapy is often used in conjunction with pain medicine treatments to provide the most effective results. Your pain doctor works in conjunction with your physical therapist to create a customized treatment plan for your specific shoulder pain condition. Your physical therapist uses their background in exercise science to create a series of stretches, weights exercises, and movements to build strength in your shoulder and reduce shoulder instability.
Your shoulder pain treatment doctors at Pain Treatment Specialists are able to properly identify the cause of your shoulder injury or joint pain, and then provide effective solutions for your shoulder pain.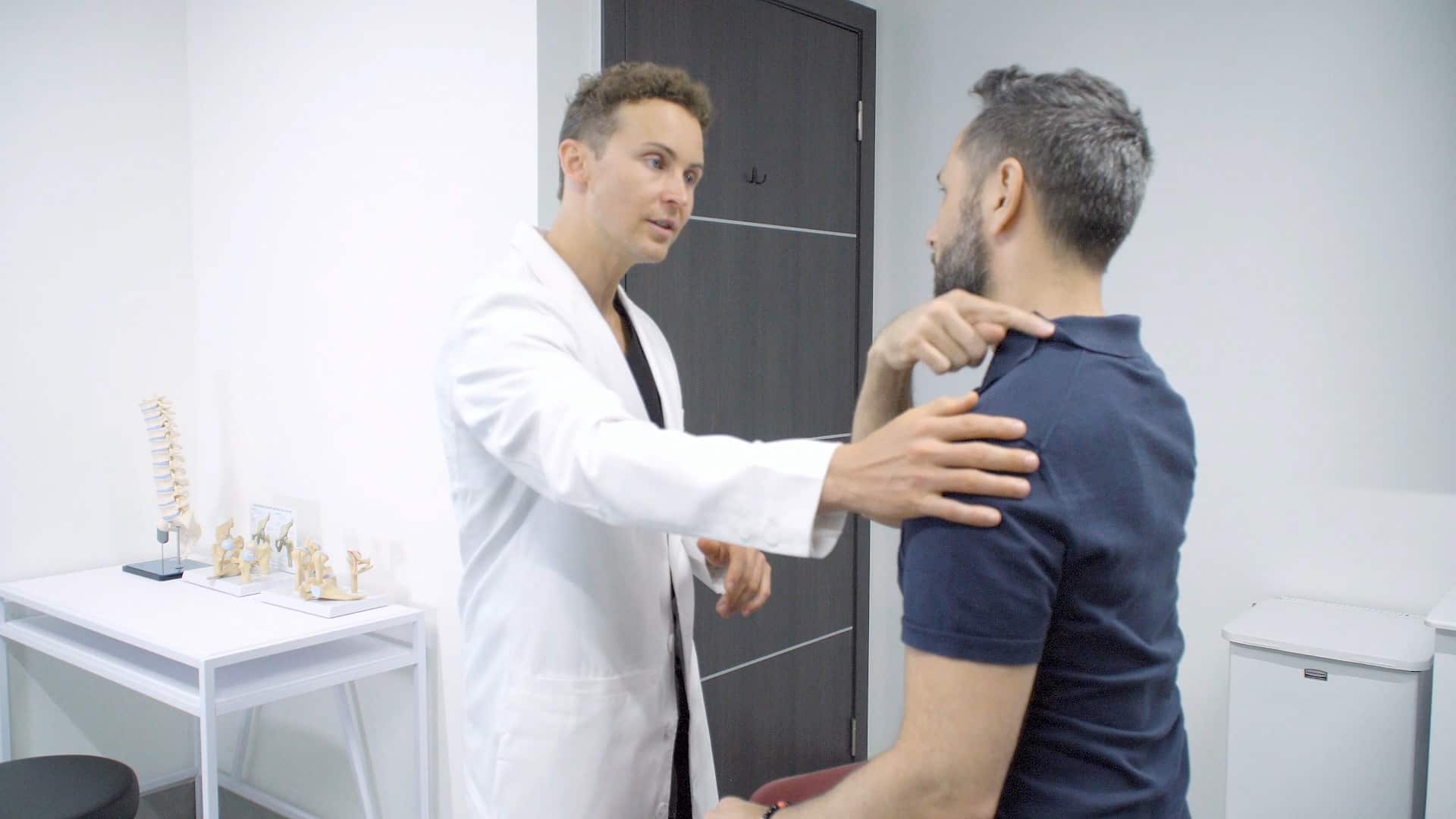 We offer free insurance verification! Fill out the form and expect a call from one of our agents:
If I've Felt Shoulder Pain for 2 Months, What Should I Do?
The experts at Pain Treatment Specialists don't want to see any of their patients in pain for 2 months! Life is too precious and short to spend it in pain, and after a week of chronic shoulder pain, you should contact a shoulder pain treatment doctor. Spending 2 months dealing with pain that causes you to wince every time you move your arm is too much to bear. Instead, schedule an appointment at a shoulder pain treatment doctor and get yourself on the road to recovery. In the meantime, you can ice your arm in 20 minute intervals, wear an arm brace or sling for support, and use over the counter medicines for pain relief.
Pain Treatment Specialists can't help you with the dropped groceries in your driveway, but they can certainly address your shoulder pain. Schedule an appointment today and find out how easy it is to find relief from your aching, stiff shoulder.
LEARN MORE ABOUT OUR TEAM OF SPINE & JOINT SPECIALISTS IN NEW YORK & NEW JERSEY:

Call us
Speak instantly with an agent to verify your insurance and book an appointment.
(866) 446-0946

Book Online
Visit our
Book appointment 
page
and instantly request an appointment at a Spine & Joint center near you. We offer Free Insurance Verification before your appointment.

Get Directions
Learn how to easily get to the Spine & Joint center locations.
FEATURED POSTS BY PAIN DOCTORS
How Does Physical Therapy for Back Pain Help You Feel Better?Once the spring weather begins to thaw winter's chill, a host of outdoor activities become accessible again. On a particularly balmy afternoon, you hit the links for a quick round of golf. Your body feels...
read more