A Nationally Recognized Shoulder Pain Dr. Explains Common Shoulder Joint Problems
Sunday football is a great excuse to meet up with your friends and gorge on junk food for the day. Sure, rooting for your favorite team is fun, but diving into every dip, chip, and wing makes your taste buds so happy. You've decided to make your well-loved chicken wing dip, which combines the best parts of Buffalo's famous finger food into a scoopable treat. To get the right consistency, you need to break out the heavy-duty mixer from the top shelf of your pantry. As you reach above your head to grab the large mixer, you feel intense right shoulder pain. Not wanting to drop this expensive equipment, you call your partner over for some assistance. You've noticed that your shoulder pain is increasing in frequency, and decide that first thing Monday morning you're going to look for a shoulder pain doctor.
With several locations in northern NJ and NYC, Pain Treatment Specialists is the top choice for shoulder pain treatments in your area. When you check out their website, it's clear that their focus involves minimally invasive treatments for shoulder pain. That's exactly the kind of care you're looking for, since surgery isn't something you wanted to explore. Your busy life needs pain treatments that are not only effective, but also require little downtime for recovery. This is why you book an appointment for next week with the hopes that in just a few Sundays, you'll be free from your shoulder pain and instability.
Who is the Best Shoulder Pain Dr. in My Area?
If you're unsure about which doctor to see for neck and shoulder pain, look for an interventional pain doctor. This type of doctor uses different treatments than an orthopedic doctor shoulder specialist. An orthopedic specialist doctor for shoulder pain focuses on using surgery to repair shoulder injuries and remediate shoulder pain. However, most cases of left shoulder pain and right shoulder pain are easily treated with more conservative options. This is why Pain Treatment Specialists are the best option for minimally invasive shoulder pain treatments.
One of the top shoulder pain doctors at our pain clinics is Dr. Laura Lombardi. She is a former Division 1 athlete who understands how chronic pain affects not only your daily life, but also your activity levels. Dr. Lombardi fellowship-trained at Harvard University in interventional pain medicine, and is a regular contributor to national medical journals and textbooks. Her specialty is fluoroscopic-guided pain treatments, which use a special x-ray to deliver pain medicine to a precise location. Her 5-star patient reviews mention that she is knowledgeable, friendly, and listens carefully to your shoulder pain concerns.
Dr. Shanve Volney is another member of Pain Treatment Specialists' nationally recognized team. He completed a fellowship in palliative medicine at Harvard University, where he later became a Clinical Instructor of anesthesiology and pain medicine. Dr. Volney's patient reviews state that he is a "compassionate professional" who provides "clear explanations" that make patients feel "comfortable and confident with the treatment."
Dr. Lombardi and Dr. Volney look forward to welcoming you to their pain clinics in NYC and northern NJ. Schedule an appointment at Pain Treatment Specialists and meet with a caring and knowledgeable team of interventional pain doctors.
What are Common Symptoms of Shoulder Pain?
At Pain Treatment Specialists, our team of experienced shoulder pain doctors have seen every type of shoulder pain symptom, and know how to customize your treatment plan.
Do you have pain in the left shoulder blade when breathing? Shoulder pain when reaching behind your back? Shoulder pain when reaching across your body? A shoulder that's painful to touch? Front deltoid pain?  What about shoulder pain for 2 months?
We've seen all of these symptoms of shoulder pain… and more! Know that our team has the ability to diagnose and treat your shoulder pain no matter your symptoms.
Bursitis is a common shoulder pain condition that involves inflammation and swelling of the small, fluid-filled sacs called bursae. The sacs provide cushioning between bones and the overlying soft tissues. They help reduce friction between muscles and the bone. When they are inflamed due to overuse, it becomes difficult to lift your arm over your head. Perhaps this was the reason why you were unable to grab the mixer from the top shelf!
If you're ready to find relief from your shoulder pain, schedule an appointment at Pain Treatment Specialists. We treat a wide variety of shoulder pain symptoms with minimally invasive treatment plans.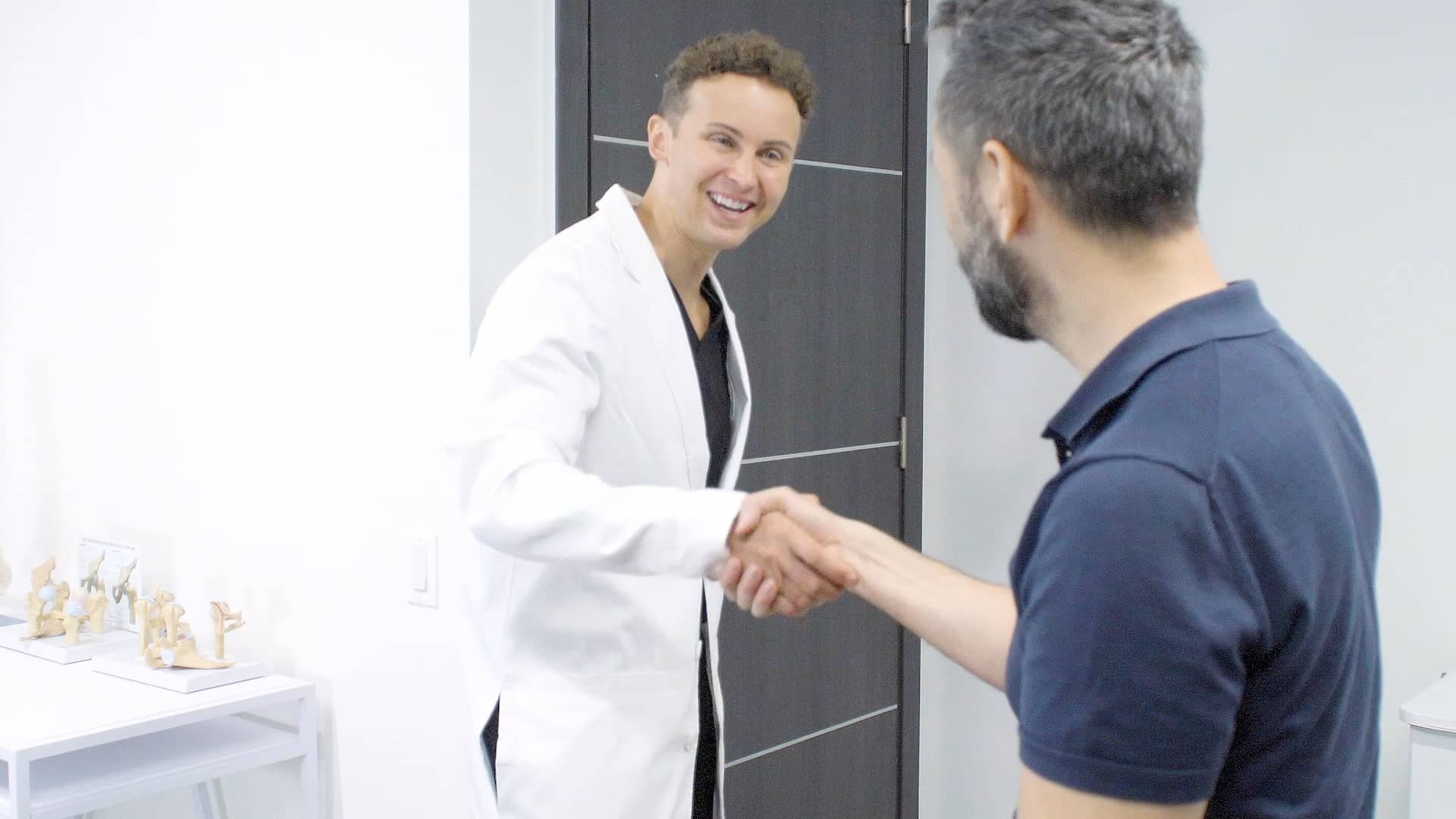 We offer free insurance verification! Fill out the form and expect a call from one of our agents:
Can I Treat My Shoulder Pain At Home?
Over-the-counter medicines provide anti-inflammatory relief for shoulder pain. Follow the dosing instructions on the package and do not exceed the daily limit. You can treat shoulder instability by wrapping your shoulder with an athletic bandage or putting your arm in a sling. This helps keep your arm immobile so your shoulder can rest. Icing your shoulder in 20-minute intervals also provides relief from pain and swelling. If you're experiencing painful shoulder sensations along with intense chest pressure, this may be a warning sign of a heart attack. Seek immediate medical attention for these symptoms.
Schedule an appointment at Pain Treatment Specialists and get back to your Sunday Funday snack zone without shoulder pain. With locations in northern NJ and NYC, it's easy to find a convenient location near you.
LEARN MORE ABOUT OUR TEAM OF SPINE & JOINT SPECIALISTS IN NEW YORK & NEW JERSEY:

Call us
Speak instantly with an agent to verify your insurance and book an appointment.
(866) 446-0946

Book Online
Visit our
Book appointment 
page
and instantly request an appointment at a Spine & Joint center near you. We offer Free Insurance Verification before your appointment.

Get Directions
Learn how to easily get to the Spine & Joint center locations.
FEATURED POSTS BY PAIN DOCTORS
How Does Physical Therapy for Back Pain Help You Feel Better?Once the spring weather begins to thaw winter's chill, a host of outdoor activities become accessible again. On a particularly balmy afternoon, you hit the links for a quick round of golf. Your body feels...
read more