How a Shoulder Dr. Uses Minimally Invasive Treatments to Address Shoulder Instability
Scrolling through your social media typically means that you ignore all of the ads that are supposedly targeted to your interests. However, a photo of a nearby aerial adventure park catches your eye with its treetop ropes and zipline course. This looks like a thrilling afternoon event for your family, and a great way to spend some quality time outdoors. You book the tickets and soon you're off for a day of sky-high fun. Your shoulder pain immediately enters the picture as you're learning how to clip and unclip your harnesses on the training course, and becomes unbearable as you ascend the first obstacle course. Unable to reach your arm up to attach to the zip line, you're forced to call for staff assistance to help you down. Your pride is hurt just as much as your shoulder, and you're determined to meet with a shoulder doctor who can find solutions for the pain in your shoulder.
Pain Treatment Specialists has several locations in NYC and northern NJ, and you've heard nothing but good things about their customer service and success rate for treating chronic pain and injuries. You're not ready to entertain shoulder surgery, so finding a pain management doctor is critical for your care. You're looking for a shoulder specialist who uses minimally invasive treatments for shoulder instability and shoulder joint pain, which is why scheduling an appointment at Pain Treatment Specialists works for you. The next time you decide to tackle the zipline course, your shoulder will be up to the task.
Who is the Best Shoulder Dr. for Shoulder Instability?
Not all types of orthopedic care offer the same treatment methods. For example, an orthopedic surgeon focuses on using surgery to correct shoulder injuries and conditions. Many shoulder problems are easily fixed without relying on invasive surgery. The shoulder doctors at Pain Treatment Specialists treat the pain in your shoulder with minimally invasive treatments such as steroid injections and nerve blocks. Additionally, our shoulder doctors have extensive training and backgrounds in the latest techniques in pain medicine, and continually update their practices with cutting-edge treatments.
Dr. George Hanna is one of our Harvard-trained pain doctors at Pain Treatment Specialists, and a nationally recognized pain doctor. He is the former Director of Pain Innovations and Technology at Harvard, and served as a Clinical Instructor at the University in anesthesiology and palliative care. Dr. Hanna regularly presents at national medical conferences, where his colleagues consult with him about the newest shoulder pain procedures. His patients' reviews are also exceptional, with many noting the time and care he spends with each person, and his depth of knowledge about pain medicine. Words like "kind", :compassionate", knowledgeable", and "thorough" are often used to describe Dr. Hanna's bedside manner.
Dr. Hanna is one part of our outstanding team of pain doctors at Pain Treatment Specialists. Book an appointment at one of our cutting-edge pain clinics and begin addressing your shoulder pain with minimally invasive shoulder pain treatments.
What are Common Shoulder Injuries and Conditions?
When you consider all of the movements your arms and shoulders make in a day, it's no wonder that our shoulders sometimes ache. Every time you move your arm, your shoulder joint goes to work. Reaching over your head, behind your back, or in front of you all require the painless operation of your shoulder joint and its ball and socket design. When one of your joints or tendons is out of place, then every movement your arms make becomes painful.
Shoulder injuries occur as the result of a fall, accident, or another traumatic event. Your shoulder may become painful to the touch, swollen, and extremely stiff after a shoulder injury. If you feel numbness or tingling in your hands or arms after a shoulder injury, seek immediate medical attention. A shoulder separation is a common shoulder injury that affects the joint where the collarbone and shoulder blade come together. This causes a bump on the top of your shoulder. A shoulder fracture typically occurs after a violent hit or fall and most commonly occurs in the collarbone or humerus.
Osteoarthritis is a shoulder condition where your cartilage breaks down and causes your bones to rub together. This is a degenerative condition that occurs over time, and causes a painful grinding sensation in your shoulder. Tendonitis is another chronic pain condition that occurs when the tendons that make up your rotator cuff become inflamed due to overuse.
No matter the cause of your shoulder pain, the team at Pain Treatment Specialists have a minimally invasive treatment that works for you. Please request an appointment online or by calling one of their pain clinics in NYC or northern NJ.
What Does Shoulder Instability Feel Like?
When you're experiencing shoulder instability, it might feel like your arm can't bear any pressure. Holding something as light as a phone can create intense pain, and the feeling as if you might drop the object. This sensation also extends to lifting your arm in front of you, over your head, or behind your back. You might not be able to lift your arm more than a few inches without intense squeezing pressure. In order to compensate for this weak feeling, you might use your other arm more often than normal when lifting objects or grabbing items.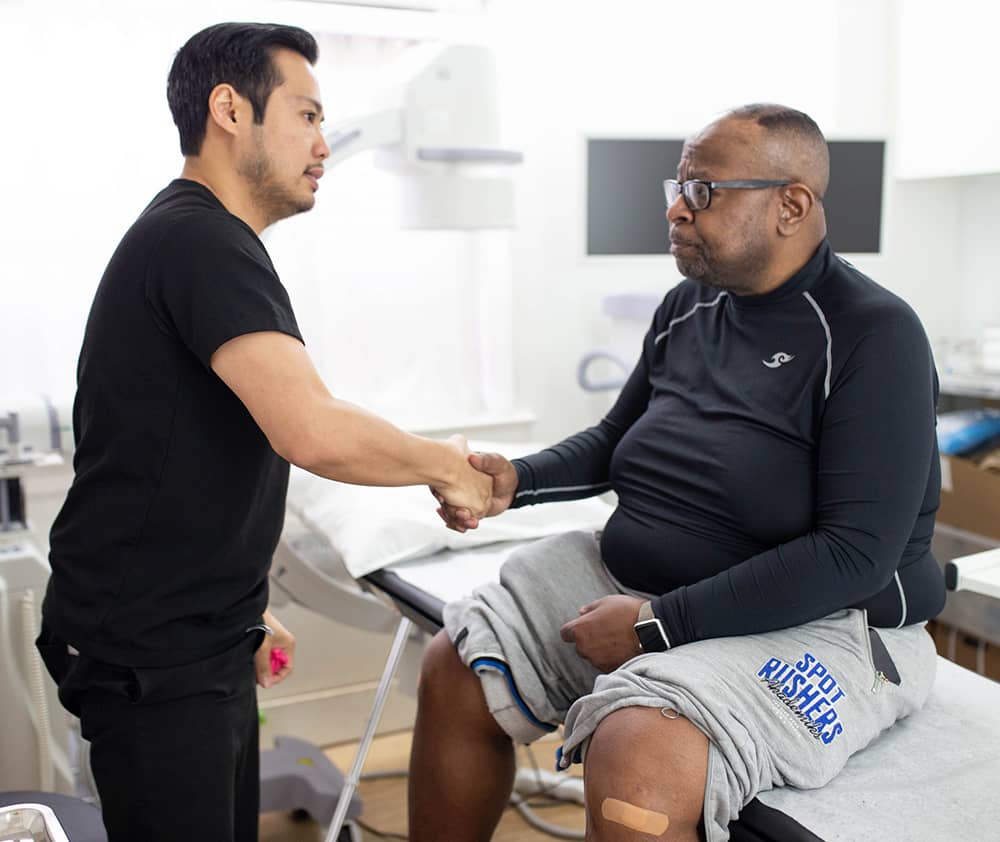 We offer free insurance verification! Fill out the form and expect a call from one of our agents:
With several locations in NYC and northern NJ, Pain Treatment Specialists is the top shoulder doctor in the area. Schedule an appointment at one of their modern and clean pain clinics and begin the process of removing shoulder pain from your life. The next time you're up on the ropes course, the only thing you'll be feeling is excitement about your next treetop obstacle!
LEARN MORE ABOUT OUR TEAM OF SPINE & JOINT SPECIALISTS IN NEW YORK & NEW JERSEY:

Call us
Speak instantly with an agent to verify your insurance and book an appointment.
(866) 446-0946

Book Online
Visit our
Book appointment 
page
and instantly request an appointment at a Spine & Joint center near you. We offer Free Insurance Verification before your appointment.

Get Directions
Learn how to easily get to the Spine & Joint center locations.
FEATURED POSTS BY PAIN DOCTORS
How Do You Know When to See a Doctor for Back Pain?Getting ready for a warm weather vacation? Time to unpack your summer clothing bins and begin packing your bags. You head to the basement to begin sorting through swimsuits and tank tops, but are left stunned by the...
read more