Suffering from Shoulder Joint Pain? Meet With a Shoulder Doctor and Find Effective Pain Relief
As summer winds down, your ability to spend as much time as possible outdoors wanes. The sunsets move closer to your dinner time and the evenings become crisp as soon as the sun sinks behind the trees. This means getting in a few last trips down the river on your kayak needs to happen sooner rather than later. Even though your shoulder has been giving you some trouble lately, you don't want to miss out on one of your last times to get on the water. Once you've launched and found your rhythm, you feel good about the first portion of your trip. However, as the journey continues your shoulder is growing heavier by the minute, and soon it becomes clear that you need to find a place to stop and get out.
Shoulder pain isn't a new thing for you, but recently it's made even lifting your arm over your head difficult. You're ready to meet with a shoulder doctor and get to the root of why your shoulder hurts. After looking for a shoulder specialist in your area, you come across the highly rated pain clinic of Pain Treatment Specialists. Their team of Harvard-trained pain doctors only use minimally invasive pain treatments for shoulder, neck, knee, hip, and back pain at their cutting-edge pain clinics. You want nothing to do with surgery, and need solutions that require very little downtime. Booking an appointment online is easy, and you're paired with a personal concierge who verifies your insurance information and schedules an appointment for the following week. You're ready to begin feeling better so you can make the most of the final days of warm weather.
What Kinds of Questions Does a Shoulder Doctor Ask During My Consultation?
One of the things that surprises new patients at Pain Treatment Specialists is how much of their first visit involves a lot of explanation on their end. Too often, patients feel rushed through doctors' visits and don't have time to really explain what they're experiencing and ask detailed questions. This is why when you're researching "Which doctor should I see for shoulder pain?" it's critical to focus on an interventional pain doctor. An orthopedic doctor or shoulder specialist tends to favor surgery as their primary treatment option. This is why when you search for "best shoulder surgeon in Austin", "best shoulder orthopedic surgeon in Houston" or "orthopedic doctor for shoulder pain near me" you'll find that the resulting inquiries direct you to a doctor who uses surgery. The best doctor to see for shoulder and arm pain is an interventional pain doctor, which is exactly who you'll meet with at Pain Treatment Specialists.
You can expect that your shoulder doctor asks the following questions during your consultation:
What type of activities cause the most shoulder pain?
How far car did you lift your arm above your head?
Are you able to reach behind you?
Does your arm hurt more at certain times of day, like the morning or evening?
How are you sleeping? Does your shoulder pain wake you up at night?
Are there certain activities that you can't complete due to shoulder pain?
Once your shoulder doctor is able to isolate your specific shoulder pain concerns, they'll complete a gentle physical examination and order additional images if needed. Finally, your shoulder specialist offers their diagnosis and treatment plan, where you have additional time to ask questions.
Not all shoulder conditions and injuries require surgery. If you're unsure which doctor to see for a shoulder injury, consult with an interventional pain doctor before considering surgery. The board-certified arm pain doctors near me at Pain Treatment Specialists use minimally invasive treatments for chronic shoulder pain.
Why Should I Avoid Meeting with a Shoulder Surgeon?
One major reason why people avoid meeting with a shoulder orthopedic surgeon is that they think surgery is their only option for pain relief. The best doctor to see for shoulder pain is an interventional pain doctor, who uses more conservative treatments for shoulder pain. At Pain Treatment Specialist, we use state-of-the-art shoulder treatments that don't involve surgery for the following reasons:
Meeting with a shoulder orthopedic surgeon means that you'll spend weeks out of work and unable to complete basic functions like getting dressed without assistance. Surgery requires a lot of recovery time and help with your day-to-day activities.
There's no guarantee that one shoulder surgery will relieve your pain. You might go through the pain and inconvenience of shoulder surgery and not find sufficient pain relief.
Surgery is invasive and requires a hospital stay. It also means that you'll receive narcotics while your recover, which are highly addictive. Any time you can avoid having to taking opioids, you should do so.
There are many conservative treatment options that are highly effective for shoulder pain relief. You will experience minimal downtime and find long-lasting results.
Consider scheduling an appointment at Pain Treatment Specialists if you're unsure about what doctor to see for shoulder and arm pain. Our shoulder joint specialists treat a wide variety of common shoulder pain conditions and injuries.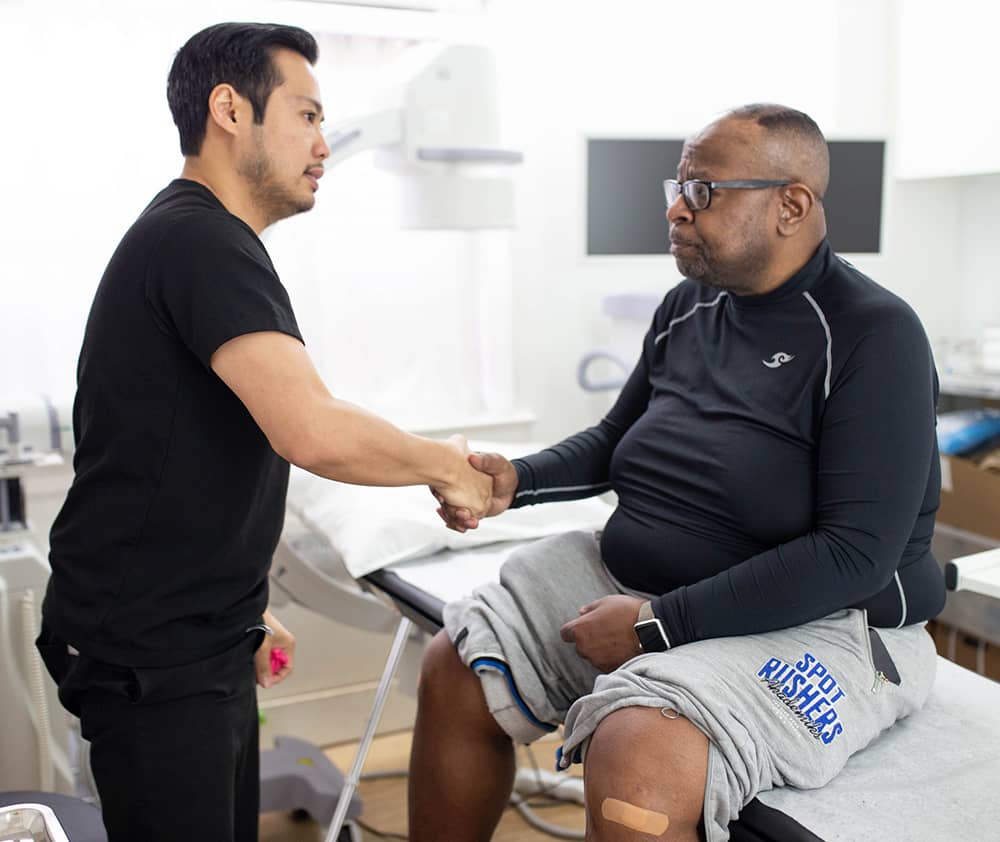 We offer free insurance verification! Fill out the form and expect a call from one of our agents:
What Can I Do for Shoulder Joint Pain at Home?
Over-the-counter pain medications like aspirin and ibuprofen offer temporary relief from your aching, throbbing shoulder. Ice your arm in 20-minute intervals, and also wear a compression bandage for support. Rest your arm from motions or activities that cause pain, and ask a friend or family member to help out with tasks that cause pain.
Schedule an appointment at  Pain Treatment Specialists and find yourself on the water as long as you can handle the dropping temperatures. Our shoulder pain doctors are highly rated and offer a wide variety of minimally invasive treatments for shoulder pain.
LEARN MORE ABOUT OUR TEAM OF SPINE & JOINT SPECIALISTS IN NEW YORK & NEW JERSEY:

Call us
Speak instantly with an agent to verify your insurance and book an appointment.
(866) 446-0946

Book Online
Visit our
Book appointment 
page
and instantly request an appointment at a Spine & Joint center near you. We offer Free Insurance Verification before your appointment.

Get Directions
Learn how to easily get to the Spine & Joint center locations.
FEATURED POSTS BY PAIN DOCTORS
How Does Physical Therapy for Back Pain Help You Feel Better?Once the spring weather begins to thaw winter's chill, a host of outdoor activities become accessible again. On a particularly balmy afternoon, you hit the links for a quick round of golf. Your body feels...
read more