Suffering from Shoulder and Elbow Pain? Here's How Pain Treatment Specialists Can Help
You might underestimate how often you utilize your shoulder muscles and elbow joint until they begin to ache. Brushing your hair is a simple daily task that becomes exceptionally difficult when you have shoulder and elbow pain. Reaching the top shelf and grabbing a heavy plate is a recipe for disaster when your elbow joint gives out under the increased stress. Carrying groceries requires some assistance so that you don't feel excruciating pain in your shoulder and elbow. Instead of living with pain in your right arm, find a doctor for neck pain and shoulder pain in your area.
 What kind of doctor treats elbow pain? At Pain Treatment Specialists, they're known as interventional pain doctors. If you're unsure about what doctor to see for joint and muscle pain, an interventional pain doctor is your best choice for pain relief. This is because an interventional pain doctor specializes in treating pain with minimally invasive methods that require little to no down time. Schedule an appointment at one of our state-of-the-art pain clinics in NYC, Long Island, or northern NJ and get back to your daily activities without excruciating pain.
What are Common Types of Shoulder and Elbow Pain?
Tendonitis is the most common cause of shoulder and elbow pain. This injury is caused by overuse and repetitive motions that inflame and injure your tendons. Rotator cuff tendinitis is characterized by sharp pain radiating from the outer arm to right below your shoulder. You'll feel more top of shoulder pain when trying to lift your arms or reach behind your body. This is caused by inflammation in a group of muscles and tendons in the shoulder, combined with inflammation in the shoulder's bursa.
Forearm tendonitis is an inflammation of the forearm tendons again caused by overuse. Common symptoms include pain, redness, weakness, and  swelling around your wrist or elbows.
Bursitis is another common ailment that affects your shoulders and elbows. This condition involves inflammation or irritation of a bursa sac, which cushions friction between bones, muscles, and tendons. If you complete activities that require repetitive motions like tennis, golf, gardening, kayaking, or carpentry, then you're at an increased risk for bursitis.
Not sure about who to go see for shoulder pain? Contact Pain Treatment Specialists and schedule a consultation with one of our highly-trained interventional pain doctors. Their goal is providing a customized pain treatment plan that increases your quality of life.
What Kind of Doctor Should I See for Elbow Pain?
Before you begin looking for shoulder and elbow pain relief, it's common to ask, "What kind of doctor should I see for elbow pain?" and "Which doctor treats shoulder pain?" The answer to both of these questions is a pain medicine specialist. This type of doctor receives specialized training in interventional pain medicine, which focuses on using minimally-invasive treatments to reduce pain. At Pain Treatment Specialists, all of our nationally recognized pain doctors are pain medicine specialists.
Dr. George Hanna is one member of our outstanding team. He is double certified in anesthesiology, interventional pain medicine, and pain management. Dr. Hanna is also a former Clinical Instructor at Harvard Medical School, where he later served as the Director of Pain Innovations and Technology. His patient reviews are all 5 stars, and consistently mention his compassionate and knowledgeable bedside manner.
Dr. Laura Lombardi is another Harvard-trained doctor at Pain Treatment Specialists. As a former Division 1 athlete, Dr. Lombardi understands how injuries and pain set back your training schedule, and aims to provide effective and long-lasting treatments for your chronic shoulder and elbow pain. She is double board certified in anesthesiology and pain medicine, and specializes in fluoroscopic-guided pain imaging treatments.
Both Dr. Lombardi and Dr. Hanna look forward to meeting with you at Pain Treatment Specialists. If you're not sure about which doctor to consult for shoulder joint pain, our interventional pain doctors will put you at ease with their expertise and sincerity.
How Can I Describe Right Shoulder Blade Pain to My Doctor?
When you live with chronic shoulder and elbow pain, you become an expert at pushing it into the background and continuing your day. However, when you meet with your shoulder pain doctor at Pain Treatment Specialists, you'll need to accurately describe your right shoulder blade pain. If you're in intense pain after an accident or fall and wondering, "Should I go to the ER for shoulder pain?"– the answer is yes. Extreme, sudden pain after an accident or fall may indicate that a fracture is present.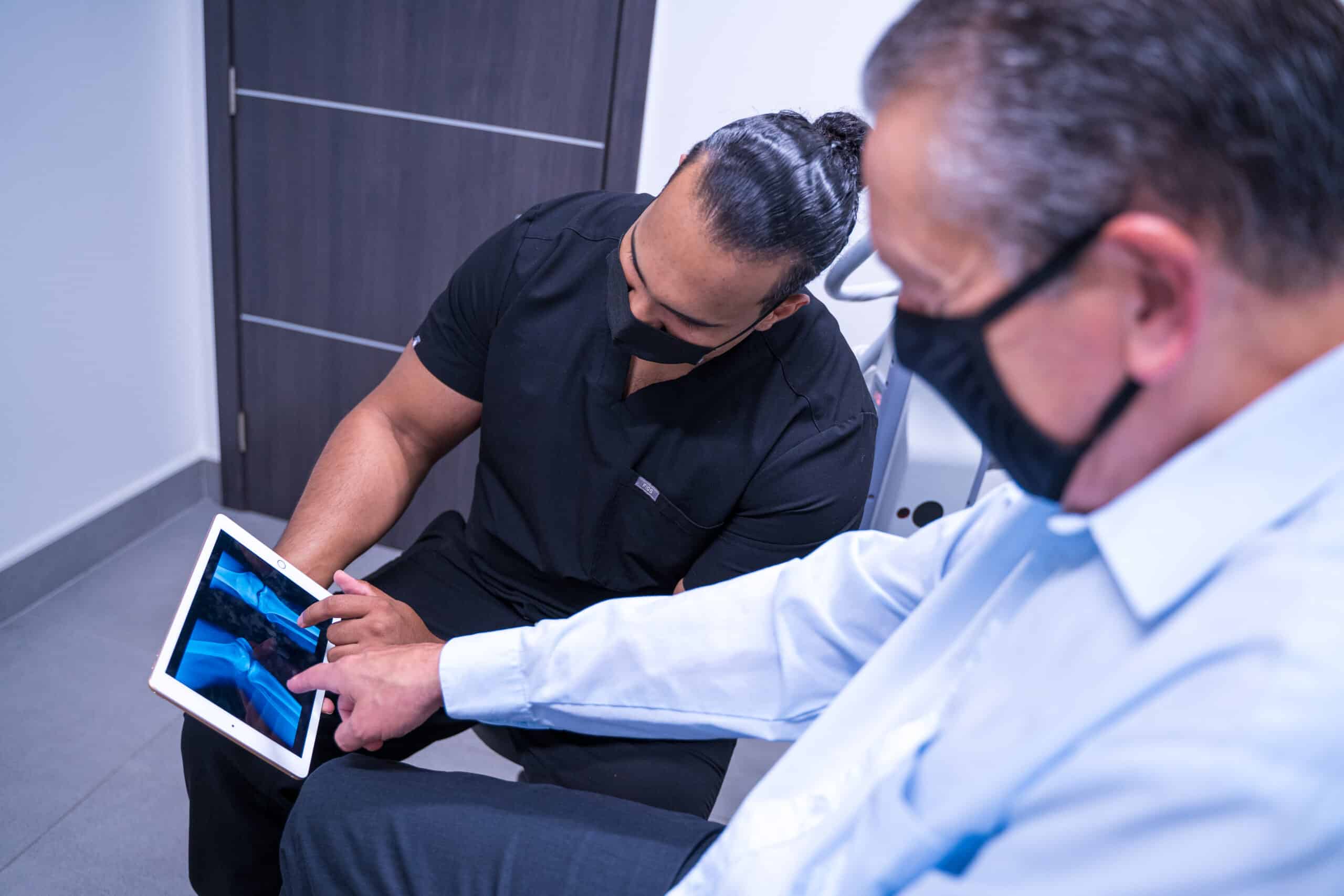 We offer free insurance verification! Fill out the form and expect a call from one of our agents:
Before you visit your pain specialist, keep a journal where you log your elbow and shoulder pain at different times of day. Do you feel more pain when you first wake up, after you work out, or when you go to bed? What type of pain are you feeling, and how can you describe it? Do you feel a dull ache in your shoulder, or a sharp shooting pain when you grip an object? Asking these questions and recording the answers helps your pain doctor with their diagnosis.
Book an appointment at Pain Treatment Specialists and get back to your daily life without the effects of chronic elbow and shoulder pain. Through the use of minimally invasive treatments, our team of sympathetic pain doctors relieve chronic pain with cutting-edge pain treatments.
LEARN MORE ABOUT OUR TEAM OF SPINE & JOINT SPECIALISTS IN NEW YORK & NEW JERSEY:

Call us
Speak instantly with an agent to verify your insurance and book an appointment.
(866) 446-0946

Book Online
Visit our
Book appointment 
page
and instantly request an appointment at a Spine & Joint center near you. We offer Free Insurance Verification before your appointment.

Get Directions
Learn how to easily get to the Spine & Joint center locations.
FEATURED POSTS BY PAIN DOCTORS
How Does Physical Therapy for Back Pain Help You Feel Better?Once the spring weather begins to thaw winter's chill, a host of outdoor activities become accessible again. On a particularly balmy afternoon, you hit the links for a quick round of golf. Your body feels...
read more