What is the Top Pulled Neck Muscle Treatment? A Harvard-Trained Neck Pain Doctor Responds
Neck pain makes even the most simple movements difficult. Normally, turning your head to talk to your co-worker is an automatic reaction. However, when your neck is stiff and sore this quick turn requires moving your entire body. Looking down at your laptop is something you do for several hours at work, but now you need to be cognizant of taking breaks because your sore neck doesn't allow you to stay in this position for too long. When should you see a doctor for neck pain and shoulder pain?
At Pain Treatment Specialists, our nationally recognized neck pain specialists operate several head and neck pain clinics in NYC, northern NJ, and Long Island. Our patient-centered clinics focus on relieving chronic back, neck, hip, knee, and shoulder pain using minimally-invasive treatments. We believe that any time spent in pain is too much, and should be addressed by booking an appointment with one of our empathetic and knowledgeable interventional pain specialists. The sooner you meet with one of our neck pain doctors, the sooner you'll begin feeling better!
What is the Most Effective Pulled Neck Muscle Treatment?
Thankfully, neck pain issues are easily resolved through very conservative treatments. A pulled neck muscle may result from overuse or repetitive motions. Perhaps you spent one day tapping away on your laptop with poor posture and your neck feels sore. Or, you were playing tennis and strained your neck avoiding a serve gone awry. When your neck is strained, one or more fibers of the neck's muscles or tendons tears. The severity of the tear determines how severe your neck pain becomes. A small tear typically heals on its own in a few days, but a more severe tear may require a visit to a head and neck pain clinic. Some people describe the sensation as having a "crook in your neck" or a sudden sharp pain in your neck. If you have a sudden, sharp pain in your neck related to a fall or accident that also includes blurred vision or numbness and tingling in your arms, you should seek immediate medical attention.
Physical therapy is one of the most effective tools for a pulled neck muscle. A physical therapist is trained in exercise science, and understands how to rehabilitate your injury. This is accomplished through stretches and movements designed to increase your neck's range of motion. Heat and cold therapies are also used to reduce pain and swelling.
It is critical to meet with a pain doctor to identify the underlying cause of your neck pain. At Pain Treatment Specialists, our cutting-edge pain clinics look forward to meeting with each patient and providing effective and long-lasting neck pain relief.
Who is the Best Doctor for Neck Pain and Shoulder Pain?
An interventional pain doctor is your best choice for a stiff and sore neck. This type of doctor receives specialized training in pain medicine. Our doctors do not recommend surgery unless it is medically necessary, and instead utilize more conservative treatments for chronic pain.
Dr. Shane Volney is one of our top neck pain specialists. He is a former clinical Instructor of anesthesiology at Harvard Medical School, and completed a pain management fellowship at The Massachusetts General Hospital– Harvard Medical School. Dr. Volney regularly speaks at national medical conferences regarding the latest developments and research around pain medicine. Perhaps Dr. Volney's most impressive qualification is his consistent 5-star patient ratings. All of his patient reviews mention that he is both sympathetic and easy to talk to about chronic pain. They also state how effective his treatments are… and how much better they feel after completing his treatment plan.
Dr. Volney is just one of our highly-rated interventional pain doctors at Pain Treatment Specialists. Contact one of our conveniently located pain clinics and begin feeling relief from your sore neck muscles.
Is a Stiff Neck in Kids Due to Poor Posture?
Even young children can suffer from stiff necks from time to time. Toddler neck pain typically occurs from poor posture while sleeping. If you've ever seen a toddler conked out after an afternoon of playing, you know that their body just drops and rests– even in the most uncomfortable positions! They may have also over-extended their neck while looking or straining to reach something. To help with pain and soreness, you can apply ice or use a neck brace to ensure stability. However, if you believe a child neck injury is present, you should seek immediate medical advice.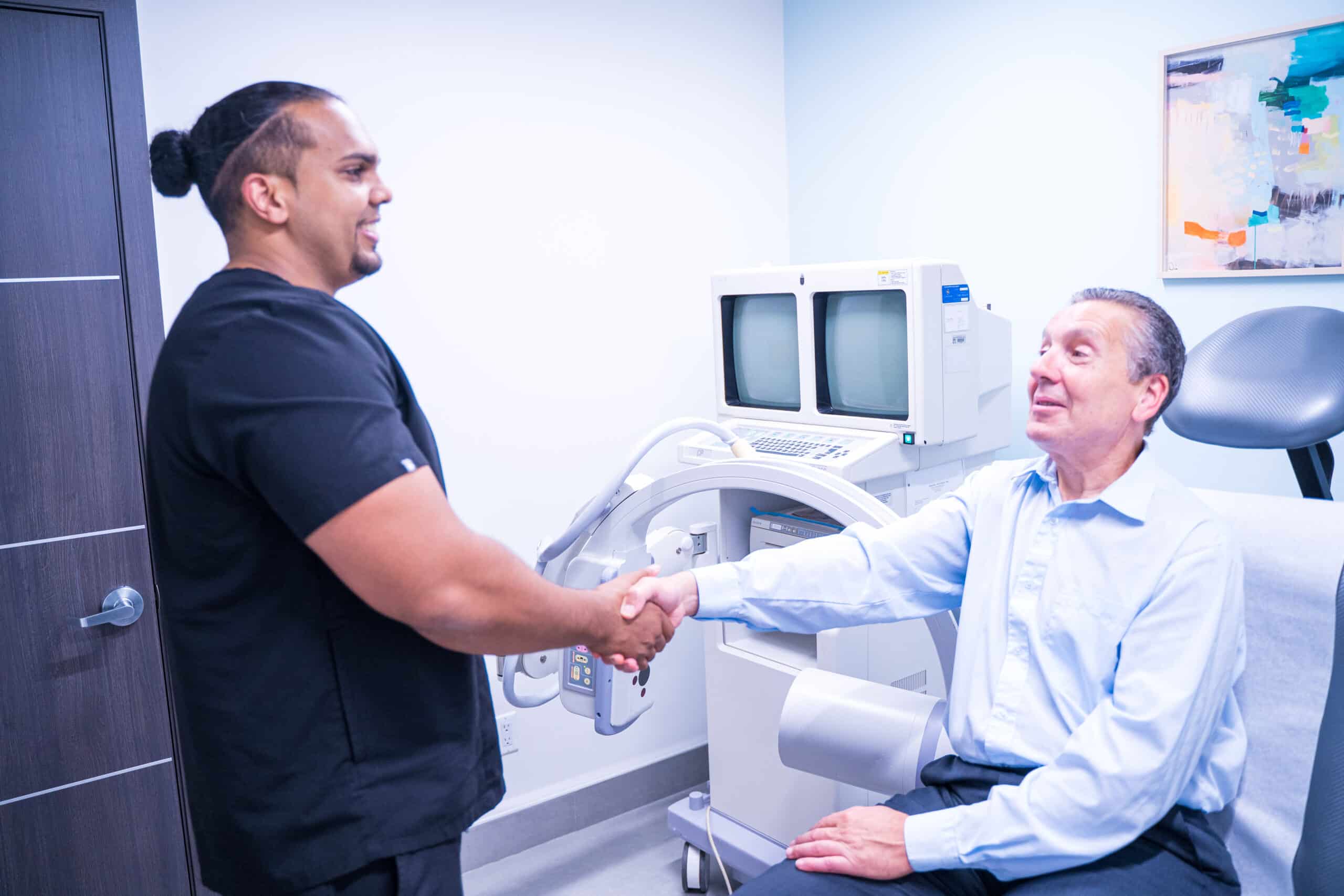 We offer free insurance verification! Fill out the form and expect a call from one of our agents:
Adults who suffer from muscle spasms or chronic pain in their cervical spine can also find relief from ice and compression. Does Aleve help neck pain? Yes, using Aleve for neck pain is a way to reduce your neck pain at home. The best way to prevent neck pain is to mind your posture while sitting, especially while using electronics.
Visit Pain Treatment Specialists and begin finding relief from your sore neck. Our team of interventional pain doctors look forward to meeting with you and customizing a treatment plan that works for your stiff and sore neck muscles.
LEARN MORE ABOUT OUR TEAM OF SPINE & JOINT SPECIALISTS IN NEW YORK & NEW JERSEY:

Call us
Speak instantly with an agent to verify your insurance and book an appointment.
(866) 446-0946

Book Online
Visit our
Book appointment 
page
and instantly request an appointment at a Spine & Joint center near you. We offer Free Insurance Verification before your appointment.

Get Directions
Learn how to easily get to the Spine & Joint center locations.
FEATURED POSTS BY PAIN DOCTORS
How Do You Know When to See a Doctor for Back Pain?Getting ready for a warm weather vacation? Time to unpack your summer clothing bins and begin packing your bags. You head to the basement to begin sorting through swimsuits and tank tops, but are left stunned by the...
read more