Explore the Pros and Cons of Spinal Decompression With a Harvard-Trained Back Pain Doctor
When you were younger, a common topic of conversation with your friends was the most recent concert you went to or CD you bought. While music is still a prime conversation topic, now it's sprinkled with descriptions about what body parts and joints ache that day. Back pain seems to be a common complaint among your crew, and one friend brings up exploring spinal decompression. You've never heard of this treatment before, but would like to learn more about treating your lower back pain. After all, you can't join the mosh pit if you're constantly holding your lower back!
At Pain Treatment Specialists, our team of nationally recognized back pain specialists are here to discuss the pros and cons of spinal decompression. Back pain is a complex problem, but there are many minimally invasive solutions that avoid surgery and provide effective, long-lasting results. If you have questions about this procedure, it's best to schedule an appointment at one of our pain clinics in NYC, northern NJ, or Long Island and discuss your diagnosis and treatment plan with one of our Harvard-trained back pain doctors.
Pros and Cons of Spinal Decompression
What is surgical spinal decompression? It is a type of surgery designed to treat compressed nerves in the lower spine when more conservative treatments have not proved effective. If this type of surgery is recommended, you'll have one of the following procedures completed:
Spinal fusion: This procedure stabilizes the spine by fusing 2 or more vertebrae with a section of bone.
Laminectomy:  A section of your bone is removed from one of your vertebrae to reduce pressure on your nerves.
Discectomy: A portion of a damaged disc is removed, which relieves pressure on an affected nerve.
Spine surgery is dangerous, invasive, and requires a long recovery time. There's also no guarantee that surgery is the best solution for your back pain, as you may still be in pain after your surgery. No one wants to sign up for chronic lower back pain surgery on a regular basis! For example, common problems after spinal fusion include bleeding, blood clots, and injury to nerve vessels in and around the spine. Can spinal decompression cause damage? Yes, the formation of scar tissue or continuous pressure from spinal stenosis may indicate the need for another surgery. This type of back surgery is only recommended for patients who have tried more conservative methods and have not found effective pain relief.
There is also non-surgical spinal decompression, which uses a spinal decompression machine for treatments. This treatment may be recommended for patients with chronic back pain related to bulging discs or herniated discs. However, this treatment does not yet have enough scientific evidence that it provides effective, long-lasting back pain relief. Non-surgical spinal decompression therapy side effects include increased back pain due to the irritation of sensitive nerves.
Contact the back pain experts at Pain Treatment Specialists and learn about scientifically proven and minimally-invasive treatments that provide long-lasting pain relief. Our team of interventional pain doctors look forward to finding a treatment plan that works for your lower back pain.
What is the Best Way to Treat Chronic Back Pain?
Interventional pain medicine treatments have a long history of efficacy in research and medical practice, and are your best first steps for treating chronic back pain. The patients at Pain Treatment Specialists report positive results with their back pain treatments, as evidenced by the clinics' consistent 5-star ratings. When you schedule an appointment at Pain Treatment Specialists, you'll discuss the following back pain treatments:
Radiofrequency Ablation: This treatment uses heat therapy to deactivate affected nerves. This procedure uses a special x-ray called a fluoroscope to precisely identify the affected nerve, and then a small needle delivers heat energy to cauterize the nerve. The result is significantly decreased lower back pain.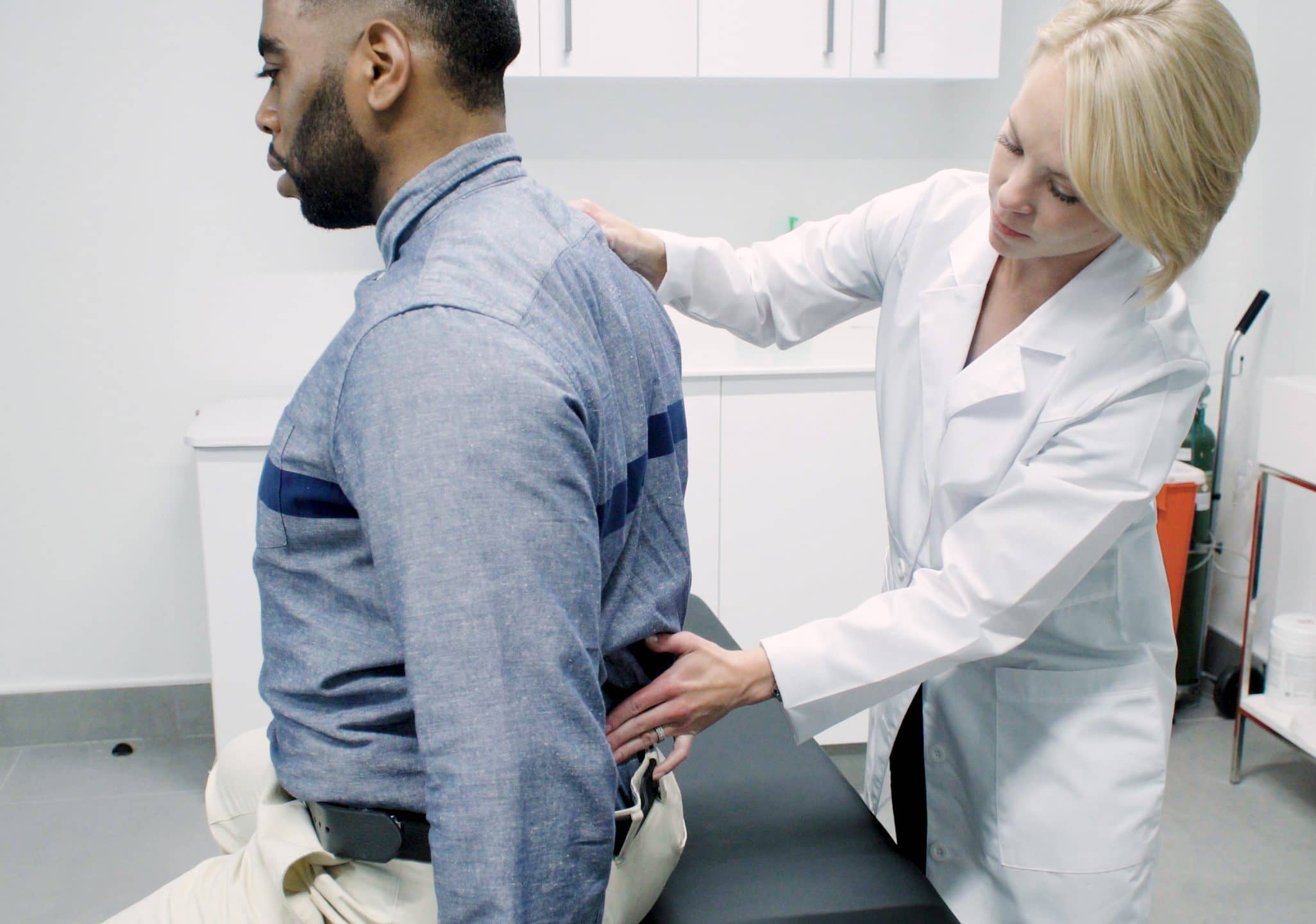 We offer free insurance verification! Fill out the form and expect a call from one of our agents:
Epidural Steroid Injection: If you suffer from spinal stenosis or herniated discs, an epidural steroid injection is highly effective for pain relief. This treatment uses a corticosteroid injection into your spine's epidural space around a pinched nerve. Your epidural space is a fat-filled area between the discs of the spine and the bone. For example, a herniated disc protrudes into this space and puts pressure on your spinal nerves. This injection reduces pain and swelling in this area, which provides dramatic lower back pain relief.
Physical Therapy: When used in conjunction with pain medicine, physical therapy builds strength in your core and lower back to prevent future lower back pain. During your PT sessions, you'll also learn stretches and exercises that relieve your lower back pain.
At Pain Treatment Specialists, our Harvard-trained back pain specialists take time during your consultation to explain which back pain treatment is right for you.
Can I Treat Neck Pain, Leg Pain, and Chronic Back Pain at Home?
There are several at-home treatments that work for neck pain, leg pain, and chronic back pain. First, follow the RICE (rest, ice, compress, elevate) strategy to reduce pain and swelling. Over-the-counter pain medicines are also effective for temporary pain relief. You can also avoid activities that cause your lower back pain, such as running or sitting for long periods of time.
Book an appointment at Pain Treatment Specialists and learn how our highly-rated back pain doctors treat back pain without the use of surgery. During your consultation, you'll have plenty of time to discuss the pros and cons of spinal decompression, as well as any other questions you have regarding your lower back pain.
LEARN MORE ABOUT OUR TEAM OF SPINE & JOINT SPECIALISTS IN NEW YORK & NEW JERSEY:

Call us
Speak instantly with an agent to verify your insurance and book an appointment.
(866) 446-0946

Book Online
Visit our
Book appointment 
page
and instantly request an appointment at a Spine & Joint center near you. We offer Free Insurance Verification before your appointment.

Get Directions
Learn how to easily get to the Spine & Joint center locations.
FEATURED POSTS BY PAIN DOCTORS
How Does Physical Therapy for Back Pain Help You Feel Better?Once the spring weather begins to thaw winter's chill, a host of outdoor activities become accessible again. On a particularly balmy afternoon, you hit the links for a quick round of golf. Your body feels...
read more