What are the Pros and Cons of Nerve Burning? Your Guide to Effective Back Pain Relief
Back pain in the summertime puts a damper on all of the seasonal fun. Want to head to an outdoor concert on the lawn? You need to haul along a chair so you don't have to sit on the hard ground. Want to take the family on an afternoon hike? You'll need to plan places to sit and rest before you continue your journey. Instead of planning around your lower back pain, why not find a way to address it directly?
At Pain Treatment Specialists, our team of nationally recognized back pain doctors creates a customized treatment plan for each patient. Not all types of back pain deserve the same treatments, and our pain doctors properly identify the source of your back pain, and then tailor a minimally invasive treatment plan for your needs. Book an appointment at one of our state-of-the-art pain clinics in NYC, Long Island, or northern NJ and begin living your best summer life…without back pain!
What are the Pros and Cons of Nerve Burning?
Many people avoid visiting a doctor for chronic back pain because they're unsure how painful their treatment plan could be. What if involves surgery, or creates a ton of side effects? Just searching for "back pain treatments" online leads to a host of seemingly scary results such as "medtronic stimulator lawsuit", "post-operative neuropathic pain", "solar plexus pain", "spinal cord stimulator removal complications", and "interstim and leg pain." The amount of mentions of "pain" in these search results makes you think that back pain treatments are not worth the suffering you'll endure in the process.
However, at Pain Treatment Specialists, you'll experience nothing of the sort. Our team of Harvard-trained back pain doctors make their back pain treatments as painless as possible. They understand how back pain interferes with your daily activities, and strive to remove that pain with as little discomfort as possible. Their advanced training in interventional pain medicine allows them the skills and techniques to correctly identify your lower back pain source and provide targeted pain relief.
One of the most common treatments for severe lower back pain is nerve burning. Again, file this name under the "scary Google results" list! However, nerve burning is really known as radiofrequency ablation, which uses heat energy to deactivate nerves. What are the pros and cons of nerve burning? One of the biggest pros of this medical procedure is pinpointing the exact area of your lower back pain. A special x-ray called a fluoroscope determines the affected area, and then inserts a small, hollow needle. This needle delivers heat energy, which creates a small burn, called a legion. This legion blocks the pain signals that are radiating from the troublesome nerve. Another pro of this procedure is that it is an outpatient procedure, and you'll be up and walking the same day.
One con of this procedure is that you may feel soreness or swelling around the insertion site. However, this is temporary and subsides after 24-48 hours. You will also need someone to drive you to and from the procedure as a precaution.
The ultimate benefit of this procedure? Your back pain is, quite literally, nipped in the bud. The area or nerve that was creating your back pain is now silenced. The results also last for several months, if not years.
Schedule an appointment at Pain Treatment Specialists and learn what type of minimally invasive back pain treatment is best for patients with chronic back pain.
What Other Pain Management Treatments Work for Patients with Chronic Back Pain?
The treatment of chronic pain looks different for every patient. This is because your back is a complex system of peripheral nerves, joints, and cartilage designed to work in harmony. When one piece of this system is out of place, you'll know it immediately. This is when seeking the medical advice of a pain management specialist is crucial. At Pain Treatment Specialists, we offer the following minimally invasive back pain treatments:
Lumbar Epidural: Also known as an epidural steroid injection, this treatment combines a local anesthetic and a corticosteroid for long-lasting pain relief. If you suffer from lower back pain caused by herniated discs or sciatica, this treatment is highly effective for back pain relief.
Physical Therapy: Once your back pain is reduced through pain medicine, you're able to begin a physical therapy routine. The goal of your PT sessions is to increase your trunk and core strength while also reducing pain and swelling. Working on your core and back strength helps prevent future injuries.
Let the nationally recognized back pain specialists at Pain Treatment Specialists customize a back pain treatment plan that works for you. Book an appointment at one of our pain clinics and learn how interventional pain medicine is a highly effective tool for back pain management.
What are the Various Types of Ablations?
The word ablate means "remove" or "erode." Radiofrequency ablation in your back blocks the pain signals coming from an affected nerve. A cardiac ablation scars tissue in your heart and blocks irregular electrical signals for conditions such as arrhythmia. This type of heart ablation is highly effective for an irregular heartbeat. Is cardiac ablation a surgery? While it is performed in a hospital setting, cardiac ablation is considered more of an outpatient procedure than surgery. Should you stop blood thinner before an ablation? Yes, this is something that is often advised before any ablation procedure, but it is a conversation you need to have with your doctor.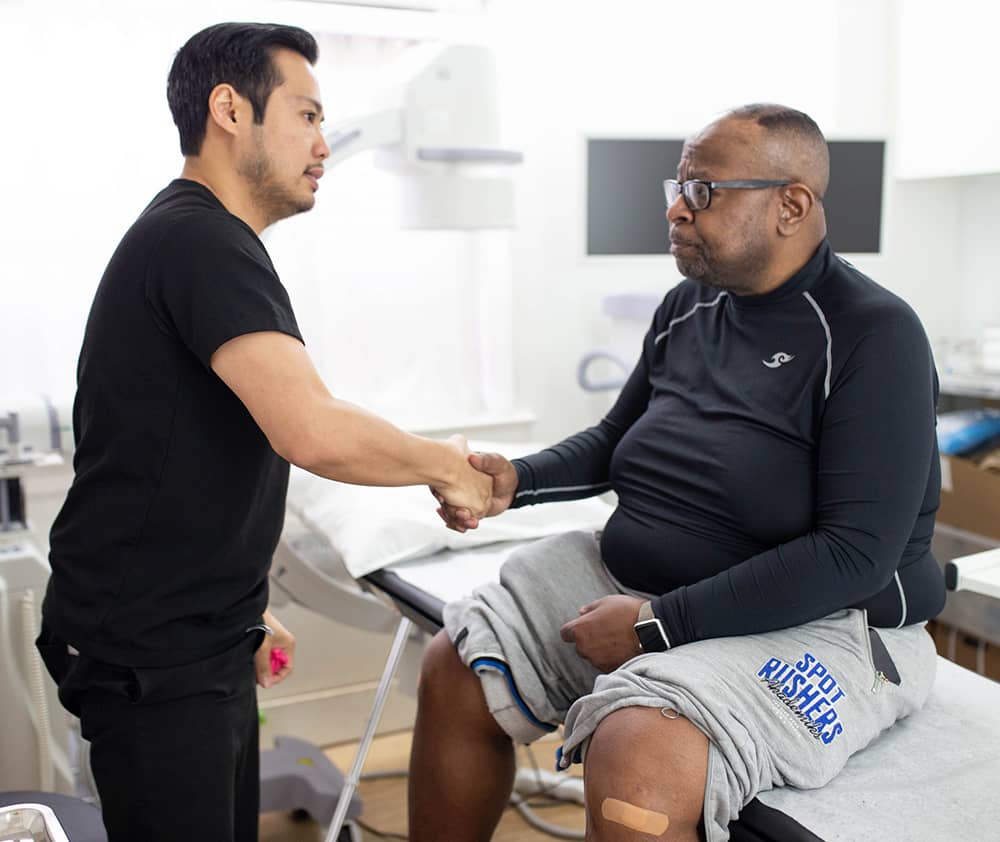 We offer free insurance verification! Fill out the form and expect a call from one of our agents:
Get back into the summer sunshine and fun after your consultation with Pain Treatment Specialists. Our team of nationally recognized interventional pain doctors create customized treatment plans for every patient at their state-of-the-art pain clinics in NYC, Long Island, and northern NJ.
LEARN MORE ABOUT OUR TEAM OF SPINE & JOINT SPECIALISTS IN NEW YORK & NEW JERSEY:

Call us
Speak instantly with an agent to verify your insurance and book an appointment.
(866) 446-0946

Book Online
Visit our
Book appointment 
page
and instantly request an appointment at a Spine & Joint center near you. We offer Free Insurance Verification before your appointment.

Get Directions
Learn how to easily get to the Spine & Joint center locations.
FEATURED POSTS BY PAIN DOCTORS
How Does Physical Therapy for Back Pain Help You Feel Better?Once the spring weather begins to thaw winter's chill, a host of outdoor activities become accessible again. On a particularly balmy afternoon, you hit the links for a quick round of golf. Your body feels...
read more