Examining Nerve Block Pros and Cons? Meet With Pain Treatment Specialists for Expert Advice
Pro and con lists are very useful when you're considering any decision. It helps you rationally lay out both the benefits and detriments of your dilemma, and then make an informed decision. Why not apply the same logic to treating your back pain? Your friend recently had a nerve block for their lower back pain, and is feeling better than ever. Before the nerve block, they always complained about how their back ached and it interfered with daily activities. Now, they're back to hiking, cycling, and a cheerful, optimistic attitude. When you noticed the stark difference, you asked them, "What are nerve block pros and cons?"
Your friend had the same questions, which is why they went to  Pain Treatment Specialists. Their team of nationally recognized back and knee pain specialists allow each patient time to ask questions and evaluate their customized treatment plan. When you schedule an appointment at one of their pain clinics in NYC or northern NJ, you'll instantly feel comforted by your pain doctor's demeanor, as well as their impressive background in pain management. If you want to know the pros and cons of any knee or back pain treatment, you'll have time to inquire. If you want an expert's advice about the most effective treatments for your back pain, look no further than Pain Treatment Specialists.
What are Some Nerve Block Pros and Cons?
Searching the internet for knee or back pain treatments becomes very confusing, very quickly. If your search terms aren't specific enough, you end up with results that don't satisfy your intent. Instead, you end up with articles that mention "solar plexus pain", "nerve block anesthesia", "pain block surgery", nerve block in leg for foot surgery", "nerve block for pancreatic cancer", and "surgical nerve block." This is why meeting with a back pain specialist at Pain Treatment Specialists is the best choice for finding relevant and specific information and the pros and cons of nerve blocks.
During your initial consultation, your pain management doctor focuses first on the pros of nerve blocks– which are plentiful! A nerve block is exactly what it sounds like– it "blocks" painful signals from affected nerves from reaching your brain. This is done through a targeted injection of local anesthetic. One of the best reasons to consider a nerve block is that it is a minimally invasive treatment. It does not require surgery or an overnight stay, and you'll be back on your feet the same day. In contrast, back surgery is painful, invasive, and requires a long recuperation. It also directly addresses the source of your chronic back pain, and provides long-lasting back pain relief. How long does a nerve block last? Many patients report that the pain relief from a nerve block lasts months, if not years.
There are very few cons to a nerve block injection, and one is soreness at the injection site. It's also advised that you bring someone to drive you home from the appointment. Other than that, you'll be up and on your feet the very same day. In this case, the pros to nerve blocks greatly outweigh the cons.
Schedule an appointment at Pain Treatment Specialists and speak directly with a pain management specialist who cares about your overall health and wellness. Our team of nationally recognized pain doctors consistently receive 5-star patient ratings for their caring, knowledgeable, and compassionate bedside manners.
What are Other Treatments for Chronic Pain?
During your consultation at Pain Treatment Specialists, you'll learn the underlying cause of your back pain. Depending on the type of back pain you're experiencing, a nerve block might not be the best treatment for your chronic pain. At our state-of-the-art pain clinics in NYC and northern NJ, we offer a wide variety of minimally invasive treatments for pain management including:
Radiofrequency Ablation: This cutting-edge procedure uses heat energy to deactivate the small nerves that send sensation to your spine's facet joints. Radiofrequency ablation is helpful if you experience back pain while leaning backward, twisting, or standing.
Physical Therapy: PT is often used in harmony with pain management treatments, and often boosts those results. Your physical therapist increases your back's flexibility and strength through targeted movements and exercises. The result is a stronger core and lower back, which prevents future pain and injuries.
Before you consider a knee replacement or back surgery, first consult with a pain management specialist. At Pain Treatment Specialists, our team of back pain doctors have several options for pain management that provide effective pain relief while also avoiding surgery.
Can I Receive a Pain Block in the Neck?
Nerve block injections are also useful for neck pain. Your neck is also known as your cervical spine, and there is a medical procedure that provides a pain block in your neck for long-lasting relief. A cervical block in your neck is another minimally invasive procedure available at Pain Treatment Specialists. This procedure is known as a cervical facet block injection, and uses a special x-ray called a fluoroscope to identify your affected facet joints.  Once located, a small amount of local anesthetic and steroid is used to numb the facet joint and block your pain. You may need 1-2 injections to thoroughly block your neck pain. This type of nerve block is highly effective for patients suffering from chronic neck and shoulder pain.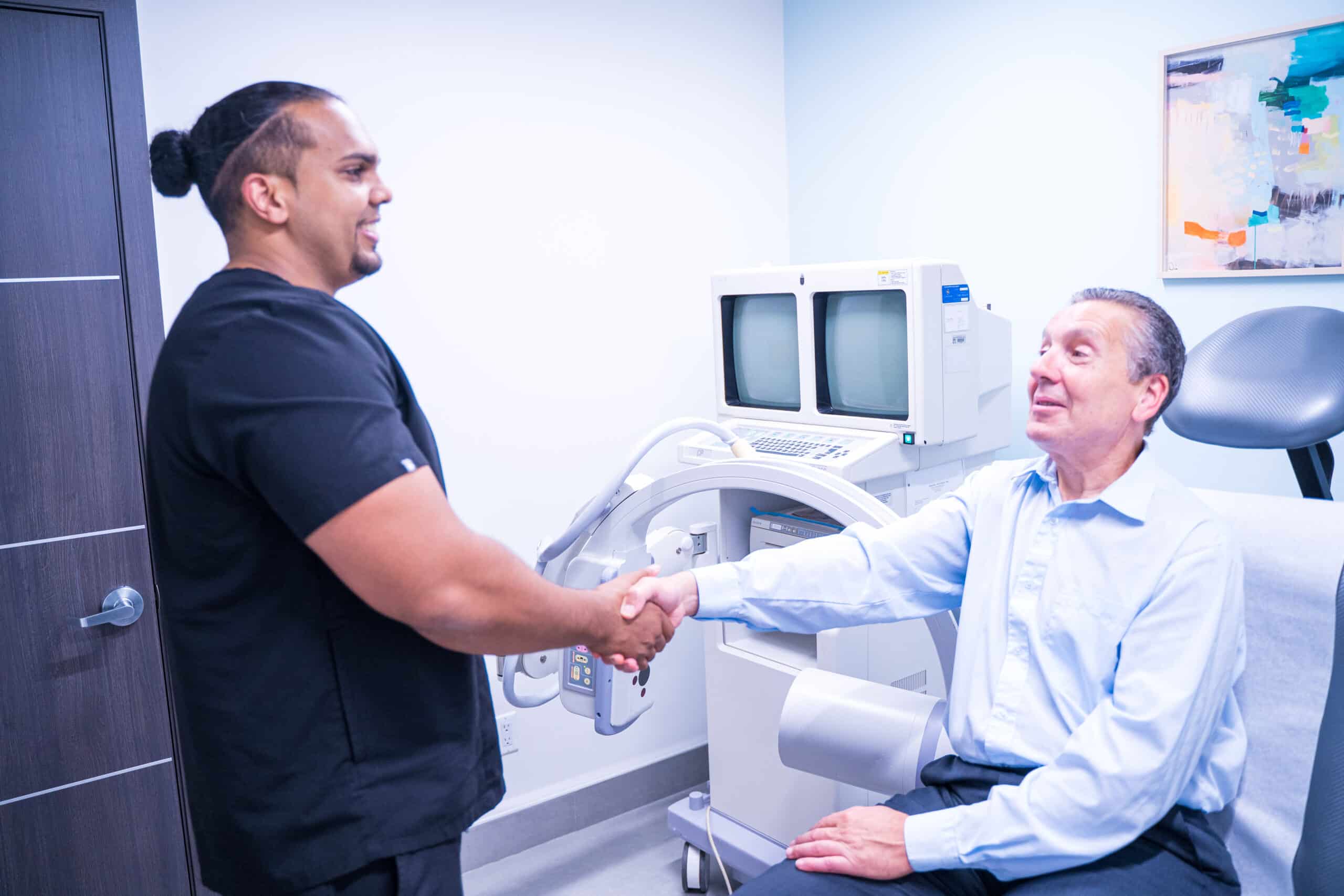 We offer free insurance verification! Fill out the form and expect a call from one of our agents:
Instead of wading through a sea of internet results, schedule an appointment at Pain Treatment Specialists and learn about the pros and cons of nerve blocks. The best way to treat your chronic back pain is with minimally invasive back treatments, all provided at our friendly, knowledgeable, and sparkling clean pain clinics in NYC and northern NJ.
LEARN MORE ABOUT OUR TEAM OF SPINE & JOINT SPECIALISTS IN NEW YORK & NEW JERSEY:

Call us
Speak instantly with an agent to verify your insurance and book an appointment.
(866) 446-0946

Book Online
Visit our
Book appointment 
page
and instantly request an appointment at a Spine & Joint center near you. We offer Free Insurance Verification before your appointment.

Get Directions
Learn how to easily get to the Spine & Joint center locations.
FEATURED POSTS BY PAIN DOCTORS
Who is the Top Nerve Specialist Near Me? Visit Pain Treatment Specialist for the Best ResultsDo you experience pain, numbness, or tingling in your extremities, or sharpness in your lower back that feels like a lightning bolt? These sensations may be the result of...
read more