How Can Nerve Ablation for Sciatica Relieve Lower Back Pain?
Sciatica is a common lower back pain condition that involves the irritation of your sciatic nerve. Back pain caused by sciatica often comes out of nowhere, and can render you speechless. Sometimes it even feels like a sudden bolt of lightning just radiated through your lower extremities. This is because your sciatic nerve is the longest in your body, running from your lower back down through your buttocks, hips, and into your legs. There are a variety of underlying conditions that irritate your sciatic nerve, but thankfully there are several minimally invasive treatment options that provide back pain relief.
At Pain Treatment Specialists, our team of nationally recognized back pain doctors take time during your appointment to let you thoroughly discuss your back pain concerns. From here, we'll discuss your diagnosis and treatment plan, which could include nerve ablation for sciatica. This is a minimally invasive procedure that provides long-lasting sciatica pain relief. When you book an appointment at Pain Treatment Specialists, you'll receive medical advice from the nation's leading pain doctors who also care about each client at their state-of-the-art pain clinics in NYC and northern NJ.
What Does Nerve Ablation for Sciatica Involve?
While the treatment sounds a little daunting, the procedure itself is not! The word "ablate" means "removal", which is exactly what's done during nerve ablation for sciatica. At Pain Treatment Specialists, we utilize radiofrequency ablation for sciatic nerve pain. This minimally invasive treatment uses heat energy to deactivate nerve endings that are causing your sciatica pain. When the nerve endings are dulled, the pain signals are eradicated and your back pain stops. Radiofrequency ablation for degenerative disc disease is also utilized at our pain clinic.
Will you experience pain in the leg after radiofrequency ablation? No, you should not experience leg pain after this procedure, but you may want someone to drive you home after the treatment. There are no long-term effects from radiofrequency ablation, and it is safely provided in our clean and well-staffed pain clinic by licensed and board-certified back pain doctors.
Not sure if nerve ablation for sciatica is right for you? Book an appointment at Pain Treatment Specialists and meet with one of our Harvard-trained back pain doctors. Their expertise in chronic pain conditions is informed by years of research, specialized schooling, and work with patients in their state-of-the-art pain clinics.
What Are Symptoms of Chronic Pain and Sciatica?
Chronic pain is defined as persistent pain that does not go away after a few weeks. Some people describe chronic pain as a dull ache that never quite goes away. However, sciatica pain may flare up and strike without warning, leaving you struggling to stand upright. Does sciatica pain come and go? Yes, and when it hits it makes it difficult to get through the rest of your day.
Specifically, sciatica is pain that occurs in your lower back but can also travel down through your buttocks, hips, and legs. That's because of the length of the sciatic nerve, which is the longest in the body. Some people only experience a mild, dull ache with sciatica, and others experience lightening-like pain that occurs when they sneeze or move too quickly. One of the most common causes of sciatica is a herniated disc, which presses on the sciatic nerve causing intense pain. Sciatica typically occurs on just one side of your body, and may also cause weakness and numbness in your legs.
Let the back pain experts at Pain Treatment Specialists identify the cause of your lower back pain, as well as your treatment plan. Through the use of minimally-invasive back pain treatments, sciatica is easily managed.
Can I Prevent Sciatic Nerve Pain?
While it's difficult to prevent sciatica, you can take some steps to prevent it from occurring. Exercising regularly keeps your core, back, and legs strong. Keeping your core and abdominal muscles strong helps your posture and alignment. You can also be mindful of your posture while sitting, and use a small towel or pillow in the small of your back to keep its natural curve. Place your hips and knees on level surfaces, which also keeps your body's alignment in check. You can prevent further irritation from sciatica if you use your knees to bend and squat when lifting heavy objects instead of bending at the waist. All of these things provide sciatica pain relief.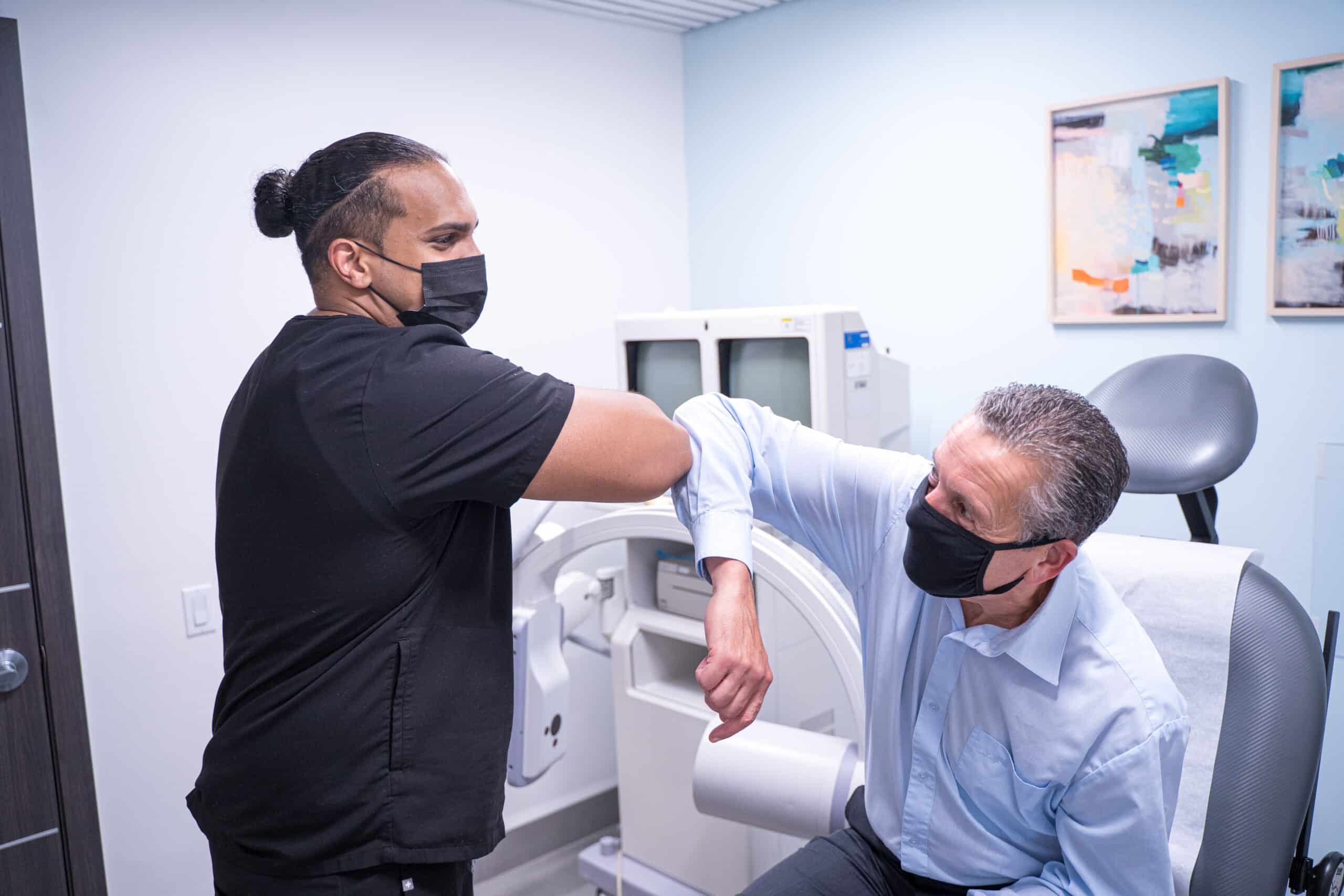 We offer free insurance verification! Fill out the form and expect a call from one of our agents:
Schedule an appointment at Pain Treatment Specialists, where you can avoid invasive treatments like a laminectomy for sciatica and hip replacement with more minimally-invasive treatments. Instead of using a search engine for phrases like, "nerve denervation surgery", "Will hip replacement help sciatica", "herniated disc sciatica recovery time", and "loss of leg strength after back surgery", talk with our pain experts and see how our minimally-invasive treatments help with lower back pain. Nerve ablation for sciatica is highly recommended for extended pain relief and is a safe, outpatient procedure.
LEARN MORE ABOUT OUR TEAM OF SPINE & JOINT SPECIALISTS IN NEW YORK & NEW JERSEY:

Call us
Speak instantly with an agent to verify your insurance and book an appointment.
(866) 446-0946

Book Online
Visit our
Book appointment 
page
and instantly request an appointment at a Spine & Joint center near you. We offer Free Insurance Verification before your appointment.

Get Directions
Learn how to easily get to the Spine & Joint center locations.
FEATURED POSTS BY PAIN DOCTORS
How Do You Know When to See a Doctor for Back Pain?Getting ready for a warm weather vacation? Time to unpack your summer clothing bins and begin packing your bags. You head to the basement to begin sorting through swimsuits and tank tops, but are left stunned by the...
read more