A Top Neck Treatment Specialist Describes the Best Neck and Spine Pain Treatments
Knowing who to turn to when you need help produces the best outcome for your problem. If your car's GPS system isn't working, your best bet is taking it back to the dealership instead of letting your neighborhood mechanic handle the situation. When your crown becomes dislodged, seeing your primary care physician isn't going to do you any good, and a visit to an orthodontist is the better option. The same goes for joint pain, neck pain, and knee pain. Instead of visiting spine surgeons who will likely suggest surgery, your better option is meeting with neck treatment specialists who specialize in pain medicine.
 At Pain Treatment Specialists, all of our neck treatment specialists are pain management specialists. This means that they possess specialized training in pain medicine, and interventional neck pain treatments. Instead of relying on surgery, our neck and spine doctors utilize minimally invasive neck pain treatments that are highly effective for the diagnosis and treatment of neck pain. If you're suffering from issues with your cervical spine, pain from a pinched nerve, or the inability to turn your neck, meeting with the Harvard trained neck doctors at Pain Treatment Specialists is the best option for neck pain relief.
What Special Qualifications Do Neck Treatment Specialists Possess?
Not all neck doctors have the same training and qualifications. For example, spine surgeons are well-versed in using surgery as their primary tool for neck pain relief. This is because their years of training focused on how to use surgery as a means for fixing neck pain. Neck and spine surgery is a very serious undertaking, and isn't always necessary when more conservative treatments are available. The neck treatment specialists at Pain Treatment Specialists do not recommend neck surgery or spine surgery unless it is medically necessary, and instead use minimally-invasive treatments for chronic neck pain. This is because our neck doctors have extensive training in pain management, anesthesiology, and interventional pain medicine. Some of the neck treatment specialists you'll find at our clinics include:
Dr. Laura Lombardi: Dr. Lombardi completed her anesthesiology residency at Columbia University—New York Presbyterian Hospital and an interventional pain medicine fellowship at Harvard University. Her specialty is fluoroscopic-guided interventional pain treatment injections, which uses a special x-ray to pinpoint the exact area in your neck for an injection. She strives to provide the best care for every patient who enters her pain clinic, and customizes treatment plans for each individual.
Dr. George Hanna: Dr. Hanna is a former Clinical Instructor at Harvard Medical School, where he trained medical students in the fields of anesthesiology and pain medicine. He regularly presents at medical conferences across the country, and also authors textbook chapters on pain medicine. Dr. Hanna's patients describe him as both knowledgeable and kind, and he never rushes patients through an appointment. His goal is ensuring that he provides the proper diagnosis and treatment of your neck pain, and also that you leave his office feeling like your neck pain concerns were heard and met.
When you request an appointment with the neck treatment specialists at Pain Treatment Specialists, you're meeting with some of the top neck doctors in the nation. Call or message us today to see how Dr. Hanna, Dr. Lombardi, or one of our other Harvard trained pain doctors can relieve your chronic neck pain.
How Do I Receive the Proper Diagnosis and Treatment for My Neck Pain?
During your initial appointment, your neck pain doctor will ask you a series of questions related to your neck pain. It may help to keep a pain diary in the week leading up to your visit so you can clearly and accurately articulate your pain concerns. In your pain diary, write down activities that make your neck pain better or worse, and also use a number scale to help you pinpoint your pain levels. Using a 1-10 scale, make 1 "non-existent" and 10 "excruciating." When you record different activities and times of day, label it with a pain number so you can see how your pain shifts during the day.
Your neck pain doctor may also ask you to recall any recent accidents or falls that could have triggered your neck pain. Answer all of your neck treatment specialist's questions honestly, as this plays a large role in the diagnosis and treatment of your neck pain.
Next, your neck doctor will complete a physical evaluation of your neck's range of motion, and then use an x-ray to determine any underlying causes. Using their knowledge of your anatomy and neck's structure, your neck doctor is then able to properly diagnose your neck pain. From there, your neck treatment specialist discusses the various neck pain treatments offered that provide pain relief.  
The best way to find a proper diagnosis and treatment for your chronic neck pain is meeting with a pain management specialist at Pain Treatment Specialists.
Is a Steroid Injection Safe for a Pinched Nerve?
Yes, steroid injections are not only safe for pinched nerves, but also highly effective. This is one of many minimally invasive neck pain treatments offered at Pain Treatment Specialists. Some of the other effective neck pain treatments offered include:
Physical Therapy: A physical therapist uses their background in physical medicine and rehabilitation and exercise science to create a customized rotation of stretches and exercises designed to increase your neck's mobility.  
Trigger Point Injections: Knots that form deep inside your connective tissue are known as trigger points. A local anesthetic and corticosteroid are combined in a trigger point injection, which makes the area inactive and pain free.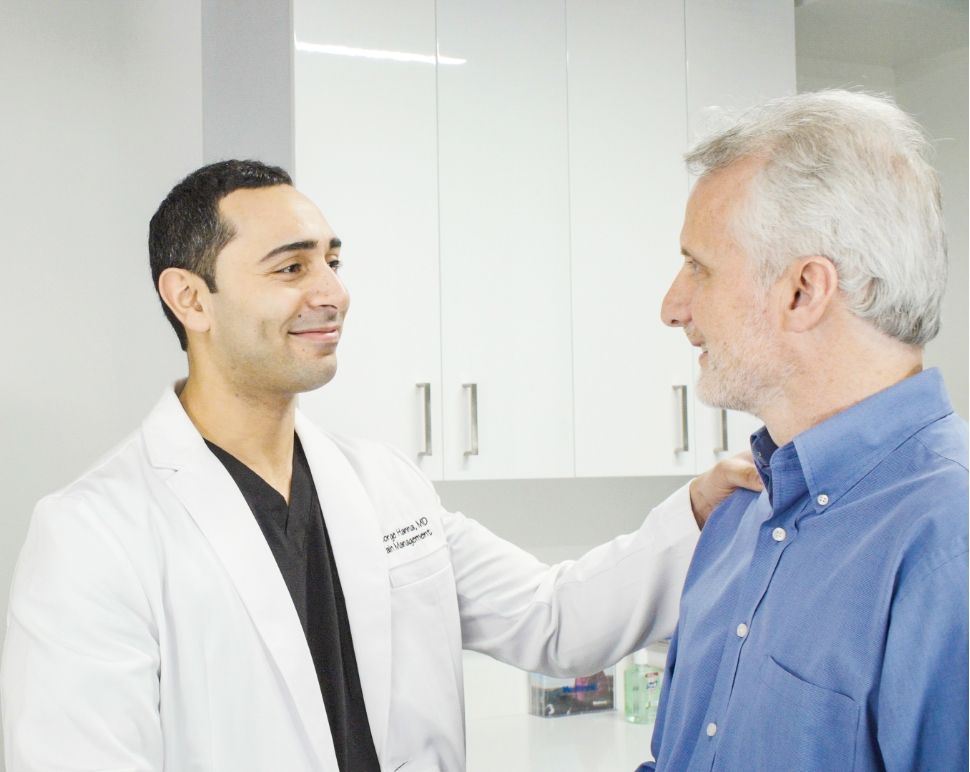 We offer free insurance verification! Fill out the form and expect a call from one of our agents:
Cervical Facet Block Injection: For people who suffer from arthritis, this treatment is highly effective. Your neck treatment specialist uses a fluoroscopic-guided x-ray for proper imaging, and then the facet block is numbed, which blocks the pain.
Don't waste your time meeting with a doctor who doesn't have the proper training or tools to alleviate your neck pain. Book an appointment at Pain Treatment Specialists , where all of our neck treatment doctors are board certified, Harvard trained, and prepared to offer the best solutions for your neck pain.
LEARN MORE ABOUT OUR TEAM OF SPINE & JOINT SPECIALISTS IN NEW YORK & NEW JERSEY:

Call us
Speak instantly with an agent to verify your insurance and book an appointment.
(866) 446-0946

Book Online
Visit our
Book appointment 
page
and instantly request an appointment at a Spine & Joint center near you. We offer Free Insurance Verification before your appointment.

Get Directions
Learn how to easily get to the Spine & Joint center locations.
FEATURED POSTS BY PAIN DOCTORS
Who is the Top Nerve Specialist Near Me? Visit Pain Treatment Specialist for the Best ResultsDo you experience pain, numbness, or tingling in your extremities, or sharpness in your lower back that feels like a lightning bolt? These sensations may be the result of...
read more