Harvard Trained Neck Specialists Discuss Minimally Invasive Neck and Spine Treatments
Curling up with a good book is an excellent way to unwind, unplug, and lose yourself in another world. Even though you have an electronic tablet, you still gravitate towards old-fashioned hard cover books. For you, there's nothing that replaces the feeling of weight in your hands, and the satisfaction of turning the pages while you meander throughout a story. Lately though, you've had a hard time finding a comfortable position to read because your neck hurts. You're not sure if it's the lasting effects from a recent car accident, or if there's a more serious underlying issue. You're ready to begin researching neck specialists because it's really starting to interfere with one of the most pleasurable parts of your day.
The neck doctors at Pain Treatment Specialists are your best option for the diagnosis and treatment of your neck and spine pain. Whether you're suffering from a pinched nerve, herniated disc, or cervical spine pain, our pain management specialists utilize minimally invasive neck pain treatments. Some of these treatments include meeting with a physical therapist, steroid injections, physical medicine and rehabilitation, or facet block injections. You can trust the Harvard trained pain doctors at our pain clinics in NYC and northern NJ for the best neck pain care.
How Neck Specialists Differ from Spine Surgeons and Orthopedic Surgeons
Spine surgeons and orthopedic surgeons are different from the neck specialists you'll find at Pain Treatment Specialists. This is because spine surgeons and orthopedic surgeons use surgery as their primary source of neck pain relief. A spine surgeon focuses their training on using spine surgery to fix back and neck pain, and therefore does not utilize more conservative methods for neck pain relief. The neck specialists at Pain Treatment Specialists are all interventional pain doctors, which means that their training focuses on using pain medicine and minimally invasive neck pain treatments for chronic neck pain. Their goal is avoiding neck surgery unless it is medically necessary. Some of the pain management specialists you'll find at our pain clinics in NYC and NJ include:
Dr. Laura Lombardi: Dr. Lombardi completed her interventional pain medicine fellowship at Harvard, and is double board certified in anesthesiology and pain medicine. She specializes in neck and back pain, and has the ability to utilize her knowledge of fluoroscopic-guided x-rays to precisely pinpoint each patient's pain. When you meet with Dr. Lombardi, you're assured that you're receiving a customized treatment plan that works just for you.
Dr. Shane Volney: Dr. Volney is a former Clinical Instructor of Pain Medicine and Anesthesiology at Harvard Medical School, and regularly contributes to medical textbooks on these topics. In addition to his expertise in pain medicine, Dr. Volney is a kind and compassionate pain doctor. Like Dr. Lombardi, he carefully listens to patients' pain concerns and finds the proper neck pain treatment for each patient.
If you're suffering from neck and spine pain, it's time to meet with pain management specialists who have the proper tools and training for your diagnosis and treatment. Request an appointment at Pain Treatment Specialists, where all of our neck specialists strive to eliminate neck pain from each patient's life.
An Explanation of Minimally Invasive Neck Pain Treatments
When you first begin to research neck specialists and neck treatments, there are a lot of unfamiliar terms that might seem overwhelming. Know that when you meet with the pain management specialists at Pain Treatment Specialists, your pain doctor will take their time explaining all of these minimally invasive neck pain treatments while discussing your customized neck pain treatment plan. Your neck and spine specialist knows that not only are patients nervous and anxious at their initial appointment, but they also may not be well-versed in neck pain treatments. Don't fret! One of the best aspects of our Harvard trained pain doctors is that not only do they have extensive training in pain medicine, but they are also skilled at describing the procedures for non-medical experts. You'll feel at ease with the direction of your neck pain care. Some of the neck pain treatments offered at our pain clinics include:
Physical Therapy: A physical therapist is trained in exercise science, and uses their knowledge of your cervical spine to create customized movements, stretches, and exercises that work to relieve your neck pain. A physical therapist uses heat and cold therapy, weight training, and aerobic exercises to increase mobility and build strength in your neck.
Cervical Epidural Steroid Injection: The epidural space of your spine often consists of irritated nerves. This injection targets this space with a corticosteroid injection and a local anesthetic drug. After the precise location is determined using a special x-ray, your pain is blocked and the facet joint is numbed.
Trigger Point Injections: Found deep inside your connective tissue, trigger points hurt when they're overused. They often feel like knots or tight spots. A trigger point injection deactivates these tight knots, providing immediate pain relief.
When you schedule an appointment at Pain Treatment Specialists, you'll receive a detailed diagnosis and treatment plan that works for your specific neck pain concerns.
How Should I Prepare for a Visit With a Neck and Spine Specialist?
Our neck specialists know that you're not an expert in pain medicine– that's their job! They do however know that you're an expert on your own body and experience with pain, and will ask you to describe your neck pain. Here are some useful ways you can articulate your neck pain:
Use a number scale to describe your pain. On a 1-10 scale, with 1 being minimal, and 10 being excruciating, how bad is your neck pain when you complete specific activities?
When did your neck pain begin? Was there a specific fall or accident that may have contributed to your pain?
Keep a pain diary in the weeks before your visit. Here, you can detail specific times of day when your neck pain is better or worse, and can use the pain number scale to identify your pain levels.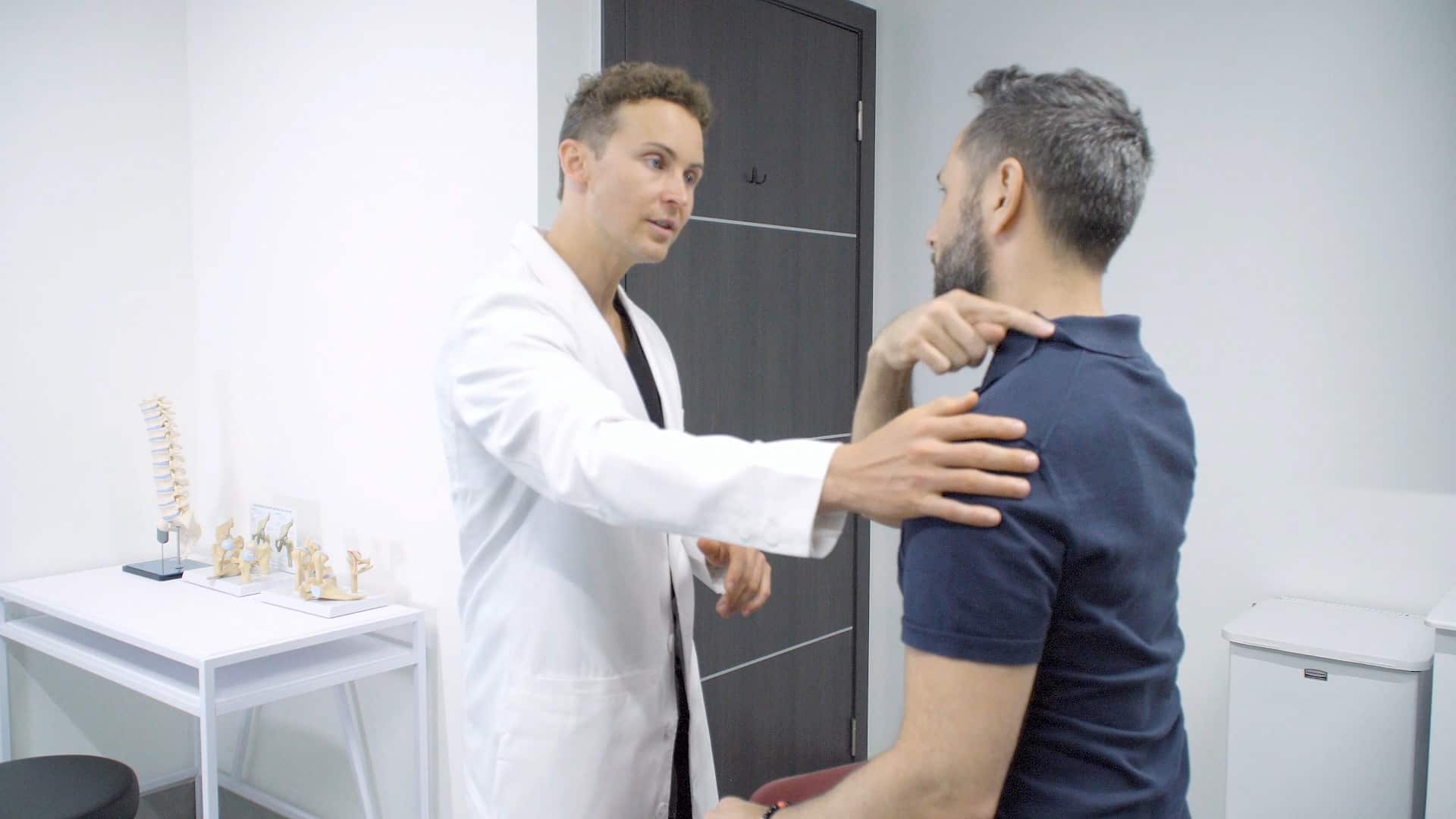 We offer free insurance verification! Fill out the form and expect a call from one of our agents:
Request an appointment at Pain Treatment Specialists, where you'll find relief from your chronic neck pain. Don't let your neck pain keep you from comfortably enjoying another great novel!
LEARN MORE ABOUT OUR TEAM OF SPINE & JOINT SPECIALISTS IN NEW YORK & NEW JERSEY:

Call us
Speak instantly with an agent to verify your insurance and book an appointment.
(866) 446-0946

Book Online
Visit our
Book appointment 
page
and instantly request an appointment at a Spine & Joint center near you. We offer Free Insurance Verification before your appointment.

Get Directions
Learn how to easily get to the Spine & Joint center locations.
FEATURED POSTS BY PAIN DOCTORS
How Do You Know When to See a Doctor for Back Pain?Getting ready for a warm weather vacation? Time to unpack your summer clothing bins and begin packing your bags. You head to the basement to begin sorting through swimsuits and tank tops, but are left stunned by the...
read more