Schedule an Appointment at Pain Treatment Specialists for the Best Neck Pain Treatment Near Me
Neck pain makes it difficult to move naturally throughout your day. Sometimes it occurs after a bad night's sleep in an awkward position, or it is sometimes related to a traumatic event like a car accident or fall. Symptoms of neck pain include soreness, stiffness, pain in your shoulders or upper back, and a decreased range of motion. If your neck pain is causing you to search phrases like "neck pain treatment near me", you're ready to find a top neck and head pain institute.
At Pain Treatment Specialists, our team of Harvard-trained neck pain doctors utilize pain management treatments for neck pain relief. Our head and neck clinic offers cutting-edge treatments that avoid surgery and provide long-lasting neck pain relief. If you're not sure what to do for a stiff neck, booking an appointment at our highly-rated pain clinic is an excellent start. During your consultation, you'll receive a diagnosis and treatment plan designed to increase your neck's range of motion and decrease your neck pain. Our neck pain doctors are kind, compassionate, and eager to find a solution that improves your quality of life.
Who Offers the Best Neck Pain Treatment Near Me?
When you begin researching the right place for your neck pain treatment, the results can be overwhelming and confusing. You might see results such as "back injury treatment near me", injury relief", "therapy relief",  "neck pain treatment near me", "facet joints", or "herniated discs." This is also why it's best to meet with a neck pain doctor who can thoroughly explain the cause of your neck pain and also the best way to treat it.
The neck pain specialists at Pain Treatment Specialists are a team of interventional pain doctors. This type of doctor focuses on avoiding surgery and using targeted pain medicine treatments for neck pain relief. Our neck pain treatments, often used in conjunction with physical therapy, help patients regain full use of their necks.
One of our top neck and back pain specialists is Dr. George Hanna, who is a nationally recognized pain specialist. He is a former Clinical Instructor of anesthesiology at Harvard Medical School, where he later was appointed the Director of Pain Innovations and Technology. He is board certified in anesthesiology, pain medicine, and pain management. His consistent 5-star patient reviews confirm that he is not only knowledgeable about treating pain, but also calming and reassuring in his bedside manner.
Schedule an appointment with one of our outstanding neck pain doctors at Pain Treatment Specialists and begin feeling better.
How to Get Rid of Neck Pain With Minimally Invasive Treatments
Surgery is not your only treatment option for neck pain. In fact, it is often avoided by trying more conservative methods first. At Pain Treatment Specialists, we only use minimally invasive neck pain treatments, as we believe that their efficacy is high with minimal side effects. After a gentle physical examination and a thorough conversation, your pain doctors outlines the cause of your neck pain, as well as your treatment plan. Some of the treatments offered at our pain clinics include:
Physical Therapy: A physical therapist understands your neck's muscle and bone structure, and knows what types of movements relieve your pain. Working in conjunction with your neck pain doctor, you'll complete a series of stretches and strength-building exercises designed to increase your strength and range of motion. Heat and cold therapies are also used to decrease your pain.
Trigger Point Injections: Areas in your upper back that are overworked or overused can result in knots. This pain also makes it difficult to move your neck properly. A trigger point injection deactivates these knots with a corticosteroid injection and local anesthetic.
Cervical Epidural Steroid Injection: This corticosteroid injection is administered into your spine's epidural space, which contains irritated nerves. The shot relieves pain in your lower back, arms, and neck.
Meet with a neck pain doctor at Pain Treatment Specialists and see what type of treatment plan is best for your neck pain.
From time to time, our necks become stiff and sore from poor posture, overuse, or a bad night's sleep. You can complete some at-home neck pain treatments for pain relief, but should consider immediate patient care with professional medical advice if you experience neck pain along with vomiting, numbness in your arms, or difficulty breathing or swallowing.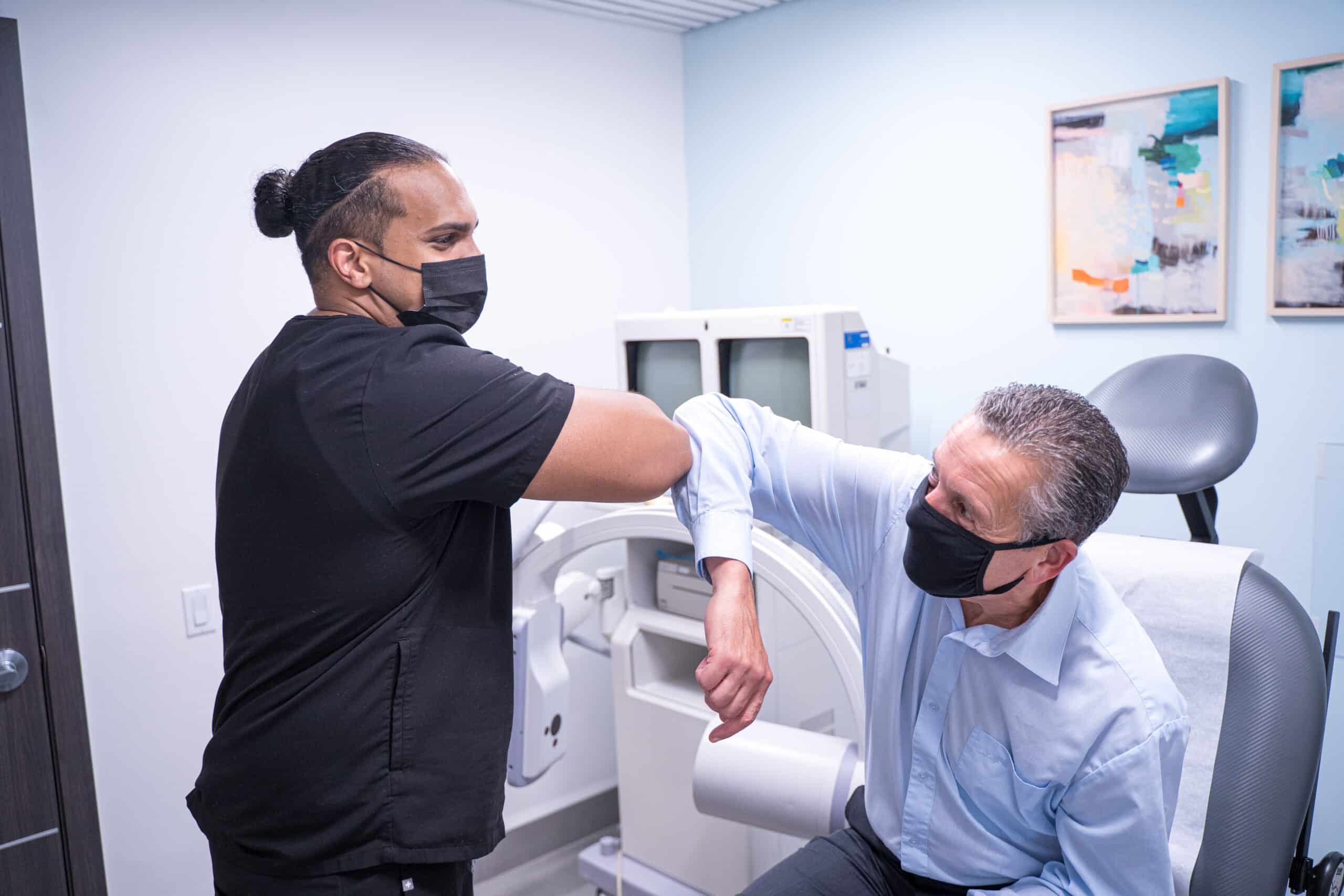 We offer free insurance verification! Fill out the form and expect a call from one of our agents:
Using a heating pad or taking a hot shower often helps a stiff neck by relaxing your muscles. A massage with a licensed massage therapist also targets stiff or sore neck muscles. Watch your posture while you're sitting, and be mindful of how you're viewing your phone or laptop. Too often, our necks face down for long periods of time, which can cause a stiff neck. Use over-the-counter pain medicines for short-term pain relief.
Don't let your stiff and sore neck ruin your day! Contact the neck pain experts at Pain Treatment Specialists and find the best quality neck pain treatment in your area. With locations in northern NJ, NYC, and Long Island, our pain clinics are staffed with nationally-recognized neck pain specialists.
LEARN MORE ABOUT OUR TEAM OF SPINE & JOINT SPECIALISTS IN NEW YORK & NEW JERSEY:

Call us
Speak instantly with an agent to verify your insurance and book an appointment.
(866) 446-0946

Book Online
Visit our
Book appointment 
page
and instantly request an appointment at a Spine & Joint center near you. We offer Free Insurance Verification before your appointment.

Get Directions
Learn how to easily get to the Spine & Joint center locations.
FEATURED POSTS BY PAIN DOCTORS
How Does Physical Therapy for Back Pain Help You Feel Better?Once the spring weather begins to thaw winter's chill, a host of outdoor activities become accessible again. On a particularly balmy afternoon, you hit the links for a quick round of golf. Your body feels...
read more