A Harvard-Trained Neck Pain Treatment Doctor Reveals the Best Treatments of Chronic Neck Pain
Being able to move your neck without pain is likely something you don't think about on a daily basis until it's become an issue. Normally, turning your head to speak with a co-worker happens naturally. When your neck aches, you have to turn your entire body to hear the conversation. Turning around in the car to see what's behind you while backing is an old habit, but when chronic neck pain strikes you have to rely on the backup camera for assistance. When is it time to seek medical treatment for your sore neck muscles?
The Harvard-trained pain doctors at Pain Treatment Specialists know how much chronic neck pain affects your life. It takes normally simple tasks and makes them much more difficult and pain-filled. Our neck pain treatment doctors believe that any time pain causes you to alter your daily activities, it's time to make an appointment for the proper diagnosis and treatment of your head and neck pain.
Meet the Best Neck Pain Treatment Doctor for Your Head and Neck Pain
At Pain Treatment Specialists, all of our pain doctors are carefully selected to ensure not only the most exemplary qualifications, but also a kind and compassionate bedside manner. Each of our pain doctors is highly-skilled in anesthesiology, pain medicine, and interventional pain techniques. You won't find a better place for the proper diagnosis and treatment of your chronic neck pain and strained neck muscles than the pain clinics of Pain Treatment Specialists. Let's meet the team!
Dr. Namrata Khimani: Dr. Khimani is an Honors graduate of Harvard Medical School, and a triple certified pain doctor. The American Board of Anesthesiology granted Dr. Khimani the title of "nationally recognized pain specialist", which is only achieved after a very rigorous certification process.
Dr. Laura Lombardi: As a former Division 1 athlete, Dr. Lombardi knows the strain that chronic pain puts on a patient's life. She completed her interventional pain medicine fellowship at Harvard, and is double board certified in anesthesiology and pain medicine. Dr. Lombardi specializes in fluoroscopic-guided pain treatment injections, which allows her to precisely pinpoint the problem area in especially difficult areas, like your neck.
Dr. George Hanna: Dr. Hanna is the former director of Pain Innovations and Technology at Harvard. His expertise in the field of pain management is harvested by medical textbooks, where he authors chapters, and his colleagues, who invite him to speak at national conferences.
Dr. Khimani, Dr. Lombardi, and Dr. Hanna are just a few of the pain doctors at our cutting-edge pain clinics in NYC and northern NJ. Schedule an appointment today at Pain Treatment Specialists and meet with a neck pain treatment doctor who knows how to treat chronic neck pain with minimally invasive treatments.
What Are The Best Treatments for Chronic Neck Pain?
When you book an appointment at Pain Treatment Specialists, you're committing to finding a solution for your chronic neck pain. Your neck pain treatment doctor has the same goal, and utilizes a wide variety of minimally invasive treatments to produce a pain-free neck. During your initial consultation, your neck pain doctor will discuss any prior medical treatment you've tried for your neck pain, and examine your head and neck to determine your range of motion and pain concerns. Next, your neck pain treatment doctor uses their expertise to determine the diagnosis and treatment of your neck pain, and informs you of the next steps. Some of the minimally invasive treatments offered at out pain clinics include: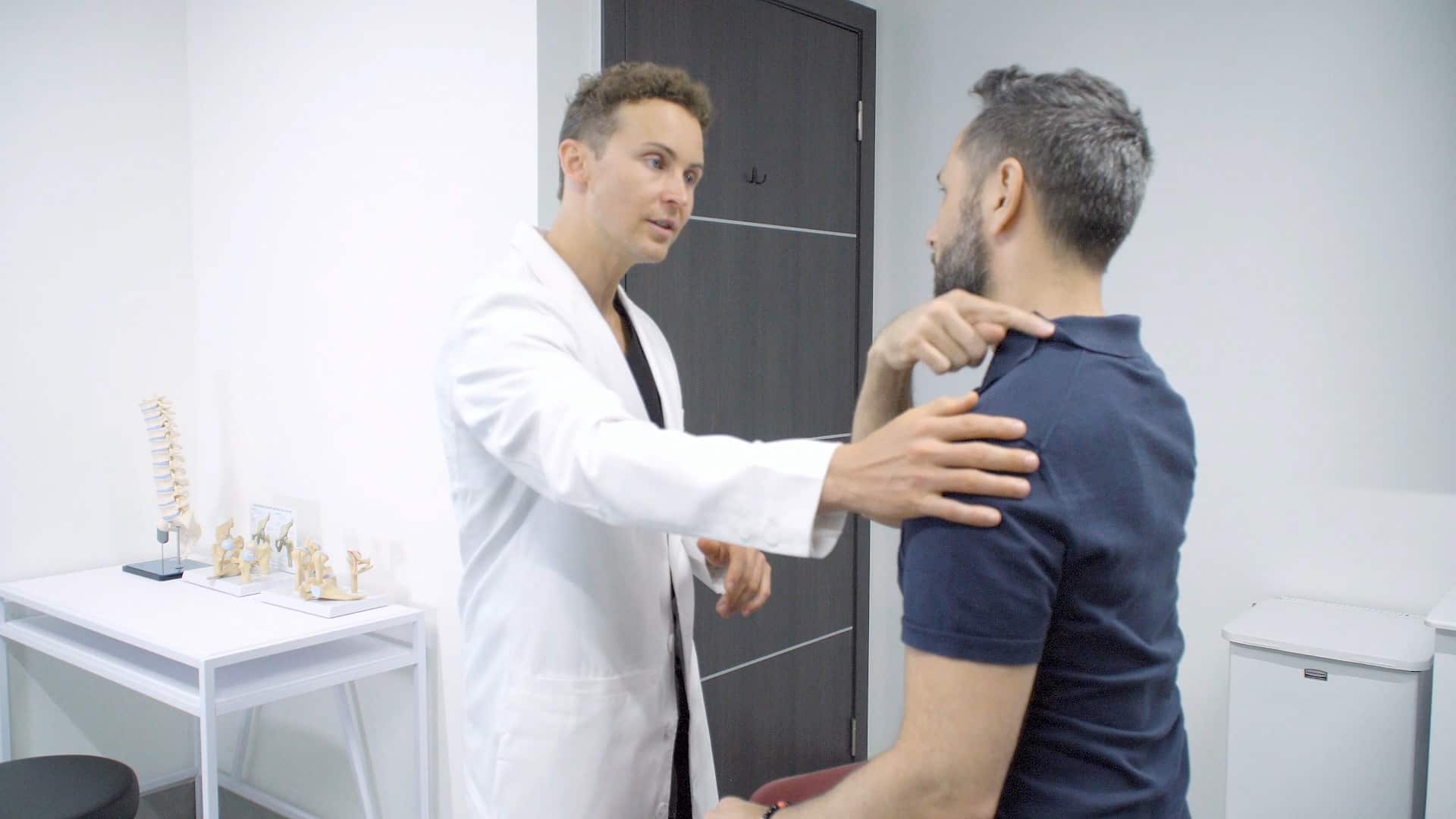 We offer free insurance verification! Fill out the form and expect a call from one of our agents:
Physical Therapy: A physical therapist works to use exercise to improve your neck's mobility, and alleviate muscle strains. Putting pressure on your neck with gentle motions may also help improve your sore neck muscles. Heat and cold therapy are also commonly used during PT for head and neck pain.
Trigger Point Injections: Deep inside your connective tissues or neck muscles, you'll find sensitive areas called "trigger points." When overused, they create knots or bands that can't relax, which causes a great deal of pain. The goal of trigger point injections is combining a local anesthetic with a steroid injection to deactivate the trigger points. This is an outpatient procedure and easily done within a short amount of time.
Cervical Facet Block: If you suffer from neck arthritis, then a cervical facet block is highly-effective for your neck pain. Your neck pain treatment doctor targets the affected facet joints in your cervical spine and administers a steroid injection and a local anesthetic.
Chronic neck pain doesn't have to derail your life. Book an appointment at Pain Treatment Specialists and see how our neck pain treatment doctors improve your quality of life.
What Can I Do for Sore Neck Muscles or a Muscle Strain At Home?
When you need to make it through a day filled with neck pain, having some go-to at-home remedies are a lifesaver. They are no replacement for visiting with neck pain treatment doctors, but they're enough to make sure you can still function during the day. The pain management doctors at Pain Treatment Specialists recommend the following at-home remedies for neck pain:
Gentle Stretching: A gentle stretch helps relieve tension in your neck and shoulders, and also improves your neck's range of motion. Try rolling your shoulders forwards, and then backwards in a circular motion. Move your head gently from side to side, trying to move it a little more each time.
Heat and Ice: Icing your neck in 20 minute intervals helps relieve pain, while a heating pad or hot shower can help loosen up stiff neck muscles.
OTC Medicine: Over-the-counter pain medicine works well to relieve sore neck muscles for a short amount of time.
Don't spend another day unable to move your neck easily. Schedule an appointment at Pain Treatment Specialists, where our neck pain treatment doctors utilize a wide variety of neck pain treatments to get you back to a pain free life.
LEARN MORE ABOUT OUR TEAM OF SPINE & JOINT SPECIALISTS IN NEW YORK & NEW JERSEY:

Call us
Speak instantly with an agent to verify your insurance and book an appointment.
(866) 446-0946

Book Online
Visit our
Book appointment 
page
and instantly request an appointment at a Spine & Joint center near you. We offer Free Insurance Verification before your appointment.

Get Directions
Learn how to easily get to the Spine & Joint center locations.
FEATURED POSTS BY PAIN DOCTORS
How Does Physical Therapy for Back Pain Help You Feel Better?Once the spring weather begins to thaw winter's chill, a host of outdoor activities become accessible again. On a particularly balmy afternoon, you hit the links for a quick round of golf. Your body feels...
read more