Who is the Best Neck Pain Specialist Near Me?
If you've ever experienced neck pain, then you know exactly why the phrase "pain in the neck" carries such weight! A sore and stiff neck makes simple movements like turning your head almost impossible. It's also visibly clear to anyone speaking to you, since you now need to awkwardly move your entire torso to look in a different direction. Occasional neck pain after an uncomfortable night's sleep usually fades on its own, but neck pain that lasts longer than a few days should be addressed by a neck pain specialist in your area. Chronic neck pain is easily treated with minimally invasive treatments that get your neck moving fluidly and easily again.
At Pain Treatment Specialists, our neck specialists are also called pain management specialists. Their goal is finding a treatment plan that works for your neck pain and avoids painful surgery or addictive narcotics. Our team of nationally recognized neck pain specialists understand how neck pain affects every part of your day, and look forward to providing you with an accurate diagnosis and treatment plan. Schedule an appointment at one of our conveniently located pain clinics in NYC, Long Island, or northern NJ and learn how our neck, back, and spine doctors can improve your overall quality of life.
What Qualifications Should a Neck Pain Specialist Near Me Possess?
You've never pursued treatment for your neck pain before, but it's also never lasted beyond a few hours or days. Now you're on week 2 of looking and feeling like Frankenstein, and need to find relief quickly. In order to narrow down your quest for an appropriate doctor, you've been searching phrases like "neck pain NYC", "back spine doctor near me", "doctor near me for back pain", "back injury doctors near me", and "back and neck surgeons near me." However, you're still not quite sure what you're looking for with these results. What kind of qualifications should a neck pain specialist possess?
At Pain Treatment Specialists, all of our neck pain doctors received advanced training in pain medicine and interventional pain management. They are also board certified in a variety of disciplines including anesthesiology, pain medicine, and interventional pain management. For example, Dr. Laura Lombardi is double board certified in anesthesiology and pain medicine, and also fellowship trained in interventional pain medicine at Harvard Medical School. These qualifications are important because it ensures that your spine doctor, back doctor, or neck doctor earned the proper credentials to treat your pain without surgery.

Most importantly, our neck and spine specialists possess exceptional bedside manners. All of their patient reviews are 5 stars, and consistently mention words such as "compassionate", "knowledgeable", "thorough", and "kind." One recent review of Dr. Shane Volney said, "I'm a physician myself and can attest to Dr. Volney's bedside manner, ability to explain things slowly and clearly –  my problem and his treatment plan. The treatment was done with rigorous care and was very effective."

When looking for a neck pain specialist in your area, your best choice is to call Pain Treatment Specialists. Our team of Harvard-trained neck pain doctors are consistently ranked as the top doctors for pain management, and have many 5-star patient reviews as evidence. 
What is the Best Treatment for Chronic Neck Pain?
One of the best reasons to consider pain management treatments for chronic neck pain is that they avoid surgery and have almost no downtime. Orthopedic surgeons or spine surgeons utilize surgery during their diagnosis and treatment process, which is often avoided by trying more conservative treatments first. At Pain Treatment Specialists, we offer several minimally invasive neck pain treatments including:
Cervical Epidural Steroid Injection: This steroid injection is administered in the epidural space in your spine, and uses medicines like cortisone to reduce swelling. This injection reduces pain and swelling in your arms, neck, and shoulders by calming the irritated nerves in your epidural space. A cervical epidural steroid injection is helpful for people who suffer from arthritis, spinal stenosis, or herniated discs.
Trigger Point Injections: When you overuse certain muscles in your neck or upper back, you create muscles and tissues that become tight and sore. A trigger point injection uses a combination of a local anesthetic and a corticosteroid to loosen these tense spots and provide pain relief. 
Physical Therapy: A physical therapist works with your pain specialists to create a customized series of movements and stretches that provide pain relief.
After discussing your medical history and completing a gentle physical examination, your neck pain doctor at Pain Treatment Specialists creates a customized treatment plan. Book an appointment today and take the first steps to remove neck pain from your life.
Why Should I Avoid Surgery as a Treatment for Neck Pain?
Neck surgery is serious business– there are so many nerves and tissues that are connected to your spine and brain in that region that deciding to undergo surgery is a major decision. Not only is neck surgery painful, but it will also require a hospital stay and a long recovery time. Perhaps most frightening, neck surgery is no guarantee that the surgery successfully eliminates your pain. This is why it's critical that when you're searching phrases like "spine doctor near me", "spine pain specialist near me", and "back doctor near me" that you also look for what types of treatments their clinics offer. Stick closely to interventional pain management specialists, who use the most conservative treatments first for neck pain relief.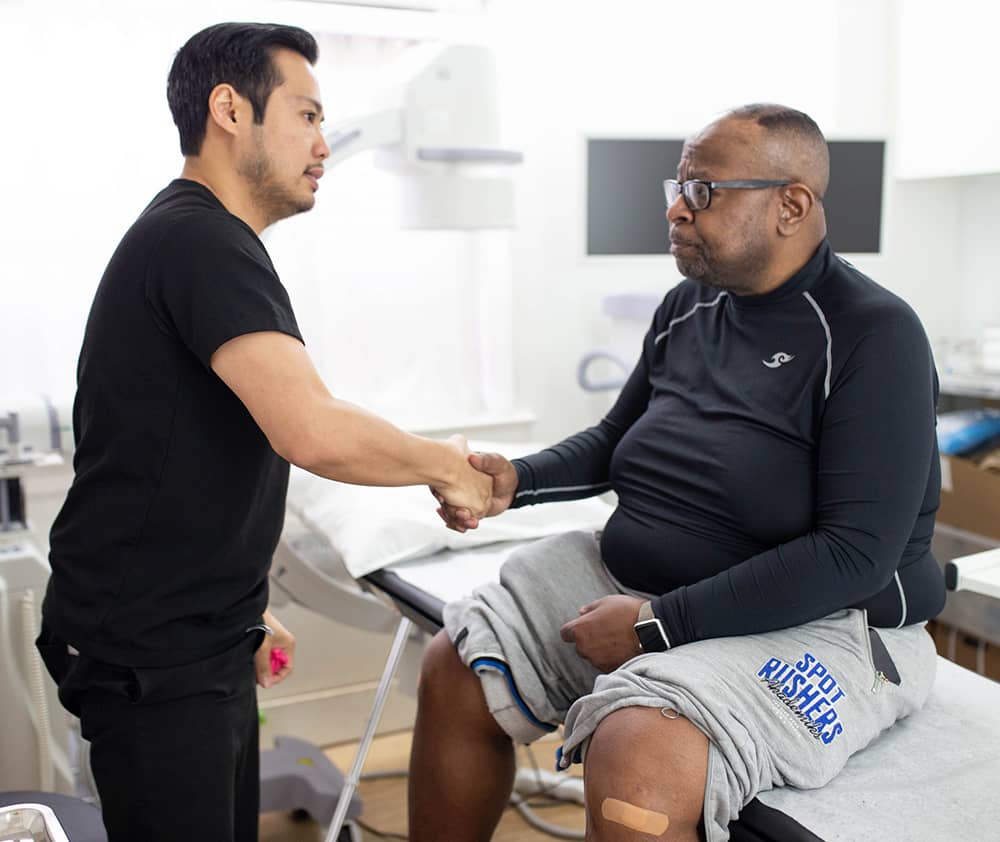 We offer free insurance verification! Fill out the form and expect a call from one of our agents:
Are you ready for the pain in your neck to stop being a "pain in the neck?" Contact Pain Treatment Specialists and meet with their nationally recognized pain doctors to begin improving your neck's mobility– and also your quality of life.
LEARN MORE ABOUT OUR TEAM OF SPINE & JOINT SPECIALISTS IN NEW YORK & NEW JERSEY:

Call us
Speak instantly with an agent to verify your insurance and book an appointment.
(866) 446-0946

Book Online
Visit our
Book appointment 
page
and instantly request an appointment at a Spine & Joint center near you. We offer Free Insurance Verification before your appointment.

Get Directions
Learn how to easily get to the Spine & Joint center locations.
FEATURED POSTS BY PAIN DOCTORS
How Do You Know When to See a Doctor for Back Pain?Getting ready for a warm weather vacation? Time to unpack your summer clothing bins and begin packing your bags. You head to the basement to begin sorting through swimsuits and tank tops, but are left stunned by the...
read more