Meet With a Top Neck Pain Dr. for Proper Pain Management
As we age, healthy living moves closer to the top of our priority list. Knowing that our current choices will have long-term effects on our bodies spurs a lot of people to put down the bag of chips and pick up a healthier alternative. Sometimes this switch is caused by increased aches and pains in our bodies, or a feeling of sluggishness and general fatigue. Incorporating healthier lifestyle choices, such as exercising, eating right, and listening to your body produce great results for your overall energy levels and fitness.
What happens why you institute these changes, but still don't feel any relief from your chronic neck pain? Then you know it's time to seek the professional medical treatment of a neck pain Dr. Trust the pain management specialists at Pain Treatment Specialists, where all of our pain doctors are Harvard-trained and are easy to talk to about your neck pain issues. Since our pain doctors treat various types of pain, they are skilled at the diagnosis and treatment of chronic pain issues. They also utilize a wide variety of minimally invasive neck pain treatments, such as injections, nerve blocks, and physical therapy, to treat chronic neck pain.
What Can a Neck Pain Dr. do for Chronic Neck Pain?
Living with chronic neck pain means that you're always aware of your limitations. Bending over to grab something in the kitchen means you have to carefully squat without letting your head lower too much. Speaking to someone next to you involves turning your entire body to have a conversation. You don't have to live with these limitations of your mobility! Schedule an appointment at an expert neck pain Dr. at Pain Treatment Specialists and see how easy it is to get rid of chronic neck pain for good. At our pain clinics in NYC and northern NJ, you'll find a wide variety of minimally invasive neck pain treatments including:
Physical Therapy: A physical therapist has extensive training in exercise science, which means that they are able to use your aerobic and weight training to increase flexibility, strength, and mobility in your neck. They also utilize heat and cold therapies to relieve your neck pain.
Cervical Epidural Steroid Injection: This corticosteroid injection is given to the epidural space of your spine. Your neck pain Dr. will identify the exact spinal space that consists of your irritated nerves, and then administer the injection. A cervical epidural steroid injection reduces pain and swelling in your arms, shoulders, and neck.
Trigger Point Injections: Trigger points are found inside your connective tissues, and feel like "knots." These tight areas are caused by overuse or repetitive motions, and a trigger point injection deactivates these knots. This is done through 1-2 injections of a corticosteroid and local anesthetic, which inactivates the area and relieves pain.
Once you meet with a neck pain Dr., you'll be frustrated that you didn't pursue pain management earlier! Contact the neck pain doctors at Pain Treatment Specialists for the best medical care for chronic neck pain.
What Are Common Causes of Chronic Neck Pain?
Neck pain is a common condition that affects many people during their lives. Sometimes we get a bad night's sleep on an old pillow and wake up with a stiff neck and sore neck muscles. Other times we strain our necks at an odd angle, like when painting a ceiling, and have a sore neck for a few days. These are both cases of neck pain that are likely to resolve themselves in a few days.
Chronic neck pain does not go away on its own, and lasts for a few weeks. It can also be caused by an underlying medical condition and needs professional medical treatments. At Pain Treatment Specialists, you'll meet with a neck pain Dr. who is skilled in the diagnosis and treatment of chronic neck pain issues.  
Osteoarthritis is a common cause of neck pain, and occurs as we age. This progressive disease causes the cartilage between your bones to deteriorate, which then ignites intense neck pain. Nerve compression caused by herniated discs in the vertebrae of your neck can press on nerves and also create discomfort. Diseases such as rheumatoid arthritis or cancer can also cause chronic neck pain.
If you feel numbness or tingling in your arms or hands, or shooting pains down your arm, you should seek medical treatment immediately.
Meeting with a neck pain Dr. is the best way to get the proper diagnosis and treatment of chronic neck pain. At Pain Treatment Specialists, our board certified neck pain doctors use the most current methods for diagnosing your neck pain, and then following up with minimally invasive treatments.
What Can I Do for At-Home Neck Pain Management?
Knowing how to treat minor neck pain at home is an effective strategy for getting through your day. Some types of neck pain will eventually get better on their own, and benefit from a few at-home neck pain techniques. However, feeling tingling or numbness in your arms or hands or shooting pains in your arm require immediate medical treatment and should not be treated with at-home remedies. The neck pain doctors at Pain Treatment Specialists recommend the following at-home neck pain treatments:
A hot shower or heating pad works well to loosen your stiff neck muscles. Use these as often as needed to keep your neck limber.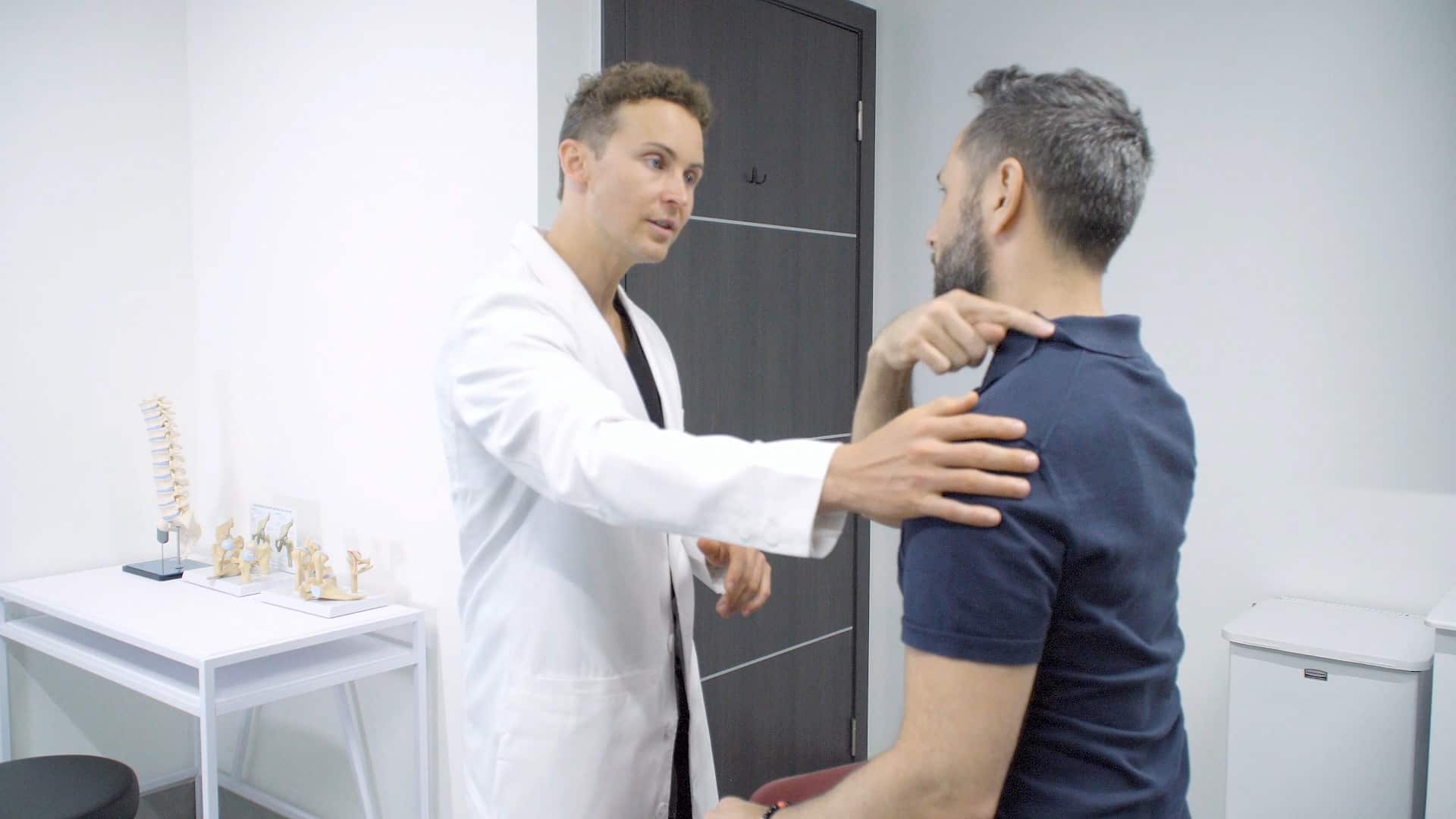 We offer free insurance verification! Fill out the form and expect a call from one of our agents:
2. Get a massage! Even if this is just from your partner, rubbing your sore neck muscles not only feels great, but also relieves tension.
3. Over the counter pain medicine such as acetaminophen and ibuprofen work for pain relief.
4. Be mindful of your posture while sitting and keep your back straight and your neck upright. This is especially important when your daily activities contain a lot of screen time.
When you feel like it's time to consult a neck pain Dr., look no further than Pain Treatment Specialists. Our pain management doctors are not only Harvard-trained and board certified, but also experts in the diagnosis and treatment of chronic neck pain.
LEARN MORE ABOUT OUR TEAM OF SPINE & JOINT SPECIALISTS IN NEW YORK & NEW JERSEY:

Call us
Speak instantly with an agent to verify your insurance and book an appointment.
(866) 446-0946

Book Online
Visit our
Book appointment 
page
and instantly request an appointment at a Spine & Joint center near you. We offer Free Insurance Verification before your appointment.

Get Directions
Learn how to easily get to the Spine & Joint center locations.
FEATURED POSTS BY PAIN DOCTORS
How Does Physical Therapy for Back Pain Help You Feel Better?Once the spring weather begins to thaw winter's chill, a host of outdoor activities become accessible again. On a particularly balmy afternoon, you hit the links for a quick round of golf. Your body feels...
read more