What Medical Advice do Neck Pain Doctors Offer for Chronic Neck Pain?
Who do you turn to when you need quality advice about a topic? It often depends on the subject or topic you're looking for assistance with. For example, you wouldn't ask your dad's opinion about a new restaurant in town, since he's perfectly happy with fast food. You would, however, ask him about the best place to buy new camping gear, since he loves spending time in the woods. Knowing who to ask for help when you're seeking quality information is critical to finding the best answers for your question.
The same is true for chronic neck pain. When you're ready to stop suffering with constant neck pain and seek medical treatment, who can you trust for quality medical advice? Rely on the neck pain doctors at Pain Treatment Specialists, who are not only Harvard-trained neck pain specialists, but also practitioners of pain medicine. What is pain medicine? It is a branch of medical treatment that involves using minimally invasive treatments, like nerve blocks, injections, and physical therapy, to treat chronic pain. Unlike spine surgeons, pain medicine doctors do not rely on surgery to battle chronic neck pain. Schedule an appointment with our neck pain doctors and see how their pain management treatments work for chronic neck pain concerns.
Meet the Best Neck Pain Doctors in NYC and NJ
Not all neck pain doctors utilize the same techniques for chronic neck pain issues. For example, spine surgeons typically recommend neck surgery as the best option for the diagnosis and treatment of neck pain. Taking this invasive, drastic measure should not be your first treatment step! At Pain Treatment Specialists, our neck pain doctors do not recommend neck surgery unless it is medically necessary, and instead focus on pain management treatments that focus on relieving tense neck muscles, and blocking pain at its source. Some of our neck pain doctors in NYC and NJ include:
Dr. Shane Volney: Dr. Volney completed his fellowship in palliative medicine at Harvard Medical School, and is a former Clinical Instructor of Anesthesiology and Pain Medicine at this Ivy League institution. As a leader in the field of pain medicine, Dr. Volney is often invited to speak at national medical conferences to share his in-depth knowledge of pain medicine and interventional pain techniques.
Dr. Laura Lombardi: Dr. Lombardi is a former Division 1 athlete, and understands how chronic pain can alter not only your training, but also your daily life. She completed her interventional pain medicine fellowship at Harvard, and is an author of numerous chapters in medical textbooks on pain management. Her specialty lies in fluoroscopic-guided pain treatments, which uses a special x-ray to pinpoint the precise area of pain for treatment. In an area as sensitive as the neck, this is a highly-effective tool for pain management.
When you meet with Dr. Volney, Dr. Lombardi, or any of our other highly –qualified neck pain doctors, you're receiving the best medical advice in the nation. Book an appointment today at one of Pain Treatment Specialists' convenient locations and see how our neck pain treatments get you back healthy living.
What are Some Effective Pain Management Treatments for Chronic Neck Pain?
Your neck muscles may become sore from sleeping on an old pillow, or in an odd position for too many hours. This type of neck pain is temporary, and tends to resolve on its own. However, what should you do when your neck pain begins to alter your daily activities, and becomes a problem in your life? This is when you know it's time to seek the professional medical advice of neck pain doctors, such as the team at Pain Treatment Specialists. By using minimally invasive neck pain treatments, you'll be able to quickly return to the activities you love, and do so without pain. Some of the minimally invasive neck pain treatments found at our pain clinics include:
Physical Therapy: Physical therapy relieves tension in your neck muscles, and builds strength in your neck and shoulders. Your physical therapist uses their knowledge of exercise science to build a customized treatment plan that builds your strength, while also relieving your pain through heat and cold therapy.
Cervical Facet Block Injection: This is a quick neck pain treatment that works well for patients suffering from arthritis. Your neck pain doctor identifies specific facet joints in your cervical spine and injects a small amount of steroid medicine and local anesthetic. One or 2 cervical facet block injections are enough to block the pain coming from these specific areas.
Trigger Point Injections: Trigger points are found deep within connective tissues, and occur during the overuse of these specific muscles. Think of them as a rubber band ball that is tightly compressed and can't relax. A trigger point injection uses a small injection to target the trigger point, and releases anesthetic and a corticosteroid. This relaxes the trigger point, and eases your neck pain.
Don't spend another day unable to move your neck freely due to chronic neck pain. Find a solution at Pain Treatment Specialists, where our neck pain doctors are highly-skilled at administering these minimally invasive neck pain treatments.
What Medical Treatments Can I Do At Home for Sore Neck Muscles?
Sore neck muscles can come seemingly out of nowhere—one minute you're fine, and the next a simple twist of your head causes excruciating pain. This is because your neck carries a lot of weight and strain on a daily basis, and its muscles and ligaments are used in almost every motion your body makes. When you feel neck pain creeping into your day, there are some things you can do at home to provide neck pain relief. Our neck pain doctors recommend the following at-home neck pain treatments: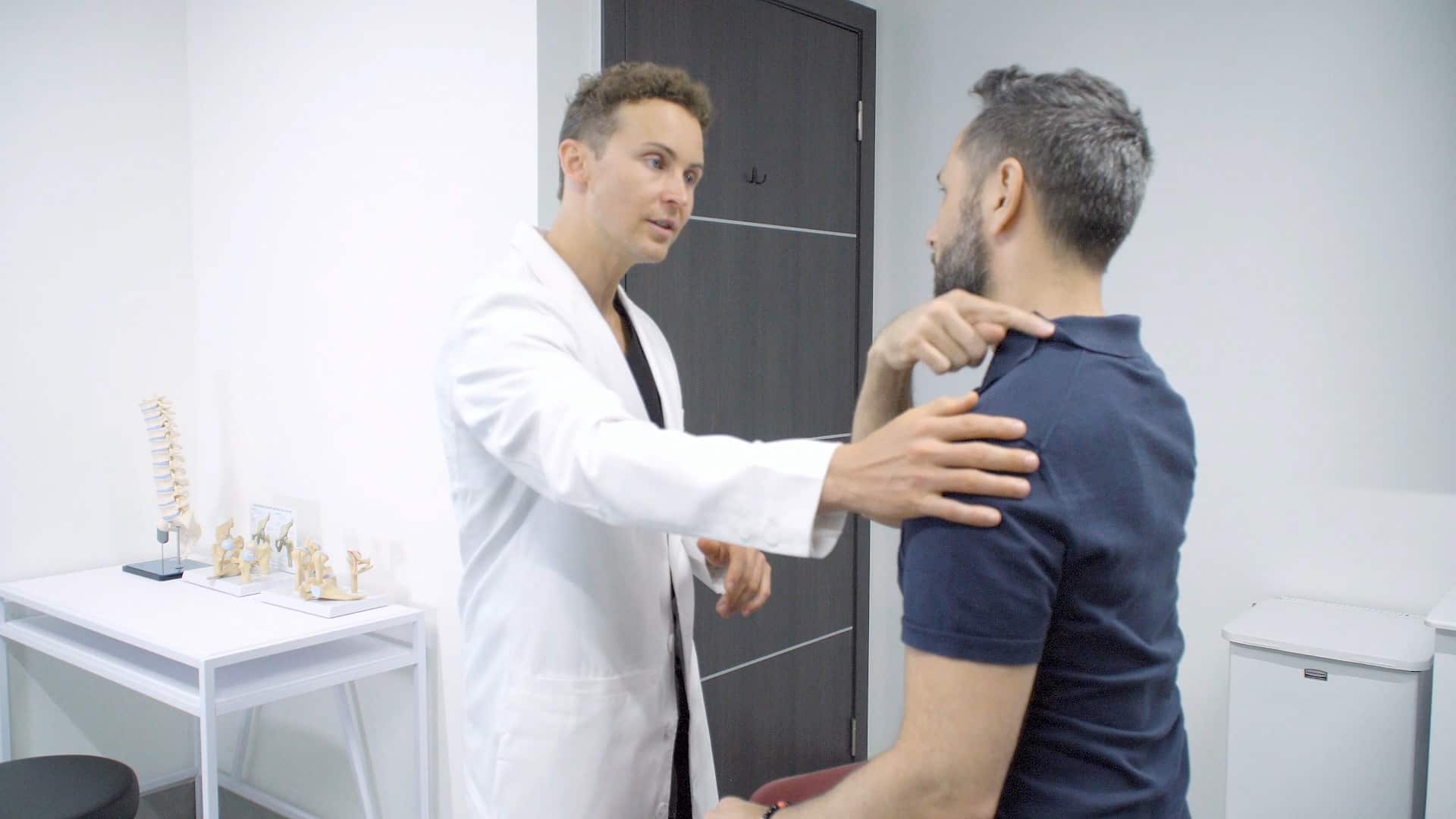 We offer free insurance verification! Fill out the form and expect a call from one of our agents:
Over the Counter Pain Medicine: Over the counter pain medicine is fine for treating minor neck pain. Watch the dosing instructions and do not take more than is recommended in a 24-hour period. Avoid drinking alcohol on OTC medicines, as this is hard on your liver.
RICE: This common acronym stands for "rest, ice, compress, and elevate." Using these 4 steps together helps keep down the swelling in your neck, and regain some mobility and flexibility.
Stretch: Stretching relieves the tension and lack of mobility created by your neck pain. Try rolling your shoulders forward slowly for 30 seconds, then reversing. Then, turn your neck slowly from side to side, trying to move it a little further each time.  
Neck pain doctors possess the knowledge to alleviate your chronic neck pain. Make sure you meet with a pain management doctor, such as the team at Pain Treatment Specialists, to receive the best medical advice about your chronic neck pain.
LEARN MORE ABOUT OUR TEAM OF SPINE & JOINT SPECIALISTS IN NEW YORK & NEW JERSEY:

Call us
Speak instantly with an agent to verify your insurance and book an appointment.
(866) 446-0946

Book Online
Visit our
Book appointment 
page
and instantly request an appointment at a Spine & Joint center near you. We offer Free Insurance Verification before your appointment.

Get Directions
Learn how to easily get to the Spine & Joint center locations.
FEATURED POSTS BY PAIN DOCTORS
How Does Physical Therapy for Back Pain Help You Feel Better?Once the spring weather begins to thaw winter's chill, a host of outdoor activities become accessible again. On a particularly balmy afternoon, you hit the links for a quick round of golf. Your body feels...
read more