What Doctor Treats Back and Neck Pain? Consult With a Neck Dr. for Neck Pain Treatment
Neck pain can come from a variety of sources: a pinched nerve, a kink in the neck from sleeping in a strange position, or even twisting your head suddenly. No matter the cause of your neck can, it affects every portion of your life. Neck and spine pain make it difficult to carry on a conversation with someone sitting next to you, look down to tie your shoes, and check both ways before crossing the street. When you feel this level of daily inconvenience, you'll try anything to get rid of your cervical pain. You turn to the internet to find solutions for your neck pain, but all you come up with is "Dr. Ho neck comforter, Dr. Ho neck traction, lidocaine patch for pinched nerve in neck" and "neck back doctor near me." None of these produce the results you're looking for, until you search for "neck Dr. near me."
That's when you see Pain Treatment Specialists appear at the top of every patient's top ratings and reviews. What doctor treats back and neck pain? At Pain Treatment Specialists, they're known as interventional pain doctors, and they specialize in finding non-surgical solutions for neck pain. What type of doctor treats back injuries? That's also a pain doctor, and you'll find the most qualified pain medicine doctors at NYC and NJ's Pain Treatment Specialists.
Meet the Best Neck Dr. for Neck Pain Relief
Pain management doctors are experts at assessing, diagnosing, and treating chronic neck pain. Unlike spine surgeons or orthopedic surgeons, pain management doctors do not rely on neck and spine surgery to relieve neck pain. Instead, as pain management experts, the team at Pain Treatment Specialists use minimally invasive neck pain treatments such as steroid injections, facet block injections, and physical therapy to treat chronic pain. At our pain clinics in NYC and northern NJ, you'll meet with a neck Dr. who will not suggest surgery unless it is medically necessary. Meet some of the top neck doctors in NJ and NYC!
Dr. Michael Nguyen: Dr. Nguyen is the medical director of Pain Treatment Specialists, which means that he oversees all of the care provided at the team's pain clinics in NYC and NJ. He was fellowship trained in advanced pain at Harvard, where he later became a faculty member. His pain treatments are both cutting-edge and highly-effective, and he is a pioneer of many pain treatments currently used across the country.
Dr. Shane Volney: Dr. Volney is a former Clinical Instructor at Harvard Medical School, and is double board certified in anesthesiology and pain medicine by the American Board of Anesthesiology. His goal as a pain medicine doctor is incorporating a patient's overall wellness into their pain treatment plan. Dr. Volney's patients describe him as a patient listener who genuinely cares about each patient's pain plan.
A neck Dr., such as Dr. Volney or Dr. Nguyen, is your best option for finding neck pain relief. Schedule an appointment today at Pain Treatment Specialists and find the proper diagnosis and treatment of your neck pain.
What Types of Neck Pain Treatments are Most Effective?
The most effective neck pain treatments are ones that are not only minimally invasive, but also produce long-term results. Since every neck Dr. at Pain Treatment Specialists is an interventional pain doctor, you'll find a wide variety of neck pain treatments that provide effective neck pain relief. Cervical pain occurs in a very delicate region of your body, and you should only trust a neck Dr. who is able to precisely pinpoint your exact area of pain. The pain doctors at Pain Treatment Specialists are able to do this through MRI's, fluoroscopic-guided x-rays, and their in-depth knowledge of your neck and back's structure. We offer the following neck pain treatments:
Physical Therapy: By using physical medicine and rehabilitation, a physical therapist treats the pain and stiffness associated with chronic neck pain. A physical therapist uses specific exercises and movements to loosen stiff neck muscles and regain mobility and flexibility.
Trigger Point Injections: When you feel areas that are very tight or knotted, you might be a candidate for a trigger point injection. These knots are located deep within connective tissues and muscles, and are known as "sensitive areas." A trigger point injection deactivates these knots, providing neck pain relief.
Cervical Facet Block Injection: Your pain doctor identifies and targets specific facet joints in your cervical spine using a fluoroscopic-guided x-ray. Then, your neck Dr. injects a small amount of local anesthetic and steroid medicine to relax and numb the area.
Can you use a lidocaine patch on your neck? This is only available through a prescription, and since your neck is a sensitive area a lidocaine patch is not recommended as a topical treatment. Instead, meet with a neck Dr. at Pain Treatment Specialists to find the correct diagnosis and treatment for your chronic neck pain.
Should I go to Work with Neck Pain?
When your neck pain is bad enough to make you consider calling in sick, it's definitely time to seek the attention of medical doctors. Only you know your specific pain tolerance, and if your neck prevents you from safely driving, walking, or looking down all day at a screen, perhaps using the day to rest is in your best interest. This would be a great day to utilize RICE (rest, ice, compress, elevate) for your neck pain, and take a nice hot shower. Is it ok to use Advil for neck pain? Yes, as long as you follow the dosing instructions, Advil works for temporary neck pain relief.
When should you seek immediate medical attention? If your neck pain is severe and accompanied by confusion, nausea, fever, or unexplained drowsiness, then you should go to an urgent care facility immediately.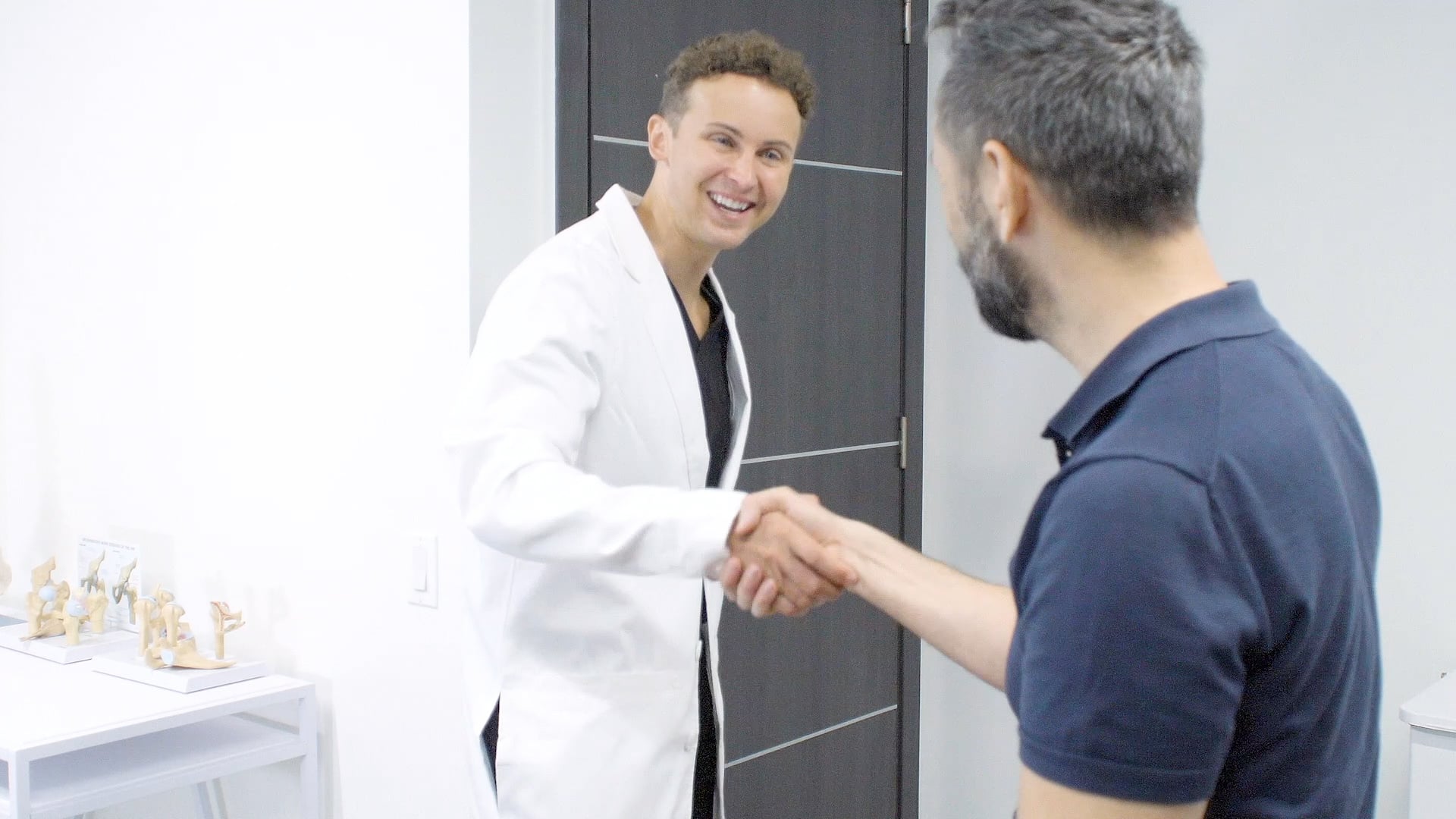 We offer free insurance verification! Fill out the form and expect a call from one of our agents:
Visiting a neck pain Dr. is the first step to getting rid of chronic neck pain for good. Book an appointment at Pain Treatment Specialists, where you'll find several convenient locations in NYC and NJ for neck pain treatments.
LEARN MORE ABOUT OUR TEAM OF SPINE & JOINT SPECIALISTS IN NEW YORK & NEW JERSEY:

Call us
Speak instantly with an agent to verify your insurance and book an appointment.
(866) 446-0946

Book Online
Visit our
Book appointment 
page
and instantly request an appointment at a Spine & Joint center near you. We offer Free Insurance Verification before your appointment.

Get Directions
Learn how to easily get to the Spine & Joint center locations.
FEATURED POSTS BY PAIN DOCTORS
How Do You Know When to See a Doctor for Back Pain?Getting ready for a warm weather vacation? Time to unpack your summer clothing bins and begin packing your bags. You head to the basement to begin sorting through swimsuits and tank tops, but are left stunned by the...
read more