How Knee Treatment Specialists Treat Knee Injuries and Conditions
When you're looking for specific services or items, you want someone who specializes in that field. If your eyebrows are a mess and you need some professional help, you want to find an aesthetician who specializes in threading. Need the freshest seafood for your holiday feast? Your local sea monger consistently has the freshest cuts and filets straight from the ocean. The same goes for treating your knee pain. You don't want to meet with someone who recommends knee replacement surgery, but instead want knee treatment specialists who can get you back on your feet quickly with minimal side effects.
You'll find a team of knee treatment specialists at Pain Treatment Specialists, where all of our knee pain doctors are Harvard trained. Our experienced knee pain doctors are fellowship trained in interventional pain medicine and pain management, which gives them in-depth knowledge about how to treat your knee pain with minimally invasive treatments. Orthopaedic surgeons and orthopedic specialists rely on knee replacement surgery for treatment, which is often avoided with more conservative knee pain treatments. Book an appointment today at Pain Treatment Specialists and see how our knee treatment specialists create customized knee pain treatment plans.
What Type of Training Do Knee Treatment Specialists Have?
The knee treatment specialists at Pain Treatment Specialists are pain management doctors. This means that their education, training, research, and practice are devoted to finding ways to avoid knee surgery. By using ablations, injections, nerve blocks, and physical therapy, our knee specialists utilize minimally invasive treatments for knee pain relief. With locations in NYC and northern NJ, it's easy to meet with our experienced knee pain doctors including:
Dr. George Hanna: Dr. Hanna is a nationally recognized pain specialist by the American Board of Anesthesiology, and is also double board certified in pain medicine and interventional pain management. He spent time at Harvard as Director of Pain Innovations and Technology, where he previously was fellowship trained in pain management. After his time at Harvard, Dr. Hanna served as Chairman of Anesthesiology and Pain Management at Chilton Medical Center. He brings this wealth of experience in interventional pain medicine as a knee treatment specialist at Pain Treatment Specialists. Dr. Hanna is well known not only for his expertise in pain management, but also for his kind and nurturing bedside manner. His patients often note how easy he is to talk to, and that they never felt rushed through an appointment.
Dr. Laura Lombardi: Dr. Lombardi fellowship trained at Harvard in interventional pain medicine, and is double board certified in anesthesiology and pain medicine. Her expertise in pain management and fluoroscopic-guided pain treatments is sought after by her peers for contributions to medical textbooks and national conferences. As a former Division 1 athlete, Dr. Lombardi understands how knee pain sets back an athlete's training schedule, and strives to find solutions for all patients in pain.
Dr. Hanna and Dr. Lombardi are just 2 of our highly qualified knee treatment specialists at Pain Treatment Specialists. Schedule an appointment today and see how our outstanding knee specialists are the perfect fit for your specialized treatment.
What are the Different Types of Knee Injuries and Conditions?
Even though all knee pain hurts, not all knee pain is the same. Since your knee is made up of a highly intricate system of joints, ligaments, muscles, and tissues, there are a variety of knee injuries and conditions that exist. Your knee treatment specialist at Pain Treatment Specialists is able to properly diagnose and treat your knee injury or condition based on a thorough conversation and medical examination.
Osteoarthritis is one of the most common knee pain conditions and is caused by the natural wear and tear of your knee's cartilage. Over time, your knee loses the ability to produce lubricant, which causes your knee's joints to grind together and produce pain and swelling. This is considered a chronic pain issue, since it is caused by wear and tear.
Patellar tendonitis is another chronic knee condition which is also known as "jumper's knee." This condition is caused by overuse of your knee joint, and frequent jumping, landing, or running on hard surfaces. Your patellar tendon becomes inflamed, and also weakens. Jumper's knee is most often seen in athletes like runners, skiers, or ice skaters who repeatedly use their knee in these motions.
An ACL tear or sprain is a common knee condition and is the result of an acute injury. Your anterior cruciate ligament is one of the most important ligaments in your knee, and a sudden twist or change in direction is often responsible for this injury.
No matter the cause of your knee injury or condition, the knee treatment specialists at Pain Treatment Specialists are able to create treatment plans that work for you.
How Can I Describe a Knee Injury to My Knee Pain Doctor?
During your initial consultation with your knee pain doctor, you'll be asked to describe your knee pain. The purpose of this is helping your knee doctor properly diagnose and treat your knee pain. It helps to have some tools to help you describe your knee pain before your visit.
Keep a pain diary in the days leading up to your appointment. In it, you can describe times of day when your knee hurts, and specific activities that cause your knee pain. Use numbers to describe your knee pain, with 1 being minimal and 10 being excruciating. When you feel knee pain, what does it feel like? Do you feel a sharp, stabbing pain? Is it a dull ache? Does your knee feel weak or unstable? These specific details are very useful for your pain doctor.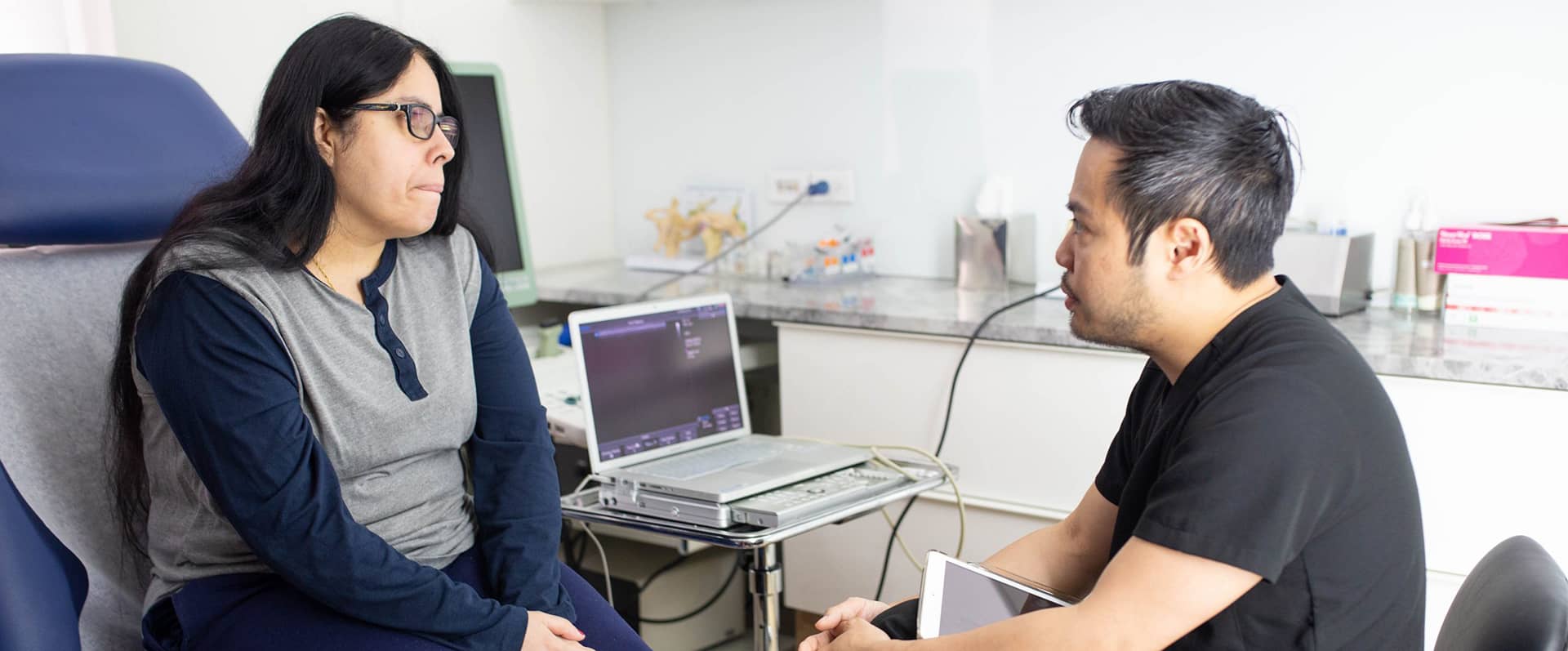 We offer free insurance verification! Fill out the form and expect a call from one of our agents:
​Contact the knee treatment specialists at Pain Treatment Specialists for a customized knee pain treatment plan. You'll find our knee pain doctors in NYC or northern NJ, and you'll be thrilled with finding a specialist who is able to eliminate your chronic knee pain.
LEARN MORE ABOUT OUR TEAM OF SPINE & JOINT SPECIALISTS IN NEW YORK & NEW JERSEY:

Call us
Speak instantly with an agent to verify your insurance and book an appointment.
(866) 446-0946

Book Online
Visit our
Book appointment 
page
and instantly request an appointment at a Spine & Joint center near you. We offer Free Insurance Verification before your appointment.

Get Directions
Learn how to easily get to the Spine & Joint center locations.
FEATURED POSTS BY PAIN DOCTORS
How Does Physical Therapy for Back Pain Help You Feel Better?Once the spring weather begins to thaw winter's chill, a host of outdoor activities become accessible again. On a particularly balmy afternoon, you hit the links for a quick round of golf. Your body feels...
read more