Contact a Fellowship Trained Knee Treatment Specialist for Knee Injuries and Conditions
Prepping an intricate meal for holiday celebrations is an annual tradition that requires a lot of planning and preparation. About a week before the big day, you carefully begin making shopping lists, scout grocery store flyers for the best deals, and try to remember where you stashed your favorite themed tablecloth. Normally, these tasks take a lot of time and effort, but this year your knee pain is adding considerable stress to every movement and motion. Contacting a knee treatment specialist wasn't something on your to-do list, but your inability to stand or walk for long periods of time is really putting a damper on your holiday spirit.
Knee injuries and conditions are easily treated by the knee pain doctors at Pain Treatment Specialists. Their fellowship trained interventional pain doctors use minimally invasive knee pain treatments such as nerve blocks and steroid injections for highly effective knee pain relief. As experienced knee pain doctors, they're able to both diagnose and treat your knee joint pain, meniscus tear, or other injury including an acl tear. Making an appointment at Pain Treatment Specialists is just as important as making sure there's enough eggnog for Uncle Phil in the fridge.
What Qualifications Should a Knee Treatment Specialist Have?
Not every knee treatment specialist uses the same methods to treat chronic knee injuries and conditions. For example, orthopedic surgeons use knee replacement surgery as their main method of treating knee pain. This is due to their training in surgery and prosthetics. At Pain Treatment Specialists, all of our knee pain doctors are fellowship trained in interventional pain medicine and pain management, which focuses on using minimally invasive treatments for knee pain. Our knee doctors avoid surgery by using more conservative methods whenever possible, and only recommend knee replacement surgery when it is medically necessary. A few of the Harvard trained knee pain doctors on our team include:
Dr. Laura Lombardi: Dr. Lombardi  fellowship trained in interventional pain medicine at Harvard, and is an expert in fluoroscopic-guided pain treatments. This advanced method of pain management involves the use of a special x-ray that pinpoints the exact location of each patient's pain. Then, Dr. Lombardi is able to apply the selected treatment to the precise spot, offering effective knee pain relief.
Dr. Shane Volney: As a former Clinical Instructor at Harvard Medical School, Dr. Volney trained medical students in anesthesiology and pain medicine. He uses this same style of education with patients who enter his pain clinic, and takes his time to ensure that each patient understands their knee pain treatment options.
Book an appointment at Pain Treatment Specialists and meet with Dr. Lombardi, Dr. Volney, or another member of our outstanding team. With locations in NYC and northern NJ, our pain clinics are easy to access.
What are Common Knee Injuries and Conditions?
Knee pain is more common than you think! Between knee injuries and conditions, many people experience knee pain at some point in their lives. When you meet with your knee treatment specialist at Pain Treatment Specialists, your pain doctor will ask questions about your activity levels, any recent accidents or falls, and what types of motions cause your knee pain. This helps your knee doctor isolate the cause of your knee pain.
Acute knee pain occurs as the result of a fall, bad landing, or an accident. With an acute knee injury, you have a very clear line of demarcation– one day your knee was fine, and the next day it was in pain. A meniscus tear or an acl tear both occur as the result of a traumatic event like a fall or sudden twist of your knee. Physical therapists are excellent resources when creating treatment plans for acute knee injuries, and are often a part of the minimally invasive treatment plan.
Chronic knee pain occurs as the result of overuse or repetitive motions. Patellar tendonitis, also known as jumper's knee, is an example of chronic knee pain. Knee pain, swelling, and stiffness are common with this condition, which commonly occurs in athletes who jump a lot.
Medical knee pain is the result of an underlying medical condition like rheumatoid arthritis or gout. Your knee treatment specialist will ask about your medical history to rule out medical concerns as the cause of your knee pain.
Even though knee injuries and conditions are common, it doesn't mean that you have to live in pain. Contact the knee pain specialists at Pain Treatment Specialists and see how easy it is to get back to a pain free life.
How Can I Describe Pain to My Knee Treatment Specialist?
It's important that you're able to describe your knee pain accurately to your knee treatment specialist. These descriptions help your pain doctor isolate and identify the best treatment plans for your pain. Before your visit, keep a journal that outlines when your knee pain occurs during the day. Do you only feel knee pain when you're working out? Is it worse in the morning or at night? Is climbing stairs difficult? These details are informative during your visit.
You can also rate your pain on a 1-10 scale during the day. Maybe walking up stairs is a 2, but standing to make dinner for 30 minutes is an 8. Use specific words to describe your pain during these moments. Does your knee feel weak and unstable, is there a stabbing or shooting pain, or does it feel hot to the touch? These pieces of information are very helpful for your knee pain doctor, and give an accurate representation of your current knee pain issues.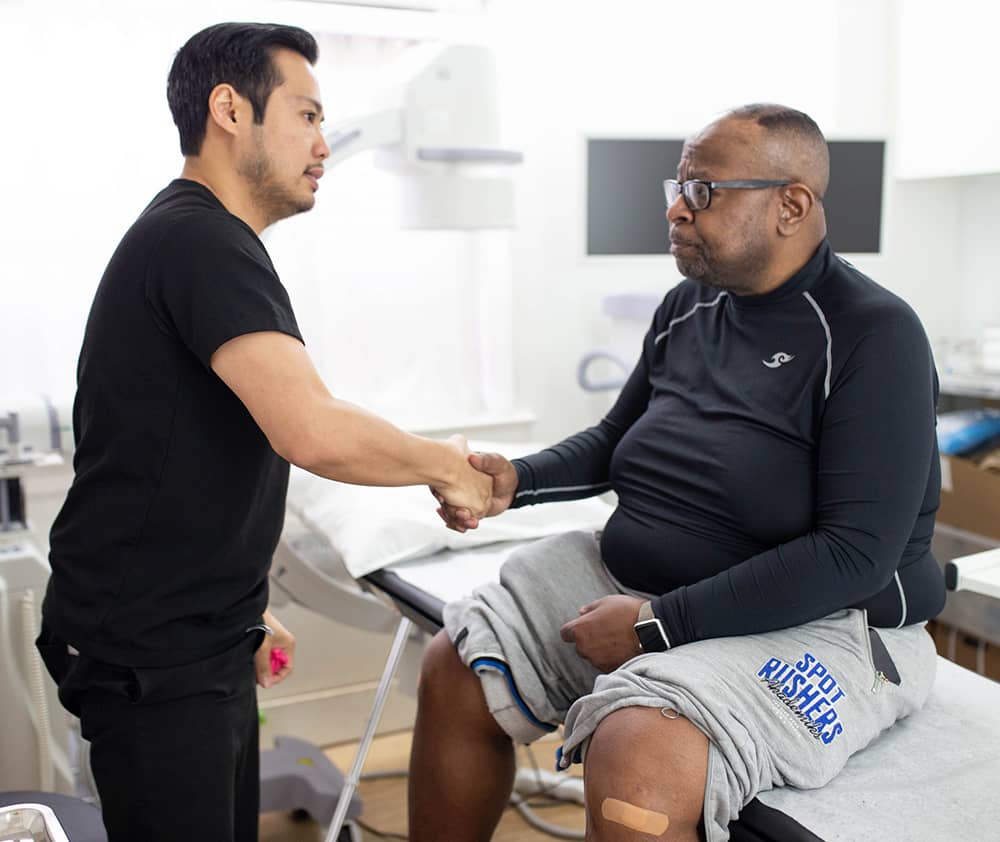 We offer free insurance verification! Fill out the form and expect a call from one of our agents:
Don't let your knee pain add to your holiday stress. Take a load of your mind (and your knee!) by calling the knee treatment specialists at Pain Treatment Specialists, where our treatment plans are based on interventional pain medicine. Uncle Phil will be grateful that your mind was focused enough to make sure his favorite dairy treat is well stocked in your fridge.
LEARN MORE ABOUT OUR TEAM OF SPINE & JOINT SPECIALISTS IN NEW YORK & NEW JERSEY:

Call us
Speak instantly with an agent to verify your insurance and book an appointment.
(866) 446-0946

Book Online
Visit our
Book appointment 
page
and instantly request an appointment at a Spine & Joint center near you. We offer Free Insurance Verification before your appointment.

Get Directions
Learn how to easily get to the Spine & Joint center locations.
FEATURED POSTS BY PAIN DOCTORS
How Does Physical Therapy for Back Pain Help You Feel Better?Once the spring weather begins to thaw winter's chill, a host of outdoor activities become accessible again. On a particularly balmy afternoon, you hit the links for a quick round of golf. Your body feels...
read more