A Top Rated Knee Specialist Discusses State of the Art Knee Pain Treatments
Suffering from knee pain and also trying to limit your social interactions? That means the internet is becoming your new BFF. Instead of meeting up with your friends and talking about where they found relief for their knee pain, you spend your days scrolling through endless internet searches. So far, you've found results like "Johns Hopkins knee specialist", "best orthopedic surgeons Bay Area", "Providence knee specialists", and "best knee surgeons Cincinnati" that you aimlessly scroll through since you don't live in any of these areas. Heck, you've even seen sites offering special healing crystals that supposedly work for chronic knee pain. Even though you've got quarantine fatigue, you still continue scrolling past that one.
Where can you find a joint specialist near me that offers the best knee pain treatments? You'll find a team of Harvard trained and board certified knee specialists at Pain Treatment Specialists, who use minimally invasive knee pain treatments to eliminate chronic knee pain. Their sparkling clean pain clinics in NYC and northern NJ diligently follow all protocols in order to keep both staff and patients safe while also providing effective knee pain relief. Even though you've been trying to limit trips out of the house, you know that a visit to a specialist doctor for knee pain is an essential visit.
What Type of Knee Specialist Should I see for Knee Pain?
When you want to find a doctor for knee pain, how do you know which orthopedic knee doctor in my area is the best? Should you be searching for the best orthopedic hip surgeons near me, or the best orthopedic doctor near me? The best knee doctor near me for knee pain treatment is a pain management doctor. This type of doctor is fellowship trained in interventional pain medicine, which focuses on avoiding knee replacement surgery. Instead, a knee pain doctor uses minimally invasive knee pain treatments like ablations, injections, and nerve blocks for effective knee pain treatment. Orthopedic surgeons focus on using knee replacement surgery as their primary treatment method because this is where their training focused. However, there are often more conservative treatments that should be utilized first before considering dangerous and invasive surgery. At Pain Treatment Specialists, all of our knee specialists are pain management experts. Some of our highly-rated knee doctors include:
Dr. George Hanna: Dr. Hanna is double board certified in anesthesiology, pain medicine, and interventional pain management. He fellowship trained at Harvard Medical School's Brigham and Women's Hospital in pain management, which was followed by a position as Clinical Instructor of anesthesiology and pain management at Harvard. Dr. Hanna's patients describe him as highly knowledgeable about knee pain, and also very easy to talk to about their knee pain concerns.
Dr. Laura Lombardi: Dr. Lombardi fellowship trained at Harvard in interventional pain management, is a regular contributor to medical textbooks in this field. In addition to her double board certification in anesthesiology and pain medicine, Dr. Lombardi is trained in fluoroscopic-guided pain treatments. This technology allows her to precisely pinpoint the exact area of your knee pain and deliver targeted, effective knee pain treatments.
When looking for a knee specialist, find a knee pain doctor who is also trained in pain medicine and interventional pain management. You'll find these types of doctors at Pain Treatment Specialists, with state of the art pain clinics in NYC and northern NJ.
How Does a Knee Specialist in NYC Treat Chronic Knee Pain?
A knee specialist with a pain management background treats knee pain very differently than an orthopedic surgeon. Orthopedic surgeons treat various knee conditions with the same treatment: knee replacement surgery. In some cases, this type of surgery is medically necessary. However, it's often the case that more conservative treatments are more effective at pain relief for a knee injury, meniscus tear, or knee joint pain. At Pain Treatment Specialists, our knee pain doctors look to avoid knee surgery whenever possible by creating customized knee pain treatment plans that utilize minimally invasive knee pain treatments. Some of our knee pain treatments include:
Physical Therapy: Physical therapists use their background in exercise science to guide your knee through strength building exercises. PT is effective for a variety of knee conditions, and continuously builds your knee's strength, as well as increasing your knee's stability and flexibility over several sessions.
Viscosupplementation: Over time, your knee joint fluid can decrease due to natural wear and tear. Viscosupplementation is a minimally invasive process where hyaluronic acid is injected into your knee joint, which supplements your knee's natural supply. Hyaluronic acid is the main component of knee joint fluid.
Steroid Injection: A corticosteroid injection reduces pain and inflammation in your knee. Not only is it highly effective for knee pain relief, it also gets you up and back on your feet the very same day.
Visit a knee doctor in NYC or northern NJ who uses pain management treatments for chronic knee pain. You'll find these knee specialists at Pain Treatment Specialists, where our state of the art pain clinics host a wide variety of cutting-edge knee pain treatments.
Why Should I Avoid Knee Surgery for a Knee Injury?
Knee surgery is highly invasive, and also poses the potential for many complications. You'll have to be admitted to the hospital for the surgery, and then attend a rehabilitation facility for several weeks while you get your strength back and recover. Once you're home, you'll still need assistance with everyday tasks like grocery shopping, bathing, and getting into bed. A strong support system is needed in order to undertake this life-altering surgery.
There's also no guarantee that knee replacement surgery works. Imagine going through all of this inconvenience and pain just to find out that your knee pain still exists! This is why pursuing more conservative knee pain treatments makes sense before you jump right to a knee replacement surgery.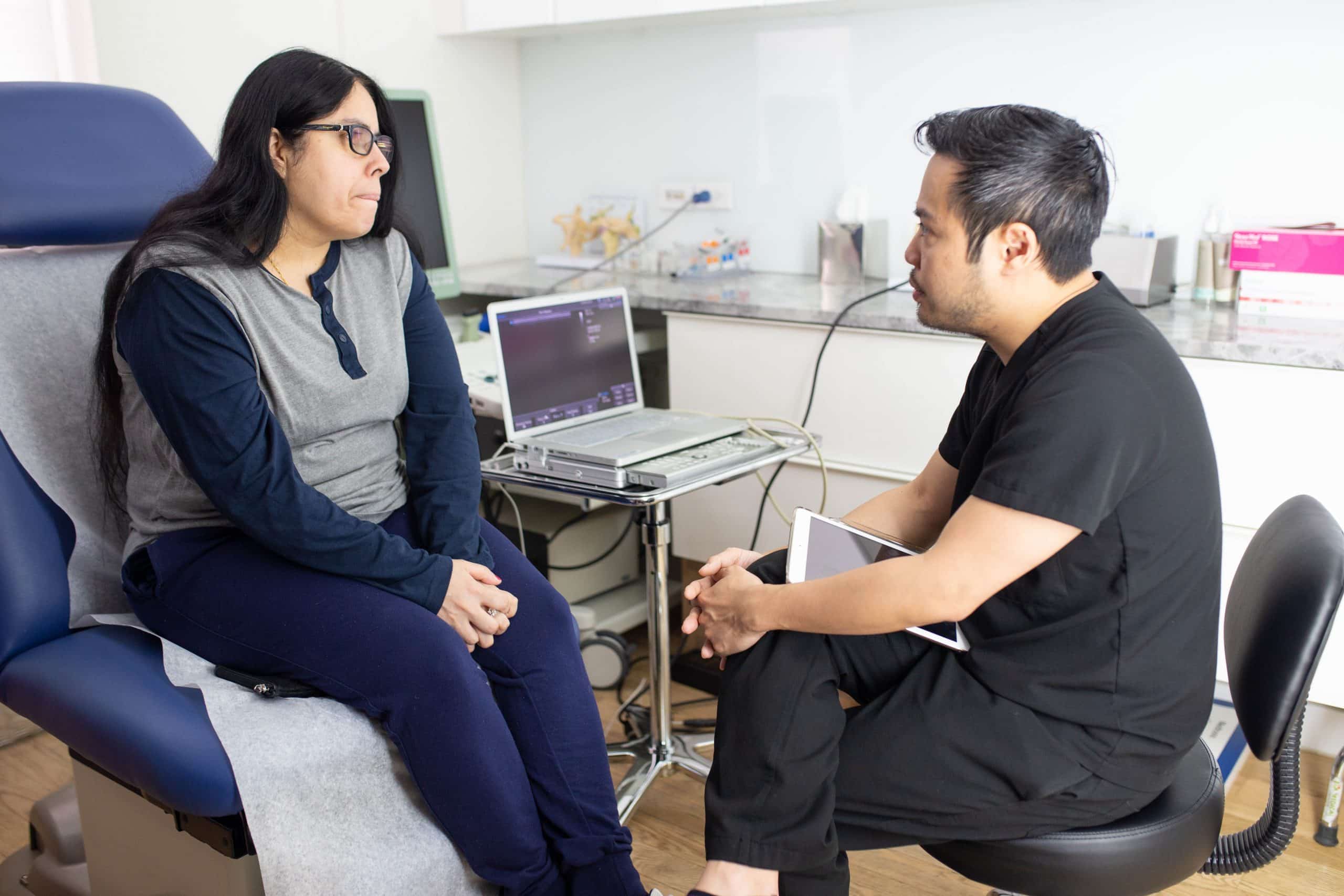 We offer free insurance verification! Fill out the form and expect a call from one of our agents:
Book an appointment at Pain Treatment Specialists, where you'll meet with a knee specialist who provides effective and minimally invasive knee pain treatments. Switch your internet searches from finding relief from knee pain to something a lot more interesting–like finding out how many cute dog videos are too many to watch.
LEARN MORE ABOUT OUR TEAM OF SPINE & JOINT SPECIALISTS IN NEW YORK & NEW JERSEY:

Call us
Speak instantly with an agent to verify your insurance and book an appointment.
(866) 446-0946

Book Online
Visit our
Book appointment 
page
and instantly request an appointment at a Spine & Joint center near you. We offer Free Insurance Verification before your appointment.

Get Directions
Learn how to easily get to the Spine & Joint center locations.
FEATURED POSTS BY PAIN DOCTORS
How Does Physical Therapy for Back Pain Help You Feel Better?Once the spring weather begins to thaw winter's chill, a host of outdoor activities become accessible again. On a particularly balmy afternoon, you hit the links for a quick round of golf. Your body feels...
read more