A Harvard Trained Knee Dr. Discusses Minimally Invasive Knee Pain Treatments
Everyone likes to feel like they're strong and independent, but chronic pain issues like knee pain can bring even the strongest person to their…well, their aching knees! Finding a specialist doctor for knee pain isn't admitting defeat, but rather acknowledging that you don't want to live in pain any longer. In order to find a doctor for knee pain, you need to have specific criteria in place when doing your research. You know that you want to avoid an orthopedic surgeon near me because knee replacement surgery isn't a treatment option you're open to. Instead, you want to find the most qualified knee joint pain doctor near me who uses minimally invasive knee pain treatments.
You'll find this type of knee Dr. at Pain Treatment Specialists, where our knee specialists in NJ and NYC use their expertise in pain management to treat knee injuries and conditions. Don't bother reading search results from "best knee surgeon in Southern California", "best knee doctor in Las Vegas", or "top knee surgeons in Philadelphia area", since these results won't apply to your location, and may also include knee surgery. An orthopedic knee doctor in my area is also trained to treat knee pain with surgery, which is why it's best to consult a pain doctor for knee pain treatment. At Pain Treatment Specialists, you'll find a doctor for knee pain who is Harvard trained, board certified, and has lots of background and training in interventional pain medicine.
How Does a Knee Dr. Treat Knee Injuries and Conditions?
What kind of doctor do I see for knee pain? A knee specialist who is also a pain doctor is the best type of knee Dr. to consult. At Pain Treatment Specialists, all of our knee doctors received specialized training in interventional pain medicine, which focuses on minimally invasive treatments for chronic knee pain. At our pain clinics in NYC and NJ, you'll have the opportunity to customize your knee pain treatment plan to fit your specific knee pain concerns. Some of our minimally invasive knee pain treatments include:
Physical Therapy: A physical therapist uses exercise science as their primary treatment for knee pain. Depending on the cause of your knee pain, your physical therapist may or may not use weights or aerobic exercises for your treatment plan. The goal of physical therapy is increasing your knee's overall strength and stability, while increasing your range of motion.
Viscosupplementation: While the name looks long and confusing, it's just medical terminology for a lubricant injection. As we age, our knees lose joint fluid. This process is exacerbated by osteoarthritis. A lubricant injection supplements the naturally occurring hyaluronic acid in your knee joint, which is the main component of joint fluid. Your knee Dr. uses a special x-ray to properly administer the injection exactly where it's needed.
Genicular Nerve Block: This cutting-edge knee pain treatment is also known as G-block, and is effective for patients who have not found knee pain relief through more conservative treatments. Your genicular nerves send pain signals to your brain, and this treatment effectively blocks those pain signals. A G-block is typically administered 2-3 times around the knee, and involves a local anesthetic.
When you find a doctor for knee pain who is a pain management specialist, you'll receive the best care for your knee pain. Book an appointment at Pain Treatment Specialists and meet with one of our interventional pain management doctors at our cutting-edge pain clinics in NYC and NJ.
Who is the Best Knee Joint Doctor Near Me?
As we've mentioned, finding a doctor for knee pain who is also a pain management specialist is key to finding the best knee pain treatments. At Pain Treatment Specialists, our knee specialists are different from an orthopedic knee doctor in my area in that they do not rely on surgery for knee pain relief. An orthopedic surgeon near me is a knee specialist, but their main method of knee pain treatment is invasive surgery. Before knee replacement surgery is considered, trying more conservative knee pain treatments is a must. This is the philosophy shared by every knee Dr. at Pain Treatment Specialists, which includes:
Dr. Namrata Khimani: Dr. Khimani is an honors graduate of Harvard Medical School, and fellowship trained at Harvard in interventional pain management. She is also a nationally recognized pain specialist by the American Board of Anesthesiology, which requires a rigorous certification process to earn this title. Dr. Khimani specializes in knee pain and lower back pain, and is one of the top pain management specialists in NYC.
Dr. Shane Volney: Dr. Volney fellowship trained in pain management and palliative care at Harvard. This was followed by a 7-year tenure at Harvard Medical School, where he was a Clinical Instructor in pain medicine, palliative care, and anesthesiology. He uses this extensive background to create the best knee pain treatment plans for every patient that enters his pain clinic.
Finding a knee Dr. who is also a pain management expert is easy at Pain Treatment Specialists, since our entire team has these qualifications. Schedule an appointment at our pain clinics in NYC and NJ and find effective treatments for your chronic knee pain and knee joint issues.
How Do I Describe Knee Pain to a Knee Pain Doctor Near Me?
Living with knee pain means that you grit your teeth and do your best to get through every day. Yes, you certainly feel it, but knowing how best to describe what you're feeling may be difficult. Your knee Dr. at Pain Treatment Specialists has some advice for the best terms and preparation before your visit to our pain clinics: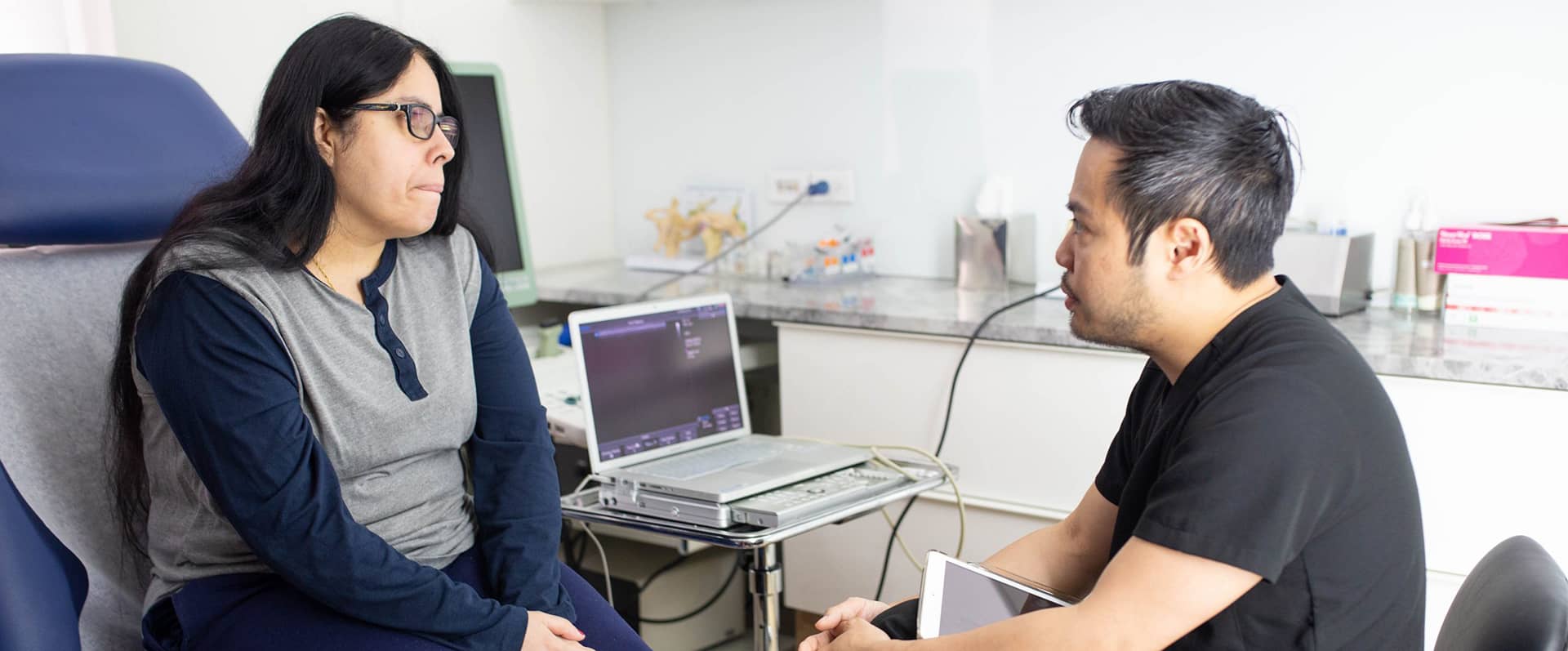 We offer free insurance verification! Fill out the form and expect a call from one of our agents:
First, write down a log of your knee pain before your visit. Does your knee hurt more in the morning, or right after a workout? What activities cause the most amount of pain? Next, assign a number to your knee pain in this log on a scale of 1 (minimal) to 10 (excruciating.) This helps your knee Dr. isolate the cause of your knee pain. Finally, use specific words when describing your knee pain. Do you feel weakness and instability when you stand? Or a throbbing or stabbing sensation when squatting down? These tips will ensure that you're able to effectively communicate your knee pain concerns.
Requesting an online appointment online is easy at Pain Treatment Specialists, which is done right through the virtual assistant on our website. Schedule an appointment today and meet with a top knee Dr. for your knee pain.
LEARN MORE ABOUT OUR TEAM OF SPINE & JOINT SPECIALISTS IN NEW YORK & NEW JERSEY:

Call us
Speak instantly with an agent to verify your insurance and book an appointment.
(866) 446-0946

Book Online
Visit our
Book appointment 
page
and instantly request an appointment at a Spine & Joint center near you. We offer Free Insurance Verification before your appointment.

Get Directions
Learn how to easily get to the Spine & Joint center locations.
FEATURED POSTS BY PAIN DOCTORS
How Does Physical Therapy for Back Pain Help You Feel Better?Once the spring weather begins to thaw winter's chill, a host of outdoor activities become accessible again. On a particularly balmy afternoon, you hit the links for a quick round of golf. Your body feels...
read more