How Do You Fix Spinal Stenosis Without Surgery? A Harvard-Trained Pain Doctor Responds
Technology has evolved tremendously over our lifetimes. When you were a kid clanking away on a massive desktop computer, you would have never imagined the power of a palm-held smartphone. Not only has technology rapidly advanced, it's also made our lives much more convenient. The downside to this convenience is the amount of time we spend sitting or staring down at our laptops or phones. This increasingly sedentary lifestyle is not only bad for our hearts, but also our backs as well. Back pain is a common condition that many people face at some point in their lives, and is exacerbated by sitting for long periods of time. Combined with conditions like osteoarthritis or spinal stenosis, you have a recipe for serious back pain and inflammation.
The back pain doctors at Pain Treatment Specialists understand a wide range of back pain causes, from herniated discs to sciatica. One of the most common questions they hear at their pain clinics is, "How do you fix spinal stenosis without surgery?" Spinal stenosis is caused by a narrowing of your spine, which puts pressure on your nerve roots. There are a wide variety of nonsurgical treatments that are effective for spinal stenosis, and you don't need to use surgical options such as a spinal fusion for pain relief. When you schedule an appointment at Pain Treatment Specialists, you'll see the different types of back pain treatments offered that only utilize minimally invasive procedures. The goal of interventional pain medicine treatments is avoiding surgery by using the most conservative treatments available.
How Do You Fix Spinal Stenosis WIthout Surgery?
While spinal stenosis is very painful, it is easily treated by interventional pain medicine. SOme of the symptoms of spinal stenosis include difficulty walking, numbness/tingling in your arms and legs, and cramping in your legs when standing for a long period of time. You can also have cervical spine stenosis, which occurs in your neck. Both conditions are caused by narrowing of your spinal column. At Pain Treatment Specialists, your first consultation with one of our nationally recognized pain doctors is dedicated to providing an accurate diagnosis of your back pain. This informs your customized treatment plan. Some of the treatment offered at our pain clinics for spinal stenosis include:
Epidural Steroid Injection: This injection improves a patient's quality of life dramatically. Your pain doctor injects a corticosteroid directly around a pinched nerve that is jutting into your spine's epidural space. A corticosteroid injection reduces swelling and also relieves the pressure in the epidural space. Pain relief lasts for several weeks, and up to a couple of months.
Physical Therapy: Many people are unable to complete physical therapy due to the intense pain from spinal stenosis. Completing a pain medicine treatment first helps reduce inflammation and swelling so that patients can begin PT. During your physical therapy sessions, your physical therapist uses stretches and heat and cold therapies to decrease the pressure in your back or neck and also improve your range of motion.
How do you fix spinal stenosis without surgery? Consult the expert pain doctors at Pain Treatment Specialists and discuss your treatment options for this painful back condition.
Why Should I Avoid Surgical Options for Spinal Stenosis?
Back surgery is a serious and invasive procedure. Many people state that their backs are never the same after undergoing surgery, and regret going through with such a life-changing decision. In order to undergo back surgery, you'll be admitted to a hospital. Any hospital stay or surgery comes with inherent risks for complications or infections. After your hospital stay is completed, you'll need to stay at a rehabilitation facility to regain your mobility and strength. This is followed by a return home where you'll need serious assistance for bathing, dressing, toileting, and daily chores. After all of these major life inconveniences, there's still no guarantee that your back will feel 100% better.
This is why the interventional pain doctors at Pain Treatment Specialists strive to use conservtaive treatments first for pain conditions like spinal stenosis. Surgical treatments are only suggested when medically necessary, and when all other minimally invasive procedures are tried.
Schedule an appointment at one of our conveniently located pain clinics in NYC, northern NJ, or Long Island and find the treatment option that best fits your back pain condition.
What are the Symptoms of Spinal Stenosis?
Spinal stenosis occurs when your spine narrows and puts pressure on sensitive nerves that travel through the spine. The most common locations of spinal stenosis are in your neck (cervical spine) and lower back. Chronic conditions like osteoarthritis may contribute to the general wear and tear in your spine. Some of the symptoms of spinal stenosis include:
Numbness or tingling in your feet and legs
Neck pain
Weakness in your arms, feet, or legs
Leg cramps when standing for a long period of time
Balance problems
In severe cases, bladder or bowel concerns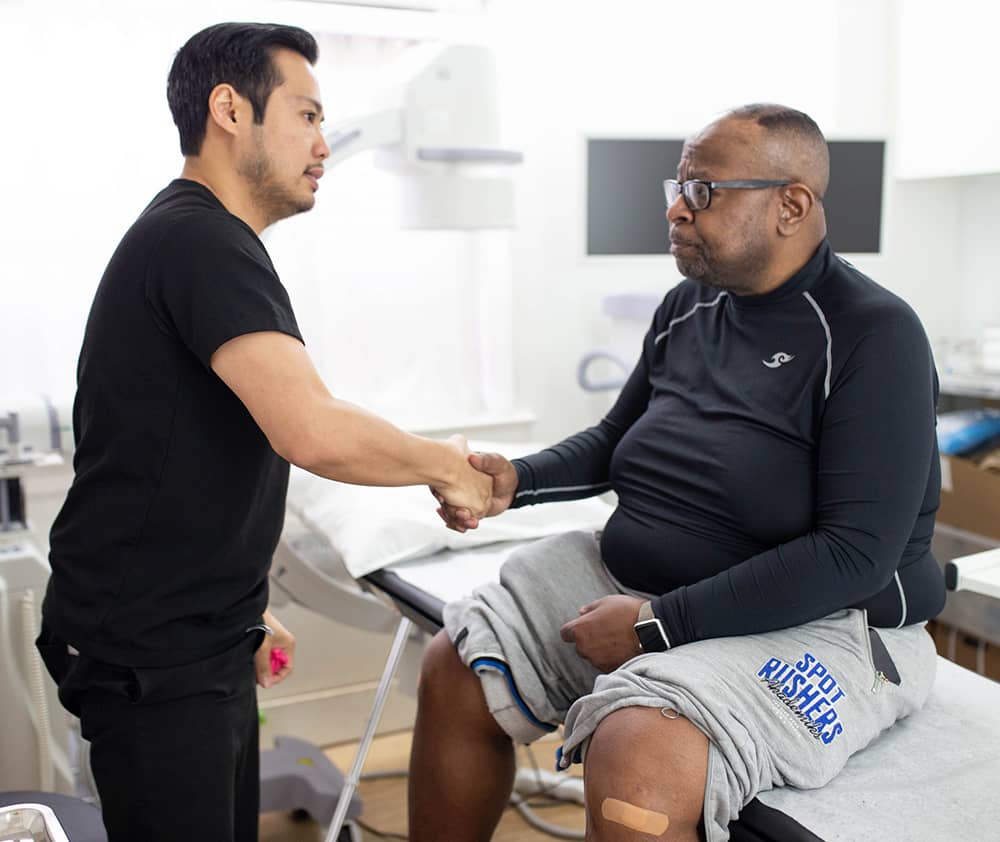 We offer free insurance verification! Fill out the form and expect a call from one of our agents:
Pain Treatment Specialists use the latest technology to find minimally invasive solutions for spinal stenosis. Book an appointment at one of our cutting-edge pain clinics and begin feeling relief from your lower back or neck pain.
LEARN MORE ABOUT OUR TEAM OF SPINE & JOINT SPECIALISTS IN NEW YORK & NEW JERSEY:

Call us
Speak instantly with an agent to verify your insurance and book an appointment.
(866) 446-0946

Book Online
Visit our
Book appointment 
page
and instantly request an appointment at a Spine & Joint center near you. We offer Free Insurance Verification before your appointment.

Get Directions
Learn how to easily get to the Spine & Joint center locations.
FEATURED POSTS BY PAIN DOCTORS
How Do You Know When to See a Doctor for Back Pain?Getting ready for a warm weather vacation? Time to unpack your summer clothing bins and begin packing your bags. You head to the basement to begin sorting through swimsuits and tank tops, but are left stunned by the...
read more