Find Hip Treatment Specialists Using Minimally Invasive Treatments for Common Hip Problems
You've spent all year looking forward to summer festival season, where you get to walk across a pebbly parking lot and listen to live music, taste great (and greasy!) food, and mingle with your community. In previous years, you'd get all dolled up and put on your highest pair of wedge sandals, but this year you know that your hip pain requires some more sensible footwear, especially on such uneven walking surfaces. Even with your pair of comfy flats, after an hour of walking around you're ready to take a seat and rest your hip. You're too young to have to take a rest so quickly, and know that you need to contact hip treatment specialists in order to begin feeling better.
Where can you turn for hip treatment that doesn't involve total hip replacement surgery? Find hip treatment specialists who are also interventional pain doctors who specialize in minimally invasive treatments. You'll find these types of doctors at Pain Treatment Specialists, where all of our pain doctors specialize in interventional pain medicine. This type of medicine focuses on uses more conservtaive treatments like nerve blocks, lubricant injections, and steroid injections to manage chronic hip pain.Request an appointment at one of their conveniently located hip pain clinics in NYC or northern NJ and stop worrying about how hip pain might derail your fun summer evening.
What Type of Hip Specialists are Right for Me?
Before you begin meeting with hip specialists to discuss your hip pain, it's critical to know what type of doctor you're meeting with. Orthopedics surgeons rely on hip replacement surgery to correct hip problems because this was the focus of their medical training. However, there are many more conservative treatment options that should be tried first before resorting to a painful and invasive surgery. Find a hip specialist who is a pain management doctor, like the team at Pain Treatment Specialists. This ensures that you'll begin with minimally invasive treatments for your hip pain which provide long-lasting hip pain relief.
One of the top hip specialists at our clinic is Dr. Laura Lombardi. She is double board certified in anesthesiology and pain medicine, and regularly presents cutting-edge pain treatments at national medical conferences. One of Dr. Lombardi's specialties is fluoroscopic-guided pain treatments, which includes mastery of a special x-ray called a fluoroscope. This method allows her to precisely identify the area needed for treatment, which provides the most effective results in sensitive areas. Additionally, Dr. Lombardi's patient reviews mention her kindness and thorough explanations of all pain treatments.
Request an appointment at Pain Treatment Specialists and find minimally invasive solutions to your hip pain problems.
What are Common Hip Conditions?
Your hip's ball and socket design allows it to take a lot of wear and tear, which it does on a daily basis. Think of every time you walk, bend over, or sit during the day– your hip joints are integral to these movements. When something in your hip is overworked or wearing down, you'll feel this pain with every movement. This is exactly why walking around on an uneven surface made your hip ache and forced you to take a rest. The normal movement of your hip while walking was stressed by your hip condition. When you meet with the pain doctors at Pain Treatment Specialists, part of your consultation is identifying the cause of your hip pain. Your pain doctor thoroughly explains the cause of your hip pain, and then creates a customized treatment plan to address your specific pain needs.
Osteoarthritis is one of the most common causes of hip pain, and involves the wearing down of cartilage. Healthy cartilage allows your hip's joints to glide easily over each other. When this cartilage wears down due to wear and tear, you feel a painful grinding sensation in your hip that also causes inflammation.
The bursae of your hips are fluid-filled sacs that reduce friction between the soft tissues of your body. When these bursae become inflamed due to overuse, you'll feel stiffness and hip pain. Hip tendonitis is also pain caused by overuse, but affects the hip's tendons. These tendons become inflamed due to overuse, and causes a dull, deep ache in your hip.
No matter the cause of your hip pain, the team at Pain Treatment Specialists has a solution that works for your hip pain. Schedule an appointment at one of our cutting-edge pain clinics and begin feeling relief from your chronic hip pain.
Why Should I Avoid Hip Replacement Surgery?
Hip replacement surgery isn't necessary for most causes of hip pain. For more serious injuries like hip fractures, surgery may be your only option. However, common causes of hip pain like osteoarthritis, bursitis, and tendonitis are easily treated with pain medicine. The hips treatment specialists at Pain Treatment Specialists recommend that you avoid a total hip replacement for the following reasons:
Hip replacement surgery is invasive. It requires a hospital stay, and also time in a rehabilitation facility. There's no such thing as "minor surgery", and expect that you'll be in a great deal of pain after this procedure.
You'll need a lot of help once you return home from surgery. Expect to rely on family or an aide to help you dress, shower, and run errands while you recover.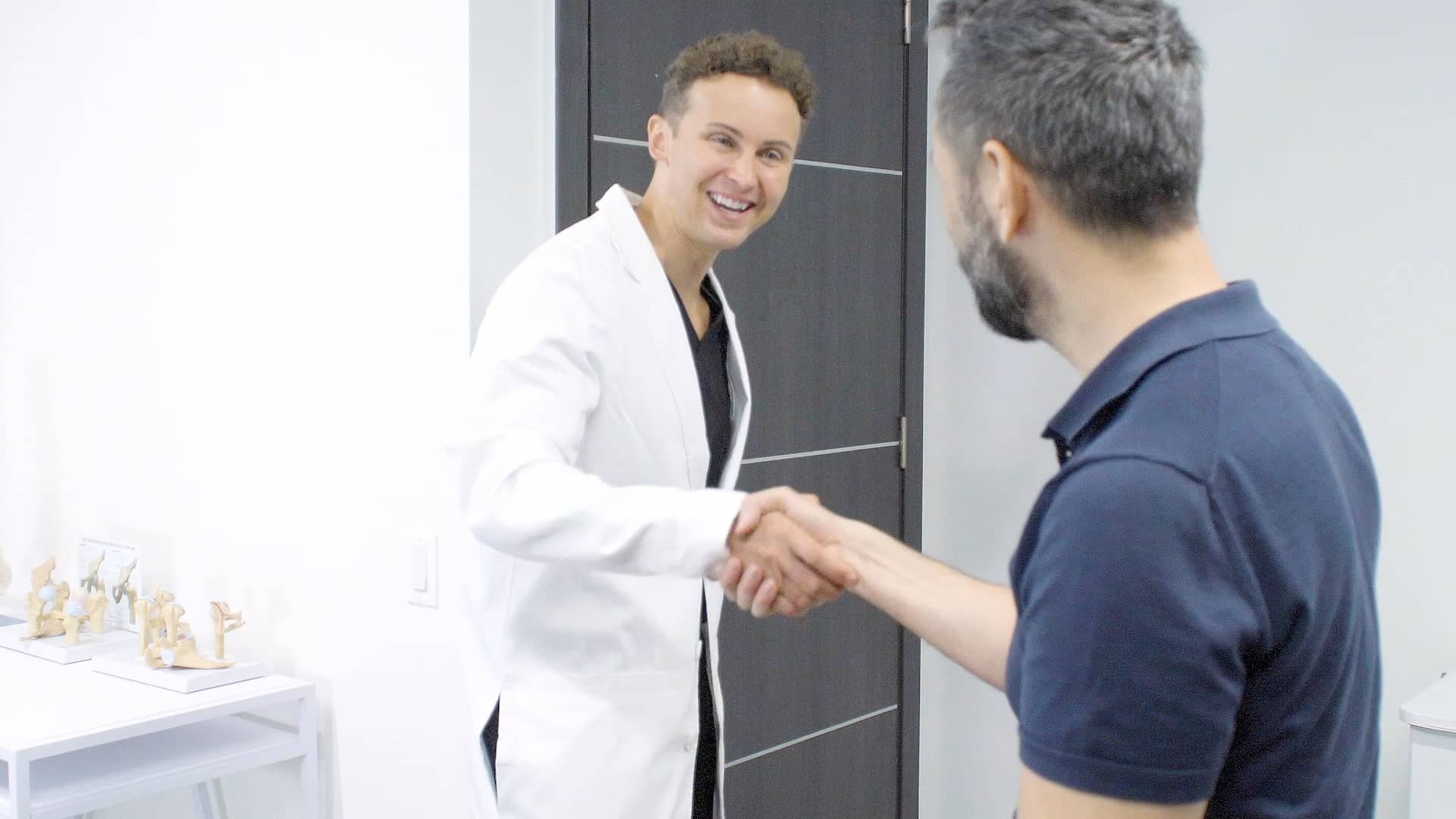 We offer free insurance verification! Fill out the form and expect a call from one of our agents:
You'll be exposed to dangerous, addictive narcotics while you recover. Many people unintentionally become addicted to opioids while trying to find pain relief from surgery.
Don't sit out summer fun due to your aching hip! Instead, schedule an appointment at Pain Treatment Specialists and begin feeling better with our cutting-edge hip pain treatments.
LEARN MORE ABOUT OUR TEAM OF SPINE & JOINT SPECIALISTS IN NEW YORK & NEW JERSEY:

Call us
Speak instantly with an agent to verify your insurance and book an appointment.
(866) 446-0946

Book Online
Visit our
Book appointment 
page
and instantly request an appointment at a Spine & Joint center near you. We offer Free Insurance Verification before your appointment.

Get Directions
Learn how to easily get to the Spine & Joint center locations.
FEATURED POSTS BY PAIN DOCTORS
How Do You Know When to See a Doctor for Back Pain?Getting ready for a warm weather vacation? Time to unpack your summer clothing bins and begin packing your bags. You head to the basement to begin sorting through swimsuits and tank tops, but are left stunned by the...
read more