Learn How a Hip Treatment Specialists Treats Hip Pain With Minimally Invasive Methods
When the sun is shining and the conditions are dry, you and your friends make a run for the golf course. It's been a while since you've been able to get together for some fun on the links, and you're ready to catch up with your pals. You're able to make it through the first half of the course without embarrassing yourself too much, but the back 9 are much more troublesome. Your hip pain is making it difficult to follow through on your swing, which leaves you in the sand more than a lifeguard. By the time you're on the last hole, you're ready to just sit on the golf cart and not pick up your clubs again due to your aching hip. This is something you want to address with a hip treatment specialist right away before it gets worse.
Your friends suggest contacting Pain Treatment Specialists, with convenient locations in NYC and northern NJ. Their state of the art pain clinics use minimally invasive methods to treat hip pain with brief recovery times. You decide to schedule an appointment to see if their team is able to diagnose and treat your hip pain without surgery. One thing's for sure– you look forward to shaving some points off of your score card the next time you and your friends hit the greens.
What Should I Look for in a Hip Treatment Specialist?
Not all doctors provide the same types of treatments for hip pain. For example, orthopedic surgeons use hip replacement surgery as their main treatment because it utilizes a surgical training and background. If you've experienced a traumatic injury like a hip fracture, then visiting an orthopedic surgeon may be appropriate. However, there are a wide range of hip pain conditions that are easily treated through pain management. At Pain Treatment Specialists, our doctors are all trained in interventional pain medicine, which focuses on using conservtaive treatments like injections and ablations for treating hip pain. Make sure you're looking for a hip treatment specialist who is a pain medicine doctor.
One of our top hip pain doctors at Pain Treatment Specialists is Dr. George Hanna. He is a nationally recognized pain doctor who authors textbook chapters on pain medicine for medical students and also speaks at national conferences regarding the latest advancement in pain medicine. Dr. Hanna is a former Clinical Instructor at Harvard Medical School, and uses this background as an educator to inform his patients about their hip pain diagnosis and treatment plan. His patients describe him as kind, thorough, and willing to go the extra mile in order to eliminate hip pain. When you consult with Dr. Hanna, you'll never feel rushed through your appointment and have plenty of time to ask questions about your hip pain condition.
When you schedule an appointment at Pain Treatment Specialists, you'll meet with a hip treatment specialist like Dr. Hanna, or another member of our Harvard trained team.
How Can You Treat Hip Pain With Minimally Invasive Treatments?
The goal of using minimally invasive hip pain treatments is having a short recovery time while producing long-lasting results. Think of these types of pain treatments as getting the most "bang for your buck." Your hip pain specialist at Pain Treatment Specialists will identify the best course of treatment depending on your hip pain diagnosis.
Steroid injections are one of the first methods used to treat chronic hip pain. During this procedure, your pain doctor numbs the area for injection and then draws a corticosteroid into a syringe. Corticosteroids are highly effective at both relieving pain and reducing swelling. ONce the injection is administered, a bandage is applied and you'll be back on your feet in a few minutes. This type of injection provides pain relief for weeks, if not months.
One of the common causes of hip pain is osteoarthritis, which occurs through wear and tear and also as we age. This is often accompanied by the loss of joint fluid, which causes hip joints to grind against each other and cause pain. One treatment to combat this is called viscosupplementation, which adds hyaluronic acid to your hip's joints. Hyaluronic acid is the main component of joint fluid, and gives it a viscous, slippery quality.  An injection of hyaluronic acid is given directly into the hip capsule, and may require 3-5 injections per week until desired results are achieved.
Your hip pain doctor at Pain Treatment Specialists creates a customized hip pain treatment plan that works to relieve hip pain based on your specific diagnosis.
What are Common Causes of Hip Pain?
Osteoarthritis is one one of the most common causes of hip pain because it is the result of years of wear and tear on your hip. This occurs when your hip joint loses its cushioned layer of cartilage that protects your hip joints from rubbing against each other and causing pain. If you suffer from osteoarthritis, the most common symptoms are stiffness and soreness.
When your muscles are overused (like during your golf game!), you might suffer from hip bursitis or hip tendonitis. Using your hip joints and muscles in the same motion over and over again causes a deep ache that limits your range of motion.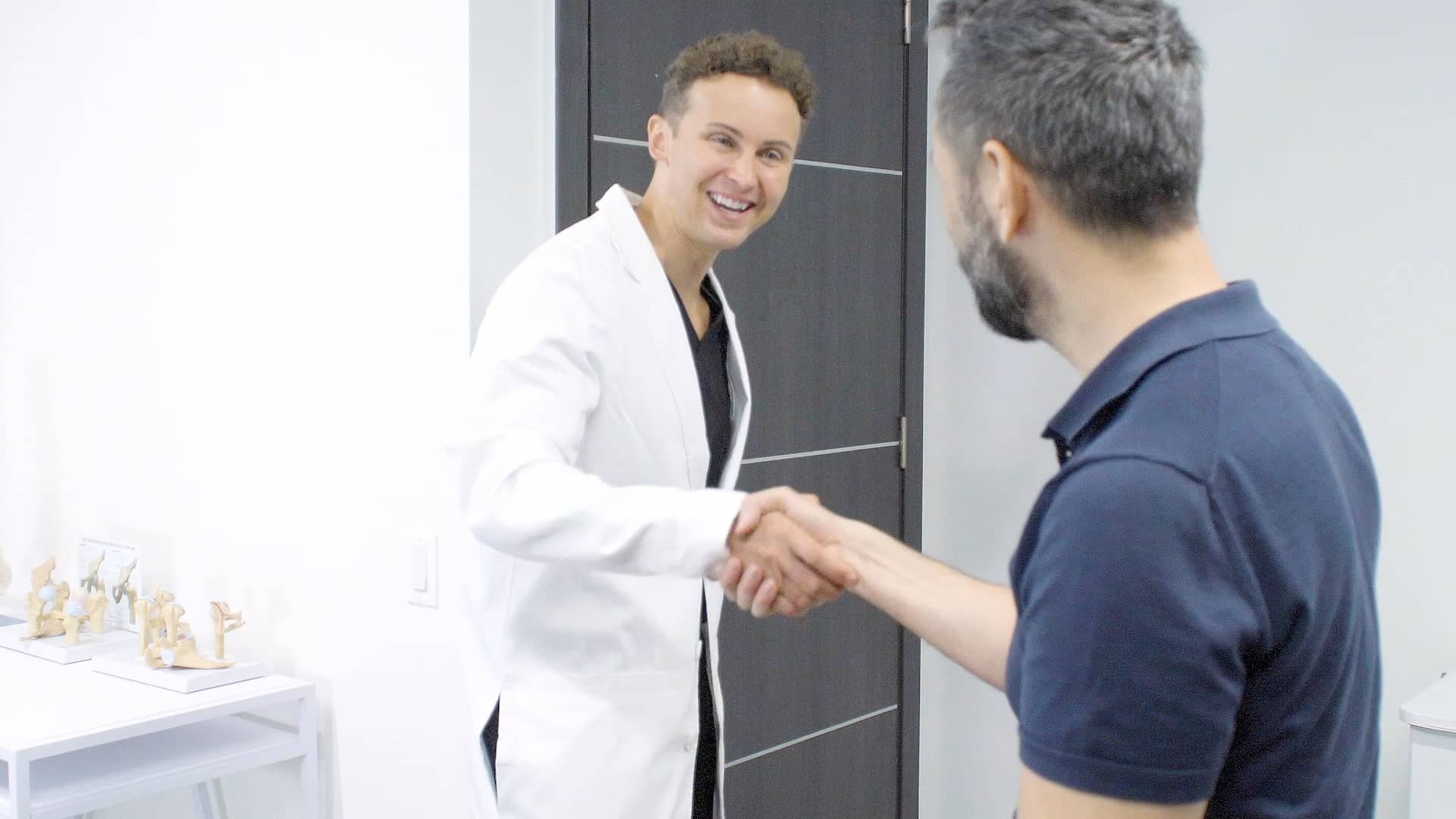 We offer free insurance verification! Fill out the form and expect a call from one of our agents:
Book an appointment at Pain Treatment Specialists and get your golf game back on track. With a wide range of minimally invasive hip pain treatments, we'll help you complete an entire round of golf without pain, even if we can't guarantee that you'll stay out of the sand traps!
LEARN MORE ABOUT OUR TEAM OF SPINE & JOINT SPECIALISTS IN NEW YORK & NEW JERSEY:

Call us
Speak instantly with an agent to verify your insurance and book an appointment.
(866) 446-0946

Book Online
Visit our
Book appointment 
page
and instantly request an appointment at a Spine & Joint center near you. We offer Free Insurance Verification before your appointment.

Get Directions
Learn how to easily get to the Spine & Joint center locations.
FEATURED POSTS BY PAIN DOCTORS
How Does Physical Therapy for Back Pain Help You Feel Better?Once the spring weather begins to thaw winter's chill, a host of outdoor activities become accessible again. On a particularly balmy afternoon, you hit the links for a quick round of golf. Your body feels...
read more