Meet with Harvard Trained Hip Specialists for Long-Lasting Hip Pain Relief
You've finally scored a coveted interactive bike, and can't wait to make up for time you've missed at the gym in your very own home. It's been a while since you've had a rigorous workout, and you're excited about getting active and fit again. You clip into the pedals and complete your first ride, even though you don't remember it being this hard last year at the gym! Dripping with sweat, you unclip from the pedals and head upstairs for some water. Your hip feels pretty sore as you navigate the stairs, but chalk that up to your ride. However, your hip pain doesn't feel any better after a few days, and it's starting to impact your workout schedule. This is a sign that you might need to contact hip specialists and find out the reason why your hip joint aches.
Where can you find hip specialists in your area who are skilled at diagnosing and treating chronic hip pain? Contact the Harvard trained pain doctors at Pain Treatment Specialists and meet with their compassionate and knowledgeable hip pain doctors. With cutting-edge and minimally invasive hip pain treatments, our pain doctors are able to avoid hip replacement surgery. This is exactly the type of treatment you're looking for that allows you to continue your renewed fitness journey.
Who are the Best Hip Specialists Near Me?
Not all hip pain specialists use the same type of treatments for hip pain. Orthopedic surgeon hip specialists use hip surgery as their main method of treating hip pain because that's where the majority of their medical training is focused. If you're not sure about what doctor to see for hip pain, look for an interventional pain doctor. This type of doctor focuses on relieving chronic joint pain issues with minimally invasive treatment plans. You'll find this type of doctor at Pain Treatment Specialists, where all of our back and hip pain doctors are board certified in pain medicine.
One of our top hip doctors is Dr. Laura Lombardi. She was fellowship trained at Harvard in interventional pain medicine, and is an expert in fluoroscopic-guided pain procedures. This special type of x-ray allows her to precisely target the exact area needed for hip pain treatments. Dr. Lombardi's bedside manner is also noted by many patient reviews who call her kind, knowledgeable, and thorough. As a former Division 1 athlete, Dr. Lombardi knows that keeping your workouts intact and pain-free is one of the keys to a healthy lifestyle, and she aims to help all patients at her pain clinic achieve this goal.
Instead of looking for the best orthopedic hip surgeons in your area, find an interventional pain doctor for your chronic hip pain. Schedule an appointment at Pain Treatment Specialists and meet with a hip doctor in your area who understands your hip pain and offers effective pain treatments.
What are the Most Common Hip Conditions?
Hip pain is not as uncommon as you think! Many people suffer from hip conditions, some of which are a side effect of our natural aging process. The ball and socket design of your hip is pretty ingenious engineering, and allows your body to bend, pivot, and walk with ease. When something is out of place, your hip joints begin to rub against each other, or you've overused your hip, this is when hip pain occurs. A total hip replacement is often not necessary, and more conservative treatments are highly effective for most hip conditions.
Osteoarthritis occurs when your hip joints lose cushioning and begin to rub against each other. As we age, our hip's protective cartilage begins to break down, causing a great deal of pain. Stiffness and soreness are two of the most common side effects of hip osteoarthritis. Staying active and maintaining a healthy weight are 2 ways to prevent hip osteoarthritis from causing intense pain.
Hip tendonitis and bursitis occur when your hip muscles are overused. Your first foray on the bike after a long inactive period is a great example of potential overuse. The repetitive cycling motion works your hip muscles and tendons in a way that they haven't moved for a long time, causing a dull, deep ache.
If you're looking for the proper diagnosis of your hip pain, meet with hip specialists in your area who have extensive experience in this field. You won't find a better team than Pain Treatment Specialists, who employs a team of Harvard trained pain doctors to create customized hip pain treatment plans.
What are the Best Types of Treatments at a Hip and Knee Specialist Near Me?
Hip treatment medicines help slow down bone loss associated with osteoarthritis, and delay further bone damage. They also provide pain and inflammatory relief. Your hip doctor will discuss the type of medicines that they feel are appropriate based on your hip pain diagnosis.
Corticosteroid injections are useful for powerful, targeted pain relief. These steroids relieve pain and swelling, and are injected precisely into the area of your hip that is causing pain.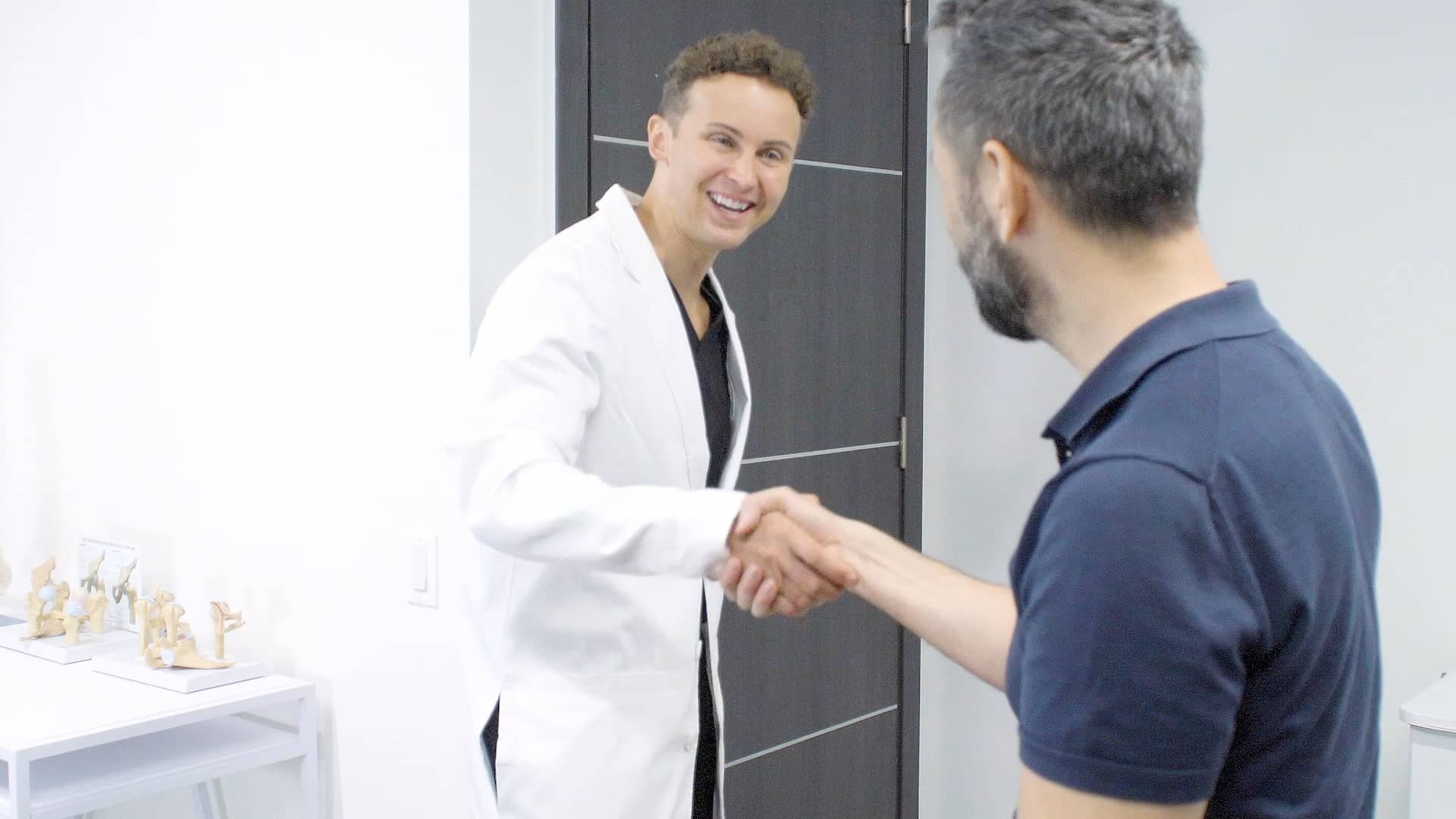 We offer free insurance verification! Fill out the form and expect a call from one of our agents:
If your hip pain is pulling your exercise routine off-track, meet with hip specialists who can provide effective hip pain relief. Schedule an appointment at Pain Treatment Specialists and get back on your bike and keep riding towards your fitness goals.
Hyaluronic acid injections mimic the viscous, slippery joint fluid that is often lost as we age. Replacing this fluid helps your hip joints move smoothly over each other, increasing your range of motion and decreasing your pain.
LEARN MORE ABOUT OUR TEAM OF SPINE & JOINT SPECIALISTS IN NEW YORK & NEW JERSEY:

Call us
Speak instantly with an agent to verify your insurance and book an appointment.
(866) 446-0946

Book Online
Visit our
Book appointment 
page
and instantly request an appointment at a Spine & Joint center near you. We offer Free Insurance Verification before your appointment.

Get Directions
Learn how to easily get to the Spine & Joint center locations.
FEATURED POSTS BY PAIN DOCTORS
How Does Physical Therapy for Back Pain Help You Feel Better?Once the spring weather begins to thaw winter's chill, a host of outdoor activities become accessible again. On a particularly balmy afternoon, you hit the links for a quick round of golf. Your body feels...
read more