Top 3 Reasons Why Pain Treatment Specialists is the Best Choice for Your Hip Pain
Your hips are some of the most rugged and durable joints in your body. The ball and socket design allows fluid motions, even during repetitive movements like running, walking, or walking up stairs. With the amount of wear and tear your hips experience, it's no wonder that hip pain is one of the most common types of chronic pain that people experience. Hip can can also be exacerbated by conditions like rheumatoid arthritis, psoriatic arthritis, ankylosing spondylitis, or osteoarthritis. Where can you find effective pain relief without having to resort to hip replacement surgery or hip pain medication?
If you want to know how to manage arthritis pain in the hip, consult with the interventional pain doctors at Pain Treatment Specialists. Our team treats hip pain with minimally invasive hip pain treatments that reduce inflammation, joint pain, and pain and swelling with conservative treatments. No matter the cause of your hip pain, you'll find an effective solution when you book an appointment at Pain Treatment Specialists. Instead of stopping several times a day to rest your aching hips, you'll be able to continue the activities you enjoy without sore, swollen joints. Here are 3 of the tops reasons why Pain Treatment Specialists should be your first choice for rheumatoid arthritis hip treatment, psoriatic arthritis hip pain, or ankylosing spondylitis hip pain treatment.
Reason #1: We Treat Hip Pain With Minimally Invasive Treatments
If you've avoided meeting with a doctor because you've feared hearing "rheumatoid arthritis hip replacement" or "hip replacement surgery", know that these methods are not discussed at Pain Treatment Specialists unless medically necessary. Instead, our team focuses on more conservative pain medicine treatments first. Hip pain is easily treated with minimally invasive treatments such as steroid injections or viscosupplementation. All of our pain doctors have extensive backgrounds in pain medicine and pain management, which gives them the ability to properly diagnose and treat your hip pain with precision.
Steroid injections are one of the first hip pain treatments used for reducing pain and swelling. During this procedure, your pain doctor draws a corticosteroid into a syringe, and determines the exact location of the injection. A corticosteroid is highly effective at reducing pain and swelling in your hip muscles and provides long-lasting relief from pain in the hips. There are minimal risks and side effects associated with this injection, and you'll be back on your feet the same day.
A hyaluronic acid injection, also known as viscosupplementation, supplements your hip joint's natural joint fluid. Hyaluronic acid is the main component of joint fluid, so this injection helps your body replace joint fluid that may be lost due to wear and tear or arthritis. Your pain doctor injects a small amount of hyaluronic acid into the hip joint capsule, which takes only a few minutes. You'll need 3-5 injections throughout the week to thoroughly lubricate your hip joint.
Before considering a hip replacement surgery, consult with the pain doctors at Pain Treatment Specialists. Our minimally invasive hip pain treatments are highly effective at reducing pain and swelling in your hips.
Reason #2: Our Medical Advice and Experience are Unmatched
Every doctor at Pain Treatment Specialists is carefully vetted to ensure not only the highest qualifications, but also an outstanding reputation for patient care. Our hip pain doctors are all nationally recognized for their contributions to pain medicine, and regularly present at medical conferences and write chapters for pain management textbooks.
Dr. George Hanna fellowship trained at Harvard in pain management, and later taught as a Clinical Instructor of Anesthesiology, also at Harvard. This was followed by a position as Medical Director of Pain Management at Chilton Medical Center. His experience in pain medicine is equal to his patient reviews, who describe him as "kind and extremely thorough with his explanations."
Dr. Laura Lombardi is double board certified in pain medicine and anesthesiology, and fellowship trained at Harvard in interventional pain medicine. She specializes in fluoroscopic-guided pain treatments, which requires extensive experience with this special type of x-ray. The result is targeted, precise hip pain treatments.
Dr. Lombardi and Dr. Hanna are just 2 of our highly trained and compassionate pain doctors at Pain Treatment Specialists. Schedule an appointment and meet with the top hip pain doctors in the country.
Reason #3: We'll Thoroughly Explain Your Hip Pain in Non-Medical Terms
One of the most common compliments the pain doctors at Pain Treatment Specialists recieve is how thoroughly they explain complex medical conditions.Your hip bone, hip muscles, and ball and socket joints are very complex body parts, but you'll feel at ease after your pain doctor explains what your specific diagnosis is. Whether you suffer from hip bursitis, rheumatoid arthritis, or hip tendonitis, your hip doctor gives you the information related to your diagnosis and allows you the time to ask questions without feeling rushed.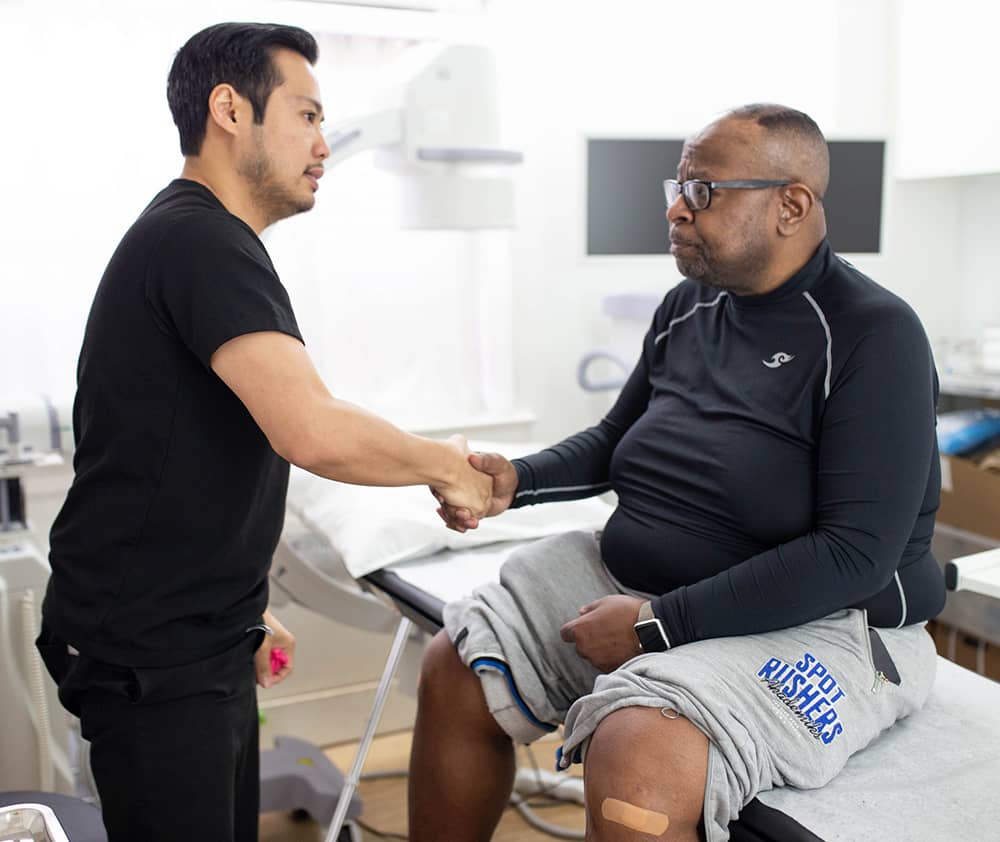 We offer free insurance verification! Fill out the form and expect a call from one of our agents:
When you schedule an appointment at Pain Treatment Specialists, you're making a commitment to finding a long-term solution for your hip pain. Meet with our kind and caring pain doctors for a thorough diagnosis and minimally invasive hip pain treatment plan.
LEARN MORE ABOUT OUR TEAM OF SPINE & JOINT SPECIALISTS IN NEW YORK & NEW JERSEY:

Call us
Speak instantly with an agent to verify your insurance and book an appointment.
(866) 446-0946

Book Online
Visit our
Book appointment 
page
and instantly request an appointment at a Spine & Joint center near you. We offer Free Insurance Verification before your appointment.

Get Directions
Learn how to easily get to the Spine & Joint center locations.
FEATURED POSTS BY PAIN DOCTORS
How Does Physical Therapy for Back Pain Help You Feel Better?Once the spring weather begins to thaw winter's chill, a host of outdoor activities become accessible again. On a particularly balmy afternoon, you hit the links for a quick round of golf. Your body feels...
read more