How a Hip Pain Treatment Dr. Uses Pain Medicine to Treat Pain in the Hips
We often hear the phrase "self care" mentioned during TV programs about taking care of your well-being, but what exactly does that mean? Yes, it does mean trying to take care of yourself, but it's so much more than just taking a day trip to a spa for a mani/pedi. True self-care involves carving out time to improve your overall health, which allows you to be better able to complete your job, attend activities with friends you adore, and care for your family. When you live with chronic pain, it's easy to push your pain to the side because that's how you get through each day. However, when you're ready to address your chronic pain and get back to living your best life, Pain Treatment Specialists are here to help.
The hip pain treatment doctors at Pain Treatment Specialists are ready to help every patient at their pain clinic address their chronic hip or joint pain. Pain in the hips can be debilitating, and also affect your back, knees, and gait. Our team of Harvard trained pain doctors use cutting edge interventional pain treatments to reduce inflammation and provide hip pain relief. Scheduling an appointment at our pain clinics is a breeze, and you're paired with a personal concierge who not only verifies your insurance coverage, but also books a convenient appointment time that works with your busy schedule. Since our hip pain treatments are minimally invasive, you'll have very little down time and just a small disruption to your day. Tackling your hip pain is an excellent example of true self care, since being pain free allows you to truly enjoy living your life.
Who is the Best Hip Pain Treatment Dr. for My Chronic Pain?
If you experience a sudden loss of bladder or bowel control, or cannot move your legs, seek immediate medical attention for your hip pain. If your pain in the hips is uncomfortable, look for a pain management doctor for treatment. Does everyone who experiences hip pain need hip replacement? No, and too often hip surgery is prescribed for issues that can easily be addressed by pain management treatments. At Pain Treatment Specialists, all of our doctors are interventional pain doctors, which means that they received extensive training in pain medicine and pain management, This branch of medicine uses minimally invasive treatments like injections, nerve blocks, and ablations to control your hip pain.
Dr. George Hanna is a top hip pain treatment doctor at Pain Treatment Specialists. His impressive resume is matched by his outstanding patient reviews. Dr. Hanna is double board certified in anesthesiology, pain medicine, and interventional pain management. He is a former Clinical Instructor at Harvard Medical School, where he also served as Director of Pain Innovations and Technology. This extensive background in pain medicine allows him to confidently treat patients at his pain clinics, and thoroughly explain every diagnosis and treatment procedure. His patients say that he is "the best" and has given them "hope for a better quality of life."
Dr. Hanna is just one of the outstanding pain doctors you'll meet with at Pain Treatment Specialists. Book an appointment today and take the first steps towards achieving your goal of a pain-free life.
Why Should I Avoid Hip Surgery?
Hip replacement surgery involves lots of risks, and also means a lot of time off your feet. The surgery itself is invasive, and requires a brief hospital stay. It may also require a period of time in a rehabilitation facility while you regain strength and mobility in your hip. Once you return home, you'll still need assistance with daily tasks. This requires a huge time commitment not only from you, but also from your friends and family.
If you could avoid the pain and inconvenience of hip surgery, why not pursue a different treatment? At Pain Treatment Specialists, we offer several treatments that are not only minimally invasive, but also provide long-lasting hip pain relief. They are excellent alternatives to surgery, and allow you to resume activities that you've been avoiding.
Steroid injections are one of the first pain treatments recommended for chronic hip pain. During this procedure, your hip pain treatment doctor identifies the area for injection, and then administers a corticosteroid injection. This type of pain medicine reduces inflammation and pain in your hip.
A hyaluronic acid injection is an effective hip pain treatment for patients who experience hip pain due to wear and tear or arthritis. Hyaluronic acid is the main component of joint fluid, which is often lost as we age. The loss of this fluid causes your hip joints to rub and grind together, which is very painful. Supplementing your body's natural supply of joint fluid allows your joints to glide more fluidly.
Not sure what type of hip pain treatment is right for you? Schedule an appointment at Pain Treatment Specialists and discuss the wide variety of hip pain treatment options offered at our cutting-edge pain clinics.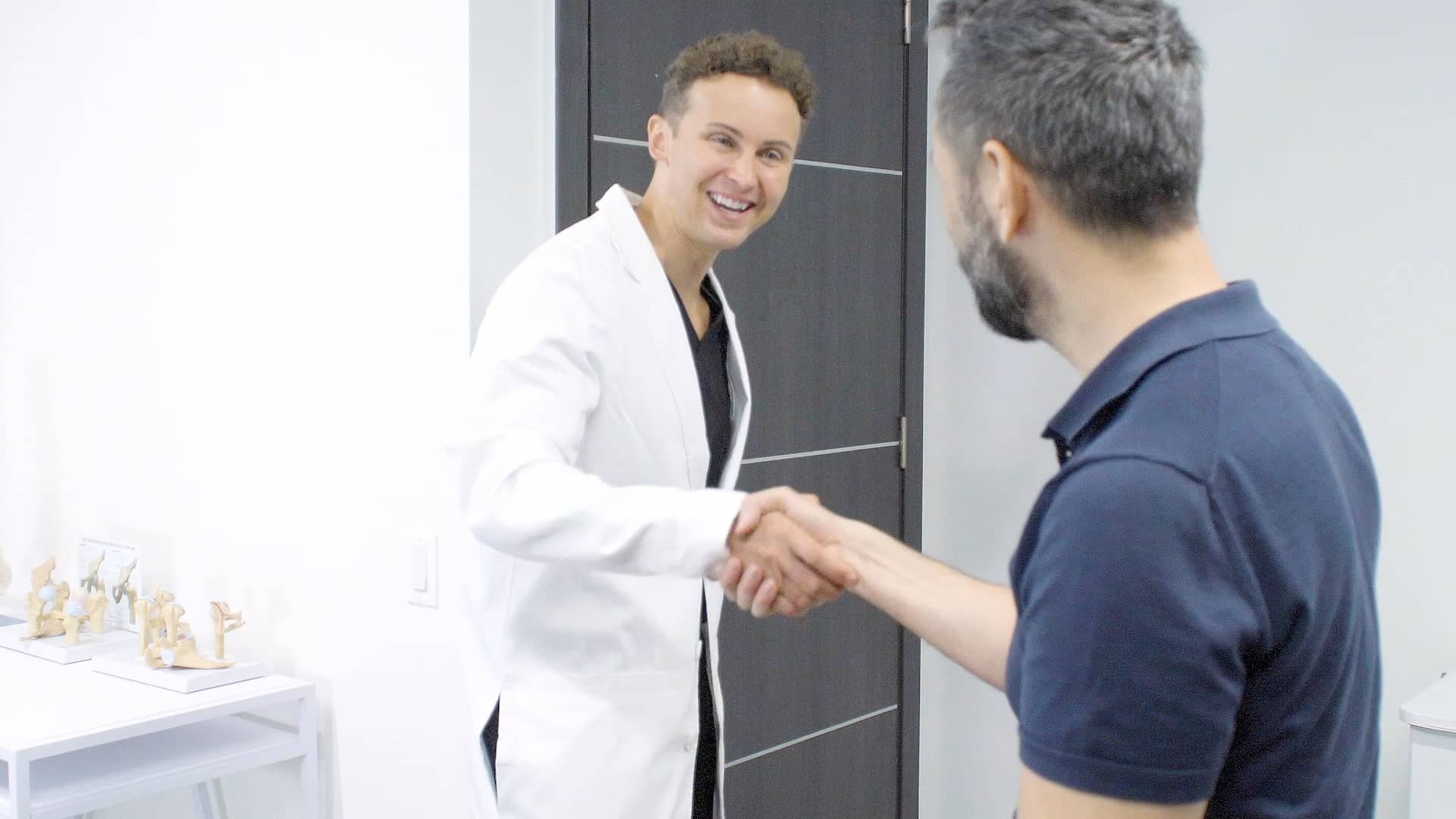 We offer free insurance verification! Fill out the form and expect a call from one of our agents:
How Can I Reduce Inflammation and Pain in the Hips at Home?
Stretching is a great way to help your hip pain, especially if it's caused by a muscle strain or pinched nerve. Be sure to rest your hip from strenuous activities that cause pain, don't discontinue activity completely! Gentle exercises like swimming and yoga are great for keeping your hip flexible and your heart healthy. Ice your hip if you're experiencing swelling, and alternate with heating pads for additional pain relief. Over the counter pain medicines also help with short-term pain relief.
Book an appointment at Pain Treatment Specialists and meet with a hip pain treatment doctor who specializes in pain medicine and minimally invasive treatments.The best self care you can achieve is tackling your chronic pain and resuming the activities you love without pain.
LEARN MORE ABOUT OUR TEAM OF SPINE & JOINT SPECIALISTS IN NEW YORK & NEW JERSEY:

Call us
Speak instantly with an agent to verify your insurance and book an appointment.
(866) 446-0946

Book Online
Visit our
Book appointment 
page
and instantly request an appointment at a Spine & Joint center near you. We offer Free Insurance Verification before your appointment.

Get Directions
Learn how to easily get to the Spine & Joint center locations.
FEATURED POSTS BY PAIN DOCTORS
How Does Physical Therapy for Back Pain Help You Feel Better?Once the spring weather begins to thaw winter's chill, a host of outdoor activities become accessible again. On a particularly balmy afternoon, you hit the links for a quick round of golf. Your body feels...
read more