The Nation's Leading Hip Pain Treatment Doctors Offer Advice About Avoiding Hip Replacement Surgery
One of the surest signs that your age is catching up to you is pain in the hips. You used to think only "old" people had hip pain… but now it's affecting you too! Even though you don't consider yourself "old" by any means, you've certainly got some miles on your body. This recent addition of hip pain is making it increasingly difficult to do the activities you enjoy like hiking, biking, and running, and it's even begun keeping you up at night. You don't know much about hip pain treatment plans, and assume that hip replacement surgery is your only option. After doing some digging, you find that there are other options available to address your hip pain through minimally invasive treatments, and decide to schedule an appointment at Pain Treatment Specialists.
Pain Treatment Specialists' team of Harvard trained pain doctors uses the most conservative treatment options available for treating hip pain. Their team of interventional pain doctors only suggest hip replacement surgery if all other methods fail to provide adequate pain relief, or if it is  medically necessary. Many of their patients have avoided hip replacement surgery by finding a hip pain treatment that provided tremendous pain relief. It's also incredibly easy to schedule an appointment at their pain clinics in NYC and northern NJ, and you're paired with a personal concierge who verifies your insurance information and also schedules a convenient appointment. Let our team of pain professionals get your life back on track.
Where Can I Find the Best Hip Pain Treatment Doctors?
If you're looking to avoid surgery, the type of doctor you choose for treatment is critical. An orthopedic surgeon or orthopedic specialist tends to favor hip replacement surgery as the best remedy for pain relief. This is because their background and training focused on surgical methods for treating hip pain. At Pain Treatment Specialists, our joint pain doctors received specialized training in interventional pain medicine, which focuses on minimally invasive pain treatments. These treatments reduce pain and swelling in your hip, and also restore your range of motion with very little down time.
At our pain clinics in NYC and northern NJ, you'll find an outstanding team of hip pain treatment doctors. One member of our exceptional team is Dr. Laura Lombardi, who is double board certified in pain medicine and anesthesiology, and fellowship trained at Harvard in interventional pain medicine. Her customized treatment plans often include fluoroscopic-guided pain treatment, which involve a special type of x-ray that provides targeted pain treatments. As a former Division 1 athlete, Dr. Lombardi understands how chronic pain interferes with both your training schedule, as well as your daily life. Her patients describe her as sympathetic, knowledgeable, and able to properly diagnose and treat the source of your hip pain.
When you schedule an appointment at Pain Treatment Specialists, you'll meet with Dr. Lombardi, or another member of our talented team. Finding a solution for your hip pain begins at one of our conveniently located pain clinics.
What are the Best Treatment Plans for Pain in the Hips?
When you meet with your hip pain doctor at Pain Treatment Specialists, you'll discuss a treatment plan that works for your joint pain. During the discussion of your hip condition, you'll have plenty of time to ask questions about your diagnosis. Then, your pain doctor outlines the types of treatments that best relieve your chronic pain symptoms.
Physical therapy is one of the first methods used for different types of hip pain. During your PT sessions, your physical therapist manipulates your hip during various movements and exercises to build strength and increase your range of motion. Heat and cold therapies may also be used to reduce pain and swelling.
Steroid injections are also useful for their anti-inflammatory properties. If your hip condition causes pain and swelling, then a steroid injection is a quick solution for this problem. Lubricant injections, also known as viscosupplementation, is helpful for people who suffer from joint pain due to arthritis. This extra lubrication helps your hip joints move fluidly, and eliminates the painful grinding sensation that accompanies arthritis.
Not sure what treatment plan is right for you? Schedule an appointment at Pain Treatment Specialists and let one of our highly-rated hip pain doctors identify your next steps for pain management.
What are the Different Types of Joint Pain?
Your hip pain may stem from a variety of causes. Our Harvard trained pain doctors identified the most common causes of hip pain including:
Bursitis: Your bursae are small, fluid-filled sacs that cushion the muscles, tendons, and bones near joints. Their job is reducing friction around joints. When the bursae in your hip become inflamed, you'll feel friction and pain when you move. Bursitis is one of the most common causes of hip pain.
Arthritis: Osteoarthritis and rheumatoid arthritis are common causes of hip pain, and both cause the breakdown of cartilage that cushions your hip bones. This condition causes stiffness and limited range of motion in your hip.
Hip fracture: Your bones become more brittle and weaker as you age. If you suffer a fall and are in your older years, a hip fracture may occur.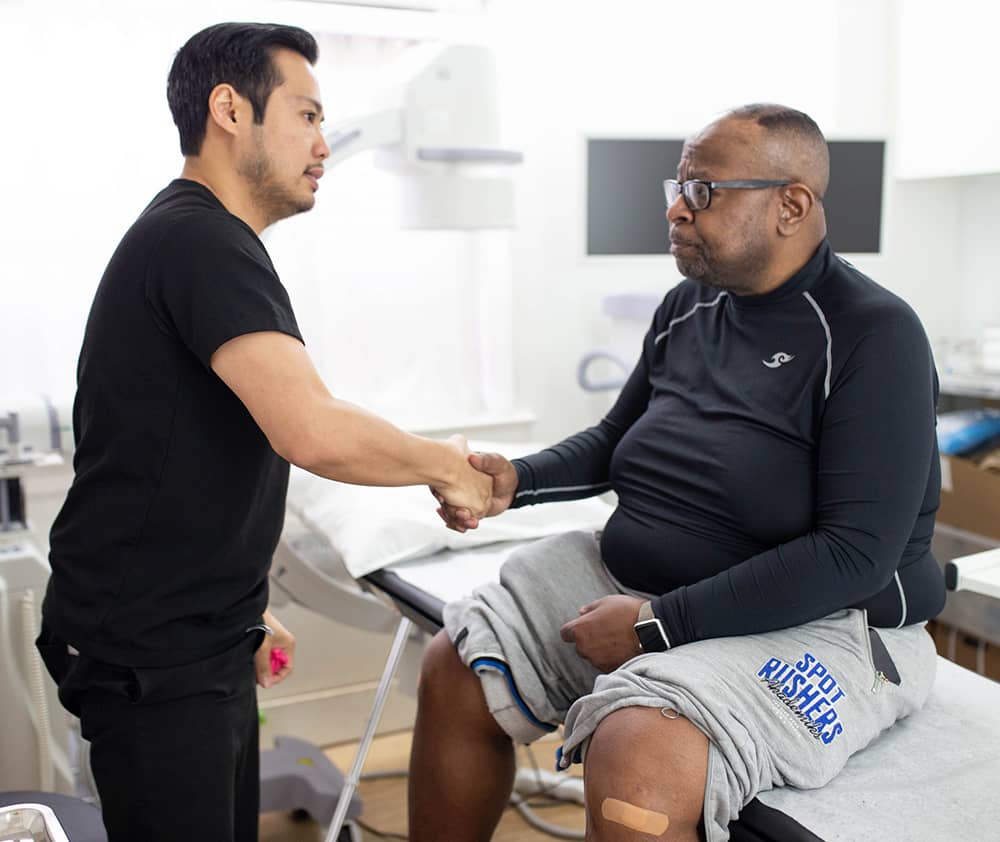 We offer free insurance verification! Fill out the form and expect a call from one of our agents:
Tendonitis: Your tendons are thick bands of tissue that attach bones to muscles. If you suffer from tendonitis, your tendons are inflamed or irritated. This occurs due to overuse or repetitive motions.
If you're ready to tackle your hip pain, call the hip pain treatment doctors at Pain Treatment Specialists. With locations in NYC and northern NJ, you'll receive the highest level of care and feel optimistic about moving forward without pain.
LEARN MORE ABOUT OUR TEAM OF SPINE & JOINT SPECIALISTS IN NEW YORK & NEW JERSEY:

Call us
Speak instantly with an agent to verify your insurance and book an appointment.
(866) 446-0946

Book Online
Visit our
Book appointment 
page
and instantly request an appointment at a Spine & Joint center near you. We offer Free Insurance Verification before your appointment.

Get Directions
Learn how to easily get to the Spine & Joint center locations.
FEATURED POSTS BY PAIN DOCTORS
How Does Physical Therapy for Back Pain Help You Feel Better?Once the spring weather begins to thaw winter's chill, a host of outdoor activities become accessible again. On a particularly balmy afternoon, you hit the links for a quick round of golf. Your body feels...
read more