What Can a Hip Pain Treatment Doctor Do for Pain in the Hips?
Hip pain is one of the more agonizing chronic pain conditions, and affects almost every movement you make. Just the simple task of walking requires your hip flexors, joints, and muscles to make a series of movements in order to complete that step and transfer your weight easily. Sore hips and joint pain make it difficult to move fluidly, which then puts additional strain on your back and knees. Looking for a solid night's sleep? Pain in the hips makes it difficult to get comfortable, and prevents deep, restorative rest. If you're tired of living in pain, it's time to consult with a hip pain treatment doctor and find effective pain relief.
The Harvard trained team at Pain Treatment Specialists are here to help! Our interventional pain doctors understand the far-reaching effects of chronic hip pain, and have a variety of minimally invasive hip pain treatments at their pain clinics in NYC and NJ. When you schedule an appointment at one of our pain centers, you're making strides towards regaining your independence and returning to activities you've been avoiding due to your chronic pain. It's time to make the pain in your hips a thing of the past!
Who is the Best Hip Pain Treatment Doctor for Me?
It's important to do your homework before seeking hip pain treatments. Not all doctors or medical centers treat hip pain in the same ways. For example, an orthopedic surgeon typically suggests hip replacement surgery if you're experiencing hip pain. This is because an orthopedic surgeon's training and background focuses on surgery as their primary treatment method. At Pain Treatment Specialists, our hip pain treatment doctors are all interventional pain medicine doctors, which means that they use more conservative treatments for hip pain. Our pain doctors do not suggest surgery unless it is medically necessary, and instead use treatments like physical therapy and steroid injections for hip pain relief.
One of our top hip pain treatment doctors is Dr. Geroge Hanna, who is a nationally recognized pain specialist. Dr. Hanna was a Clinical Instructor at Harvard Medical School in anesthesiology, and later served as the school's Director of Pain Innovations and Technology. In addition to his impressive resume and background in pain medicine, Dr. Hanna's reputation among his patients is stellar, with one patient saying that he "gave hope for a better quality of life."
Dr. Hanna is just one of the outstanding hip pain treatment doctors you'll meet at Pain Treatment Specialists. Schedule a consultation today and begin to treat your hip pain with the best pain doctors in the nation.
What are Common Causes of Hip Pain?
Your hip is built to withstand a lot of wear and tear. Its ball and socket design naturally allows for fluid movement that allows you to walk, run, climb, and move easily. When your hip is compromised due to an underlying illness or injury, these movements turn into agonizing chores. Every time you move your leg, you feel a tremendous amount of pain. When you meet with your pain doctor at Pain Treatment Specialists, you'll find out the root cause of your hip pain. Some of the most common causes of hip pain include:
Bursitis: Your bursae are sacs of liquid that are found between bones, tendons, and muscles. Bursae help with the friction caused by muscles rubbing together during normal movements. When your bursae are inflamed from repetitive motions, it causes a great deal of pain.
Tendonitis: When your hip's tendons are inflamed from overuse, you suffer from tendonitis. Your tendons are thick bands of tissue that connect bones to muscles, and are essential to your hip's anatomy.
Arthritis: Rheumatoid arthritis and osteoarthritis affect your joints, including your hips.These conditions lead to inflammation of the hip joint and deterioration of the cartilage that cushions your hip joint.
If you are unable to suddenly put any weight on your hip, experienced a fall, or heard a popping noise, seek immediate medical attention.
The hip pain doctors at Pain Treatment Specialists are able to treat bursitis, tendonitis, and arthritis in the hips with minimally invasive treatments that provide long-lasting hip pain relief.
How Does Pain Treatment Specialists Treat Hip Pain?
When you meet with the interventional pain doctors at Pain Treatment Specialists, you'll discuss a pain treatment plan for your hip pain. During your initial consultation, you'll have time to thoroughly discuss your hip pain, and what types of movements cause the most discomfort. Next, your hip pain treatment doctor completes a gentle physical examination and may order additional imaging in order to properly diagnose the cause of your hip pain. Once your pain doctor properly diagnoses the cause of your hip pain, a treatment plan is put in place. The treatment plan is designed to use minimally invasive procedures in order to reduce your chronic pain symptoms,
Steroid injections are one treatment used for hip pain to reduce pain and swelling. Your pain doctor identifies the area for injection, and then administers a corticosteroid. You'll be able to resume your normal activities the same day, with minimal discomfort or down time.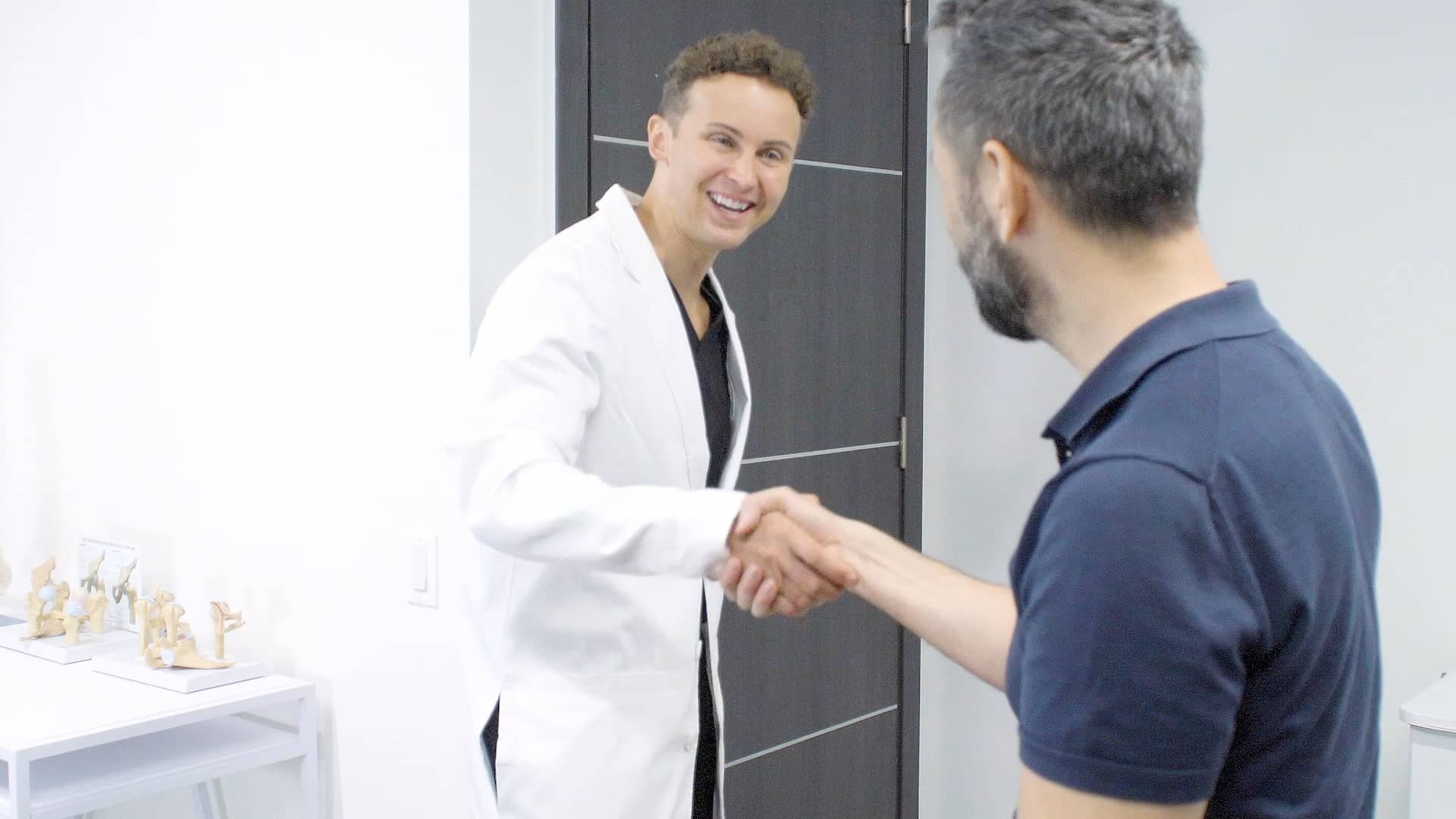 We offer free insurance verification! Fill out the form and expect a call from one of our agents:
A hyaluronic acid injection is the next step for patients who don't find sufficient relief from steroid injections. Hyaluronic acid is the main component of joint fluid, and decreases as we age from wear and tear.  You may also experience a lack of joint fluid due to osteoarthritis or rheumatoid arthritis. During this procedure your joint pain doctor injects a small amount of hyaluronic acid into your hip joint capsule. To begin, you may need 3-5 injections per week.
At Pain Treatment Specialists, our top-notch hip pain treatment doctors provide an exceptional patient experience. Not only will you feel relief from your hip pain, you'll also feel supported by a team of Harvard trained pain doctors who look forward to restoring your quality of life.
LEARN MORE ABOUT OUR TEAM OF SPINE & JOINT SPECIALISTS IN NEW YORK & NEW JERSEY:

Call us
Speak instantly with an agent to verify your insurance and book an appointment.
(866) 446-0946

Book Online
Visit our
Book appointment 
page
and instantly request an appointment at a Spine & Joint center near you. We offer Free Insurance Verification before your appointment.

Get Directions
Learn how to easily get to the Spine & Joint center locations.
FEATURED POSTS BY PAIN DOCTORS
How Does Physical Therapy for Back Pain Help You Feel Better?Once the spring weather begins to thaw winter's chill, a host of outdoor activities become accessible again. On a particularly balmy afternoon, you hit the links for a quick round of golf. Your body feels...
read more